Just when you thought it was safe to go back to the World Cup - Shambles III (and IV, and very possibly V and VI, with the way the officiating is going).
I obviously spoke too soon last week when I said FIFA had dodged a major heat-seeking bullet thanks to Landon Donovan's epic strike wiping out the iniquity of their disallowed 'goal' in the crucial Group C showdown with Algeria (hard on the heels of Maurice Edu having his 'winning' effort chalked off against Slovenia).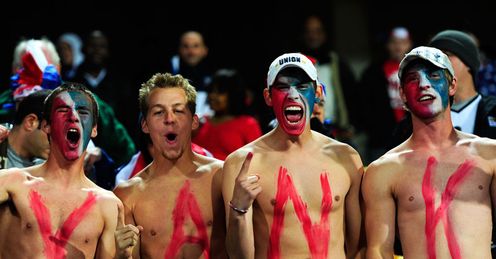 The US watched the angst of their team's 2-1 defeat at the hands of Ghana through gritted teeth but still warmly applauded the effort of the last surviving African team and admitted that their men had been found wanting in the final analysis.
But then a funny thing happened. As a nation shrugged off its disappointment at the demise of its own favourites and renewed its unprecedented focus on soccer's world event (with viewing figures for all games now at record levels), Sunday's action sparked a howl of disapproval far in excess of anything we heard after the Ghana loss.
Now, you can say what you like about the Americans, but their sense of sporting fairness is probably the most acute in the world. They HATE to see the kind of injustice we witnessed as Frank Lampard's shot was so clearly 'in' it didn't need any of the 1001 replays to prove it.
Simon Veness
Quotes of the week
Now, you can say what you like about the Americans, but their sense of sporting fairness is probably the most acute in the world. They HATE to see the kind of injustice we witnessed as Frank Lampard's shot was so clearly 'in' it didn't need any of the 1001 replays to prove it, and Argentina's first goal against Mexico was so 'off' as to be laughable (the commentators here on ESPN were stunned into near silence, and all they could manage was a "Oh my - was that REALLY what the assistant referee saw?").
Cards galore
On top of the shower of unnecessary yellow and red cards (220, or 4.15 per game, and counting - and how many bad fouls have there been? Six or seven, maybe?), the soft penalties, the diving that still goes unpunished, the decisions that could instantly be rectified on video replay and the complete intransigence of the officials to even admit there might be a problem or six, it has offended a nation's feeling of moral outrage like nothing else.
And they are not afraid to voice it, either.
To ESPN's great credit, they gave their match summarisers at the England-Germany game full rein to vent their collective spleen - and Jurgen Klinsmann was quick to oblige by branding the Lampard decision a "disgrace" and a major blot on FIFA's carefully manicured landscape of imaginary perfection.
Steve McManaman, who, by delicious irony I had spoken to on this very subject just two days beforehand by tele-conference call, insisted the decision to abandon goal-line technology was "embarrassing" and flew in the face of common sense. Argentina's opening goal then added to the growing tsunami of censure, with the pundits at a complete loss to explain to a disbelieving TV populace how Carlos Tevez could be behind EVERY player on the opposing team and not be offside.
Respected writers like Chris Jones insisted: "I haven't been this angry after a sporting event in my life." Sporting bible Sports Illustrated opined: "The World Cup refereeing has been an absolute joke." And Fox Sports blasted FIFA as "absurd" and "out of date." Fox soccer expert Jamie Trecker also contended that soccer's governing body "seems to think the honour of an official is more important than getting the calls correct."
The weekend 'lowlights' (which are now far outweighing the genuine highlights, sadly) even made major headlines on CNN, with the heavyweight news channel devoting several segments to the increasing sense that Sepp Blatter and Co are more out of touch with the tide of public opinion than King Canute.
It didn't help that the head of referees, Jose-Maria Garcia-Aranda, was already on record as saying he was "very, very satisfied" with the quality of officiating (admittedly before the England game, and before FIFA's international standing went from merely appalling to genuinely joke status: "Have you heard the one about the World Cup referee who got everything right?" No, neither have we).
Open for debate
It has also been widely reported that the decision to abandon the 'experiment' of goal-line technology ("It has been around and available for more than 10 years!" maintained a disgusted Klinsmann) was fully supported by Blatter under the apparent argument that "the fans like to be able to argue about things after the games."
Argue, maybe. Prepare a lynch mob for the hapless man in the middle, probably not.
All this has been reported faithfully and (more to the point) incredulously, by a US media who freely admit the instant replay systems for the likes of gridiron, baseball, ice hockey and basketball are still far from perfect - but they're a darn sight more respectable than anything FIFA can put forward to try to explain away their dinosaur-like status.
Even the belated statements earlier on Tuesday by Blatter that he is "sorry" England and Mexico were royally stitched up by officials who make Mr Magoo seem like he has 20-20 vision ring hollow. And even then, it took 48 hours of worldwide outrage at those two incidents to elicit that half-hearted response, while you absolutely know his claims of "reopening the file" on goal-line rulings will be dumped the moment all his fat-cat corporate jets have left South Africa.
For what it's worth, FIFA can already count one fan lost for all time over the Screw-Up Cup, has some here have dubbed it. My (American) wife watched the England game with me and immediately denounced the Lampard decision as "completely corrupt. How can you follow a sport that allows nonsense like that?"
I strongly suspect she may not be the only one, and all the ground that soccer has gained here in the US in the build-up to the tournament and the frenzy around the national team will now be lost as frustrated viewers insist, as Sports Illustrated did, that the sport's governing body is "so intransigent and arrogant it makes British Petroleum look like a warm and cuddly quilting circle."
And no high-handed waffle from Blatter and his fellow Emperor Nero cohorts will be able to stop the exodus.
Comments (2)
Mark Mccormack says...
A good article, and I agree wholeheartedly with the sentiments of Klinnsman and co! However I came to this conclusion myself last November when a certain Frenchman ruined broke a nations hearts with his hand. And to add insult to injury we were further degraded by Sepp "tweedle-dum" Blatter's ignorance on the event. So you can pass on to your wife that she is not alone in the abandonment of a blatantly obvious corrupt sport!
Posted 16:46 30th June 2010
Jason Morley says...
It is appallingly apparent that FIFA is only interested in what they feel is best for the game and not what the billions of fans, players & even officials think! Seeing as FIFA only take notice when there is a possibility that revenue may be hit. Why don¿t people boycott any sponsors of the World Cup even if it were for a small period of time. For intstance, imagine if everyone turned off the tv when the adverts were on or in the build up to the final. Granted this would hit the tv stations hardest however if it was on such a scale then it would likely make FIFA sit up and take notice! Let¿s face it the tv rights for the games are big business and the commercial channels sell the advertising slots for the games at hugely inflated prices. The cost of having an advert for the run up to the final or at half time would cost a fortune. Huge amounts of people turning off in the run up or at half time or even both would show that people would act. It could make it harder for FIFA to market the tv rights for future games and this would hit them hard. Yes stations will always pay however it could severely hit how much FIFA charge! If they thought people were serious then they would have to sit up and take notice. Something like this could have a ripple effect and would undoubtably hit FIFA hard.
Posted 13:43 30th June 2010