A lot of people are saying that Adrien Broner will be the next big star of boxing, but Saul Alvarez looks destined for the top, too.
The Mexican, who is still just 22, has won 40 and drawn one of his 41 fights and now he has made a name for himself he is going to be in huge matches.
I had my reservations about Alvarez in the past because, despite his unblemished record, he wasn't facing the greatest fighters in the world and had trouble getting rid of Matthew Hatton, someone you would expect a potential superstar to destroy.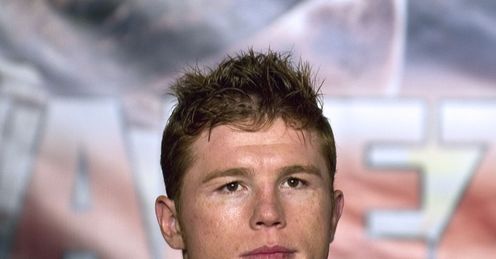 But he has upped his game recently in bouts with Kermit Cintron and Josesito Lopez and is improving with every fight; he is getting stronger, punching harder, developing his defence and becoming a better all-round performer.
Alvarez looks like a Hollywood heartthrob but he fights just like the great Mexican boxers of yesteryear; he wants to get at his opponents and pick up wins, but most of all he wants to impress his passionate boxing nation and knock people out.
Alvarez looks like a Hollywood heartthrob but he fights just like the great Mexican boxers of yesteryear.
Glenn McCrory
Quotes of the week
The WBC light-middleweight champion will meet unbeaten WBA counterpart Austin Trout in a unification bout on April 20 - and I would love him to face Floyd Mayweather should he come through that match in Texas unscathed.
It would be a perfect match for both men as it would allow us to see whether Alvarez is all he is cracked up to be and give Mayweather the opportunity to show that he is an all-time great - something I was ridiculed for questioning in this column a few weeks back.
Mayweather - who will kick off his big Showtime contract with a duel against Robert Guerrero in May in his first fight in a year - obviously has a load of fans who think he is a boxing legend, and he could very well become one.
But he needs to face guys of the calibre of Alvarez, Lucas Matthysse and Manny Pacquiao to prove it and not rely on wins over Ricky Hatton and a sub-par Oscar de la Hoya, who was nowhere near the fighter of old when Mayweather met him.
Hero
Frank Warren has been and still is a great promoter but at the moment there is another show in town, the Matchroom stable, and WBO lightweight champion Ricky Burns is the latest man to sign for Eddie Hearn.
The Scot obviously feels it is the right move to switch from Warren's stewardship to Hearn's and I am delighted because it means we will get to see the 29-year-old box on Sky Sports, something I have wanted to happen for a long time.
Ricky is one of British boxing's great success stories - and in a lot of ways he has Warren to thank for that - so he deserves to be more widely known; the he should be a hero in Scotland but I bet that if he walked through Edinburgh town centre few would notice.
Burns, who conquered Kevin Mitchell within four rounds to retain his belt in September, should be stopping traffic in London, that's how good he is, and hopefully he will get that sort of exposure now that he has penned a deal with Matchroom.
There have been murmurs that Ricky could battle Adrien Broner, but I don't think that is a fight the Brit would win, so I would urge him to wait for the American to outgrow the lightweight division, and then become undisputed champion once he's gone.
Matchroom have also captured Brian Rose and Lee Selby recently, to add to a roster of fighters which also includes Carl Froch, Carl Frampton, Kell Brook and Tony Bellew, and I think they are solid acquisitions.
British light-middleweight titlist Rose will probably go no higher than European level, though he will still be fun to watch, while Selby, the British and Commonwealth featherweight champion, is a fiery hard-hitter who can go onto bigger and better things.
Responded
As shown on last week's Ringside, I recently went back up to the North East to help a group of unemployed guys try to get back into work - you can see what happened by watching the video below - and I had a great time.
The lads saw me as a former world champion and TV pundit and didn't realise that I was on the dole from 16 to 24 years of age - and signed off in the ring after I won the world cruiserweight title in 1989!
I'd like to think I inspired them by proving that if you work hard you can make something of your life when it appears you have nothing, and they certainly responded to what they were told from various people throughout the week.
The kids came into the gym with their hoods up and their chins down and one of them was talking about how he was fighting under a bridge at the weekend to try and make some money, but after completing the challenges we set them, including cooking in a restaurant, designing boxing apparatus, and working as a team, their confidence really grew.
They are now far better equipped to speak and sell themselves in job interviews, while they also have a piece of paper saying they have gone through the TKO course (training, knowledge and opportunity), which is supported by Sky Sports, Lonsdale and the British Boxing Board of Control.
Employers should now give these guys the time of day and I was so glad to be involved in their development that, as I write this, I am on my way to a similar scheme in Liverpool.
Comments (9)
Daniel Roberts says...
Come on Glenn, I always respect your views but have to disagree regarding Mayweather, he has beaten everyone that has ever been put in front of him & you only pick out Hatton (who was unbeaten at the time) & De La Hoya. Everyone talks up his opponents & when he beats them they suddenly become over the hill or no good... Cotto, Sugar Shane, Ortiz, Marquez, Corrales, Gatti, Judah. When/If he beats Guererro will that be good enough. He is a boxing master class & one of, if not the greatest boxer of all time.
Posted 13:02 19th March 2013
Alex Klass says...
I disagree with you David and Dean regarding Floyd. I think it will be debatable whether Floyd will be considered an all time great, but based on his current record, if he retired today, i would have to agree that he is not an ATG. There are far too many holes in his record, too many "what would have happened?" fights that are just simply missing from Floyd's record. I agree that before he got to the 140 division, Floyd generally fought the best out there and won. (Corrales, Castillo 2 etc) But from Light Welter and above, when he gained some leverage in the boxing world, he ducked the real threats (e.g. Paul Williams, Prime Cotto, Margarito) and went for the big money, "easy" fights e.g. Arturo Gatti. Any one who disputes this, 2 words: Carlos Baldomir Floyd bases his own legacy as one of the "Greats" on the fact that he moved up through the weight divisions, conquering the biggest names out there. In that regard Glen is right that he cannot claim greatness off the back of wins over "Hatton and a "sub-par de la Hoya"" I dont think Glen was trying to suggest that these 2 wins are the only decent ones on Mayweather's record, but rather that they do not hold as great a weight as he would have you think when it comes to measuring his own greatness. I am of the opinion that you need to dominate THE BEST (not most popular) names in your division and do it in several weight classes, and do so over a sustained period of time to claim greatness. Floyd has not done that since he won the Lightweight crown in 2001. If he fulfills his full Showtime contract against legit opposition then maybe i will think differently, otherwise my assessment of Mayweather will always be that he had the tools to be Great, possibly even the Greatest, and he passed up the opportunity to try and make more cash. P.s. The Marquez that beat Pacquiao was not the same fighter who lost to Floyd...
Posted 16:26 18th March 2013
Danny Steveson says...
You guys talk about what mayweather did to marquez and that marquez beat pacquio if you want to go down that route what about how pacquio finished hatton and dela hoya. Mayweather couldnt get them out as quick as pacquio did.
Posted 16:23 16th March 2013
Martyn Bousfield says...
alvarez is quality but i give him zero chance if he meets mayweather , its been said many times is floyd the best ever , i believe he is and it is hard for anyone to disagree as he beats fellow boxers no matter who they are . this fight must happen because pacman fight is really a non starter as he has lost his last two fights .
Posted 11:38 16th March 2013
Martin Slane says...
FM has picked his opponents very carefully over the years. He would never have taken on Manny pacquaio after he destroyed De La Hoya and took the likes of Marquez and De La Hoya himself when they were either at the end of their careers or on a bit of a loss of form n the ring. His fight against Hatton was controversial to say the least and although he is a boxing legend and will probably retire undefeated many will argue not about who he beat but the timing of when he beat them!
Posted 23:44 15th March 2013
Chris Harrison says...
Canelo is an protected and untested fighter because of Golden boy! He won't get to fight Mayweather because Trout will beat him within the distance! His boxing ability is poor and always looks for the big shot rather than fighting skilfully which if he ever got in the ring with Mayweather he would be way out of his depth. IMO
Posted 09:27 15th March 2013
Dermot Conway says...
Absolutely brilliant work with those 7 guys Glenn. fair play to you, and fair play to them too. good luck to ye all, keep up the good work! :)
Posted 08:38 15th March 2013
David Cullen says...
I'm one of those who ridiculed you for rejecting the notion that Mayweather's an all time great, I'm not a fan of his though. I don't like the flashy attitude and disrespect he brings but I don't deny that he is one of the best boxers I've ever seen. I do however think it's disrespectful to some of the top fighters he's beaten to suggest that the only notable W's on his record are against Hatton and a "sub-par de la Hoya". You think he needs to fight Manny to prove himself? Well have a look at what Floyd did to Marquez and then have a look at what Marquez did to Manny. For the record I do think Marquez was robbed in one of those fights.
Posted 17:38 14th March 2013
Dean Mckinney says...
Fair point on FM but the same could be said for Joe Calzaghe as his opponents were "easy" according to some, and he too "timed" his biggest fights right... despite fighting Lacy and Kessler in their prime! I believe both will be held in the highest regard in the future, and i also believe FM would wipe the floor with Alvarez and will do so Guerrero. Keep up the great TKO work and being a wicked pundit who is often on the money with fight predictions!
Posted 14:59 14th March 2013