It's been one of those seasons for Aston Villa which they'll just want to see the back of. There's still a slight question over their Premier League status, but I think they'll be ok.
They've picked up a couple of crucial points at the right time, including a brilliant one at Anfield where no one would've expected them to get anything, but it's been a tough season for Alex McLeish.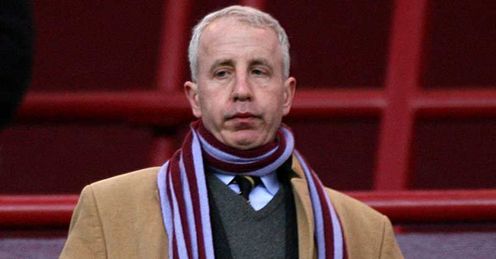 They've lost a number of key first team players, including Darren Bent and Richard Dunne through injury and then, of course, they suffered another massive blow when their captain and leader Stiliyan Petrov was diagnosed with acute leukaemia.
But the results they've got in April have been vital. The last thing they would've wanted was to get dragged into a relegation scrap because it's the clubs who aren't used to those situations that find it the hardest to get out.
Randy Lerner has decided to tighten things up and the emphasis now is on reducing the wage-bill and making the club profitable for the future. Although it's not what Villa fans will want to hear, I have a certain amount of sympathy for the owner. You need more money than sense to own a football club these days.
Jamie Redknapp
Quotes of the week
LIVE ON SKY SPORTS
Man Utd v Aston Villa
3pm, Sun, Sky Sports 1 HD
Also showing on Sky 3D
Watch on the move with
Sky Go
How to
remote record
The fans of teams like Wigan half expect a battle around this time of the season so they're right behind the players and the atmosphere is magnificent. But Villa fans will be thinking they're too big a club to be in this predicament and that's when it becomes very tense and nervy for everyone.
The number of injuries they've had and the lack of depth of their squad has meant McLeish has been forced to field a lot of young players who lack experience at this level, but I think that's actually helped them get the fans on board a little bit more and a couple more wins should confirm their safety.
Where next?
The question is where do they go from here? Two years ago they were chasing a Champions League spot but that seems a fair way off now.
Since then they seem to have spent the last two summers selling arguably their best players without ever really replacing them. Gareth Barry, James Milner, Ashley Young and Stewart Downing have all left the club with Darren Bent the only big name brought in.
There's no doubt in terms of stature that Villa are a big club because of their history and that's the way I see them, but with the squad they've currently got you have to be realistic and say they're a mid-table team right now.
It's clear after a few years of heavy investment Randy Lerner has decided to tighten things up and the emphasis now is on reducing the wage-bill and making the club profitable for the future. Although it's not what Villa fans will want to hear, I have a certain amount of sympathy for the owner.
You need more money than sense to own a football club these days and unless you have a Russian billionaire or a Middle East group backing you, it's not possible to pump in £100 million every season.
For years the richest man in each town would own the local football club, but now it's the richest men from across the world, and unless you've got one at your football club it becomes increasingly difficult to compete.
Lerner is obviously a very wealthy man, but he can't keep throwing money at something if he doesn't think it's the right thing to do. And ultimately, surely the main aim must always be about securing the future of the club. You only have to look at the debt that some others have got themselves in to realise that the prudent approach is definitely the best one sometimes.
Emulate
And while it does make competing at the highest level really difficult, it's not necessarily impossible as Newcastle have proved this season.
They've managed to sell players at the top end and replace them with great quality at a fraction of the price. Every club in the Premier League, including Villa, will be looking to emulate their success in the transfer market, but it's not as easy to implement as it looks.
They've got a fantastic scouting system at Newcastle which has allowed them to find gems like Cheik Tiote, Yohan Cabaye and Papiss Cisse - all players who also have a sell-on value. But while Villa will no doubt be looking at that blueprint, it's also a chance for them to give some of their academy players a chance.
They've always produced good young players and Gary Gardner is someone who I really like the look of. I don't want to put too much pressure on him as he's still very early in his career, but he does have that Steven Gerrard look about him and an abundance of confidence.
A mixture of youth and a recruiting policy similar to Newcastle's could be the key to Villa's future, but for now they'll be concentrating on getting enough points on the board so they can build in the summer for another Premier League season.
Tough
They face a tough trip to Old Trafford on Sunday and Manchester United will not want another slip-up like Wigan, which is why I don't see Villa winning. That said, I don't see United wiping the floor with them either.
Up until Wednesday night they had been relentless in their pursuit for their 20th league title. They'd powered on in the last few months and always seemed to find a way to win, but they will be a little bit more nervous now, especially after Manchester City closed the gap to five points in pretty emphatic fashion against West Bromwich Albion.
When I think of games between these two Federicho Macheda's injury-time winner for United in 2009 always springs to mind and it could take something similar on Sunday for the champions. They haven't been firing on all cylinders in their last couple of games at Old Trafford but this is more of a blip than a crisis for me and I fully expect them to come away with all three points here.
As for Villa, they'll have one eye on their next two home games against Sunderland and Bolton and if they can pick up points in those, then they can start looking forward to next season.
Comments (16)
Monkeyboy Babboon (West Bromwich Albion fan) says...
Why look to newcastle? Have you forgotten the millions squandered in the past 5 years by Ashley and the clowns at...whatever St James's Park is called these days. Toon fans wanted Ashleys head pre season and welcomed Pardew with indifference to say the least. I really like Newcastle fans and am happy they are doing so well...but to say they snapped up bargains is a joke. You want to look at a club run well....look across to the Black Country to the Albion. Financially sound, no rich benefactor and currently the top side in the West Midlands. Mulumbu 175k, Dorrans 100k, Andrews Free, Mcauley free, Billy Jones Free, Scharner Free, Reid Free. And we are still above the Villa.
Posted 02:42 15th April 2012
Stripey 82 (Aston Villa fan) says...
Very fair and balanced article. I do think some of our senior players have underperformed this season, and the younger players should have got a chance before now. Question marks remain over whether the style of play McLeish sides invariably play is suited to the younger players we have coming through. If we had a rake of defensive midfielders and centre halves with limited technical ability, he might be a reasonable choice. Unambitious, but understandable, under the circumstances. But Albrighton, Bannan, Herd, Gardner and co are all ball players- and with funds not as readily available as in seasons past, we need a manager who can maximise their talent and best assets. The Newcastle example is a decent one and -credit to McLeish with his choice of ex Rangers and Holland defender Arthur Numan as scout- something we might already be looking at. For them, France. For us, Belgium/ Holland. To that end, Holman on a free might be the first of many.
Posted 23:45 14th April 2012
Tom Nicholls (Newcastle United fan) says...
@David Dutch : Any Newcastle fan saying they supported Ashley from the start is either telling a lie or not a Newcastle fan.
Posted 13:38 14th April 2012
Richard Collins (Aston Villa fan) says...
A lot of what he says is true and I think many Villa fans acknowledge and even accept that we're just a middle of the table club now. However, with McLeish in charge and the horrible negative football he produces we'll always be scrapping at the bottom of the table. What decent player in their right mind would want to sign for a club that plays such negative football where a 1-1 draw against anyone is seen as a success? We're not paying the silly wages any more, we play horrid football, and at best we're mid-table so who's that going to attract? What makes us more attractive to play for in our current state than Fulham, Norwich, Stoke, Everton, Swansea etc? In fact there's probably about 15 teams in the league players would rather sign for! We need a young manager with some vision and appreciation of how football should be played. As for Randy Learner it would appear that having been fleeced by O'Neil he's lost all enthusiasm for the club and is happy for it to settle into mediocrity like he's done with his Cleveland Browns team. But at least they don't have the risk of relegation over there. I'm dreading next season already.
Posted 11:11 14th April 2012
David Williams (Aston Villa fan) says...
our problems come from martin o'neill. yes he got us playing well on the pitch, and he made s few brilliant signings, but he also bought some mediocre and rubbish players for large transfer fees and ridiculous wages, like habib beye on £40k a week, who we only just got rid of. the season spurs got into the champions league their wage bill was lower than our when we didnt even get into the europa league.
Posted 00:33 14th April 2012
Dan Saunders (Newcastle United fan) says...
As a Newcastle fan, i look back and see that going down was the best thing that ever happened to this club, and I think it would be the same for Villa. They are in a very similar position to that which we found ourselves in 3 years ago, and at the time it was heartbreaking to watch. But look at us now, the overpaid egos are all gone, and we now have a team capable of beating anyone on our day, and all done on a tight budget. I sympathise with Villa but they need something like this to kick the club back in to life.
Posted 19:24 13th April 2012
Justin Poggio (Newcastle United fan) says...
Looks like Karma might come back to haunt you Villa fans. When Newcastle went down you guys disgusted us all by celebrating our relegation, something none of us would have done to your fans. Now Newcastle are on fire at the high end of the league and now Villa are in peril. Karma exists and if a team deserves to go down, it's Aston Villa. Serves you guys right, let's see if you can emulate our blue-print IF you manage to stay up.
Posted 18:57 13th April 2012
Paul Thompson (Newcastle United fan) says...
After the unprovoked abuse received from Villa supporters when we were relegated from the Premiership I would have liked to see them go down this season. For Villa now to be wanting to emulate Newcastle is soooo ironic, I'd still enjoy seeing them go down though - in the same vein as an infamous banner mocked at 'that' match, "Who's Villa's messiah now? Jasper Carrot?" Ha!!!
Posted 18:41 13th April 2012
Claretandblue82 A (Aston Villa fan) says...
Very good article Jamie and for once a positive outlook on all things Villa. We haven't had a good season which has been much compounded by injuries and of course the sad diagnosis of cancer for Petrov our captain. (Get well soon buddy). But for next year I think we could be hanging around mid-table and we probably will have a solid season with the right signings and quality being brought into the club. As for Sunday well I agree, I can't see us being wiped off the face of the Earth by Man U. I can see a bit of complacency there even though they lost on Wednesday. I think we'll lose a tight affair 1-0/2-1 but then again we could nick a draw. UTV!!
Posted 15:37 13th April 2012
Adrian Williams (Newcastle United fan) says...
well said david dutch! am i the only one thinking that jamie was perhaps a little wide of the mark when saying no one fancied villa to get a result at anfield....? its near enough a guaranteed point for away teams these days!
Posted 15:29 13th April 2012
Callum Brown (Aston Villa fan) says...
Very very good assessment by Redknapp. But all will change next year, we won't be relegated and although Mcleish won't say it because of complacency he knows were going to be safe as he's already building for next season. Villa are looking to clear deadwood like James Collins, Richard Dunne Emile Heskey and Stephen Warnock once they are gone, we will bring in young foreign players that are looking to prove themselves in the Premier League which Newcastle did. We have been scouting the Dutch League and we have already picked one up in Brett Holman we are also looking at La Liga and the French and German leagues. You say Newcastle have great scouts but Villa do as well Paul Montgomery scouted Didier Drogba when he was unknown and Montgomery were at West Ham. Although it looks bleak at Villa Park the future looks bright as we have a few gems that have just came through the ranks and in the academy at the moment we have a few gems the likes of Jack Grealish, Graham Burke, Jordan Graham, Derrick Williams, Chris Herd, Gary Gardner and Ciaran Clark. I predict that Villa will be a top 8 side in the next 2 seasons at the most
Posted 14:19 13th April 2012
Ross Pilkington (Aston Villa fan) says...
The big players you named that have left villa in recent years have brought in £80m+ and reduced the wage bill. Rumours say Houllier had the chance to sign Cabaye at Villa but Lerner refused to spend based on Houllier's word! imagine if we had Yohan and Stan in the middle of the park! Fans need to get behind Mcleish, he's doing a decent job considering we have spent less money than most teams below us! Early doors for the likes of Gardner and Weimann but they both look future stars! Would be nice to see what Edna Stevens can do in the first team next season too!
Posted 09:03 13th April 2012
Martin Hodson (Aston Villa fan) says...
I Agree with the mojority of the points above and do feel for the owner. being a villa fan based in liverpool i dont have the dislike of birmingham in my blood, so when i say this i am purly looking at it from a football point of view. the main issue is the manager. we have played slow defensive footall all season. Alix seems to send his team out every week with the mindset that we have already got a point so protect it and this has shown in the amount of draws we get. For me it was the wrong discision from the start getting a relegated manager in. i think looking at any blue print try evertons 10 years ago the got a young manager from the lower leagues and he is know one of the best in the premier league, moyes also works on a tight budget that randy seems to want to impose.
Posted 08:58 13th April 2012
Luke Marley (Newcastle United fan) says...
As always a very good assessment Jamie. Although I think this season was always doomed to be a failure before a ball was even kicked. I can't understand for the life of me why Alex McLeish was put in charge it created such a negative atmosphere with extreme frustration amongst the fans. I really think Randy Lerner has made some extremely poor manager appointments in Gerard Houllier and now Alex McLeish which cost a lot of money, money that Villa can't afford to be throwing away with their wage bill. I fully agree that Villa need to be emulating Newcastle but they have an incredible scouting system which won¿t be easy to copy. Villa have and always will produce good players through the academy but far too often have they not seen their full potential and sold them at a young age, Gary Cahill being a prime example! With contributing factors such as a poor manager imo, a huge wage bill, anger amongst fans and very poor decision making from the owner I can¿t see the situation at Villa changing anytime soon.
Posted 01:11 13th April 2012
David Dutch (Newcastle United fan) says...
Three seasons ago as the deflection from Dunn turned into an own goal at Villa the pundits declared that Newcastle were the next Leeds Utd and would plummet down the leagues in freefall. As they were promoted as outstanding Champions from the "fizzy pop" league thos who know declared that the woild be going straight back down as we failed to have a real premier league player in our ranks. This season because even more great players were off loaded those who know said again that we were prime favourites for relegation as we had replaced premier class for jobbing labourers. All I can say to those who know better than us poor mortals is PLEASE PLEASE keep on forcasting the demise of Newcastle Utd for where would we be if you actually recognised how well we have done to be fifth in a competitve league level with the mighty Rednapp and his spurs (Sorry Jamie but I now see that your old man is saying that he could have signed Ben Artha but he would have sat on the bench) and two points ahead of the mighty Chelsea. All I can say is well done to the hardwork of Pardew, the financial cunning of Ashley (I have supported him since he arrived) and a squad of players who are devoted to the team spirit.
Posted 19:36 12th April 2012
Jack Bromley (Manchester United fan) says...
Good article but united WILL wipe the floor with villa. Villa havnt got the players from the 4-3 game. They've lost the likes of young, downing, milner, barry, bent to mention a few. They look a very frail unit with no confidence and with an early united goal i can see it being about 4 or 5 without reply
Posted 19:07 12th April 2012