Steve Bruce is great at getting the best out of players and situations that others might give up on.
When he took charge of Hull last season there were no expectations of promotion but he got his team enjoying their work and dragged that extra ounce of ability out of his players.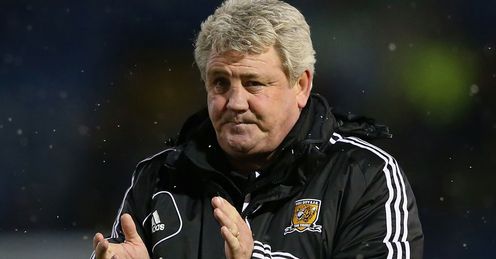 Steve can generate a fantastic team spirit in the dressing room and get it rock solid and he was just unfortunate that his chairman at Sunderland - yours truly - gave up on him so early into his tenure.
But I met him recently and I am absolutely delighted that he has bounced back and is a Premier League manager again; he will really enjoy himself this year - though playing Chelsea live on Sky on the opening weekend will be tough for him.
Steve can generate a fantastic team spirit in the dressing room and get it rock solid.
Niall Quinn
Quotes of the week
Steve will, no doubt, play down the challenge and try to get Hull playing as tension-free as possible and he does have previous against Chelsea from his Sunderland days, don't forget.
In what I would consider my best day in my six-and-a-half-years as Sunderland chairman, Steve led a side that demolished a top-of-the-table Chelsea 3-0 at Stamford Bridge.
But the odds will be stacked against him doing the same this time around.
Toughness
Cardiff won the Championship last season and after years of knocking on the door are finally back in the top flight.
I think some of the fans perhaps gave up on reaching the Premier League so it is great to finally have them in the top flight.
The toughness of the division will soon set in so you hope Cardiff get a really good kick out if it - but like all teams in their first season after getting promoted, finishing 17th will represent success.
I spoke to Malky Mackay shortly after his side got promoted and he is bracing himself for a really tough time, but his team is one of unquestionable spirit and that will carry them right through the campaign, while they are also having a go in the transfer market.
Cardiff have some tough-looking early games, including the Sky Live match with Man City, and so if they lose them you could say: 'Well, at least they are out of the way', but if they won them, think what momentum it could generate.
Getting that first three points on the board will be imperative and I'm sure Craig Bellamy's experience will be crucial in that and over the course of the season.
Bellamy is a far more mature player than the brash striker we saw at Newcastle where he always had the ability but was very carefree.
Now though he understands the importance of his leadership qualities and he will be an integral part of how things work out for Cardiff.
Purpose
Crystal Palace have had less time to prepare for the Premier League season than Hull and Cardiff, but the manner in which they got promoted, through the play-offs, will boil over and bring more purpose to their play.
It is wonderful to see that club in the Premier League - and playing Tottenham on the opening weekend - as they have had plenty of heartbreak on and off the pitch over recent years.
The Palace manager, Ian Holloway (pictured), is also a joy to listen to; everyone loves his honesty and the man on the street can look at him and say: 'Yeah, that's my kind of guy'.
You live the dream with him, whether that's good or bad, and when he managed Blackpool they were everyone's second team because of the way he came across and wore his heart on his sleeve.
I'm sure people will get behind Palace this season because of Ian and their Sky Live game with Sunderland at the end of August should be an entertaining one with Holloway and Paolo Di Canio in the dugout!
I just hope that Paolo will be judged on his coaching abilities, team selections and transfers this season and not off-pitch stuff, like he was when he was appointed Sunderland manager last year.
Di Canio burst onto the scene and took the Premier League by storm almost and had the high of a fantastic win at Newcastle and the low of a demoralising 6-1 defeat at Aston Villa - and it's clear that he wants to do things his way.
He will have to get Sunderland's dressing room, which is more multi-national than it has been in some time, rock solid and I hope that we are not talking about my old club being involved in another relegation fight.
Comments (4)
James Walker (Hull City fan) says...
I think Niall has hit the nail on the head with regards to Hull and Bruce, O'Neill didn't really improve the team when he took over from Bruce and only time will tell with Paolo, so did Bruce do such a bad job with S'Land? I'm 23 and ive been going to Hull since the mid 90s and I cant seem to find a Hull City team with more team spirit and grit determination so hopefully this will bare well for us in the PL! COME ON YOU 'ULL
Posted 15:58 22nd July 2013
Andy Patey (Crystal Palace fan) says...
i think palace will surprise a few people this season,and will just have enough stay up.....
Posted 18:39 20th July 2013
Stephen Hamblin (Sunderland fan) says...
Unquestionable is Nialls dedication to Sunderland Football Club, as a player alongside Super Kevin Phillips and as a Chairman/ Representative. However, i can't agree with his opinion on Steve Bruce, i've been going to Sunderland Football Games since i was about 5 years of age and im now 28 and he has to be 1 of the poorest managers weve had in that period. If Hull do survive it'll only be a matter of time before he gets found out in terms of his lack of tactical awareness, to the point where the fans could pick a better game plan than him. If theres 1 thing to admire about Bruce though i did like the way he wasn't scared to go after players and spend money, which he is and has been doing with Hull since he took over. Good luck to Hull, they will need it with Bruce at the helm.
Posted 09:14 20th July 2013
Kris Maxwell (Sunderland fan) says...
Niall, absolute legend!! I hope people leave Paolo alone, too. I have a good feeling about this season and if he gets the team to gel could be back to the days when you were playing! You're a legend up here and sorely missed. Keep up the good work.
Posted 16:18 18th July 2013