A weekend which saw Emmanuel Adebayor scale impressive peaks before slumping in less dignified troughs had sub-editors across the land lazily content in the knowledge 'Beauty and the Beast' headlines sort of work, but it is a third species, the football supporter, that deserves as much scrutiny as the Manchester City striker.
That Adebayor's raking stamp on former team-mate Robin van Persie merits sanctions from the Football Association is without question but it is his celebration, in front of the travelling Arsenal throngs, that has stolen as many column inches.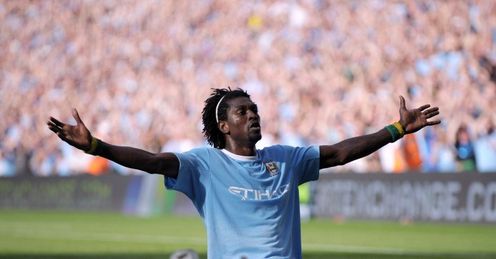 Having spent much of last season cocooned in a hate-hate (with Wenger no better than comme ci, comme ca) relationship with supporters at the Emirates, the giant Togolese left North London over the summer under a cloud layered thick with self-indulgence, but perhaps also a little self-preservation. Those of a red and white persuasion had long since grown exasperated by their languid front-man, who once a raging bull had like Robert De Niro's Jake LaMotta become bloated with the inflated sense of ill-justice that often afflicts a dethroned champion.
No Arsenal supporter had ever seen him track back to his own half and yet, here he was, giving it the Hulk Hogans to a cacophony of boos and flying burgers
It was clear a parting of ways would suit both parties but this is football and as such, no split could be anything but acrimonious to Hollywood proportions. This was Richard Burton and Elizabeth Taylor in the divorce courts. Although one suspects Adebayor and Arsenal will not remarry.
The African's trademark half-moon smile, too often a scowl at the back end of his Arsenal days, was conspicuous by its absence at Eastlands, as a pumped-up Adebayor bid to prove his decision to swap red for blue was motivated not by green but by City's potential. So far this season he has proved to be talisman not mercenary; as a series of match-winning displays, four out of four to date, have made a mockery of those who said City are 'all fur coat no knickers'.
When Shaun Wright-Phillips' bespoke delivery for Adebayor concluded with City taking a 3-1 lead it was a case of emotion taking over the body. Listen carefully and you can make out Mark Hughes' resigned groan amid the pandemonium as Adebayor ran 120 yards before skidding on his knees in front of the Arsenal supporters.
Tracking back
Perhaps the most remarkable thing about the big man's celebration was his willingness to sprint the length of the field. No Arsenal supporter had ever seen him track back to his own half and yet, here he was, giving it the Hulk Hogans to a cacophony of boos and flying burgers. It would appear shock caused the collective dropping of instruments to hand, as one unfortunate City steward was knocked unconscious.
For some Adebayor's behaviour was tantamount to starting a riot and there have been calls for all manner of bans to be meted out in his direction. It was, for sure, idiotic on his part and Hughes' plea on his behalf that it was little more than over enthusiasm smacks of self-interest. But that should not shroud a greater evil prevalent within our national game, which allows supporters to be snarling perpetrators of abuse that would be deemed wholly unacceptable, obscene even, dished out in any direction other than that of a professional footballer.
Too many football supporters feel that the price of a ticket allows carte blanche when it comes to behaviour. It's been a while since I went to the theatre, or the cinema, and felt the right to call a performer a 'proper James Blunt' because their enunciation wasn't quite pitch perfect. Most Jim Carrey films make me feel a little nauseous but I've never felt the need to riot in the Odeon. Although, the last time I went the 15 minutes of adverts, not trailers, beforehand had me stifling the desire to put my foot through the screen.
The hypocrisy and juvenile indignation smeared all over the faces of those Arsenal supporters that surged forward when confronted by Adebayor was nothing short of laughable. The same socially retarded Danny Dyer-worshipping bed wetters who invariably had spent the previous 80 minutes dishing out the type of abuse that would have Bernard Manning saying 'that's a bit much', were now drowning in incandescent rage at the sight of a footballer celebrating scoring a goal. Quick, bring out the firing squad.
Over-reaction
This isn't a lament penned by someone who reads the Guardian (tend to leave it in the car) rather than programme at the match, but just one who accepts a cocky striker celebrating in front of me is as part of football's rich tapestry as the pies. Sammy Nelson was pulling his shorts down in front of opposition fans nigh on 40 years ago and if a pasty seventies arse isn't enough to start a riot I'm pretty sure Adebayor's kid-at-a-wedding-skid isn't either. Go to the game, dog the opposition/referee/your own team/husband/wife/boss/therapist to your heart's content, within reason, but just do it with a little perspective.
Is it not human nature, forgetting the holier than thou 'he's a professional on £4million a-week' line, to feel the need to rub it in a bit when you've scored a goal? Adebayor was quick to apologise for his behaviour at the final whistle, albeit while remaining tight-lipped about booting van Persie, and for me, that should be the end of the matter.
The match officials rightly booked him for his indiscretion, so why prise open the can of worms left ajar by Eduardo's respective ban for 'simulation'. By using video evidence to judge an incident the naked eye saw perfectly well and dealt with accordingly is to further undermine our match officials.
After all, is it not a case that supporters forgo the right to be offended when they spend 90 minutes being offensive?
Comments (62)
Alex Bermo says...
I give foul abuse to players, but I also expect to receive it back and I found Adebayor's celebration hilarious. We need more of that in football. But what I found funniest was the pantomime rage shown by the Arsenal fans. That many of them held back by a couple of stewards. Two-bob fans if I've ever seen them.
Posted 17:26 16th September 2009
David Wilson says...
Thanks Mr. Dunn, the most accurate article written about this event. Inciting the fans? Who set the tone? Mr. Van Perse, who ran to the CITY fans, not the Arsenal fans behind the goal and hurled expletives at the CITY supporters. Does RVP want to play for CITY, is he jealous that Adebayor has found a home were the fans get behind there heros? Some people have called us classless in their comments, yet 45,000 of us sat there and took RVP taunts, we threw no objects, we did not try and get on the pitch. On the stamping incident. Why did Clattenburg not blow his whistle? It was a clear foul, he could have defused the situation. I believe RVP attempted to hurt Adebayor with his lunge. No wonder CITY are seeking legal advise about this event. It stinks of Top 4 bias. Now you have Ferguson churning in "ban Adebayor", his he scared? Yes, he is.
Posted 15:31 16th September 2009
Oliver Gooner says...
I think a lot of people here are missing the point. Yes the language used by AFC fans would not be accepted elsewhere, but where else except for a football field can a person kick someone in the face and not be arrested? To have a proper discussion about this, it must be accepted that a football game (or any high level of sport) has different rules to the rest of life. Secondly, just because he was jeered, (I was there, in row B, it was no more personal than the odd sware word), does not give him the right to cause a riot and injury. He had already won the battle and the war. He had won AND scored what was really the winning goal. There were plenty of safer ways to rub our (Arsenal fans') noses in it. He showed himself up as the brainless fool that he is.
Posted 15:26 16th September 2009
Dan Clark says...
As an Arsenal fan i have to say i find Ade actions shocking, if it had been the other way round and one of our players had celebrated in front of the fans of the club he just left i wouldnt be bothered but when its the other way around its annoying but i can live with it (altho it really shouldnt happen either way). But he stamp on RVP was with intent i think and just because RVP slid in with 2 feet doesnt give Ade the right to do that! Maybe RVP should have been booked or even sent of if he had caught him but i do believe that Ade reaction was 10x worse. I also heard that RVP had said some colourful words to City fans when he scored, if he did do this then he to some degree is just as bad as Ade.
Posted 14:21 16th September 2009
Graham Mcfc says...
Arsenal fans and football fans in general need to get a grip. If you want to dish it out then you have to be able to take it back otherwise you make yourself look sad and stupid. He deserved his moment particularly after some of the terrible abuse he took from their so called supporters. I have no sympathy for any football fan with that sort of attitude. The FA really should say something about their supporters behaviour.
Posted 13:52 16th September 2009
Clive Gwilliam says...
Well said.The FA should accept he got a booking for his indiscretion and the player given a warning. Not that he needs one, he realised he had done wrong and apologised immediately after the match. The FA may want to take a closer look at the Arsenal fans as funny enough they are not the innocent party. Ade's celebration is no excuse to knock a security guy senseless!!! I really hope the FA do not hang the player out to dry although i fear they will and deprive the fans from watching a quality footballer for as many weeks as they feel fit. it is ironic that despite what he did and the comments that it is bad fr football it is quite the opposite, the incident has done more for football than the rsult alone would have done.
Posted 13:04 16th September 2009
Johnny D says...
this article is nonsense, the diference between what adebayor did and what other footballers do week in week out is that adebayor ran a full 120yards and had plenty of time to think about what he was doing. To suggest the behaviour of the arsenal fans was disgusting is total rubbish too when you consider that adebayor was baiting and windin up the fans from before the game, warming up directly in front of them with the arsenal team, and also standing in the arsenal half before kick off, he was clearly trying to insight the fans. He blames the arsenal fans for turning on him in his time with the club, however I think the reason people turned on his was the clear lack of commitment and dragging his heals after not getting the move he wanted to AC or Barca, even though he got a huge pay rise after one great season. No one has any doubts that when things are going well adebayor will play well, but his weak mentality leaves question marks over him when things are getting tough. He is the epitome of everything I hate in football
Posted 12:30 16th September 2009
Dan Bradley says...
Top marks! I have been waiting for someone from the football world to highlight the disgusting behaviour of the Arsenal fans. Somebody they didn't know scored a goal against other people they don't know. Honestly those snapshots of the crowd when Ade was in front of them were terrifiying. The idea that football is the sport of under educated thugs is never going to go away with scenes like that. I am sick of the fans at the ground going unpunished for things like this, whilst the tabloids call for the players to be hanged. Hopefully one day people will just be able to enjoy a game of football and realise that these teams are gigantic corporation. All these romantic notions of 'for the team!' will be gone and the social detritus that seems to attend these matches with it.
Posted 11:17 16th September 2009
Paul Brimble says...
Neil Booth, get your facts right In was in the Arsenal end, no bananas were thrown and no racist songs were sung, the song you refer to is a Spurs chant which believe you me we would not sing, that's the fact not your misguided attempt to distort the truth, shame on you and your lies
Posted 19:30 15th September 2009
Alfie Bennett says...
I can't believe this sick behaviour from Adebayor. He is one the most talented in the Premier League which means he should be setting an example for the the lower leagues but has he done that?NO! At the end of the day, he has to reflect on the poor actions he chose to make.
Posted 17:32 15th September 2009
Eddie Fitzpatrick says...
Alex Dunn are you Jamie Redknapp in Disguise? To those myopic Man City "SUPPORTERS". RVP has never and would never play for Man City, he has too much class for that. So to suggest what he did after he scored was as bad as Ade then you are as stupid as he is. Please refrain from using the "race" card. Look at the Arsenal supporters on the day. Arsenal are renound for the behaviour and it was only for the disgraceful actions of one idiot to incite them Adebayor stamped on Cesc. No booking. He stamped on RVP, no booking. He incited a riot. A yellow Card. The guy should not even have bene on the field when he scored. He is hated at Arsenal for a number of reasons. He tried to force a sale to a bigger club (quite ironic considering he ended up at City i think, maybe it was for the money afterall). He had one good season and thought he was God. His performances and attitude last year were awful. He did not care and that was nothing to do with the fans. He is a disgrace. Man City fans mark my words when things go bad you will see this side of him. let me ask you so called City Fans this... if he was so "in love" with City why did he feel it necessary to celebrate on front of Arsenal fans. Would it not have been more appropriate to celebrate with those fans who do not despise him. Man City and Adebayor are a classless match made in the slum.
Posted 13:55 15th September 2009
Richard Morris says...
Firstly I am a City supporter, so my view will probably be considered biased. I feel there has been very little comment that immediately before the alledged stamp (alledged mainly raised by the media who are totally anti-City following the takeover), van Persie attempted a horrendous two footed tackle which Ade managed to avoid although in doing so, he lossed balance and I believe was attempting to find the ball when his foot made contact with VP´s cheek, an accident as judged by the referee who was very close and had a good view of this incident. Matter should be closed but it will not be as we are not part of the "top 4" establishment yet!!
Posted 13:46 15th September 2009
Steven Foley says...
To all you city fans who think Ade choose to leave arsenal, wake up! you were the only club stupid enough to pay his wage demands, he would play for Plymouth Argyle if they paid 10 million a year, he will score 30 goals for you this year, be looking for a move to a BIG european club in the summer, and then spit his dummy out and sulk for a season when nobody comes calling. your welcome to Adebarndor, he's got as much class as the owners who turn up to buy the league. no ban is necessary, he has shown the world who he really is, something gooners already knew.
Posted 13:13 15th September 2009
Adrian Lohrey says...
ade should have let his goalscoring do the talking for him. Why did he shun his team mates after scoring to rush down the other end of the pitch? If he was 'out of control' for 2 or 3 seconds why did he not come to his senses before he got to the other end? He wil probably get banned and i hope he learns his lesson. I somehow doubt he will.
Posted 12:26 15th September 2009
Lee Armsden says...
Re: Tony Nuttall, out of all the comments made on here by everone who obviously are "experts" yours is the only comment that hasnt been made with red or blue tinted glasses and i agree with everything you said. oh and im a huge city fan, also good luck to aresnal for rest of the season always enjoy watching them play
Posted 12:25 15th September 2009
Noel Vernon says...
Is it just me or have most people missed the fact that the whiter than white RVP, ran to the City supporters and appeared to swear in front of them when he scored. There appears to have been a lot said about Adebayours actions but no-one mentions RVP. Surely if Ade gets a ban for his actions RVP should get double.
Posted 12:15 15th September 2009
Casey O'brien says...
I have to say that this article is absolutely spot on. Since when has the behaviour of a footballer justified a crowd of responsible adults to attack a team of stewards? Perhaps those at the game do not fully appreciate how unfitting the abuse Adebayor received for 90 minutes actually was. In a game that displayed everything the Premier League is supposed to represent, it was the Arsenal fans who were intent on souring the mood from the warm up to the final whistle. Well, it took them 80 minutes, but they got what they wanted. If Adebayor's celebration was pre-meditated, the Arsenal fans were very much waiting for it. And as for Adebayor's 'personal agenda', I don't think anybody has drawn attention to Nicklas Bendtner's series of rash attempts at tackles on his former team mate, especially during Adebayor's dazzling run down the left wing. There is no way I can defend his stamp on Van Persie, and if the FA choose to ban him the vast majority of remotely intelligent City fans will accept it. However, the more the FA investigate into Saturday's events, the more Adebayor's celebration looks like a drop in a rather unsavoury ocean.
Posted 09:51 15th September 2009
Matt Dale says...
Poor old Arsenal fans moaning about a player who had enough and decided to leave while sticking his fingers up at you. Can you really blame him for winding you Gooners up after the abuse you levelled at him? Sol Campbell got all kinds of stick at Pompey last year from Spurs fans and our fans got punished, yet there was no crowd surge, no one tried to get to him, no missiles thrown and no one was hurt and yet most of the crowd that day hate Campbell with a passion you Gooners will never feel for Adebayor. The microscope was firmly on us that day so why shouldn't your fans be looked at? Players will shaft clubs no matter how big or small and will recieve some stick for it, Ade's manner in which he left Arsenal is sure to upset you, but there is a thing called sweet revenge and proving a point and what better way for a footballer to get it than by scoring against his old club and reveling in the moment be it dignified or indulgant. Get over it and deal with it Gooners.
Posted 08:35 15th September 2009
Letshego Seane says...
Adebayor did nothing wrong. All he did was celebrate infront of the fans that jeered him the whole game. He made no bad gestures to the crowd. Stop over reacting!!!!!
Posted 07:57 15th September 2009
James Sombe says...
No explanation can justify Adebayors behaviour. Suppose as result of his irresposible act the fans ran riot, what would we be saying.
Posted 06:09 15th September 2009