I was disappointed, but not totally surprised, to see Owen Coyle part company with Bolton.
I think he is a top-class manager and he made it quite clear that he was building for the future at the Reebok Stadium. He also said that when he left the club they would be in a better position financially than they had been when he arrived.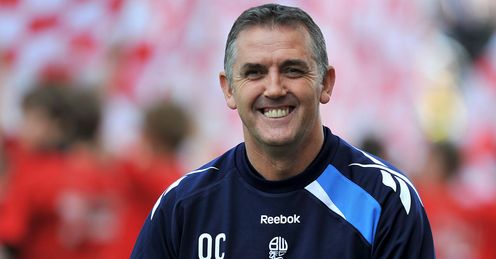 We all remember some of the eye-catching signings that Bolton made under Sam Allardyce - Jay Jay Okocha, Youri Djorkaeff to name but two - and they certainly did a job, but they were very much expensive, short-term, stop-gap measures.
Coyle was trying to inject some youth into the side and create something that would endure; not all of his signings came off, but by bringing in players like Marvin Sordell and getting some of the big earners off the wage bill, Owen was looking to ensure that Bolton would be a force in future years.
Bolton have got a magnificent stadium and you want to watch a decent football team play in it.
Jeff Stelling
Quotes of the week
Results this season have not been forthcoming, though, and Coyle will not now be given the chance to see that project through. That is a shame because I think he has done an admirable job at the Reebok Stadium, in spite of last year's relegation.
I think other clubs, certainly in the Championship, will look beyond results and see exactly what sort of manager Owen is; wonderfully enthusiastic, very approachable and probably a better trainer than some players, so I don't reckon we've seen the last of him in the dugout.
Bolton, however, have to be careful now because they don't want to do a Charlton and follow one relegation with another soon after. They have got a magnificent stadium and you want to watch a decent football team play in it.
I think they need to appoint someone with a bit of experience; I like to see bright young things given a chance but Bolton would be taking a huge risk if they went down that route.
They are missing out on the Premier League gravy train already and can't afford to keep spiralling the wrong way.
Danger
I read an interesting piece from the Daily Mail's Martin Samuel the other day.
He explained that St George's Park, the FA's new national football centre, has been modelled on the French academy Clairefontaine, from which Thierry Henry progressed.
But he also pointed out that France's outstanding footballer from the last two decades, three-time Fifa World Player of the Year, Zinedine Zidane, did not go there.
I think there is a danger that everybody believes this new state-of-the-art complex is the answer to all England's problems - when in actual fact we don't have that many problems.
Our biggest one, of course, is that we have too many foreigners in the Premier League which stifles the prospects of young English players, but we have seen this season, especially at Liverpool, just what these academy kids are capable of.
As a relatively small nation who punch above our weight, we are not in that bad a boat.
Jeff's Gem of the Week
I've gone for Dagenham & Redbridge this week, who recorded a 4-3 win over Bradford last Saturday. It's not very often that the Daggers score four in a game!
In John Still, the Victoria Road outfit have the longest-serving manager in the Football League, which is an achievement in itself when you consider he is not working on minimal resources - he is working on zero resources.
Dwight Gayle, who scored Dagenham's winner against Bradford, has previously played for Stansted and Bishop's Stortford, which gives you an indication of what sort of market they are shopping in.
It is a small miracle that season after season Still manages to keep his side's head above water - he even got them promoted to League One a couple of years ago - and I think he deserves a pat on the back.
Comments (5)
Ian Rosbotom (Bolton Wanderers fan) says...
Agree completely with Karl Ramwell. People who dont watch owen coyle week in week out have a romanticised view that he is a quality manager who tries to play football in the right way, but in truth he is a manager who has zero tactical nouse, doesnt know when to make substituions, no plan B and favourite players (tyrone mears, paul robinson, martin petrov) he will play week in and week out no matter how bad they play. he does try and play football in the right way but if you dont combine that with solid basics then im afraid it just isnt good enough
Posted 11:53 15th October 2012
Dave Hargreaves (Burnley fan) says...
COME BACK TO BURNLEY! Everbody deserves a second chance. Best football the Clarets played under Coyle, Yes some say we got lucky in 09/10 but the first part of our Premier league campain we could match anybody at Turf Moor playing attractive attacking football. I for one was certain we would have avoided relegation had Owen stayed.
Posted 17:54 14th October 2012
Dean Ryan (Bolton Wanderers fan) says...
Got a lot of time for Coyley and wish him all the best. Gutted that it didn't work out for him, but unfortunately it was getting worse and several of his signings and team selections left a lot to be desired. He promised to bring back wingers yet we were playing central midfielders in the wide areas (Mark Davies). Al Habsi is doing greatly in the Prem, while the funds from his sale bought N'Gog, who has certainly been a major flop. A lot of bad luck also conspired against Coyley. Let's hope a change will inspire a change in fortunes.
Posted 19:42 11th October 2012
Karl Ramwell (Bolton Wanderers fan) says...
I'm a Bolton fan and I have nothing against Coyle, I wish him all the best for the future, but I still don't understand how people view him as a top manager. Even during his time at Burnley I never rated him, he's always been a middle of the road manager. He's tactically naive, poor with substitutions and is unambitious in the transfer market. Out of the 10-15 signings he made during his time here, only three have paid off and two were short term signings (Sturridge and Wilshere). He was a breath of fresh air after that PR disaster Megson, who whittled away our fairly large wage and transfer budget, but once Coyle couldn't hide behind the good squad that Allardyce and admittedly Megson established he started to show his tactical weaknesses. He has now twice proven (with Burnley to an extent and Bolton) that he is just not cut out for top flight management with a "relegation area" strength squad. He's not adaptable enough to survive the top flight unless he can hide his poor tactics behind a good squad. I've notcied that the only people who rate him as a "top-class" manager are the people who don't support a team he has managed and got to see him weekly, every game. The vast majority of Bolton and Burnley fans see him as what he is; an average manager with good PR. Nothing more, nothing less.
Posted 16:54 11th October 2012
Chris Higson (Bolton Wanderers fan) says...
Re: Owen Coyle. Owen was given the task of lowering the wage bill at Bolton which I am sure he has done. Has he done this while maintaining a good quality team? I don¿t think so. Most of the players he brought in during his time at the club (Premier League) were, in my eyes, Championship level players (Where did we end up?). Eagles, Pratley, Mears and the aforementioned Sordell, who incidentally was not getting a look-in in Coyle's teams. So where the example of Coyle's future being built with Sordell comes from i have no idea. Don¿t get me wrong I like OC but I do feel the time had come to part company. It was clear from day one in The Championship that the players looked sluggish and were perhaps still nursing a relegation hangover. I said on The Burnden Ace's forum that we should give Owen at least ten games to get this team settled in this division. I don¿t think he has been able to settle them, get a strong starting 11 and bring real belief back to his players. This season I have seen no improvement in the ten games we have given to Owen. The starting selections at times have been baffling as have some of his substitutions. Tactically we have been all over the place and the way Knight was so easily drawn out of position and then beaten to the ball for Millwall's second goal last weekend kind of summed it all up for me. Owen is an ambitious manager that wants to win games but we have not been able to keep enough clean sheets, due to poor organization more than anything, to be able to win games without having to score 2 or more goals ourselves. we need a manager that can organize a team. I am under no illusions that we should be in the Prem, we shouldn't, we were not good enough last year. If we want to get back into that league though we need to start fighting for points and build a strong spine through the team starting with jay spearing in my opinion. Thanks for everything Owen but the time had come.
Posted 13:29 11th October 2012