The NFL had its latest adventure in London on Sunday night at a packed Wembley Stadium with the New England Patriots thrashing the St Louis Rams 45-7.
One of the conversations amongst the loyal fanbase - as there always seems to be when the NFL circus comes to town - was about the possibility of there being an NFL team in London.
Sky Sports' Alex Ferguson weighs in on the issue...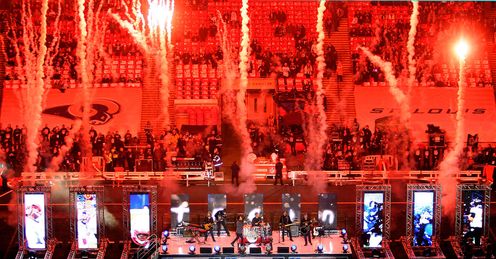 On the Saturday before his team played in London, New England Patriots owner Robert Kraft told the huddled masses at the NFL Fanfest: "I think London has shown, with the way they've handled the Olympics and every other major sporting event, that it's time for you to have your own NFL franchise, based in London."
This set the tongues wagging. Because a major power player in the NFL had said it - and backed by the UK's success at the Olympics - people began to think: "Hey, the UK could have a team".
In the months before Kraft's comments, there had been more good news for London. The Pittsburgh Steelers - one of the NFL's biggest teams - were going to come to London in 2013 for a second NFL game, playing the Minnesota Vikings on the road.
And also, the Jacksonville Jaguars said that they would be London's 'home team' for the next three years, in an effort to build a fanbase and pack the houses.
But that doesn't mean that there should be a NFL team in London.
The Jacksonville Jaguars may have talked up the reasons why they wanted three straight years of London exposure as an opportunity to 'brand build', but there's another reason: the only time Jacksonville fills its stadium is when either there's a Super Bowl, or if Florida's playing Georgia (as they did on Saturday) in one of college football's biggest games (it's dubbed the 'World's Largest Outdoor Cocktail Party').
In 2012, the Jags rank 20th in attendance as a percentage of the filled stadium and 21st in average attendance. While at Wembley, a sell-out crowd at the game guarantees more money - as well as that vaunted international exposure. Minnesota's by the way, rank 27th and 28th on that list.
My thesis as to why Robert Kraft wants his team to be the 'designated away team' every year is two-fold: He can build the Patriots brand internationally, and he also doesn't have to give up a home game.
As he once told Sky Sports at the Super Bowl when we met him, the Patriots are unlikely to do that anyway, considering Foxboro sells out week in, week out and the season ticket waiting list is absolutely monstrous. In fact, any 'big' side that comes to our shores would want to come as the 'away' team, so they don't have to give up the home game.
What we noticed about the event at Wembley - and having the NFL over once a year is still a special occasion - is that the International Series event in London is the Super Bowl for a lot of UK fans - it's the chance to see a NFL match on their doorstep and it's something to get excited about?
Would there be the interest (or the wish to pay high ticket prices?) if there was a team in London? We think not. We think that a NFL franchise - which would probably struggle in its first four to five years (see the Houston Texans for example, who are really only coming good now) - would only play to a half-full stadiums. You can't schedule big teams every week to play over here, and the magic would soon wear off.
Plus, as a NFL fan, I would much prefer to see the NFL set up shop (again) in Los Angeles rather than London. LA is a city that is absolutely dying to have a team back, after the Raiders and Rams left town. And as LA is one of the country's biggest cities, it's stupid that one doesn't exist.
And as a NFL fan, I'm much happier if London has one game a year, rather than eight.
What do you think?