I think Miguel Cotto, who will battle Austin Trout for the WBA light-middleweight title this weekend, goes under the radar a little bit.
Cotto is a tremendous fighter and has been around big bouts for some time, but I suppose his problem is that he has lost his career-defining matches: against Manny Pacquiao in 2009 and Floyd Mayweather in May of this year.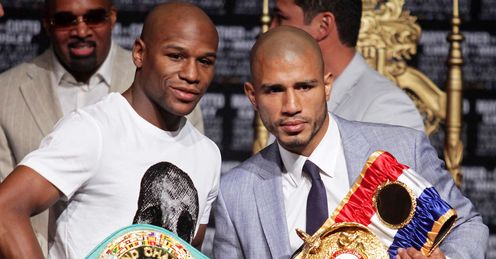 However, at just 32, his career is a long way from over and I think the Puerto Rican could become an even bigger star in the light-middleweight/welterweight scene over the next few years, because Mayweather and Pacquiao are on a downward slide.
The American has other things going on in his life, while the Filipino, who tackles Juan Manuel on December 8 in a cracking-looking contest, has his political commitments and is certainly past his best.
Kell Brook is someone I am very, very excited about; he is a phenomenal young talent, a charismatic kid, and has a real wild streak.
Glenn McCrory
Quotes of the week
Cotto will face stiff competition from Britain's Kell Brook, though, someone I am very, very excited about; he is a phenomenal young talent, a charismatic kid, and has a real wild streak.
If he can get everything right he could be THE man of his division.
Truth
I haven't seen Ricky Hatton's loss to Vyacheslav Senchenko yet and a bit of me doesn't want to see it; I fear it might be the equivalent of former marathon runner Haile Gebrselassie jogging three miles and coughing up snot.
It is sad that Ricky's career has ended in this fashion but the good thing is that he now knows the truth: that he is not what he was and that he is no longer the Hitman.
That will be hard for Hatton to come terms with, especially as, cruelly, it happened in front of a packed house in his home city of Manchester, but it might be better than Ricky living the rest of his life with this nagging thought that he could have had more to offer in the ring.
I think the 34-year-old made excuses in the past; after he lost to Floyd Mayweather he seemed to suggest that he would have won if the referee hadn't been tough on him, while he also intimated he might have beaten Manny Pacquiao if he had prepared better.
He was in denial then but he can't be anymore. There is nothing left in the tank.
There are no fairytales in boxing as was proved when Muhammad Ali lost to Larry Holmes in 1980 and was a shadow of his once great self, despite people saying he had looked dynamite in the gym and was on the verge of rejuvenating his career
Ricky has found that out - and the same fate may befall Andrew Flintoff this weekend.
Prevented
It's been a tough couple of years for boxing with many big-name fighters - and my heroes - dying; Alexis Arguello shot himself in 2009, while Olympic legend Teofilo Stevenson passed away in June.
Sadly, Hector Camacho is the latest victim, with the Puerto Rican losing his life at the weekend after being shot in the face - but I truly believe boxing prevented "Macho" from dying 30 years earlier.
A lot of boxers latch onto the sport as a way of getting out of a rough neighbourhood or escaping poverty and Hector was the same; the sport kept him out of a lot trouble - if not all trouble - and acted as his saviour.
Most fighters have a wild spirit - you have to be slightly peculiar to get in the ring in front of screaming people and risk all manner of injuries - but Camacho was VERY brash and, quite often, VERY obnoxious!
But he was also a top performer in the ring; he was quick, had great skill and flair, and fought lots of legends like Oscar De la Hoya, Sugar Ray Leonard and Roberto Duran.
The boxing world has certainly lost an entertainer.
Comments (3)
Jason Hutchinson says...
Floyd Mayweather the best ever? Michael Moore must be no older than 18 if he thinks that. As for Brook, lets see what happens when he fights Devon Alexander and then we can draw more conclutions, and Cotto imo is not the fighter he was 4-5 years ago.
Posted 23:19 28th November 2012
Jon Berry says...
Sugar Ray Robinson would have beaten Floyd, even if Sugar was at 80%
Posted 22:41 28th November 2012
Michael Moore says...
I think Mayweather is still the best about and IMO the best ever and no one could beat him, even if he was only going at 80 per cent. Kell Brook is good but far to open to match the likes of Cotto, Pretty Boy Floyd and the Pacman!
Posted 16:20 28th November 2012