Earlier this week Dean Saunders described Saturday's Premier League clash between Aston Villa and Southampton as one of Villa's biggest games ever and I don't think that's an exaggeration when you look at their results across the season.
Dean made the comment on Sky Sports after watching Paul Lambert's side lose 3-1 to League Two Bradford in the first leg of their League Cup semi-final tie, a result that ironically was as predictable as it was startling.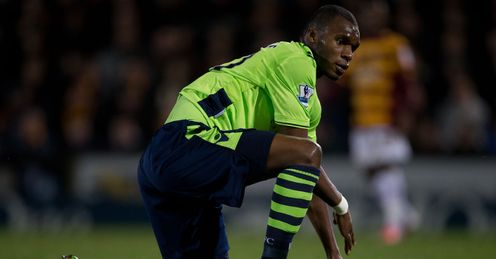 Villa have won only three of their last 23 home Premier League games and if they fail to pick up any points against fellow strugglers Southampton this weekend, I just don't see how they are going to turn the corner; it's almost unthinkable that they'd become a Championship club, but they wouldn't be the first 'big' club to suffer that fate.
But one player who definitely needs a rest is Benteke; he has been Villa's shining light so far this season but he's scored only once in his last five games and that was a penalty, against Swansea.
Jeff Stelling
Quotes of the week
Things have been camouflaged in the Premier League to some degree by one excellent performance at Liverpool and a point at Swansea where they could have lost 6-0, but they've now conceded 21 goals in their last six games in all competitions.
Expectations have never been lower amongst home fans at Villa Park and I think Southampton - who won the corresponding fixture at St Mary's 4-1 - will probably go there and win. If that happens, owner Randy Lerner would surely have no option but to get the cheque book out again (and quickly) and allow Paul Lambert to buy some seasoned pros.
Strengthen
A lot of publicity suggests that Lerner has invested significant amounts of money in the club over the years - and so he has - but he's also had significant returns from a lot of the big-name players who have left the club.
After spending substantially in the summer on the likes of Christian Benteke, Ron Vlaar, Joe Bennett and Matthew Lowton, I just wonder whether he still has the passion to keep funding Villa at the same rate; to be honest, I'm not sure.
It doesn't matter how good a coach you are - and I think Lambert is a very good one - if the players aren't good enough, then you will struggle and I think Villa are in big trouble at the moment. If Lerner decides not to spend, I can only see this season ending one way.
The obvious answer is sell Darren Bent (if, indeed, he doesn't have a Villa future) and use the funds, supplemented by additional money from the owner, to strengthen the squad. But buying proven Premier League players is not easy at this time of year, which makes me wonder why experienced pros like Stephen Warnock and Alan Hutton are out on loan?
I don't buy the explanation that Villa are struggling because they have a whole raft of players on the treatment table - I don't think they are any worse off with injuries than any other Premier League side.
But one player who definitely needs a rest is Benteke; he has been Villa's shining light so far this season but he's scored only once in his last five games and that was a penalty, against Swansea. Quite simply he looks jaded, which isn't surprising because he's a young man carrying the attacking burden of a major Premier League side on his shoulders pretty much alone. That's clearly taking its toll.
Jeff's Gem of the Week
Before I name this week's winners, I must mention Bradford. I've said it before but it's worth repeating - the revival is on and it's great to see Phil Parkinson rebuilding his reputation. In his Colchester days he was regarded as one of the brightest young coaches in the country and it's great to see him on the way back after some difficult times in tough circumstances at Hull and Charlton.
But my 'Gem of the Week' is Oldham winning at Nottingham Forest in the FA Cup. This season has been a real struggle for Oldham - so much so that the majority of Paul Dickov's backroom staff, save the goalkeeping coach, have been put on 'gardening leave'. For all intents and purposes that means they've been dismissed, in my book. That must have left Paul feeling isolated and insecure, to say the least. People who know him tell me Paul's a thoroughly likeable, talented young manager and for him and his side to go to Forest and get a result in the circumstances was sensational. In fact, it was the perfect riposte to Oldham's owner and board.
Oldham, like Hartlepool, don't get the sort of gates that can sustain them at a higher level than they are playing at now and can only dream of being in the sort of position that some of their rival teams are in. Take Sheffield United, for example - a club that gets huge crowds and has just splashed out a six-figure fee on Jamie Murphy from Motherwell. That must seem like a different world.
Comments (10)
Simon H (Aston Villa fan) says...
Jeff, While I agree that Villa need to buy some experienced players you also need to do some homework in regards to injured players. At the moment the following are injured Bent (taken off against Bradford and missed Xmas period), Albrighton, Westwood, Vlarr, Dunne, Petrov and Gardner. Also take in to account that over the last few months Agbonlahor, Ireland and nZogbia have been out injured then that is a majority of the experience players in the squad. Only Newcastle have more 1st team players out injured at the moment.
Posted 09:20 11th January 2013
Richard Gatehouse (Aston Villa fan) says...
Couldnt agree more ! Season ticket holder for 15 years and this is the worst team I've seen down villa park in that time.
Posted 23:33 10th January 2013
Anthony King (Aston Villa fan) says...
"I don't buy the explanation that Villa are struggling because they have a whole raft of players on the treatment table" - then you haven''t watched much of Villa this season. We lack in all the areas there are injuries, especially at the back hence the 21 goals we've conceded in the last six. This Villa team with the leadership of Dunne, Vlaar and Petrov wouldn't be in anything like the trouble they are in now that's for sure..
Posted 23:17 10th January 2013
Tim Bridges (Aston Villa fan) says...
Really! Villa could lose against Southampton and stay above relegation places. We are in for tough season with young players and new manager but long way to go. Could be much worse could be rock bottom of league 1!
Posted 20:19 10th January 2013
Callum Ellis! (Aston Villa fan) says...
I agree with what you have said Jeff... Simple as it gets. Lerner has to spend a HUGE sum of money to keep us up... Im talking £50million plus in a transfer window that is hard to get players in. Rumours on Villas site that there is NO money to spend! haha, Villa are as good as down.... Lerner out!! Sick of excuses. The bloke hasnt got a clue how to run a football club
Posted 18:17 10th January 2013
Alan Joyce (Aston Villa fan) says...
If you watched any Villa matches last season you would know why Hutton and Warnock are as far away from the club as possible. It's funny, pundits all over the country are quick to criticise Lambert and his reluctance to revert back to the more senior squad players, but when England play and underperform the very same pundits are calling for the old guard to be replaced by the kids to 'build for the future'. Granted England can't get relegated, but I also don't believe Villa's premier league survival hinges on this weekend's match against Southampton. Villa are the kind of team this year who will lose to Reading one week and beat Man City the next. It's a sign that the club is in transition. Whilst this has seemingly been the message the club has been feeding to the fans each year since Martin O'Neill's departure, stability with the same manager and keeping faith with the kids rather than panic buying surely has to be the right way forward.
Posted 16:56 10th January 2013
Paul Kellas (Aston Villa fan) says...
Absolutely word perfect on the Villa situation Geoff - unfortunately!
Posted 16:31 10th January 2013
Jason Darmon (Everton fan) says...
looks like aston villa, reading and qpr are going down then, everton for champions league!
Posted 16:06 10th January 2013
Alex Gregory (Aston Villa fan) says...
It's a valid point, if we loose to Southampton at the weekend we will go two points behind with only 16 games to play, no team in the history of football has ever overturned such a massive deficit.
Posted 15:19 10th January 2013
Herman Herman (Aston Villa fan) says...
While I do understand the comments that are made here I don't see a loss automaticlly meaning relegation for Villa. In reality QPR and Reading will be relegated so it is that 3rd spot all teams are trying to avoid. If we get some defensive players in or back from injury I think we will pick up more points than those around us. But it is going to be between us, Wigan, Southampton and Sunderland but don't rule Newcastle out of it just yet. Interesting few months ahead. Let's hope we are still in the EPL come August!
Posted 14:31 10th January 2013