Early on in his career I was pretty critical of George Groves.
He looked like a fighter that was trapped between two styles, struggling with the indecision of what he wanted to be. He wasn't quite anything.
Now he's decided he has a different strength of mind, he knows what he wants to do, he can move, he's a good counter-puncher, he's got a very good right hand, he's got power, he's got the tools.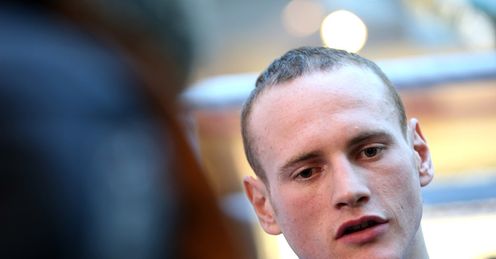 Since I started covering fights for Sky Sports I have seen many people just lose it - they've talked the talk, they've walked the walk but when the fight is ten minutes away, the reality of it kicks home.
Before the fight was mentioned I said he would become a world champion but I do wonder, is this his time?
It will be interesting to see how George Groves handles the occassion - and how Froch handles it, too, because he has looked as if he's been ready to detonate a right hand every time they've come face-to-face. It will be really good to see if Carl remains calm and hasn't been fazed by the build-up.
Bigger
Carl Froch likes to come forward and the only real loss he's had is when Andre Ward pushed him back, so are we going to see George Groves - who is probably naturally the bigger man - pushing him back?
Froch is going to have to give George Groves a bit more respect because the kid is a sharp fighter, a good fighter and he can bang.
Glenn McCrory
Quotes of the week
Froch could probably make middleweight at a push, whereas George Groves is a bigger man, a younger man, so are we going to see him adopt that game plan that we know can beat Froch and keep firing right hands over his low held left jab and push him on the back foot because he's not used to it and he's not comfortable there?
When they stand face-to-face in the ring and the referee issues the rules, I don't think Carl will be calm. Froch is going to have to give George Groves a bit more respect because the kid is a sharp fighter, a good fighter and he can bang.
I think not backing-off would be the biggest surprise that George could give him because I think Carl thinks Groves is going to run and he's going to have to cut the ring off, that he's going to have to chase him.
If all of a sudden Groves is fighting in front of him, trying to beat him to the jab and trying to stop him with double jabs then I think everyone is going to sit up, everyone is going to take notice and I think we're in for a cracking fight.
Luck
Sometimes luck plays a part and things just fall in to place.
I remember when Steve Collins fought Chris Eubank down in Millstreet and Eubank's 'Simply the Best' ring walk music went off halfway through. Steve Collins sat in the corner with his hood up and some headphones on. He'd rattled him with the stuff about the hypnotist as well.
Eubank took the bait and took his eye off the ball. That bit of luck went against Eubank and Collins came out the winner. That can happen in a fight, things can go wrong so you need that bit of luck on your side and it's often about who has that on the night.
Froch has got to be the favourite with the fights he's won and the credentials that he has. But in boxing when someone is a massive favourite you have to remember it is just two arms, two legs and one head.
I think we might have Groves ahead at the stoppage on points and I think a few people will have had their eyes opened to George Groves, but I think eventually class always comes to the top and Carl will get through and will get the stoppage. I'm thinking in about round nine or ten.