It's Valentine's Day on Friday, so we thought we'd take you through a list of America's Top 10 sporting relationships (and some of them are a little spurious, as you'll see!) Cupid (OK, our blogger Alexander Ferguson) has your list. He's brought his arrow, golf club, tennis balls, and microphone...
Andre Agassi and Steffi Graf (Married since 2001)
Two tennis greats, happily in love. Graf is not Agassi's first wife - he was married to actress-come-80s-icon Brooke Shields from 1997 to 1999. Graf had a long relationship with German driver Michael Bartels before Andre came on the scene. Now, this German-American relationship has two children (Jaden Gil and Jaz Elle) both players raise a ton of money for charity and they probably try not to think about playing another ball in anger.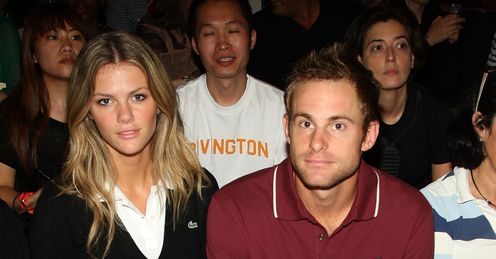 Dario Franchitti and Ashley Judd (Married since 2001)
This Hollywood/IndyCar marriage was always highlighted by Ashley's face in the pits of Dario's IndyCar spots (and celebrating with him when he took home four titles). Thankfully, she wasn't seen screaming at the TV when Franchitti had his monster crash at Houston that put him in hospital but could have put him in a coffin. That's because in January 2013, they announced that they were divorcing... and now in December 2013, it looks as though they may be back together again. If they do get back together, Dario will be able to focus on his marriage full-time because he's taken medical advice and retired from motor racing, having earned tens of millions from the sport from his victories and championships.
Tiger Woods and Lindsey Vonn (Relationship since 2013)
Tiger Woods is probably the greatest golfer who ever lived (Sorry Jack! Sorry Arnold!), despite not having won the most Open titles. But sadly Tiger Woods has been more famous for the bad behaviour that wrecked his marriage to Elin Woods than he was playing good golf in recent years... although apparently the new relationship with Vonn is leaving both sides smiling - even with Vonn not being able to compete in the Winter Olympics this year due to injury (she was favourite to win the women's downhill).
Jay-Z and Beyoncé (Married since 2008)
Why in hell should I have Jay-Z and Beyoncé on a sports list? Easy. A few years ago I wouldn't have bothered, but now Jay-Z is flexing his ample guns towards the world of sport, I have to. Jay-Z has been a (very) minority owner of the Brooklyn Nets, but sold his stake because he prefers to be where the money is... and that's why this year he became a licensed NBA and MLB agent. His Roc Nation Sports agency has signed one of the biggest names in baseball, Robinson Cano to their roster. The first major deal? Cano signs a 10-year, $240m contract with the Seattle Mariners. Now, it's signed New York Yankees pitcher CC Sabathia, NBA God Kevin Durant, and two NFLers in Victor Cruz (New York Giants) and Geno Smith (New York Jets), as well as WNBA star Skylar Diggins. Can we get an encore?
Sanya Richards and Aaron Ross (Married since 2010)
My friends from Austin, Texas will be happy with my inclusion of this beautiful couple, but when you've got one player who's a NFL cornerback in Aaron Ross (and a pretty useful one at that, folks (not in 2013, when he was injured for a lot of it)), and the other one who's won four Olympic golds for her sprinting prowess, why wouldn't you? We can't wait for the kids to be sprouted. They are going to be faaaaast.
Laird Hamilton and Gabrielle Reese (Married since 1997)
One of the modern legends of surfing marries smoking hot volleyball player-come-athlete? We'll take it. Can you imagine the athletic tips both sides would give each other? You know, in between dealing with social activities and two young boys.
Nomar Garciaparra and Mia Hamm (Married since 2003)
'Nomahhhh' - as he's well-known to the Boston Red Sox fans who loved him - had a great 13-year career, especially during the great times of the late 1990s, when he, Derek Jeter, Alex Rodriguez and Omar Vizquel battled it out to be the best shortstop in the game. His greatest move may have been off the pitch when he married one of America's greatest-ever athletes, women's footballer Mia Hamm, who scored 158 goals in 275 appearances for the US national team. Which is pretty good.
Andy Roddick and Brooklyn Decker (Married since 2009)
Andy Roddick first noticed Brooklyn Decker on a Sports Illustrated TV show about SI Swimsuit Models in 2007 (not a bad place to look, as it goes). An agent put together the meeting. They fell in love. They were married in 2009. Fun fact: I've actually met both parts of this relationship (Roddick in a bar in Miami a couple of days before the Super Bowl in 2007; Brooklyn in the Super Bowl Media Centre prior to the Dallas Super Bowl in 2011), and they really are lovely people as well as being pretty good to look at, too.
Matt Treanor and Misty May-Treanor (Married since 2004)
Matt Treanor's a baseball player whose career has been decidedly average (.222 battling average/18 HRs/129 RBIs/ 6 teams), but he definitely stepped up when he fell in love with and subsequently married one half of America's greatest-ever beach volleyball couples, Misty May. May's now producing babies (they are expecting their first), and studying to be a coach. Let's hope the baby will have the success of Misty... not Matt.
Chris Evert and Greg Norman (Married 2008-09)
Greg Norman wasn't Chris Evert's first marriage. She'd already failed in staying the course with British tennis player John Lloyd (1979-87) skier Andy Mill (1988-2006), and had had an engagement with fiery US tennis star Jimmy Connors. During her relationship with Mill, she fell in love with Greg Norman. But after they were married, she realised she'd made a massive mistake and the relationship collapsed soon afterwards. Which is disappointing, because I would have loved to see how an Evert-Norman kid would have turned out.