On Thursday the cameras at the NFL Draft will all be on Johnny Manziel, the college football quarterback who had jaws dropping across the land.
skysports.com's US college football expert Alex Ferguson profiles Manziel, and asks: Would he be the best use of a pick for a team that needs a quarterback?
Everyone in America has heard of Johnny Manziel. He's been on the cover of Sports Illustrated, ESPN The Magazine, and his off-the-field exerts have made gossip channels like TMZ.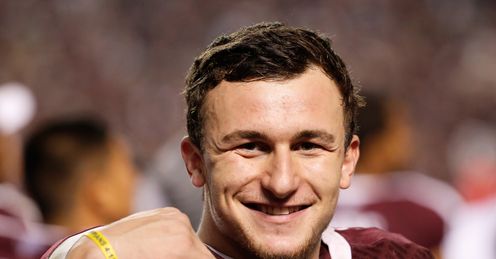 He's posed with the rich and famous. He's loved life and the world has loved him. He's God at Texas A&M University, a school that has some of the most rabid fans in college football... and that's saying something in a conference that prides itself on its rabidity.
If you guys in Britain don't know who Johnny Manziel is, here's a quick bit of background.
The leggy elusiveness might work out in Year 1, but in Year 2, the defensive co-ordinators will work a scheme for you, and suddenly it all becomes a little stale.
Alex Ferguson
Quotes of the week
First of all, you should note that the starting job at Texas A&M didn't just come to Johnny Manziel like the rest of things in life (see his wealthy family for details), he had to work at it. He was in a battle with Jameill Showers for the starting job, and won it in preseason after Ryan Tannehill went to the NFL to be Miami's quarterback.
He worked at it, and set college football alight in 2012. Sure, he had his teething problems, but my God he dropped your jaw when he ran, such was his elusiveness and speed; his arm wasn't terrible either.
You could probably blame him - sometimes- for the home losses against LSU and Florida, where he was contained by two of the country's best defenses. Florida worked him out in the second half, LSU worked him out all game?
But Alabama? Johnny Manziel went to there, took the Crimson Tide by the scruff of the throat and led the Aggies to an historic victory.
He finished that season by taking A&M to the Cotton Bowl (which they won, slaughtering Oklahoma), and putting up gaudy numbers: 3,706 yards passing, 9 TDs. 1,410 yards rushing, 21 TDs. Oh, and he won a Heisman Trophy, the award for college's best football player.
He was also given the nickname during the season of 'Johnny Football', which is bit-part 'Johnny Unitas', bit-part 'Johnny Bravo'. Between that and the slightly cocksure personality of a guy who knew people loved him in College Station, there wasn't a lot not to get excited about.
The season started with Manziel being banned half-a-game for the aforementioned incident, and he was pulled out of the time he played by coach Sumlin for telling an opposition player - comically- that he "couldn't have his autograph" (I loved it, for the record).
Pocket
But then something happened. Coach Kevin Sumlin wanted Johnny Football to be more Johnny NFL, and we saw a player who lived a little more in the pocket instead of owning the field like the Michael Vick of old.
A&M lost to LSU (again), and to Alabama and Auburn at home (though the second loss was a little controversial), and finally Missouri on the road. And although a lot was blamed on Johnny Football for trying to take games over too much, the god awfulness of the defense on the other side of the ball ensured that no game was easy.
With the losses came the catcalls and the bemoaners - and even some Texas A&M fans muttered that they "couldn't wait for Johnny to leave because then the offence might be more balanced" (we bet they didn't say that in 2012).
His interception count went up to 13 TDs even as his passing numbers skyrocketed (4,114 yds). His rushing number (759 yds) dwindled, as did the number of TDs he scored with his feet. He was becoming more Johnny NFL, and less Johnny Football.
Sumlin let Johnny be Johnny in the bowl game against Duke, and Johnny was jaw-dropping, throwing for 382 yards and 4 TDs, and rushing for another 73 and another TD. But more's the case, he was back to being Johnny Football all game long, and it was great to watch.
Then came the question: Will Manziel stay in college? My opinion was that he should have stayed for another season. Not because he hadn't accomplished very much, or because I wanted to see another season of Johnny Football (which I did, if only to see Nick Saban's face), but because I didn't think he was ready.
Why? First of all, the arm. Johnny Manziel made some NFL throws in college, but he also made some pretty awful ones, too. Some of his 'good ones' were actually awful, but he was bailed out by future first-rounder Mike Evans. There were times when he didn't seem to see a defensive player lying in the backfield and waiting, and he would throw it down their throat, Eli Manning 2013-style.
And his throwing on the run, while fun to watch, was a little mixed in results. That is NOT to say that he wasn't a gamechanger. He was, but not as much of a gamechanger as he was in 2012... and that was a little sad to see.
Secondly, the legs. I have no problems with how he made opposition Ds look stupid but his insistence of carrying the ball with one hand might work in college, where most defenders aren't good enough to rip the ball out of your hand but in the NFL, they won't rip the ball out of your hand, but take your arm with it.
And the leggy elusiveness might work out in Year 1, but in Year 2, the defensive co-ordinators will work a scheme for you, and suddenly it all becomes a little stale. From a playing perspective, an extra year would have helped Manziel work out how to play the better defences better (see LSU for details).
Maturity
And then, we thought about the maturity.
We get that Johnny Manziel was a sporting superstar even as an 'amateur' (if you actually believe college football players are indeed amateurs), it showed. He hung out with the likes of LeBron James and rapper Drake. He was permanent discussion on the airwaves.
If Johnny Manziel hadn't matured all that much in college, what would happen to him exactly in the NFL, where the focus was bigger, and so was the money? And speaking of money, Manziel isn't money-hungry. His family made their money in oil long before Johnny Football was making defensive co-ordinators look stupid.
How would he cope with the NFL, where everyone's much more critical and your actions are much more a free-for-all for the media? How would he cope with being nice for a million-and-one sponsors? Or being criticised by his own fans (Texas A&M fans - to a fault- are exceptionally faithful come hell or high water, while NFL fans can be a little nastier)?
He simply needs to grow up a little, and those are the reasons we'd struggle to take him - but the reasons we would?
Manziel in flight is gorgeous to watch. He's like the second coming of Doug Flutie (elusive) and Michael Vick (speed and power). He breaks defenders' knees in a way that people hadn't seen in years. He's a breath of fresh air.
His arm? It's not the worst in the world and his legs can give him room enough in the pocket. Sure, he needs to be timed better on the throws, but give him a good coach, offensive co-ordinator or quarterbacks coach, and he can be a diamond pick despite all those people looking for rough.
And on the maturity side, we'd inform press and social media that Johnny Manziel isn't the first high-profile college football player to enjoy himself in college. There are QBs in the NFL right now who we know had a 'lot of fun' in college.
Also, wouldn't you if you were a God on campus? He's not the first QB to exchange barbs on the football field. He's not - and never has wanted to be - Jesus. So media, hush and let a pretty good-looking 20-something go and have fun, will you? Stop being so...so...jealous!
In conclusion: Johnny Manziel has a lot of pluses, and a lot of minuses. We just wish he'd stayed in college. Having said that, Johnny Football's going to go as a first round pick, have a great career, and probably shut me up.
And all power to him.