Butch Harmon says US Open champion Martin Kaymer is playing better than ever and made his wire-to-wire victory at Pinehurst 'look easy'.
The German lead from the outset in North Carolina, opening with back-to-back 65s to record the lowest 36-hole score in US Open history and then carding a final round of 69 to finish on nine-under-par, eight shots clear of the field.
Eric Compton and Rickie Fowler finished joint second on one-under and were the only other players to finish under par in a tournament dominated by former world No. 1 Kaymer from start to finish.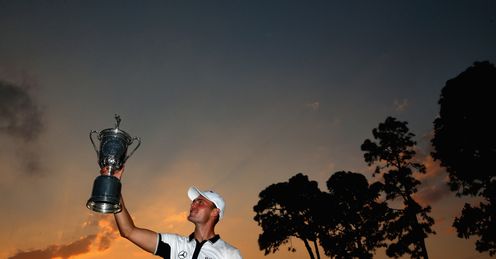 Kaymer, who adds this Major to his 2010 USPGA Championship win, appears to have completely forgotten about  three years of poor form following an attempt to adjust his fade for Augusta.
Harmon said last month's Players Championship victor made his four days of golf look easy, with the battle below him merely a procession to Kaymer's dominance.
"The sky's the limit," said the Sky Sports expert. "He's proved he can win Majors – he's won two now.
Respect
"He's proved he can win big tournament and he's proved that the quality of his game can handle an extremely difficult golf course. None of the other best players in the world could handle it but he made it look easy.
"The players know he won the PGA and handled it beautifully. They know that he's won the Players Championship a month ago and we also know that he holed the putt that won the Ryder Cup [in 2012] and they respect that.
"He has just exemplified the way a champion should carry himself; not just the way he should be with his golf, but his personality and how humble he his.
"I couldn't be happier for him as he's a wonderful young man and a great champion.
"I'm a person that's been around rebuilding a lot of people's golf swings and I've seen it from the inside and how difficult it is.
"I look Kaymer now and I look at Kaymer before he tried to change his swing when he won the PGA, and he's a much better golfer right now."
Click here to watch Butch Harmon and Colin Montgomerie's video blog from the final day at Pinehurst.