Barrie and Terry are back to tear into each other once more as they go head-to-head with their Super League predictions.
Last season Terry pipped Barrie to the post and proved to be the most successful tipster - but Barrie is determined to make amends in 2014!
Each week they will give their predictions for the Super League games - the boys will score one point for a win, while if they both pick a winner, then the pundit with the closest score gets an extra point.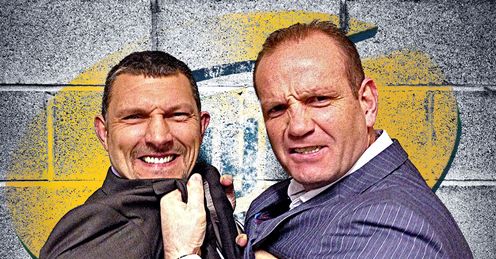 Current standings
BARRIE - 143
TERRY - 144
St Helens v Warrington: 7.30pm, Thurs, Sky Sports 1 HD
Terry says: What a game we have here! Both teams have a similar points for and against in the table. When Mark Percival left the pitch it was like a throw back to when Meninga and Kevin Iro played for Saints, Louie McCarthy-Scarsbrook went into the centre spot and looked comfortable. It was only a few weeks ago that he was starting at prop; I've always said props have the brains and are versatile. The build-up for this gets everyone excited and the players know they have to raise the bar. Warrington have won their last four away meetings with St Helens, including all three fixtures between the sides at Langtree Park. Saints' last home win against the Wolves was a 28-12 playoff victory in 2010.They looked out of sorts for 60 minutes v Huddersfield and if it wasn't for Michael Monaghan I believe they'd have lost. Stefan Ratchford wasn't playing and was also missed, it's a tough call this but I think a few players are lacking confidence, whilst the others are doing enough to pick up a point or two. 
Prediction: A few of my friends are mad, crazed Warrington fans who watch them home and away. They always say they're going to win, but they aren't confident at all for this game. Big game in prospect and even with key injuries, no person or team is going to spoil Saints big night. I'm saying St Helens by 12.
Barrie says: I knew that last week would be a close game and predicted a draw. Were it not for the red card I believe it would've been, too. Leeds were heroic after the uncharacteristic challenge saw Joel Moon dismissed to ramp the drama up a notch. Saints were magnificent on the night and walked away with 2 points which, with a victory this week, will give them the League Leaders Shield. They have shown a lot of steel this year amongst horrendous injuries, which is forcing them to play a different way. They have been forced to play more props on the field at the moment with Louie McCarthy-Scarsbrook in the centre at one point, which could be the way forward - in fact get rid of all the backs and just have a team of props!
Prediction:  I am going to have to go with Saints and their home advantage to take the win by eight points.
Wigan v Leeds: 7.30pm, Fri, Sky Sports 1 HD
Terry says: I love this fixture; it brings out the best in both sides. Both sides lost last week - Leeds went down fighting against the league leaders heroically, whilst Wigan just didn't perform. I'm sure the Wigan changing room wasn't a pleasant one after they were defeated by Widnes. The Cherry and Whites made 20 errors and gave away 14 penalties. Those stats alone put you on the back foot. They did have plenty of players in motion but the execution of some of the passes was poor. The ball was loose on a number of occasions but re-gathered and they do not count as an error. It's always a good time to play a team the week after a Challenge Cup final. The emotion and hard work that goes into the week leading up to a final is incredible, so the week after that many teams hit a low point in the year. But not the Rhinos. Even when Joel Moon was dismissed for his illegal shot on Mark Percival from St Helens they didn't falter. Playing with 12 men for 58 minutes galvanised them and they nearly snatched it at the end.  
Prediction: A man down with nearly an hour on the clock - and the week after a final - you'd think that the subs would be rotated. No, Ward and Singleton failed to get on. Leeds are not just a tough side, they are mentally tough too - a shrug of the shoulders and a get-on-with-it attitude. I'm saying Leeds by 8.
Barrie says: Lancashire v Yorkshire, the Red Rose v the White Rose - whichever way you spin it Wigan v Leeds is always one of the highlights of the year. These two have played out some amazing games over the years; the 2012 playoff game when the Rhinos were 13-12 winners and the Super League Semi-Final in 2013 which Wigan took 22-12 are just two of many enticing encounters that have set the benchmark for these two sides. 
Prediction: They are both tough, skilful teams that are full of winners who will battle it out ferociously. Leeds to snatch it by a Kevin Sinfield 2 points.
Bradford v Widnes: 3pm, Sun
Terry says: The pressure will surely be on the Vikings as they are playing for that playoff spot. The likes of Clarke, Tickle, O'Carroll and Brown - how he's not in the England squad I'll never know - will have a big say during the build-up to this game. How much did the victory over Wigan take out of the players physically and mentally? The lads I've spoken to are itching to play; good results breed confidence and they will try and replicate last week's performance against a tough Bradford side. Castleford targeted the Bulls in the middle third and the forwards all reached big numbers defensively. The consequence of those high numbers is that most of the forwards missed between 3-4 tackles. In fact they missed a total of 38 tackles and if you look at the season stats across Super League you'll see that they've missed more tackles than any other side. 
Prediction: If James Lowes can get his side up for this game then Widnes will be tested. The recent wins they had came from hard work and a lot of second-phase rugby. I'm going with an 18-point win for Widnes.
Barrie says: Bradford's run of victories came to a halt last week at Castleford and Widnes gave us the result of the round with ex-Wigan legend Denis Betts making his former teammate Shaun Wane go home with nothing! With that momentum I'm going for the Vikings, but it will be a big night for Matt Diskin who draws the curtain on his long and illustrious career with both Leeds and Bradford.
Prediction: I'd have to say Widnes will win by 10 points.
Huddersfield v Hull: 3pm, Sun
Terry says: I'm sure Paul Anderson's studied his opponents' game from last week, looking for a weakness, but that will be tough as they all played well. Stats don't tell you everything from a game but it was out in the centre positions where they missed tackles. That might be because of players inside or out putting pressure on them to make split second decisions, or just an off-day. What a huge effort from the Black and Whites. They never looked troubled. Green and Ellis came up with two fabulous, dominating shots. I've said it before, you need to like defending, inflicting as much pain on your opponent as possible - legally of course. The one player who never fails to impress is Danny Houghton. He was the first back behind the ball to distribute it, and also packed down at loose forward in the scrum and got out to cut down the opposition when Hull FC were defending. What he also did well was bring his forwards on to the ball effectively, though he still used his intelligence and initiative to make good ground himself.  The starting pack worked hard in all aspects of the game and they were assisted by the replacement forwards.
Prediction: Huddersfield by 14 is my prediction.
Barrie says: Hull FC put in a magnificent performance against their local rivals last week and were particularly impressive in defence, so Lee Radford would've had a rare smile on his face. However Huddersfield were the best side for an hour last week against Warrington and lost rather than gained a point in my opinion.
Prediction: I'm going with Huddersfield by 10 points.
Hull KR v Catalans: 3pm, Sun
Terry says: If we had a prize for the most inconsistent team in the competition then Hull KR would win it. The fans turned out in numbers to support the Robins but they got blown apart by neighbours Hull FC. They looked shocked walking off at halftime. How can they perform poorly the week after they'd physically dominated Wigan? Hull FC managed to offload the ball seemingly at will in the first half. The whole performance looked lethargic. They need a big dig against Catalan at home. They played poorly in Round 1 against Leeds and I'm sure they'll want to finish the season off with a win in what will be the Robins' last home game of 2014. Catalan addressed a three-game slump they'd been suffering from against London. If you watched the game I'm sure you'll agree that they were very clinical.  Catalan capitalised on the mistakes that London made and I thought in particular the edge attack from both sides looked strong. Vincent Duport set up a first-half hat trick for Morgan Escare whilst the right edge which contained the exciting Elliott Whithead and Ben Pomeroy looked strong throughout. 
Prediction: Both sides are pushing for a top eight finish and if it was in the south of France I'd be tipping Catalan but as they're away from home I'm going with the red and white team from Hull to bounce back and win by 18.
Barrie says: Catalan won at a canter against London with some strong showings from Duport, Escare and Taia. The Robins were out of sorts last week and will be desperate to get back and finish the season in strong fashion so I am going to go with them for the win.
Prediction: Hull KR by 14 points.
Salford v London: 3pm, Sun
Terry says: How will Salford reply to a thumping from Wakefield, then a thumping from the chairman in the press? Players are funny beasts and they could respond in a positive manner with a response or they could collapse as they have nothing to play for. A season that promised so much with the stars assembled at the AJ Bell stadium - along with the mid-season signing of Kevin Locke - has left the fans frustrated at times, although they have improved under the guidance of Iestyn Harris. Another good sign is that Adrian Morley is going around again, one of the old guards that leads from the front on and off the field. If This fixture for Salford was against a top six side I'd say they'd get beaten, but fortunately they're up against a side who played in the south of France last weekend, flew back on Sunday and didn't perform well at all especially in the first half. They struggled to keep hold of the ball, which on many occasion resulted in them giving away a penalty. At halftime they had conceded 36 points and the game was over. 
Prediction: Salford has one eye on next year and have built a strong squad for 2015, but they will be focused on this season first. I think they will bounce back in this game and show the club and its owner that they are a good group - Salford to take it by 32.
Barrie says: The Salford owner Marwan Koukash was so disappointed in his team he has cancelled the end of season do! And the message from him is that if you don't like it you know where you can go. He has very high standards for the Red Devils which will be the target for next year. I think that the start for them will be on Sunday, where they set the tone for next season's targets.
Prediction: Salford by 18 points.
Castleford v Wakefield: 3.30pm, Sun
Terry says: Andy Lynch was once again Castleford's stand out enforcer with 30 tackles and 174 meters from 19 carries. The players have an appetite for work and beat a Bradford outfit who went into the game on the back of three straight wins. Perhaps Wakefield's performance wasn't a shock to James Webster and the lads but it shocked me. Scott Anderson, Andy Raleigh and Jon Molloy bottled up the middle, as did Taulima Tautai when he got onto the pitch. They fought for every metre and kept pushing Salford back with well-executed kicks. The availability of Tim Smith was another key factor against his parent club. He had a hand in five of the tries that blew Salford out of the water. Creativity isn't a problem for this player; he loves and thrives on 80 minutes of combat. 
Prediction: Both teams will be confident going into the final two games of the regular season. With so much at stake and a packed house for this derby, composure will be a key ingredient in who comes away with the points and I'm saying it'll be Castleford who will come out winners on the day by 16.
Barrie says: This is exactly the right game for Castleford. They need to acclimatise for the playoffs so a local derby is precisely what they need. This season has been their best for decades with a Challenge Cup final and Super League playoffs. Wakefield were excellent last week and we're terrific at home again but I am not sure that they have enough to take on thie talented Castleford side. 
Prediction: Castleford are likely to have too much for Wakefield to handle, so my prediction is that they take this match by 10 points.