Martin Tyler's stats and facts column is here!.
Every week he will be here to offer you statistical gems to make your day, impress your mates and, on occasion, to settle the odd bet.
Sky Sports' voice of football and his back-up team of experts are here to answer your questions and queries on all things statistical and historical from the beautiful game.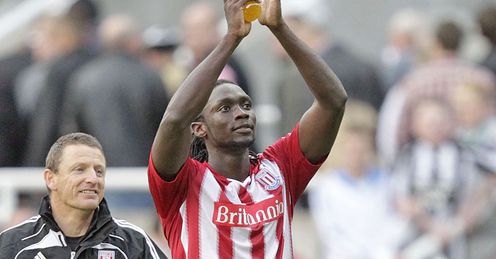 If you have spotted something from a game or have been stumped by a pub quiz question, simply email skysportsclub@bskyb.com and he will do his best to help.
Tyler's Starting Stat - Potters on the Toon
I was at St James' Park on Sunday to see Stoke's first win at Newcastle since March 3, 1976 when they won 1-0 through a Mickey Burns own goal. After James Perch's own goal on Sunday it's evident that Stoke have benefitted from a bit of help from the enemy! In fact, it was only Stoke's fourth league win at Newcastle, the previous ones being a 2-0 win in January 1971 and a 2-1 success in February 1953.
You may be interested to hear that the first ever meeting between these two sides was in a Test match - effectively an end-of-season play-off under an old name - at the end of the 1897/98 campaign. Stoke were bottom of Division One and Newcastle were second in Division Two, but effectively the results were meaningless because that summer the league decided to extend the division anyway - so Stoke stayed up and Newcastle went up!
It was also only the second time in 23 away Premier League games that Stoke have scored more than once, the other occasion being last season's 2-1 win at Portsmouth. They have now scored three away goals this season and are well on their way to matching last season's tally of 10.
Kenwyne Jones scored for the fourth game in a row and managed his first goal against Newcastle in six attempts (in all competitions). By the end of the game, Stoke had five ex- Sunderland players on the pitch - Thomas Sorensen, Danny Collins, Rory Delap, Dean Whitehead and Jones - so I called it a semi-derby, especially as they were playing in red and white stripes.
Finally, back to James Perch, who was returning from a ban after becoming the first player in the Premier League to be booked in the first five games of the season. He managed to avoid another booking against Stoke, but got an own goal instead! I'm sure things will get better for him.
THE TOP POOR
Martin. Thanks for the fantastic stats that are going up, very good pub ammo for friends. I was wondering if you could help me out. This weekend saw Chelsea, Man Utd, Arsenal and Spurs fail to win. They were the top four from last season. Has this ever happened before (the top four from the previous season all failing to win in the same weekend)? Thank you in advance, Philip Dyal, Beckenham, Kent (die hard football lover).
MARTIN SAYS: This has happened before, and in fact it happened as recently as the weekend of December 13/14, 2008 when the previous season's top four sides - Manchester United, Chelsea, Arsenal and Liverpool all failed to win. On that weekend United were held 0-0 by Tottenham, Chelsea drew 1-1 at West Ham, Arsenal drew 1-1 at Middlesbrough and Liverpool drew 2-2 with Hull.
Indeed, were it not for Michael Owen's equaliser for Manchester United against Bolton, all of last season's top four would have lost last weekend. That would really have been a first as the boys at Opta assure us that has never happened before in the Premier League. Andy Gray told me that the odds of all four losing was something like 1,700/1, but I'd be surprised if anybody had any money on it.
START THE CARLOS
Hi Martin. Even though I'm a Chelsea fan, I had money on Carlos Tevez to score the first goal on Saturday. He always seems to score against us. I'd like to see his scoring record against us since he came to the Premier League. Surely he likes playing against us more than anybody else? Matt C (Chelsea fan)
MARTIN SAYS: We have broken down Carlos Tevez's scoring record for all competitions since he arrived in England and found he has scored an average of one goal per game against Chelsea (six goals in six appearances). Arguably however, his favourite team to play against is Blackburn Rovers -as he has nine goals in his nine games against them.
Tevez has faced 32 teams since he arrived in England and has scored against 24 of them. Indeed, he has a record of one goal-per-game against eight teams (Blackburn, Chelsea, Derby, Wolves, Crystal Palace, QPR, Scunthorpe and West Brom) and at least a one-in-two record against 17 of those teams.
Remarkably there are only two Premier League teams he has not scored against. The first is Blackpool, who he has never faced. The other is Everton, who he has faced nine times but is yet to register a goal. They are certainly his bogey team.
Carlos Tevez's goalscoring record in English competitions:
| | | | |
| --- | --- | --- | --- |
| Team | Goals | Games | Goals per game |
| Blackburn | 9 | 9 | 1 |
| Chelsea | 6 | 6 | 1 |
| Derby | 3 | 3 | 1 |
| Wolves | 2 | 2 | 1 |
| Crystal Palace | 1 | 1 | 1 |
| QPR | 1 | 1 | 1 |
| Scunthorpe | 1 | 1 | 1 |
| West Brom | 1 | 1 | 1 |
| Birmingham | 3 | 4 | 0.75 |
| Wigan | 6 | 9 | 0.67 |
| Liverpool | 4 | 6 | 0.67 |
| Man Utd | 4 | 6 | 0.67 |
| Newcastle | 2 | 3 | 0.67 |
| Stoke | 2 | 3 | 0.67 |
| Bolton | 5 | 8 | 0.625 |
| West Ham | 3 | 6 | 0.5 |
| Burnley | 1 | 2 | 0.5 |
| Middlesbrough | 3 | 7 | 0.43 |
| Fulham | 3 | 9 | 0.33 |
| Aston Villa | 2 | 7 | 0.29 |
| Tottenham | 3 | 12 | 0.25 |
| Man City | 1 | 5 | 0.2 |
| Sunderland | 1 | 6 | 0.16 |
| Arsenal | 1 | 7 | 0.14 |
THE KEY TO HESKEY
Dear Martin. It's been a good week for Emile Heskey and there has been a lot of talk about how he likes playing under Gerard Houllier. Can you show us Heskey's goals record under Houllier compared to the other managers he has worked under? Pete, Bromsgrove.
MARTIN SAYS: We have broken down Heskey's goalscoring record for each of the managers he has played under in the Premier League (note, these statistics are for Premier League games only):
GERARD HOULLIER (Liverpool, Aston Villa)Heskey made 150 appearances for Houllier at Liverpool, scoring 39 times - and has added to that tally in his first appearance under the Frenchman at Aston Villa.
Record: 40 goals in 151 appearances (0.26 goals per game)
MARTIN O'NEILL (Leicester City, Aston Villa)
Heskey scored 37 goals in his 120 Premier League games for Leicester under O'Neill, but just five times in 45 games at Aston Villa.
Record: 42 goals in 165 games (0.25 goals per game)
STEVE BRUCE (Birmingham, Wigan)
At Birmingham, Heskey scored 14 goals in his 68 league games for the club. Playing under Bruce again at Wigan, Heskey scored six times in 42 games.
Record: 20 goals in 110 games (0.18 goals per game)
PAUL JEWELL (Wigan)
Heskey's Premier League record under Jewell at Wigan is statistically his strongest.
Record: 9 goals in 34 games (0.26 goals per game)
CHRIS HUTCHINGS (Wigan)
Record: 1 goal in 6 games (0.17 goals per game)
KEVIN MCDONALD (Aston Villa)
Record: 0 goals in 2 games
MARK McGHEE (Leicester City)
Record: 0 goals in 1 game
QUICK ON THE DRAW
Martin. My team Fulham have drawn five of their first six games. Is this some sort of record? What's the most draws a team has ever got in the Premier League and what does this mean for our chances of being relegated? Kris (Fulham fan).
MARTIN SAYS: According to the boys at Opta, Fulham are only the second ever Premier League side to draw five of their opening six games. The only side to previously have done so is Ipswich Town in the very first Premier League season in 1992/93. That season, the Tractor Boys drew with Aston Villa, Manchester United, Liverpool , Tottenham and Middlesbrough - and even drew their seventh game as well against QPR. They finished 16th that season.
The record for draws in a Premier League season is 18, which was achieved by Manchester City and Sheffield United (1993/94) and also Southampton (1994/95). In a 38-game season, the most draws is 17, which was achieved by Newcastle in 2003/04 and Aston Villa in 2006/07. Of those teams, Sheffield United were relegated, but the rest stayed up.
Of the 18 previous Premier League seasons, there have been five occasions when the team with the most draws has gone down. They were: Crystal Palace (1992/93), Sheffield United (1993/94), Nottingham Forest (1996/97), West Brom (2004/05), Newcastle (2008/09).
Out of interest, the most draws ever recorded in the English top flight were the 23 achieved by Norwich City in 1978/79 - and they finished 16th, four places above the relegation zone that year. Of course, with only two points for a win, a draw was much more useful back then.
PENALTY HAT-TRICKS
Hi Martin, big fan of the column, we all love a good stat to wow the crowds. However last week's game of Arsenal vs Spurs got me thinking with Nasri's four-minute penalty brace, has a player ever in a game scored a hat trick of penalties? If so, how often has this happened? Also just to add this wouldn't be including a penalty shoot out scorer. Thank you for your time. Todd Kerry (Arsenal fan)
MARTIN SAYS: There are a few instances of this happening in English football history, and indeed there was a hat-trick of penalties in the League Cup on September 6, 2000. That was scored by David Dunn for Blackburn Rovers in a 6-1 win over Rochdale. Similarly, Jan Molby scored three penalties for Liverpool against Coventry in the League Cup in November 1986.
We have never had a hat-trick of penalties in the Premier League, but there are a few instances of it occurring in the English top flight. In 1950, Charlie Mitten scored a hat-trick of penalties, and another from open play, as Manchester United beat Aston Villa 7-0 at Old Trafford. Ken Barnes also scored three penalties for Manchester City in the 6-2 home win over Everton in December 1957.
Joe Willetts scored three spot-kicks for Hartlepool United in a 6-1 Division Three North match against Darlington on Good Friday in 1951. Alan Slough also scored a hat-trick of penalties for Peterborough in Division 3 on April 29 1978, but he still ended up on the losing side as Chester City ran out 4-3 winners!
And North of the Border, it has happened this season when Aberdeen captain Paul Hartley scored three penalties on his debut to give his side a 4-0 win over Hamilton.
I can recall Frank Lampard scoring three penalties in a Premier League game against West Ham last season - but that was because he was made to re-retake the spot-kick twice because of encroachment. It was only worth one goal!
Nine players have scored two penalties as part of a Premier League hat-trick, but we are yet to see all three goals come from the spot. Those nine players are: Gordon Strachan, Jan Aage Fjortoft, Dean Saunders, Matt Le Tissier (twice), Alan Shearer (twice), Nicolas Anelka, Milan Baros, Steven Gerrard, Wayne Rooney and Frank Lampard.
WOOD YOU BELIEVE IT?
Dear Martin. Can you settle a bet? I reckon Kenwyne Jones has hit the woodwork more than some entire Premier League teams have this season. Am I right? Marc (Stoke City supporter).
MARTIN SAYS: You're absolutely right, Marc. According to Opta, the Stoke striker has hit the woodwork four times this season. That's twice as many times as any other player (Andrei Arshavin - in the same incident - Stewart Downing, Kieron Dyer, Nani and Frederic Piquionne have all hit the woodwork twice).
In total, Stoke City have hit the woodwork eight times in their first six games, which is twice as many as any other side. Arsenal and West Ham have done so on four occasions each - which means Kenwyne Jones has hit the woodwork as many times as the entire Arsenal and West Ham teams this season - and more than every other Premier League team!
Number of times each Premier League has hit the woodwork (2010/11):
EIGHT: Stoke City
FOUR: Arsenal, West Ham
THREE: Aston Villa, Blackburn, Chelsea, Everton, Man Utd, Tottenham, Wigan
TWO: Wolves
ONE: Bolton, Liverpool, Man City, Newcastle, West Brom
NONE: Birmingham City, Blackpool, Fulham, Sunderland
Tyler's teaser
Fill in your answers to Martin's teaser using the feedback form below - and keep those questions coming in!
Comments (10)
Kay Balo (Liverpool fan) says...
Mikel has actually scored for Chelsea in a Cup game. He has 1 goal for Chelsea but not in the Premier League
Posted 09:58 30th September 2010
Scott Newcombe (Aberdeen fan) says...
Hi Martin, I would like to know which player has scored the most Premier League goals, without scoring more than 1 goal in any game. Thanks!
Posted 09:06 30th September 2010
Deano Hep (Hull City fan) says...
Lets not get all sentimental about how hard done to Arsenal are at the moment. Lets be honest, over the years they''ve dishonestly won more than their fair share of penalties!! Wots that saying, "what goes around comes around".
Posted 08:16 30th September 2010
Peter Smyth (Blackburn Rovers fan) says...
Hi Just a wierd thing i''m interested in. Blackburn started the season scoring exactly 1 goal in each of their first 5 games, until Bret Emerton wrecked the run by scoring the 2nd against Blackpool. So, any idea what''s the premier league record for scoring the same number of goals consecultively?, except scoring zero. that doesn''t count.
Posted 20:39 29th September 2010
Carl Speakman (Manchester United fan) says...
As I recall Darren Bent scored a pen and missed 2 (both saved) against spurs last season
Posted 15:54 29th September 2010
Maurice Cooper (Hercules fan) says...
Danny Murphy, Leighton Baines, Steven Gerrard. Dont know the Welsh boys.
Posted 15:19 29th September 2010
Jeff Warren (Chelsea fan) says...
I was listening to the Chelsea Marseille commentary last night and the issue of Mikel''s lack of goals. He has not scored for 152 games? Even Makele scored a penalty follow up goal but that was after 90+games. What is the record in the Premiership for an outfield player not scoring?
Posted 13:28 29th September 2010
Pranav Byatnal (Arsenal fan) says...
Hi Martin,I absolutely love reading your column.As an Arsenal fan I am very much concerned about the penalties being awarded against Arsenal.I mean 2 at the weekend and 2 again in Serbia.last week u gave a stat as to the no. of penalties gone in favour of the EPL teams.If I am not wrong then Arsenal were 2nd on that list but I think they are no.1 in the penalties going against.Am I right?(Arsenal Fan)
Posted 12:48 29th September 2010
Joe S (Portsmouth fan) says...
Martin, I can''t beleive that you have not mentioned the fact that Martin Palermo famously missed a hat-trick of penalties fr Argentina a few years back!
Posted 11:14 29th September 2010
Homzie D (Manchester United fan) says...
Martin, has any side drawn their first 3 away games and gone on to win the title? Utd could do it this season! Cheers from a scorching hot Mumbai...
Posted 05:09 29th September 2010