Martin Tyler's stats and facts column is back for the new season!
Every week he will be here to offer you statistical gems to make your day, impress your mates and, on occasion, to settle the odd bet.
Sky Sports' voice of football and his back-up team of experts are here to answer your questions and queries on all things statistical and historical from the beautiful game.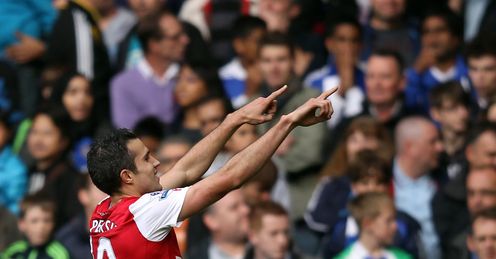 If you have spotted something from a game or have been stumped by a pub quiz question, simply email skysportsclub@bskyb.com and he will do his best to help.
Tyler's Starting Stat - Home run for Pardew
I was at the Newcastle v Everton game on Saturday and Alan Pardew's side are now unbeaten in their last 14 Premier League games. The last time they went on such a run in the top flight was April to September 1950. They are now 10 unbeaten at home in the Premier League, their last defeat there coming against Everton on March 5. The last time they managed that feat was during a 14-game home run from September 2002 to March 2003.
They've scored the opening goal seven times this season and have gone on to win all seven. The last time they scored first and lost was also in that home defeat to Everton on March 5 when Leon Best gave them the lead, but Leon Osman and Phil Jagielka turned it around.
This is the first time they've won three league games in a row under Pardew. The game also marked Everton's first loss in the North East since a 3-2 reverse to Newcastle in October 2007. They've won five and drawn three in that time.
In terms of personal landmarks, the game marked a home debut for Newcastle-born Sammy Ameobi after seven substitute appearances away from home. There was also a home debut for Dan Gosling, who signed from Everton in July 2010. It was Louis Saha's 300th league game and Tim Cahill's 200th Premier League game, but the Australian hasn't scored in his last 19, going back to their clash away at Man City before Christmas.
THE RIGHT VAN MAN?
Hello Mr Tyler. I was reading the preview blog from Mr Jamie Redknapp and I read something that slapped me in the face when he was describing Robin Van Persie: "he is tall, upright, elegant and even though he is all left foot - or maybe because he is all left foot - he is a joy to watch.' In agreement with the majority, but I think Redknapp is making the same mistake everybody does with Van Persie. I also used to think that, but recently he has probably scored more right footed goals than most right-footed players have scored with their left in the last two seasons. I wonder how many of his 25 goals for the year were right footed? Hesh Fekry (Arsenal fan)
MARTIN SAYS: Since you sent in the question, Robin van Persie's Premier League goals tally for 2011 has risen to 29 goals. Thanks to Opta for the following data:
Most Premier League goals in 2011 (overall):
Robin van Persie (29)
Wayne Rooney (19)
Demba Ba, Frank Lampard, Darren Bent (15)
Javier Hernandez (13)
Edin Dzeko, Daniel Sturridge (12)
Rafael van der Vaart, Charlie Adam, Peter Odemwingie (11)
Clint Dempsey, Dirk Kuyt (10)
As you may have guessed, Van Persie is far and away the league's top left-footed goalscorer in 2011 with 19 goals, 10 more than any other player. The likes of Rooney (1), Bent (2), Ba (2), Lampard (1) and Hernandez (2), who are high up the scoring list, are nowhere near him when it comes to left-footed strikes.
Most Premier League goals in 2011 (left foot):
Robin van Persie (19)
Charlie Adam (9)
Rafael van der Vaart, Peter Odemwingie (8)
David Silva, Charles N'Zogbia, Daniel Sturridge (6)
Adam Johnson, Kieran Richardson, Nani, Ivan Klasnic, Florent Malouda (5)
It's worth noting that Peter Odemwingie is right-footed, like Nani, but has scored more goals with his "wrong" foot this season.
However, Robin van Persie has accumulated nine goals with his right foot in 2011, making him the fourth highest right-footed scorer behind Rooney, Lampard and Bent:
Most Premier League goals in 2011 (right foot):
Wayne Rooney (15)
Frank Lampard (12)
Darren Bent (10)
Dirk Kuyt, Robin van Persie (9)
Carlos Tevez, Sergio Aguero (8)
Ashley Young, Javier Hernandez, Edin Dzeko (7)
Seb Larsson, Jermain Defoe, Demba Ba, Clint Dempsey, Mario Balotelli, Maxi Rodriguez (6)
Only one of Van Persie's goals in 2011 have come with the use of the head, but out of interest, here are the year's top headed goalscorers, a list led by Demba Ba:
Most Premier League goals in 2011 (head):
Demba Ba (7)
Steve Fletcher (5)
Javier Hernandez, Daniel Sturridge, Kenwyne Jones, Peter Crouch (4)
Brede Hangeland, Clint Dempsey, Chris Samba, Gabriel Agbonlahor, Darren Bent (3)
TOON OMENS
Dear Martin. Newcastle have had an unbelievable start to the season and while I am very proud of my team I don't think we are getting enough credit. I'd like to know how many other teams have had 25 points after 11 games and where they finished in the Premier League. J Bull (Newcastle fan)
MARTIN SAYS: In the previous 19 Premier League seasons we've seen 25 teams pick up 25 (or more) points from their opening 11 games and all of them have finished in the top half of the table. In fact, 21 of those 25 teams finished the season inside the top three. The only exceptions were:
Wigan (2005/06) finished 10th
Liverpool (2002/03) finished 5th
Aston Villa (1998/99) finished 6th
Newcastle (1994/95) finished 6th
As you'll see from the table below, this is Newcastle's best start to a season since 1995/96 when they picked up 28 points from their first 11 games and eventually finished second behind Manchester United. You'll notice that only eight champions appear on this list.
Teams with 25 or more points after 11 games in the Premier League:
| | | | |
| --- | --- | --- | --- |
| Season | Team | Points after 11 games | Final position |
| 2010/11 | Chelsea | 25 | 2nd |
| 2009/10 | Chelsea | 27 | 1st |
| | Man Utd | 25 | 2nd |
| | Arsenal | 25 | 3rd |
| 2008/09 | Chelsea | 26 | 3rd |
| | Liverpool | 26 | 2nd |
| 2007/08 | Arsenal | 27 | 3rd |
| | Man Utd | 26 | 1st |
| 2006/07 | Man Utd | 28 | 1st |
| | Chelsea | 25 | 2nd |
| 2005/06 | Chelsea | 31 | 1st |
| | Wigan | 25 | 10th |
| 2004/05 | Arsenal | 26 | 2nd |
| | Chelsea | 26 | 1st |
| 2003/04 | Arsenal | 27 | 1st |
| | Chelsea | 26 | 2nd |
| | Man Utd | 25 | 3rd |
| 2002/03 | Liverpool | 27 | 5th |
| 1999/00 | Leeds | 25 | 3rd |
| 1998/99 | Aston Villa | 25 | 6th |
| 1995/96 | Newcastle | 28 | 2nd |
| | Man Utd | 26 | 1st |
| 1994/95 | Newcastle | 29 | 6th |
| | Nottm Forest | 27 | 3rd |
| 1993/94 | Man Utd | 28 | 1st |
FOUR IN QUARTERS
Hello Martin. The top four clubs of the last Premier League season are in the quarter-finals of the Carling Cup, has this ever happened before ? Mohamed El-Kholy
MARTIN SAYS: This has only happened once before in the history of the League Cup. Back in 2004/05 all four of the previous season's top four - Arsenal, Chelsea, Man Utd, Liverpool - reached the last eight of the Carling Cup. That season, three of them reached the semi-finals, but champions Arsenal were knocked out by Manchester United in the last eight.
Here is a rundown of the last 20 years of the League Cup and how many of the previous season's top four made the quarter-finals:
2010/11: Arsenal, Man Utd
2009/10 Arsenal, Chelsea, Man Utd
2008/09: Arsenal, Man Utd
2007/08: Arsenal, Chelsea, Liverpool
2006/07: Arsenal, Chelsea, Liverpool
2005/06: Arsenal, Man Utd
2004/05: Arsenal, Chelsea, Man Utd, Liverpool
2003/04: Arsenal, Chelsea
2002/03: Liverpool, Man Utd
2001/02: Arsenal
2000/01: Liverpool
1999/00: -
1998/99: Chelsea, Man Utd
1997/98: Arsenal, Liverpool, Newcastle
1996/97: Liverpool
1995/96: -
1994/95: Arsenal
1993/94: Aston Villa, Man Utd
1992/93: Arsenal, Sheff Wed
1991/92: Crystal Palace, Leeds
1990/91: Aston Villa, Tottenham
There have been 12 seasons in League Cup history when none of the previous year's top four made the quarter-finals. The last such occasion was 1999/2000. However, you must remember that many big teams didn't enter the competition back in the 1960's:
1999/00 (Man Utd, Arsenal, Chelsea, Leeds)
1995/96 (Blackburn, Man Utd, Nottm Forest, Livepool)
1984/95 (Liverpool, Southampton, Forest and Man Utd)
1975/76 (Derby, Liverpool, Ipswich, Everton)
1970/71 (Everton, Leeds, Chelsea, Derby)
1969/70 (Leeds, Liverpool, Everton, Arsenal)
1968/69 (Man City, Man Utd, Liverpool, Leeds)
1966/67 (Liverpool, Leeds, Burnley, Man Utd)
1965/66 (Man Utd, Leeds, Chelsea, Everton)
1964/65 (Liverpool, Man Utd, Everton, Tottenham)
1962/63 (Ipswich, Burnley, Tottenham, Everton)
1961/62 (Tottenham, Sheff Wed, Wolves, Burnley)
Dear Martin, I can't believe Fulham didn't win against Tottenham on Sunday - and to lose the game was particularly cruel. Has a team ever had that many shots on target in a Premier League game and ended up losing? Jonny Simons
MARTIN SAYS: Opta tell us that Fulham managed 13 shots on target during the match. They have only been keeping data on shots on target since the start of the 2006/07 season, but in that period no team has had more without at least getting a draw from the game.
In that time, two teams have had 12 shots on target and lost. Middlesbrough did it in a 1-0 defeat to West Brom in September 2008, while Chelsea managed 12 attempts on target in their 4-2 defeat to Man City in February 2010, a game they finished with nine men after Juliano Belletti and Michael Ballack were sent off.
Most shots on target for a losing team (Premier League since 2006/07):
| | | | | | |
| --- | --- | --- | --- | --- | --- |
| | | | | | |
| Date | Shots on target | Team | Opponent | For | Against |
| 06/11/2011 | 13 | Fulham | Tottenham | 1 | 3 |
| 27/09/2008 | 12 | Middlesbrough | West Brom | 0 | 1 |
| 27/02/2010 | 12 | Chelsea | Man City | 2 | 4 |
| 07/10/2007 | 11 | Fulham | Portsmouth | 0 | 2 |
| 14/01/2007 | 11 | Tottenham | Newcastle | 2 | 3 |
| 07/04/2007 | 11 | Arsenal | West Ham | 0 | 1 |
| 24/08/2009 | 11 | Liverpool | Aston Villa | 1 | 3 |
| 28/12/2010 | 11 | Sunderland | Blackpool | 0 | 2 |
| 23/10/2010 | 10 | Wolves | Chelsea | 0 | 2 |
| 26/12/2010 | 10 | Aston Villa | Tottenham | 1 | 2 |
| 02/01/2008 | 10 | Newcastle | Man City | 0 | 2 |
| 19/04/2009 | 10 | West Brom | Man City | 2 | 4 |
| 30/01/2007 | 10 | Wigan | Reading | 2 | 3 |
THE BLUE TWO
Hi Martin. After seeing both John Terry and Frank Lampard score in Chelsea's 5-3 loss to Arsenal, it got me thinking, how many times have Terry and Lampard scored in the same game for Chelsea? And how many of those games have Chelsea gone on to lose? Similarly, could the same research be conducted for Jamie Carragher and Steven Gerrard for Liverpool? I imagine Terry and Lampard have scored together more often than Carragher and Gerrard (unless you count own goals as well)! Alex S (Liverpool fan)
MARTIN SAYS: Opta have told us that John Terry and Frank Lampard have now scored in the same Premier League game on six occasions with three of those occasions coming in 2011.
On the first three occasions, Terry scored the first goal and Chelsea won each time.
15/04/2006: Bolton 0-2 Chelsea (Terry 44, Lampard 59)
20/08/2006: Chelsea 3-0 Man City (Terry 11, Lampard 26, Drogba 78)
28/02/2009: Chelsea 2-1 Wigan (Terry 25, Lampard 90)
However, in the three games when Lampard has scored first, Chelsea have won one, drawn one and lost one. The defeat to Arsenal was the first time they have lost when both players have scored.
02/01/2011: Chelsea 3-3 Aston Villa (Lampard 23, Drogba 84, Terry 89)
01/02/2011: Sunderland 2-4 Chelsea (Lampard 15, Kalou 23, Terry 60, Anelka 90)
29/10/2011: Chelsea 3-5 Arsenal (Lampard 14, Terry 45, Mata 80)
As for your other question, Jamie Carragher has only been credited with three Premier League goals in his career, but the last time he scored, he was joined on the scoresheet by Steven Gerrard. The game was at home to Fulham on December 9, 2009 and Gerrard opened the scoring on 54 minutes. Carragher scored on 61 and Liverpool went on to win 4-0.
Carragher also scored on his Premier League debut against Aston Villa (18/01/1997), a match I commentated on, and in a 7-1 win over Southampton (16/01/1999). Gerrard played in neither match and in fact had only started one Premier League match before that game against Southampton.
IS FERGIE THE BIGGEST LOSER?
Dear Martin. People have been talking all week about Sir Alex Ferguson's amazing record and we can't dispute that, but it occurred to me that he must have lost more games than any other Premier League manager - simply because he's been around for so long. Surely nobody else can have lost more because they would have been sacked! Am I right? Frank (Everton fan)
MARTIN SAYS: Since the start of the Premier League in 1992/93, Sir Alex Ferguson has lost 105 matches but even though he has been around for far longer than anybody else there are eight other managers with more defeats to their names.
The man who has lost the most, by far, is Tottenham manager Harry Redknapp. Taking into account his spells at West Ham, Southampton, Portsmouth and Tottenham he has lost 205 matches, which is 70 more than the next man on the list, Alan Curbishley, who lost 135 games in charge of Chalrton and West Ham.
Curbishley's tally could soon be overtaken by Sunderland manager Steve Bruce. Sir Alex Ferguson inflicted the 132nd Premier League defeat of his former defender's coaching career on Saturday.
Managers with the most defeats in Premier League history:
Harry Redknapp (205)
Alan Curbishley (135)
Steve Bruce (132)
Sam Allardyce, David Moyes (118)
Joe Kinnear (113)
Gordon Strachan (109)
Graeme Souness (108)
Sir Alex Ferguson (105)
Bryan Robson (100)
Glenn Hoddle (99)
Arsene Wenger (97)
George Graham (95)
Peter Reid (94)
Martin O'Neill (92)
Joe Royle (89)
Kevin Keegan (86)
Mark Hughes (81)
Ron Atkinson, David O'Leary, Jim Smith (79)
Tyler's teaser
Fill in your answers to Martin's teaser using the feedback form below - and keep those questions coming in!
Comments (5)
Ross Milne (Manchester United fan) says...
Hi Martin, I was curious to know what the record is for the number of saves made by a keeper in a single game that they then went on to keep a clean sheet? I imagine David De Gea will be thereabouts after some of his performances this season.
Posted 16:01 9th November 2011
Mark Stoker (Sunderland fan) says...
watched nearly every game this last weekend and it occurred to me that there was an unusual number of own goals. Was this a record for a Premier League Weekend, or was it close.
Posted 15:20 9th November 2011
Boyce H (Manchester City fan) says...
Hi Martin After 11 games I expected at least 2 managers too have lost their jobs by now, is this the longest period from the start of a season without a manager to be sacked?
Posted 12:28 9th November 2011
David Amstrong (Newcastle United fan) says...
Hi Martin after seeing the recent "IS FERGIE THE BIGGEST LOSER?" it got me thinking about which manager had the highest loosing percentage of games, Harry Redknapp may have lost the most games but against how many played. Can you provide a answer?
Posted 09:47 9th November 2011
Matt Guyett (Manchester United fan) says...
Dear Martin, Since Peter Crouch joined Stoke City this season I think i'm inclined in saying that there goalscoring from headers has improved. Due to Crouch's height of course this helps. I was wondering other than Crouch who are the next top 5 tallest players with the most amount of goals?
Posted 23:40 8th November 2011