Martin Tyler's stats and facts column is here!
Every week on skysports.com he answers your questions and offers you statistical gems from what he's seen as he tours the world commentating for Sky Sports.
Sky Sports' voice of football and his back-up team of experts want your queries on all things statistical and historical from the beautiful game.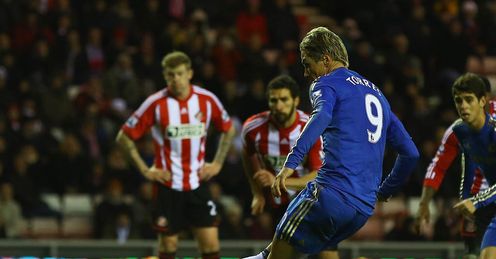 So if you have spotted something from a matche or have been stumped by a pub quiz question, simply email skysportsclub@bskyb.com and he will do his best to help.
Tyler's teaser
But as usual we'll kick off with a question for YOU. Click play to see this week's Tyler's Teaser.
Martin's Starting Stat
I was at the Etihad on Sunday to witness the end of Manchester City's run of 37 home games unbeaten - just a few days short of two years. It was the end of a 21-game unbeaten run in the Premier League and they fell one short of their club record of 22, which was set both in 1936/37 (when they were champions in the top division) and also in the Second Division in 1946/47.
They continued their form as a second-half team (22 of their 30 goals have come after break) and conceded their sixth set-piece goal of the season, which cost them the game. They only conceded five from all of the 2011/12 season in winning the title.
Wayne Rooney took his tally of derby goals to 10 in 18 appearances for Manchester United against Manchester City. Remember, he started the year with two goals in a 3-2 win at Man City in the FA Cup.
It's also a happy ground for Robin van Persie. He made his debut there as a substitute in 2004 and scored his first goal in England there in October 2004 in the League Cup for Arsenal. He obviously decided the derby and has now scored 14 goals for Manchester United, 10 of them away.
NEVER ON THE SPOT
Dear Martin. I was surprised that Fernando Torres had never scored a penalty before Saturday. There can't be any other Premier League players to have scored more goals than him without scoring at least one penalty, so can you tell me who would now be top of that list? Regards, Craig (Chelsea fan)
MARTIN SAYS: Well, you're right to say that Fernando Torres' 53rd Premier League goal was his first penalty in English football, but there are 10 players who have scored more than that without ever scoring from the penalty spot.
Incredibly, there are two players who have scored more than 100 goals without any penalties. According to Opta, Les Ferdinand scored 150 Premier League goals and none of them were from the spot, while Emile Heskey has 110 goals to his name without any penalties. Ole Gunnar Solskjaer also has 91 goals without any penalty goals. The highest-placed current player is Aston Villa's Gabriel Agbonlahor, who has scored 55 times without converting a penalty, which is once more than Fulham's Damien Duff.
Most Premier League goals without scoring a penalty:
1. Les Ferdinand (150)
2. Emile Heskey (110)
3. Ole Gunnar Solskjaer (91)
4. Kevin Campbell (83)
5. Niall Quinn (59)
6. Lee Bowyer (57)
7= Tim Cahill, Kevin Gallacher (56)
9. Gabriel Agbonlahor (55)
10. Damien Duff (54)
It's also worth mentioning Andy Cole, who scored 187 Premier League goals and just ONE of them was a penalty. That was a penalty for Fulham against Birmingham in January 2005; the only spot-kick he ever took in his professional career!
A COMMONS MISTAKE
Hi Martin. Love your column. I read with interest Alex Ferguson's comments on City having 21 penalties since 10/11 warranting a "House of Commons investigation". Can you tell me how many United have in that period? I'm sure they've had a few with Ashley Young playing for them! Thanks, Ted
MARTIN SAYS: Sir Alex Ferguson spoke of Manchester City being awarded 21 penalties - and that applies to the number of Premier League spot-kicks they've been awarded since the start of the 2010/11 season. Indeed, that is the joint highest number of penalties of any Premier League team in that period - but can you guess which other team has also been awarded 21 penalties in that time? It's Manchester United!
In fact, United have won more penalties than their neighbours this season; they've had five to City's four (although they've only scored two of those to City's three). Manchester United (11) also won more league penalties than City (7) last season .
The year before that, Manchester City earned more penalties getting nine penalties to Manchester United's five. Both have had three times more penalties since 2010/11 than Sunderland, who've had the fewest of any ever-present Premier League team in that period with just seven.
Most Premier League penalties since the start of 2010/11:
21: Manchester United, Manchester City
17: Chelsea
13: Tottenham Hotspur, Arsenal, Liverpool
12: West Bromwich Albion
11: Wigan, Bolton, Newcastle, Fulham
10: Stoke City, Blackburn Rovers, Everton
9: Aston Villa
8: West Ham, Blackpool
7: Sunderland, Wolves
6: Swansea City
4: Queens Park Rangers
2: Reading, Birmingham City, Norwich City
1: Southampton
TWOS AND LOSE
Hi Martin, love your column, some of the stats are truly mind boggling! This weekend we were treated to a feast of a Manchester derby and my housemate got rather excited when United went 2-0 up shouting, "Yes! We never lose from 2-0 up!" Telling us that the worst United could do at that stage was draw the game. We all thought they might lose when Zabaleta set up a tense finish but United did what United do best and produced a late winner. We all know about United's amazing record with regards to never losing a Premier League game if they had the led the game 2-0 at some point. But what I want to know is, have Liverpool ever lost a Premier League game after being 2-0 up? Because my friends and I are absolutely stumped and cannot think of an example! Zak Forster
MARTIN SAYS: Well, your friend is correct. Manchester United have never lost a Premier League game after being 2-0 ahead - or indeed any game in which they have led by two goals.
As for Liverpool, they have only turned a two-goal lead into a defeat on two occasions in Premier League history - although you don't have to cast your mind back very far for the last such occasion. Only last March they allowed a 2-0 lead to turn into a 3-2 defeat away at Queens Park Rangers. Sebastian Coates and Dirk Kuyt had put them 2-0 up, but the home side scored three in the last 13 minutes through Shaun Derry, Djibril Cisse and Jamie Mackie to record a vital win.
The only other time Liverpool have led by two goals, but still lost in the Premier League, was away at Leeds in November 2000. Sami Hyppia and Christian Ziege gave them a 2-0 lead at Elland Road, but Mark Viduka scored twice to bring it back to 2-2. Vladimir Smicer restored Liverpool's lead, but Viduka scored twice more to condemn Liverpool to a 4-3 defeat. I was there on that day.
Manchester United are the only ever-present Premier League side to have never lost a game after leading by two goals. I've detailed the records of the other ever-presents below. You'll notice that Tottenham have turned a two-goal lead into a defeat on EIGHT occasions (including one occasion when they led 3-0 against Manchester United in September 2001 - I was there for that as well!)
Ever-present sides letting a two-goal Premier League lead slip:
ARSENAL
15/08/1992: Arsenal 2-4 Norwich
13/12/1998: Aston Villa 3-2 Arsenal
18/04/2010: Wigan 3-2 Arsenal
20/11/2010: Arsenal 2-3 Tottenham
ASTON VILLA
09/11/1994: Wimbledon 4-3 Aston Villa
09/12/2001: Arsenal 3-2 Aston Villa
10/11/2012: Aston Villa 2-3 Manchester United
CHELSEA
12/09/1992: Chelsea 2-3 Norwich
23/10/1999: Chelsea 2-3 Arsenal
EVERTON
05/09/2000: Tottenham 3-2 Everton
28/04/2007: Everton 2-4 Manchester United
LIVERPOOL
04/11/2000: Leeds 4-3 Liverpool
21/03/2012: QPR 3-2 Liverpool
MANCHESTER UNITED
Have never lost after leading by two goals
TOTTENHAM
27/02/1994: Chelsea 4-3 Tottenham
01/05/1999: Liverpool 3-2 Tottenham
15/04/2000:Tottenham 2-4 Aston Villa
29/09/2001: Tottenham 3-5 Manchester United
11/09/2002: Fulham 3-2 Tottenham
25/04/2009: Manchester United 5-2 Tottenham
09/05/2010: Burnley 4-2 Tottenham
26/02/2012: Arsenal 5-2 Tottenham
Out of interest, champions Manchester City have let a two-goal lead slip three times in Premier League history, all at home and all by a 3-2 scoreline against Manchester United (November 1993), Fulham (April 2008) and Liverpool (October 2008).
THE GOLDEN LEAGUE
Hello Martin, I'm a big fan of yours and the chaps (and lasses?) at Opta (just to get that out of the way). As a Man Utd supporter I couldn't help noticing that we go behind rather a lot, and yet still win most of the time. And some other teams have been have been having a fair share of comebacks, such as Everton recently (yet, thankfully, not another blue side from nearby). My question is: What would the league table look like this season if all Premier League games were won by golden goals, i.e. the first goal wins the game. Thanks very much, and keep up the good work. Delbi
MARTIN SAYS: Under your rules, the Premier League table would have a very different complexion indeed. As you mentioned, Manchester United have conceded the first goal in 10 of their 16 games this term and would drop from top of the table into the relegation zone in this "golden goal format".
Under your rules, Tottenham Hotspur would replace Manchester United at the top of the table, having scored first in all but four of their games this season - including Sunday's dramatic defeat to Everton. They'd be joined in the Champions League spots by Chelsea, West Brom and Stoke - with defending champions Manchester City down in 10th below Southampton and Sunderland!
| | | | | |
| --- | --- | --- | --- | --- |
| Team | Played | First goal | 0-0 draws | Pts |
| Tottenham | 16 | 12 | 0 | 36 |
| Chelsea | 16 | 10 | 3 | 33 |
| West Brom | 16 | 10 | 0 | 30 |
| Stoke | 16 | 8 | 4 | 28 |
| Aston Villa | 16 | 8 | 2 | 26 |
| Liverpool | 16 | 8 | 2 | 26 |
| Fulham | 16 | 8 | 1 | 25 |
| Southampton | 16 | 8 | 0 | 24 |
| Sunderland | 16 | 7 | 3 | 24 |
| Manchester City | 16 | 7 | 2 | 23 |
| Norwich | 16 | 7 | 2 | 23 |
| Arsenal | 16 | 6 | 3 | 21 |
| Everton | 16 | 7 | 0 | 21 |
| Newcastle | 16 | 7 | 0 | 21 |
| West Ham | 16 | 6 | 2 | 20 |
| Reading | 16 | 6 | 1 | 19 |
| Swansea | 16 | 6 | 1 | 19 |
| Manchester United | 16 | 6 | 0 | 18 |
| Wigan | 16 | 6 | 0 | 18 |
| QPR | 16 | 3 | 2 | 11 |
GIBSON'S NO LOSER
Hi Martin. It was pointed out on Football First that Darron Gibson has only been on the losing side four out of 48 times in the Premier League. Is this the best record for a player since the start of the Premier League? If not, who holds the record? Thanks, Andrew
MARTIN SAYS: We thought the best way to answer this question was to look at the lowest losing percentages of players in the Premier League era. However, we didn't want to include players who'd only made a couple of substitute appearances in winning performances so we asked Opta to only consider players who'd appeared at least 20 times in the Premier League.
Darron Gibson's record of four losses in 48 games gives him a loss percentage of just 8.33 per cent (which interestingly is exactly the same as Andriy Shevchenko's Premier League record), but under our criteria there are five players who have lower loss percentages.
And as you can see from the list below, it's former Chelsea midfielder Tiago who has the lowest loss percentage of any player in Premier League history. He only lost once in his 34 Premier League appearances (a 1-0 defeat at Manchester City on October 16, 2004) in the 2004/05 season. That means he lost less than three per cent of his Premier League games!
The 10 Premier League players with the lowest loss percentages are listed below. All of them played for Manchester United or Chelsea, including Michael Ballack who has the lowest loss record of any player with more than 100 appearances.
Premier League players with the lowest loss percentages (minimum 20 games):
| | | | |
| --- | --- | --- | --- |
| Player | | | |
| Tiago | 34 | 1 | 2.94% |
| Mateja Kezman | 25 | 1 | 4.00% |
| Arjen Robben | 67 | 4 | 5.97% |
| Jaap Stam | 79 | 5 | 6.33% |
| Asier Del Horno | 25 | 2 | 8.00% |
| Andriy Shevchenko | 48 | 4 | 8.33% |
| Darron Gibson | 48 | 4 | 8.33% |
| Jordi Cruyff | 34 | 3 | 8.82% |
| Rafael | 67 | 6 | 8.96% |
| Michael Ballack | 105 | 10 | 9.52% |
I think we had a really good standard of questions this week and I've enjoyed answering them. Keep them coming.
Comments (6)
Kailasnath Kodoth (Liverpool fan) says...
Amazing Stats !!! Appreciate the person/team who prepared this article. :)
Posted 13:54 13th December 2012
Anthony Clarke (Manchester United fan) says...
Martin, it is truly mind boggling to think that you have such a memory for the endless questions and queries put to you and I take my hat off and so I have one for you. I cannot help but be fascinated by the performances being put in by Swansea's Michu. Not only is he turning out to be one of the genuine bargains of the last 10 years, costing in the region of £2m. his transfer fee is putting the likes of Torres, Carroll, Podolski to shame. So here is my question for you. Has any other midfielder in the history of the premier league scored 12 goals in such a short space of time in their debut season. In today's game where obscene transfer fees are bandied about it is a true breath of fresh air to see players of his calibre (P.S. he is doing wonders for my fantasy football team) thanks Martin- Anthony.
Posted 13:05 13th December 2012
Jacob Sheen (Fulham fan) says...
Re: NEVER ON THE SPOT Andy Cole also took a penalty for Fulham against Aston Villa in what I believe was the same season as he only ever played one season for us. He missed the penalty. In that same game, Juan Pablo Angel had two penalties saved by Edwin Van Der Sar.
Posted 12:33 13th December 2012
Jamie Potter (Fulham fan) says...
Hi Martin, I'm a big fan of your column, but I just wanted to correct you on something you've written above. You said of Andy Cole that the penalty he scored against Birmingham was "the only spot-kick he ever took in his professional career!" That's not entirely true. I remember him missing a penalty during that very stint with Fulham. It was against Aston Villa. He hit it low and wide. Sorry to be a party pooper :-( ... I still love the column though :-) Jamie
Posted 12:11 13th December 2012
Peter Gee (Manchester United fan) says...
One comment on the goalscorers who didn't score penalties, Niall Quinn has the distinction of saving a penalty. Man City v Derby Co., a game in which he also scored.
Posted 12:00 13th December 2012
Brian Tea (Fulham fan) says...
Hi Martin Ref Andy Cole only ever taking one penalty in his career he took another one for Fulham against Aston Villa in Feb 2005 but missed. Juan Pablo Angel also had 2 penalties saved by Van Der Sar in a 1-1 draw at the Cottage.
Posted 12:00 13th December 2012