I enjoyed a fascinating 40 minutes at the Recreation Ground, Bath on Saturday afternoon. Once again George Ford orchestrated his team around the field to great effect. This was his best effort yet.
In the first half he stood head and shoulders above any player on the field. In age of power here is a throwback to the thinking days. He reads the game well enough to be a New Zealander. The 20-year-old has a fine rugby brain and has been seriously well educated in the art of the sport and not just the gym.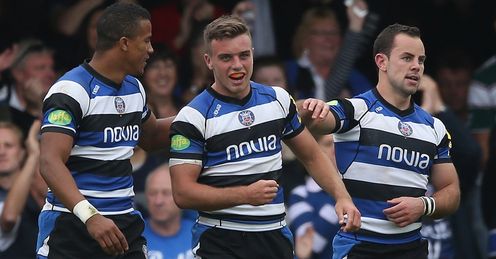 His dead-ball kicking for the corner is consummate; he did overcook one because he always goes for the five-metre line but he doesn't miss often. From one such kick the Bath pack drove over. His passing is rhythmic. He knows not just how but when to pass. Timing is everything.
The timing for Jonathon Joseph's try was as good as it gets. And then the sheer speed and change of pace for his 65m solo. Add a generally accurate display of restarts and a high percentage of goals kicked and you have one of the most exciting displays of class and composure we have seen from a young Englishman for some time.
Farrell is undoubtedly my starter for New Zealand and one other but Ford should be seriously considered for either Australia or Argentina.
Stuart Barnes
Quotes of the week
And here is where it gets interesting. He was always rated a better fly-half than Owen Farrell at junior level and the potential is starting to pour itself all over the Premiership.
Farrell lacks his variety but... Ford swung Shane Geraghty over the try line for an own try of sorts.
Would Farrell do that? Not on your life. Would Farrell stub the odd goal kick as Ford is still prone to do? Would you want Ford or Farrell kicking for your life?
Chasm
The gap between London Irish and the All Blacks is a chasm. Farrell has the Test match consistency in the bank. He doesn't do as much right as Ford but he does very little wrong and that counts greatly in the Test arena.
A steady display, good goal kicking and a break for a crucial Chris Ashton try against Harlequins is probably nearer to a Test match template than the razzle-dazzle of Ford at the Recreation Ground.
So what does Stuart Lancaster do? Forget the conservative nonsense about Ford being 20 and having time on his side. He is RUNNING OUT OF TIME. The clock is ticking towards 2015 and the Bath fly-half has the potential to overtake Farrell and provide some of the star quality England so desperately need. I have a vision of Ford and Farrell ending up 10 and 12 as they did for England junior teams.
If Ford is to play a part in 2015 he has to play Test match rugby this season. One year or less leaves him insufficient mileage on the rugby clock to handle the heat when things go wrong. Clive Woodward threw Jonny Wilkinson into the fray for this reason, Jason Robinson even more so. The end result was a World Cup. England won in 2003 because, first of all, they had match winners capable of handling the pressure.
The accepted wisdom is that the pack was simply the best. Well I have seen plenty of great England packs trudge off the field dominant but beaten. Class and experience combined was the core factor that ran through this side and a teenage-capped Wilkinson and a rugby league convert capped when he didn't know a ruck from a maul played the defining part.
If Ford's potential can be realised at the Test level he has to suffer a few bumps and bruises on the way. Farrell is undoubtedly my starter for New Zealand and one other but Ford should be seriously considered for either Australia or Argentina.
Sometimes you have to throw players to the Test match wolves and see if they can find their way out of the woods. Ford - if he maintains his current form - looks a prime example. New Zealand did just this with Julian Savea.
The winger was rampant on his debut but awful next game up. New Zealand introduced him quickly and then picked him with discretion. He is now one of the world's best wingers. Risks have to be taken to reach the top.
Brilliance
This seems a paradox when you read what comes next. The best Test teams on the planet don't always do the most things right but they always do the least things wrong. That summed up New Zealand's working win in Argentina Saturday night.
The home team gave the Kiwis problems in the scrums and pressed them for large periods but they made errors; and when they made them New Zealand capitalised. New Zealand, in contrast, offered few soft scores to Argentina. They rarely do.
One of this week's questions reflects upon the player of The Rugby Championship to date. Ben Smith is the obvious man but I mentioned the Springbok captain Jean de Villiers for the paucity of mistakes he makes.
Few errors more than sheer brilliance, are the foundations for Test match success but for World Cup glory, the one needs a little bit of the other. The All Blacks had Israel Dagg to break a game open in 2011, the Springboks had the imperious Fourie du Preez in 2007 and we have mentioned 2003. 1999 was all about Australia's defence allied with the shining genius of Tim Horan.
The selection game is one of balance. England has solidity, it needs more and so Ford has to be the Number One priority for consideration. He might not be quite ready for the Pumas in November but that should not stop the management dropping him at the deep (but not deepest) end.
Warren Gatland might be looking at the Scarlet's thrilling Jordan Williams in a similar light. Every time he plays he appears capable of changing a game. Game changers are required between now and 2015.
Showdown
Plenty of those will be on the field when the world's leading teams meet in Johannesburg on Saturday. But the highlight might just be the influence exerted by two of the veterans. New Zealand are hopeful that Richie McCaw will return from fitness. South Africa will hope Fourie du Preez can maintain his stunning skill levels with both hand and boot against the remorseless All Blacks.
New Zealand are clear favourites to take the title but a victory for the Springboks would be more than consolation. It would convince Heyneke Meyer they are closing in on their great rivals as 2015 looms slowly on the horizon.
In Argentina the stakes are almost as high. It is a game neither team can afford to lose. A win for Argentina ends a run of losses and convinces them they are progressing. Defeat damages morale before a hard autumn campaign where Wales and England will be daunting opposition. Australia is wobbling all over the place.
Ewen McKenzie lost his nerve and dropped his best player and it wasn't until Will Genia returned at half time in Cape Town that Australia and Quade Cooper looked remotely like a rugby player/team. The nation is unhappy with style and form. It needs to finish with a bang.
There is a chance the game will be a tentative damp squib of an occasion. There is no such possibility in Ellis Park. Miles and I are heading to South Africa to call the game. Yes, I am indeed a lucky.....
Tune into Sky Sports 4 on Saturday to watch South Africa v New Zealand (from 3.30pm) and Argentina v Australia (from 11.30pm).
Stuart answers your emails...
Got a question for Stuart? Email him at skysportsclub@bskyb.com or use the feedback form below...
Hi Stuart, who's been your player of the tournament from the Rugby Championship? For me Ben Smith has been right up there for the All Blacks. Cheers Julian
STUART REPLIES: Julian, hard to dispute Ben Smith as the main man but also a mention for Jean de Villiers; understated leadership and a player that does plenty right and hardly and hardly anything wrong.
Hi Stuart, who would you choose to captain England this autumn? I hear Tom Wood is pushing Chris Robshaw close but surely the Quins man has too much credit to his name and Lancaster won't be swayed by the odd game or two.Tim
STUART REPLIES: Tim, Tom Wood is a fine player but has been beneficiary of a rumour that he was set to lead England before injury/Robshaw which leads much of our press to shout his name in a herd like mentaility without giving a viable reason why he is more a leader than Chris Robshaw. Selection is about trust, form and potential; the odd game or two will not force the issue, one way or another.
Stuart, you highlighted Henry Trinder's form for Gloucester a few weeks ago, and now Manu Tuilagi is ruled out for England as well, is the Gloucester man ready to make the step to international level this autumn? He has to be one of the most in-form centres about and he's a specialist 13.Jonny Hughes
STUART REPLIES: Jonny, is he ready? None of us know which is where brave/smart selection comes in. I have been more impressed with him than Jonathon Joseph to date and with Joel Tomkins losing ground with injury He'd be worth close crutiny, especially if Twelvetrees, his club partner is the designated 12.
Comments (8)
Daniel Ticehurst says...
The more I watch Owen Farell, the more he reminds me of Rob Andrew: and perhaps the best position for him, given the dogma of the selectors, is not to play flyhalf on the off chance that George Ford's kicking boots are off while giving more of a chance for some creative intellignce at 10. If Charlie Hodgson was welsh............
Posted 12:21 21st October 2013
Graham Vincent says...
So Stuart, do you think George Ford should leapfrog Freddie Burns in the pecking order? Arguably, they are very similar, but Burns may have the advantage as he is a year or two ahead of Ford in terms of development. Surely this makes Burns the favourite to progress and become England's number 1 fly-half come 2015?
Posted 13:24 4th October 2013
Iain Marshall says...
Good article. The Autumn Internationals are just the stage to get players, like Ford, involved. At the same time they should try and expand on their idea of how to play rugby. Maybe take the focus away from forwards and centres and play more and wider rugby. Wingers as good as Wade and Monye would appreciate it!
Posted 08:35 2nd October 2013
Phil Perkins says...
Hi Stuart, how do you feel the The Championship is progressing in terms of bridging the gap to the Premiership. Being a Brizz fan, I am excited yet and anxious for the season ahead, as although we have the coaching 'Dream Team' in AR & SH, I feel the gulf is still too great, given the money available and lucrative sponsorship deals the existing Premiership teams have. I know we're not certs by a long-shot, but would have the same trepidation towards the successful promoted team. Thanks Stu - C'MON BRIZZ
Posted 08:33 2nd October 2013
Tom Bradshaw says...
Stuart, you seem to find the new 'best English fly-half' every season. You were championing Freddie Burns last season- has Ford now all of a sudden leap frogged him? I'm not saying Ford isn't a talent, but surely in terms of 'credit in the bank' with Lancaster, Burns is way ahead. Farrell will start, Burns most likely benching, with Flood a squaddie. Be realistic. Just fantasising and spouting hyperbole every 12 months is no good. Not least for Ford who needs to keep his head down and work hard. We don't want another Cipriani shaped dissapointment.
Posted 18:45 1st October 2013
Tom Dabinett says...
Hi Stuart, As a Bath fan its great to read this, but do you really think he is ready, there is no doubt he is 1000000 times better than Stephen Donald in the BB&W. Who do you think is better Farrell or Ford? best wishes, Tom
Posted 18:44 1st October 2013
Peter Reddall says...
Stuart, where do you stand with Freddie Burns then at 10? Look how England played in Argentina, how Gloucester play week in week out, attacking exciting play, much like southern hemisphere teams? I would put Freddie above Ford and especially above Farrell, who seems to be a liability more than a threat. No pace, constant hospital passes and an extremely defensive/pack minded gameplay, yes he can kick but does that really warrant an England shirt, and a kicking percentage which is actually below burns? Could you imagine how lethal Saracens would be with either Burns or Ford at the helm, along with Barritt out of the way. Plus Burns and Billy 10 12, talk about continuity. Burns no1, Ford 2 and probably Hodgson 3.
Posted 14:42 1st October 2013
Tony Woolford says...
Hi Stuart. Last season you were advocating Freddie Burns & he had a good tour of Argentina. Now your all for George Ford & Freddie is no more! It's a good job the England selectors aren't so fickle. Surely Freddie Burns will be the first in line if the selectors want an alternative to Owen Farrell.
Posted 11:04 1st October 2013