Make no mistake these are hard times to be a coach.
Andy Robinson appeared to have turned a corner after a summer of successful results but three defeats later and he has walked from the Scottish job; the team is at a new low of 12th in world rankings and Robinson has - to his credit - taken the responsibility which is ultimately his.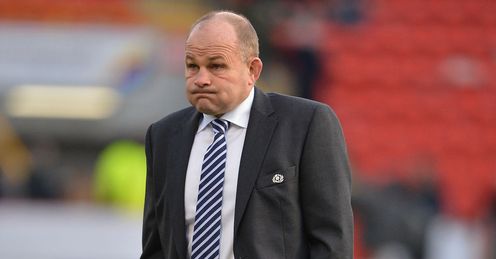 Having shown some promise in attack against New Zealand it was a barren, try-less afternoon against Tonga that saw the curtain fall on a Scottish record that was never good enough although he enjoyed a good strike rate against the best three, beating Australia twice and the Springboks.
Yet for Scotland the judgement should be the Six Nations. They lack the depth of players to seriously aspire to global glory. The insular European tournament is the level at which Scotland have their realistic expectations and with two wins in the last 15 games, Robinson's record is hard to defend.
In Europe our brand has been for too long of the pessimistic nature. Leinster has shown the way in the last few European campaigns but the baton is not yet accepted. There are hints France are moving in that direction; for the benefit of the sport we can only hope.
Stuart Barnes
Quotes of the week
He struggled to make clear decisions as a selector and this played a part in the country's failure to reach the last eight of the World Cup for the first time (which is Scotland's realistic expectation at world level).
Robinson acknowledged that his time had come to an end but insisted that Scotland lacks the players to take them back into the top ten of world rugby.
He may be right but in the players' defence it should also be said that Robinson's side played throughout the last few Six Nations as if the object of having possession is to keep it for its own sake rather than using it to score tries.
Scotland should have beaten England at Murrayfield earlier this year but a squandering of possession on an epic scale cost them dear. So it has continued and this is not just about players but management unable to strip the game to the bare essentials and analyse with clarity.
That is one of the many differences between New Zealand and every other team. The All Blacks see possession as an opportunity to score; scrums and line outs are not ways to restart the game but ways to create scores.
Robinson forgot that basic truth and paid the price; he is not the only one. He is in the majority, the All Blacks the minority and that explains why the world champions are so long unbeaten in a sport where the margins at test level are universally accepted as fine.
Optimistic
England most certainly lacks the eye for the first phase try. The longer a team has the ball, the less likely they are to score as advantage sways to the defence.
Hang this on the changing room walls!
England could easily win a bucket-full of possession against New Zealand and lose by a wide margin. New Zealand are comfortable the longer teams have the ball and, conversely, just as deadly themselves when they have a small share of ball. They don't run everything; they play territory unless there is space in which case they will attack and when they attack they turn chances to tries like no other team. The rest of the world is more concerned with where the next breakdown is rather than could they get on a colleague's shoulder to turn a half chance into a try. Wayne Smith calls it 'optimistic' rugby.
In Europe our brand has been for too long of the pessimistic nature. Leinster has shown the way in the last few European campaigns but the baton is not yet accepted. There are hints France are moving in that direction; for the benefit of the sport we can only hope.
England, at club and country level, lacks the mindset; in the long run it would be wonderful for them to see New Zealand as a game minus pressure. The expectations of victory are off. Stuart Lancaster can tell them to gamble at the breakdown, sprint onto the shoulder off the runners and hope against hope they can lift the level of their uninspired attack.
This is the last chance Lancaster has to prove he and his management were the right appointments because, just as Scotland's lack of size means they should be judged at local level, England's resources demand they are judged at the elite record. Another successful Six Nations in terms of results will not address the state of the English game.
The four wins from five last winter, has been eclipsed by the current record of four defeats and a draw against the big three. Saying that England is developing will not do. Australia were savaged with injuries as was a South African team that was equally young. If a win on Saturday is too much to expect then the very least is a hint that the attacking game, that has shown nothing through the tenure of this management, is moving in the right direction. Hell, a hint that it is moving would be good.
Nobody said it would be easy but Lancaster has assembled the management of choice. They are paid to do a job not just heap the blame on the admittedly mediocre club culture of the moment.
England doesn't have to win against the All Blacks but something special needs to be seen otherwise those of who wondered whether Lancaster had the credentials to take England back to the top will begin to find the majority who dismissed such doubters swinging into the sceptic camp. There is no better time for England to prove doubters like myself wrong. I hope they can.
Stuart answers your emails...
Got a question for Stuart? Email him at skysportsclub@bskyb.com or use the feedback form below...
Hi Stuart, You might think I am a glutton for punishment but I went to Northampton to watch The Saints and then came home and watched the England game yesterday. I witnessed two similar performances, I know conditions were not great but the new pitch technology has certainly made it possible to play quality rugby. In both matches there were good quality packs slugging it out but behind them as far as Saints and England are concerned......clueless! I heard you comment when Miles said England's passing let them down that they haven't been able to pass for the last 9 years, well in Saints case you have to go back further than that! I remember when Buck Shelford rolled up way back when...... the first thing he said was you can't pass the f....... ball, how can you expect to play winning rugby.
We had a golden chance yesterday to put one over the Springboks, they weren't very good and they made a hat full of mistakes but our backs never made an opening or created anything meaningful, yes Manu had a couple of bursts but they were not results of smart back play, more picking up scraps from Springbok errors. Speedy accurate passing off either hand has surly got to be the first and most important objective. I have no doubt The All Blacks will teach us that lesson next week but it can't be rocket science can it?
Happy Birthday by the way and also we are looking for a backs coach at Saints, you interested?
Jim BryantSTUART REPLIES: Jim, you are right; it is not rocket science but like all good educations the formative years are crucial and in those early years England is light years behind New Zealand, so far in fact that we might need a good noble winning type to held catch up. New Zealanders have a grasp of the basics from an early age whereas our youngsters arrive on the scene technically ill equipped. The fact that England spend time in the week before the Springbok test working on skills is testimony to the educational bankrupcty within the English game.
A high-profile and well-remunerated person capable of lifting the level at the early years is the first step and then the professional clubs remembering that basics can beat the gym - or at least a combination. A good mail and thanks for the birthday greetings; though maybe I'll pass on the light hearted Saints offer.......
Stuart, I do feel that Robshaw is getting a raw deal after the bok game. His decision making did not lose the game for England and to think that England would have scored a try from a lineout is just ridiculous - they did not look like doing that all game, in fact I am not sure when England have ever scored a try from a lineout. Blaming Robshaw is ignoring all the other problems that are wrong with England's attack and I think we need to sort those out before having a dig at Robshaw.
Michael Dellar
STUART REPLIES: Michael, This is pretty much in line with my Sunday Times article. He is under fire because few want to or are capable of understanding the deeper issues that affect England. Between you and Jim (see above, this column is benefitting from some clear thinking. Another post I agree with;) what is the world coming too?
Hi Stuart, could you explain exactly what happened in that try for South Africa? Surely Alberts & co should have been making an effort to retreat before being played onside?
Chris Buchanan
STUART REPLIES: Chris, How could Alberts make an effort to retreat when the ball cannoned off the legs of JP Pietersen only metres from him? Tom Wood instinctively went for the ball which played him onside and the game was gone; the forwards didn't deserve the defeat but did the absence of any attacking wit deserve better? Intense and engrossing as the game was it lacked anything remotely cutting edge.
Hi Stuart, what do you make of Andy Robinson stepping down from the Scotland job after the Tonga loss and who do you see as his replacement?
Gordon Filbey
STUART REPLIES: Gordon, Andy had no option and did the right thing. 12th in the world is beneath Scotland's potential and combine the appalling Six Nations record and failure to reach the last eight in the World Cup and it is hard to see where else he had left to go after losing to Tonga. However, that is not to say it was an easy decision. We see a lot of people failing to take responsibility for failures on their watch but refusing to take the hit; it is to Robinson's credit that he has walked.
Comments (9)
Paul Thwaites says...
Now then Ryan and Kevin, how about that then! Kicked your sorry backsides all the way back to New Zealand! As I suspected, a bunch of ordinary pre-madonna one point heros! Ha ha ha!!!
Posted 18:37 1st December 2012
Ryan Connor says...
In response to Paul Thwaites comments, I fear you would have rugby internationals in between world cups turn into 'friendlies' ala football, where the games serve no real purpose and nobody gives a stuff who wins or losers. To hang your hat on one tournament every 4 years suggests to me your'e either a football supporter or somebody who has never experienced rugby pre-world cup days. NZ has a legacy to uphold that is, they do not want to see their incredible winning record accumulated over the past 100 years diluted by concentrating on one tournament that happens every 4 years. After all how can you really call yourself world champions if you are rubbish most of the time & then happen to win one tournament. Thank god the kiwi's take each & every game seriously and play like true world champions.
Posted 03:15 29th November 2012
Callum Millar says...
Hi Stuart, why are the world cup pools drawn so early in the four year cycle? The form of teams in 2008 didn't mirror results in 2011 and I don't expect whichever of Argentina or Wales ends up in the third tier after this weekend to match up to that billing in 2015. France as a reward for a vein of form that may prove only temporary get an easier group in three years time? I can only suppose it's to do with planning the tournament far in advance, but it does seem unfair on the countries, for whom this is their greatest stage. A counter-argument to be made is that the best team ought to win regardless, but I'd like to hear your thoughts on it! And just to be cheeky, what advice would you give someone with a keen interest in rugby hoping to grow up to be a sports journalist please?
Posted 23:06 28th November 2012
Lennie Govender says...
England would/could/should have beaten the Boks? The Boks are certainly not at their best. But if England thought that the Boks were there for the taking and still couldn't finish the job then maybe you are not as good as you think you are. Get a grip.
Posted 19:30 28th November 2012
Kevin Mitchell says...
Hey Paul Who blows the All Blacks trumpets the press and pundits who are usually British.When England win a WC by a last gasp drop goal you can not really talk and heaven forbid that the geat Sir Clive who got you that cup made no preparation for the future should be critised. Look at him and you see why England have never recovered simply look at the skuills on display this Saturday and you will see how far England need to go.
Posted 17:45 28th November 2012
Stuart Farquhar says...
I am so tired of reading how you British sportswriters and fans respond to the every increasing list of losses to Southern Hemisphere teams. The problem is not who you lose to and how, but by the loads of foreign players you stick into your club rugby making your international teams weak. This November, South Africa played its under 21 team against your 6 nations teams and still did not lose a single match. Most of our senior springboks were at home resting or injured having a well deserved rest after having played 11 months of non stop rugby You do not read of South Africa moaning about a loss! We learn and then we grow. We don't over analyze results, we just go out and win the next match from what we have learnt. England did not beat us because we play winning rugby, whereas England players are afraid of losing and therefore try to entertain the crowd. Get behind your players, stop nationalizing foreigners and stop the perpetual criticism. We now have the right coach, the most talented players and the right playing strategy and we are coming back next year to whip all your national teams once again
Posted 08:29 28th November 2012
Paul Thwaites says...
Stuart, with all said and done the All Blacks won the last World Cup by a point. Their first world cup in 24 years. Is that really a demonstration of world rugby dominance? Who cares what happens in between! What I say is let them have their fun in the sun in the meantime, but when it comes to the biggest stage they are nothing but ordinary, given their 'immense ability'. The all blacks treat test matches as the be all and end all, a chance to muscle their collective ego. Other nations treat it as practice and development as well they should. If they win the next couple of world cups handsomly I will maybe be convinced of their brilliance. Until then...NO!
Posted 23:30 27th November 2012
Roland Pratt says...
Hi Stuart, do you see any reflection on how Ireland played this weekend due to their selections. With so many "regulars"out, do you feel the younger, fresher faces paid dividends in destroying a lack lustre Puma's team. Do you think a similar policy for England, would if nothing else build a better squad going forward instead of just using the crash ball method time and again? The added youth seems to have given Ireland an emotional lift, I can't help but think it would do the same for England. Nobody expects England to win this weekend so why not play Burns and Joseph and a few others too. Love to hear your thoughts,
Posted 22:44 27th November 2012
Roger Hale says...
Hi Stuart. I agree with most of your comments but nevertheless England should have beaten South Africa in spite of their lack of creativity. Firstly 2 kickable penalties should have been slotted (perhaps we should forgive Flood has it is reported that he was feeling his injury) South Africa's try started with sloppy defending(an ill-advised fly kick from Ben Youngs). As for the fiasco regarding the late penalty - it's all been said! England could play much better on this coming Saturday and still lose by a lot. The changes that have been made by Lancaster this week have been good but If we are to beat New Zealand he should take a few chances with his starting line up: Burns and Joseph should start, Robshaw and Wood should switch sides, and the rest could be as last week unless Corbisiero isn't fit - then start Vunipola .We cannot keep selecting teams just to contain the opposition let have one to try to win! Any comments, Stuart?
Posted 15:37 27th November 2012