The game in Clermont neatly summarised round three of the Heineken Cup. It simmered without ever quite exploding into life. It was intriguing without ever making you want to drop whatever might happen to be in your hands.
Billed as the game between two potential winners I left this magnificent rugby ground thinking only one of these teams were possible champions and that team was not the winner on the day.
Clermont had all the advantages on the day. The home crowd, a team missing only one superstar who was replaced by someone only marginally inferior (Thomas Domingo out, Vincent Debaty in), the champions without the talismanic Brian O' Driscoll and the exceptional Rob Kearney and coming into the game in spluttering form.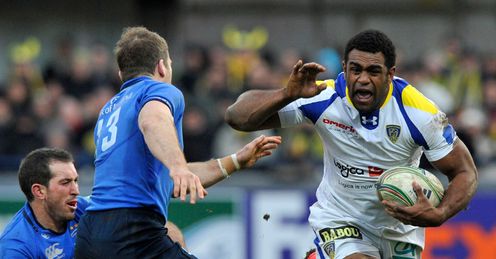 All this worked in favour of the French team but for all the individual talent and power at their disposal, Leinster played with more shape and control. The champions will fancy their chances in Dublin on Saturday.
Having lost on Sunday and failed to pick up any winning bonus points this match is just about knock out rugby for Leinster. A pre-Christmas crowd at New Lansdowne can cheer the champions to victory.
Having lost on Sunday and failed to pick up any winning bonus points this match is just about knock out rugby for Leinster. A pre Christmas crowd at New Lansdowne can cheer the champions to victory.
Stuart Barnes
Quotes of the week
Leinster v Clermont
3.30pm , Sat, Sky Sports 1 HD
Here is an interesting question to ask yourself on the topic of these two teams. Had Joe Schmidt been given the individual firepower at Vern Cotter's disposal and Cotter had the Leinster players to work with, would the margin have been 15-12? In defeat Joe Schmidt showed what a fine coach he is. Or rather his players did and they did him proud. I fancy Leinster - with O' Driscoll looking helplessly on from the Sky studios, will keep their hopes of a fourth title alive on Saturday. Maybe this will be the game that makes you drop your pint glass with twenty minutes to go.
Outstanding
There may not have been anything mind blowingly exciting but there was one stunning performance. Ulster were so good they made Northampton look very bad indeed. There might be some truth in the latter point when the Saints face the best but Ulster marked themselves as a part of the elite.
They were better on Friday than they were when they beat Munster away. That victory, epic as it was, was won on a tide of emotion and outstanding defence. This side has added extra dimensions in offence. David Humphreys was much maligned for announcing that Brian McLaughlin would leave in the same year as he took them to the final. Right now he appears the shrewdest and bravest CEO in European rugby.
The Ulsterman, McLaughlin laid the solid foundations but the Kiwi, Mark Anscombe, has added a touch of flair and class. The only reason I am spare on the superlatives is that Ulster was so good they made it just too easy and killed the event. The Saints will have to produce something like the first half of the 2011 Heineken Cup final and keep it up for 80 minutes to stop Ulster at Ravenhill.
It was a good weekend for Ireland overall; Leinster lost but stayed afloat whilst Munster downed Saracens and the quartet of All Black conquering Englishmen. If there was one side who would relish the challenge of facing so many English internationals on a high it is Munster. The win was no surprise whatsoever; three teams have two wins in this pool. It is the tightest of the six. Watford is a massive match on Sunday. Will Saracens bonus point in Limerick see them do a 'Munster' on their rivals?Connaught were at it again as well; beating dozy Biarritz with something in hand. Having lost at home to Harlequins a last eight place looks beyond them but they could push for an Amlin best runners up spot.
Biarritz was the only French team to lose although the winners were far from devastating. Toulouse has the player of the tournament to date in the shape of Louis Picamoles and are in cruise mode. Toulon too are doing just enough while away wins for Castres and Montpellier keep both teams in the hunt for qualification for the quarters.
Wales and Scotland failed to manage a win between their five teams which, much like the Clermont game summed up round three, and also the current state of the game in both these nations......
Breaking away briefly from Europe to the Lions; the coaches are to be unveiled on Wednesday. Joe Schmidt's name will not be amongst the list of Lions coaches. Much as I respect Rob Howley as an attack coach I think Warren Gatland might have made a mistake; Jonny Sexton is going to be a key performer and no one gets as much out of him as Schmidt and as a coach Sunday revealed how outstanding an operator he is. Still, he has enough on his plate as will the Lions management. Good luck to them all and here is to a round four that catches fire,
Stuart
Stuart answers your emails...
Got a question for Stuart? Email him at skysportsclub@bskyb.com or use the feedback form below...
Stuart, what happened to Saints against Ulster? I expected them to at least have partly the scrum against the Ulstermen but they were pushed around at will! Is the gulf in class a real issue or just a bad day at the office for Saints? Malcolm Harris
STUART REPLIES: Malcolm, I too thought the Saints would edge the scrums. Alas, without set piece dominance the result is inevitably the same for Northampton as it has been for a few years. Their team that made the Heineken Cup final is slowly and steadily regressing. It would be comforting to see the loss as a one off but Ulster are a fine team and the Saints are not going to beat many top teams as things are.
Hi Stuart, What are your thoughts on Ulster's Chris Henry? He was outstanding against Saints on Friday and has a bright future. I was also impressed with Jared Payne who really brings something special to the Ulster attack. Apparently he will qualify for Ireland in a year or so, but do you think that is a good thing for Irish rugby - getting players like him and Strauss rather than home grown players? Colin Grant
STUART REPLIES: Colin, overseas players are like companies that legally avoid taxes; nothing technically wrong but we all know it shouldn't happen. Otherwise the recruitment of men have become as important as development coaches and what's the point supporting a country when sporting mercenaries represent them. Jared Payne is - and was - outstanding although a fit Rob Kearney remains Ireland's finest full back. Chris Henry is one of those blokes who are never fashionable with the media. I gave him Man of the Match against Munster last season and was equally impressed in Northampton...I think he is a serious Lions contender although his is hardly a household name this side of the Irish Sea.....Sean O' Brien also made quite a comeback statement on Sunday!
I cannot see a Welsh region coming even remotely close to winning the Heineken cup under the current set up. Do you think it's time the WRU centrally contracted players to enable the regions to compete and keep players in Wales who can create a stronger environment for the young players to come through to? Richie Davies
STUART REPLIES: Richie, now that the WRU has vandalised the club game which well-structured, could have possibly been a better alternative to the regions for the development of the game in Wales, they might as well go the whole hog. More money is required to keep Wales's talent in Wales and given the relatively thin pool talent (per capita it remains high but population levels in France and England guarantee them more high class players). Wales has to help the regions. A few players in France and England is not the end of the rugby world in Wales but mass emigration will impact as much upon the future as the present. The stars have to be accessible for the children growing up, otherwise Welsh boys are going to want to be Cardiff City and Swansea City footballers rather than Jamie Roberts and James Hook.
Something had to give and it was Leinster who succumbed to Clermont - just! How disappointed will they be in that loss and can you see them bouncing back this weekend? Harry Langham
STUART REPLIES: Harry, Leinster lost the game but were impressive. They will be disappointed to lose to a team with the best home record in Europe. That tells you something about Leinster. If they both qualify for the pools I would take Leinster over Clermont every time. The French are mentally vulnerable whereas the champions have a champion mentality.
Comments (6)
Spidey Jones says...
Cipriani hodgosn food are all rubbish. Farrell jones wilko and biggar are the solid types of 10 gatland likes sexton will be startting 10 with 2 of those 3 as back uo
Posted 16:49 12th December 2012
Mick Collyer says...
Its not been that long a go that the Saints beat Ulster in the 1/4 final of the HC. Last Friday Saints were thrashed & humiliated by a vastly superior Ulster. Admittedly Ulster have improved but it also highlighted just how far the Saints have regressed.Saints only have a plan A, which has been worked out by most teams, have recruited poorly and have 2 only at best average number 10s. The gap will only get bigger unless drastic changes are made. I wish that Blanco was CEO of the Saints!!
Posted 15:37 12th December 2012
Andrew Jones says...
Colin, it's not really a point, no. Ireland (as an island) has a population of around 6 million, maybe 7 and England has around 53 million. Therefore if we're assuming population correlates to rugby success, there should be about 30 English teams playing at the level of the Irish Provinces. Ulster has about 2 million of the 6/7 and Leinster a bit more. The fact that Munster has produced such good teams from a pool of just over 1 million is pretty impressive. Anyway the argument doesn't really work in the professional era. In reality the provinces and the English clubs draw on a pool from the entire world, only support numbers are really relevant in terms of income.
Posted 14:17 12th December 2012
Colin Thompson says...
It has always befuddled me: why should we be surprised that Leinster, Ulster and Munster are generally much better than Leicester, Northampton and the like. Those Irish teams are being picked from a huge district/county while Leicester is one city!! I know I am being naive but it is a point, isn't it??
Posted 11:07 12th December 2012
John Quinn says...
Stuart, what are your opinions on a World Club Cup championship match? Surely the winner of the Heineken Cup should play the best club in the Southern hemisphere once a year at a neutral venue. It would be an amazing to see where northern hemisphere rugby stands in comparison to its southern counterpart. I know all of us, be you English, Scottish, Irish, Welsh or French would like to see that. I would love a yearly series of 3 games with the winner of the Heineken Cup playing their winner preceded by the loser of their final playing either the winner of the challenge cup or our Heineken Cup losing finalist. A group of all these teams would be an amazing advert for world rugby.
Posted 13:25 11th December 2012
Cameron Norbit says...
Hi Stuart, just wondering your opinion of Cipriani. I've been sceptical, however, after the Toulon match, where he spent a lot of time on the backfoot, he really impressed with the maturity and ability to play despite not receiving great ball. We all know he can play on the front foot, and with him now showing ability on the backfoot, do you think he's shown enough ability to be put back into the England team? In my opinion, Freddie Burns, Cipriani and Flood are the contenders, with Flood being the conservative safe option. What are your thoughts?
Posted 13:08 11th December 2012