If England play like they did in the first half at Twickenham and New Zealand as they did in Paris, lightning could indeed strike twice.
The All Blacks were rattled by the French intensity at the breakdown while England attacked with depth and fluency through the central channels of the field.
Like I say, for any England supporter looking to boost hopes of a consecutive win against New Zealand watching the first half of both games is encouraging viewing - but whatever you do, switch off your screen before the respective second halves.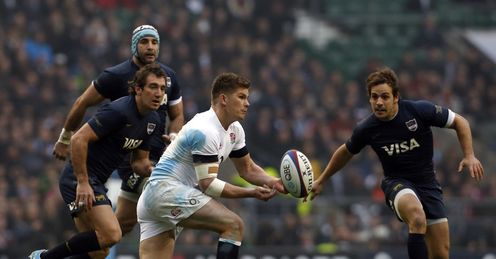 New Zealand were still light years off their tremendous performance in Johannesburg but the quality of their counter attacking and the precision of their finishing was impressive. England - in the starkest contrast - were appalling.
They tried to develop their game from the strong foundations of a 24-6 lead over a less than vintage Pumas team. But the more the backs became involved the worse England played.
So where is the extra edge? Where is the creative tension within the camp? Which players are questioning the management and telling them to think afresh.
Stuart Barnes
Quotes of the week
Bar broken field play against New Zealand last December and a well-structured performance in the first Six Nations game of the season at home to Scotland the backline has failed to function time after time. (The Argentina tour was against such weak opposition that these games should be dismissed as serious tests.)
The basic skills of the backs are atrocious. From Owen Farrell out the running lines are lateral, the passing is lazily inaccurate and the ability to hold their depth when executing a move close to non-existent.
A sequence of victories against average teams has sympathetic supporters and journalists pointing to the long list of Ws. But the key indicator for the improvement needed to become a force at the next World Cup is missing.
The big P, performance, is hardly moving on the improvement graph. Certainly the creativity of the team is nothing more than empty rhetoric.
Dangerous
If there was any real benefit to come from a second half that was worse than the first half was good - and it was very good in terms of the dynamism of the pack - then it is that England will shelve any thought of taking on New Zealand at 15-man rugby.
A strong set-piece (Alex Corbisiero made an immediate impression in the scrum) and a lineout that provides a platform for forwards running hard from depths around the fringes where France found a few defensive frailties Saturday night has to be the order of the day.
New Zealand will be all the more dangerous for the result 12 months ago and the relative mediocrity of their effort in France. It is hard to see a repeat result but the All Blacks are all mortals and the mightiest can always be brought crashing down. It is unlikely but not impossible.
What is worrying beyond Saturday's events is the paucity of invention. The management are doing well in areas where heart and soul and statistical analysis help evaluate the effort of the team. Defence, fitness, the team ethos, all in good order but that's the case with New Zealand, South Africa and Wales.
So where is the extra edge? Where is the creative tension within the camp? Which players are questioning the management and telling them to think afresh. England has a disciplined and decent set of people involved in the team.
Are they too nice? The team has spent two years spluttering around behind the scrum, struggling to formulate an attacking vision. Something is clearly not working but someone has to have the courage to point it out.
The way the players stuck with a game plan that was so inappropriate for an entire half should worry not just fans of England but the management.
Gathering
Worries too for Wales who were beaten in Cardiff by South Africa; three tries to nil tells a tale of precision against passion. England has set a target of becoming the second ranked team in the world by the end of the year.
Looking at Cardiff and Twickenham you realise that the rating system is good for a chat over a beer but little more. The best two sides in the world are New Zealand and South Africa. Maybe one of them will slip at the end of the year but the quality of these teams puts them clear of the field.
Wales looked decent but didn't look like beating South Africa. The so called Lions boost did not give them the edge to beat a country they have only beaten once in their history. The Springboks are way behind the All Blacks but building a fascinating squad of young and old. Under Heyneke Meyer they are gathering force towards 2015.
Elsewhere, although Samoa were rather not at fullest strength a 40-point win for Ireland was a decent start to the international career of the most creative coach currently working in this hemisphere.
It will not be plain sailing for Joe Schmidt but he has the capacity to give Ireland the sort of original attacking play that is fast becoming little more than a daydream for England's fans.
Crucial
Australia's 50-point pasting of Italy could be seen as another encouraging form line for England. It was certainly an important win for a Wallaby side under fierce fire from critics back in Australia. Defeat in Italy could have caused huge harm to the struggling union code. It is a setback for Italy but the sport needs a strong Wallaby team.
It is a cracking New Zealand one. England is the only team to have beaten them since the World Cup. It has experience, intellect and edge. It has knowledge of how to win and how to play the game. They are arguably one of sport's great teams.
England, with gaping holes in their game is far from that but they have a powerful pack, a home crowd and knowledge of beating New Zealand. Miracles don't exist but gigantic shocks do. Twickenham's biggest game of 2013 beckons; it is an opportunity to see a great team and an opportunity to see whether the events of 12 months ago were nothing but a fluke.
It's not suicidal free flowing rugby England are looking for but strong set-pieces, a dynamic driving game and the ability of the players to think on their feet.
They might manage all three and still lose but if they do, I for one will be content whatever the result. Winning alone is not the answer to quite a few niggling questions.
Stuart answers your emails...
Got a question for Stuart? Email him at skysportsclub@bskyb.com or use the feedback form below...
Hi Stuart. Injuries aside do you think a potential partnership for 2015 could be Eastmond and Tuilagi? Eastmond played well in Argentina before injuring himself for Bath early this season. I think the quick footwork, step and soft hands of Eastmond would balance brilliantly with Tuilagi's less subtle but extremely effective skill set.
Thanks Bob Simmons
STUART REPLIES: Bob, I don't think we have seen enough of Eastmond at a high level to judge yet. He remains too peripheral in Bath colours and the Argentina tour was against sub standard opposition. I am still not sure what his best position is. More importantly I am not sure his coaches do either. I am pretty sure that for all his limitations Manu Tuilagi is crucial as a guaranteed game breaker at 13. Give him the Ma'a Nonu book of self improvement and he will be world class by 2015.
Stuart, I still have reservations over Owen Farrell at fly half for England. While he did some good things against Argentina, the timing of his passing was largely poor and partly responsible for a disjointed midfield. What are your thoughts?
Alex Parker
STUART REPLIES: Alex, Me too. Great temperament but technically and tactically questionable. He has been a central part in too many awful English midfield efforts (attack, not defence, which is exceptional) to have anything other than reservations as a creative, controlling ten.
Is there any chance Stuart Lancaster will throw in Christian Wade against New Zealand? Or could Marland Yarde start on the right wing after another disappointing showing from Ashton?
Thanks Phil Willis
STUART REPLIES: Phil, There's a chance. Ashton didn't convince again and as Wade would have played if fit last week logic says he has to be close. A game against Argentina to get the feel of Twickenham would have been ideal but maybe Ashton 's travails could see his name there at 14. As for Yarde, I think he looked raw against Australia and I would like to see Ben Foden remaining in the team.
Hi Stuart, why do you think Wales' run against the southern hemisphere - Lions involvement apart - is so dire? Surely we have the players to beat the top teams. Is it a mental problem?
Dan Jones
STUART REPLIES: Dan, You don't have the players to beat the best two and unfortunately the self belief has never been a Welsh strength against the Southern Hemisphere. Wales remind me of England twenty years ago. Too powerful for the rest of Europe but too limited in game plan to beat the Australians and Kiwis (Boks were in exile at the time). I thought Wales played some good stuff in a tremendous first half without looking like winning (although, I confess that knowing the result as I watched helps a man to think so boldly. That Wallaby game grows ever more important.
Comments (16)
Eric Thompson says...
I like Brown- BUT Foden gives more elusive attacking speed and could resurrect Ashton who has gone dramatically downhill since leaving Northampton. Sorry Gloucester lads for all the potential it's not evident this year as your league placing shows. Lancaster totally missed a trick against Argentina Burrell is the form centre this year and the nearest physical presence to Tuilagi, this game would have been an ideal stage to show if he's got what it takes particularly as neither Twelvetrees nor Tomkins have demonstrated anything so far and I suspect will get really exposed against the All Blacks. Wales were good against SA but when you have such great running rugby potential and you ask them time and time again to play on a gloopy pitch that is not conducive to running rugby. I have never seen a decent surface in Cardiff since the new stadium was built. A change of policy about having a mobile pitch, and David "Piggy" Powell of Northampton Saints could help Wales realise their true potential. They have to have greater ambition than just beating England and winning the 6 nations otherwise the World Cup will continue to be a fantasy.
Posted 20:35 14th November 2013
Gordon Terrace says...
I agree with what a lot Shedhead says but like a lot of glass door supporters he is one eyed. Twelvetrees has been poor at best and no way is he at test level. Lancaster should realise that the experiment did not work, send him and Tomkins back to their clubs and look elsewhere.
Posted 15:15 13th November 2013
Matt Sercombe says...
Think some of the criticism of the half-backs is a bit off the mark. Dickson managed to get the forwards onto the ball at pace and his passing gave OF enough time on the ball. Care was ponderous and innaccurate when he came on early in the second half. Lawes just looks light; he was very effective in everything he did - just look at his clearing out of the ruck area. Having watched Saints v Sarries, think Burrell would have benefitted from exposure at test level, but not against the AB's. Stuart Lancaster won't change much other than Ashton and perhaps the bench.
Posted 15:07 12th November 2013
Shedhead T says...
It is time the Glawster boys are given a fair crack of the whip at international level. We need to be building our team around Morgan, Burns, 36 and Trinder. Farrell and Flood are positively dire, while that oaf Tomkins can barely scrape his way into the Saracens team at present. Andy Farrell isn't it time you put your family bonds in check and selected the most creative 10 England have had in a generation, Mr Freddie Burns, in the driving seat. Behind this England pack he would dominate. Shedhead
Posted 13:25 12th November 2013
Matt Lockwood says...
I agree with clompy. I was at the Australia game and agreed with Brown as MOM, however he beats men from defensive positions and never when coming in to the line or creating anything. We don't have a Folau or Dagg, but Foden would appear to be the nearest we do have. We still go for safe options that we know won't be awful, but will never win a World Cup. Still need to get a few of those with the potential to do something different into that starting 15 and see if they can step up.
Posted 12:00 12th November 2013
David Grace says...
England v Australia= Victory England v Argentina= Victory Criticise them all you want, smile- they won!!!
Posted 10:27 12th November 2013
Matt Lockwood says...
Surely 2 games is enough to see Tomkins doesn't have it at the top level. Top coaches make brave decisions, and someone else needs to be given a go as you can't have a 13 with no attacking threat
Posted 20:39 11th November 2013
Michael Shaughnessy says...
Hi Stuart, Do you think there is any chance we could see an all Gloucester 10,12,13 against New Zealand? Freddie Burns was brilliant against Argentina in the summer and Henry Trinder is a fantastic young talent.
Posted 17:47 11th November 2013
Paul Smith says...
Not convinced by Tomkins at present, surely giving Burrell a run at 13 would be worth a go, could see him giving the physicality that Tualagi brings. Ashton has to be dropped and Wade given his spot.
Posted 17:22 11th November 2013
Mick Collyer says...
I totally agree with you Stuart, whilst Farrell has some good qualities his game is limited. Burns must be given a chance, he may not be having the best of seasons,( neither is Twelvetrees but he has been picked!) but he is playing behind a poor pack, with England at least he will get good quality ball. I am not convinced by Tompkins, Twelvetrees or Barritt and Tualagi is a 1 trick pony. Ashton may be struggling but his form will come again. The world cup will be on us soon and Lancaster needs to try different players sooner rather than later. Burns, Burrell, Allen, Trinder, May, Eastmond, Myler & Elliott should all be considered
Posted 15:32 11th November 2013
Ed Ocallaghan says...
Stuart, one sticking point (or lack thereof) from the weekend has been the problems with the grass at a few of the international stadiums. Not only does it ruin the spectacle for us the fans, it's dangerous for the players. Do you have any insight as to if the new artificial turf (such as used by Saracens) could become an option in the future for various unions?
Posted 12:34 11th November 2013
Clompy Clompy says...
Too many mediocre players in England colours, simple. We have a pack to match (but not dominate) the best but 9-15 we are weak. We have good players (too few) but they aren't being picked. Hartley has to start alongside Corbs and Cole. He's our best hooker and Youngs is too short to scrum alongside them, Webber for the bench. Lawes still looks too lightweight to me. He often gets stripped of the ball by smaller players and looks likes he could carry another stone as an out and out lock (but that would require him being played as one week in week out by Saints). I would go with Launchbury and Atwood. Atwood is a lump, more athletic than hes given credit for and he has bags of attitude. We lack an enforcer. Backrow is still out of balance with Armitage is (ridiculously) unavailable, I would go with Robshaw, Wood and Morgan for the ABs. Behind the scrum we are all at sea. Care is our best 9, its up to Lancaster to manage him properly. Dickson offers nothing around the fringes to keep opposing backrows interested. McCaw will focus on and force our 10 deeper. Burns needs to be given his head. We have wasted two games finding out what we already knew, namely Farrell is a competent player. Composed and solid. He could play alongside a scintillating 12 but we don't have one. Tomkins has really disappointed and Twelvetrees is patently short of class. Centre is our major issue, Burrell deserves a shot. Yarde, on one wing and Ashton one last chance on the other. Foden must come in for Brown. Our 'stand out' player of the two games is a blagger. He has talent and his attitude is good but has shone because he is the only English 3/4 who has attempted anything. He isn't quick enough to be an international 15.... full stop. Part of me hope the ABs expose him on the outside and we can look beyond him. ABs by 12. Gutsy performance to keep Lancaster in a job and RWC disappointment. We couldn't have lived with either team in Cardiff.
Posted 11:27 11th November 2013
Greg Nicol says...
I thought the wales south africa match was a really great game of rugby.however if south africa took their kicks they would have been comfortable against wales. The boks physicallity was immense, however wales competed exceptionally well and had dominance in posession, what was lacking was creativity! You will not batter your way through the Boks , you need speed and precision. wales certainly lacked precision with far too many mistakes. with both centres now out injured i worry about their ability to create tries.
Posted 11:19 11th November 2013
Greg Nicol says...
England options in the backs due to injury are limited...but Ashton has to go, so bring in Yarde if he is fit, keep foden on the wing, worst case have three full backs by bringinging in goode and putting brown on the wing. midfield is desperate for tuilagi and tomkins is making no attacking impression so bring in burrell or trinder.
Posted 11:13 11th November 2013
Greg Nicol says...
England options in the backs due to injury are limited...but Ashton has to go, so bring in Yarde if he is fit, keep foden on the wing, worst case have three full backs by bringinging in goode and putting brown on the wing. midfield is desperate for tuilagi and tomkins is making no attacking impression so bring in burrell or trinder.
Posted 11:13 11th November 2013
Tim Smith says...
Stuart, My real concern is that we lack as you quite rightly say creativity and attacking threat in our back line. We need a creative fly half and centres that can actually run attacking lines and pass ! Mike Catt is the attacking coach and I loved him as a player but perhaps we need a southern hemisphere coach for this important position. Lastly George Ford - give him a chance !!!
Posted 11:09 11th November 2013