The Heineken Cup was painted green on the weekend.
Any residual rugby despair to be found in dark corners of the Emerald Isle was dismissed with a quartet of victories the like of which Ireland has never experienced in the pool stages of this competition.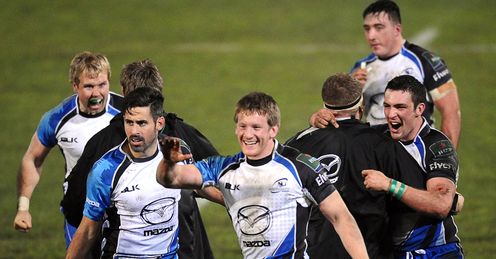 Fact checking? I have not bothered with anything quite as tedious as I sit at the laptop on a Sunday night having arrived back from my brief two day sojourn in the East Midlands. Maybe the four Irish teams have all won in the same round before - but not with the same degree of sensationalism.
We witnessed the best performance of the Heineken Cup to date by some distance in Northampton and for those who were on the red button whilst Leicester and Montpellier were producing their own thrilling afternoon's action, the shock of the season and undoubtedly one of the shocks of Heineken Cup history was unfolding.
Those lucky enough to see a little slice of rugged rugby history in person in Toulouse, should raise a toast, another and then another twenty to their team. This is what the game should be about.
Stuart Barnes
Quotes of the week
Sorry, I cannot tell you the story of the game; the minutiae of the match but I can type 'Toulouse were beaten at home by Connacht'.
There are seven words I never thought I would type and see in print. How they did it, it doesn't really matter.
Some matches are played with a view to the wider picture that lingers over the rugby horizon. That is the intelligent way Exeter approach the sport and despite a narrow defeat against Toulon in time it will reap rewards.
Other matches are about the eyeballs being out on stalks and the underdogs getting hold of the favourites and hanging on for life and glory.
Stunning
I only saw the last one minute and thirty seconds of the match in amazement from my commentary position in Welford Road. Heads behind pressed closer and closer to the screen to see this stunning score line transformed into a result.
Later this week I will watch it but that's not the point. This sort of occasion, when Connacht, bottom of the Rabo 12, beat the four-time Heineken Cup winners who have won all their home games with a bonus point this season - until Sunday - is more a matter of something that passes down into myth.
For the gallant men of Galway and surrounds this is a mini Munster All Blacks moment. Pat Lam will sensibly talk of building on the win but the fans, both in the West of Ireland and those lucky enough to see a little slice of rugged rugby history in person in Toulouse, should raise a toast, another and then another twenty to their team.
This is what the game should be about.
One day earlier an altogether more established Irish side produced a stunning performance which will have caused consternation through Europe.
In the first round of the Heineken Cup, Leinster were impressively organised away to the Ospreys in Swansea. Impressive in a pragmatic manner but did the team miss the Joe Schmidt and Jonny Sexton factor?
The answer was a resounding 'no', on a perfect night for rugby that froze the hearts of Northampton supporters. The manner in which the Saints have played this season is the nearest thing to the pace and power required to make the step from domestic to European success.
Averaging 32 Premiership points a game at the Gardens they were expected to take Leinster all the way. Instead the match was over as a contest well before half time.
Yes, late changes that left Northampton minus a full back hurt them but the intelligence, accuracy and confidence with which Leinster took advantages of the weakness was hugely impressive.
Brian O' Driscoll was acutely clever from first to last and with a breakdown game that blew Northampton's much reputed breakdown game to pieces it was all too much for the English team that has to pick itself up before next Saturday night in the New Lansdowne Road.
Firm
Last year the Saints showed great resolve to rebound from a hammering at home to Ulster and take the Ulstermen's record a week later. The management can tell their team that they will be unlucky to catch Leinster in quite such form again but the order remains tall.
The three times champions in five years have the pool in a firm grip and are - on form - the team to beat. But remember how good Clermont appeared last season when they travelled to Leinster and demolished them in round four. The road remains a long one towards a fourth title but they are on the right road and flying down the fast lane for the moment.
Munster duly obliged with a bonus point win against a typically erratic Perpignan who didn't land a blow. One pass from James Hook for a last second try is a reminder that the Catalonian side can play but Munster will not fear them next weekend.
And finally Ulster; the only rivals to Leinster as the team of the tournament to date; they have backed up a home win against Leicester (where the bonus point for the visitors could yet prove important for a Leicester team not to be written off) with an away win in Montpellier and on Saturday a seven try rout in Treviso.
They are leaving nothing to doubt and hunting down the points to take them towards a home quarter final. Leicester is hanging onto their shirt tails and could make that round six encounter something special.
But for this weekend, the story is Irish. Two weeks ago a fast tempo game came so close to undoing the All Blacks. The Leinster team reproduced that sort of pace and dismantled Northampton. The others did what they had to do. In Connacht's case it was something they will be talking about for years to come.
It may all turn to ashes next week but if that is the case (and don't bet against a really tough contest although Toulouse will be a different beast) Sunday happened. Connacht, the often forgotten fourth estate of the Irish game beat Toulouse away.
The Heineken delivers again.
Stuart answers your emails...
Got a question for Stuart? Email him at skysportsclub@bskyb.com or use the feedback form below...
Hi Stuart. Don't you think it would be interesting to have a type of Lions game at home versus the Southern Hemisphere teams once every four years or so, maybe during the end of year tour? It would be interesting that this could be held in a Lions year, when they have played a few games together earlier in the year, as well as give the home Lions fans a decent opportunity to see the Lions without having to travel to the other side of the world. Secondly, what is your world team for 2013? Thirdly, what is your refereeing team of 2013? Fourthly, do you not think that the refereeing has been below the standard that it needs to be this year? There have been a huge amount of dodgy calls, so maybe a global conference on the state and rules of refereeing needs to arranged once a year to ensure some consistency between Southern and Northern hemisphere refs. It can only be fairer for the players and the fans so that everyone can enjoy the game in the same way, without there being huge disparities in the way the game is reffed
Jason Kuhn
STUART REPLIES: Jason, Plenty here; Re. The Lions. Be careful not to dilute the magic and remember the clubs pay the wages and cannot be expected to release their men ad infinitum.
World XV: Corbisiero Du Plessis Adam Jones Etzebeth Retallick Alberts Louw Read du Preez Cooper Savea Fofana C Smith B Smith Halfpenny.
Ref team: Owens Ref, Barnes and Joubert assistant referees and no, I think referees are consistent enough, it is the constant tinkering and emphasis they are told to concentrate upon that causes the problem. That and the different philospohies of coaches in the two hemispheres.
Stuart, What do Northampton need to do to get over that Leinster defeat? What damage mentally will that have on them for the rest of the season.
Michael Denny
STUART REPLIES: Michael, Remind themselves how they turned around a hammering at home to Ulster twelve months ago into an away win; eliminate their errors and admit that their opposition were splendid and might just not play that well again all season. Such is the Barnes team talk Monday morning.
Evening Stuart, I know you may not want to discuss this but will Stuart Lancaster be concerned about England clubs not playing in Europe next year ahead of the world cup. I have always believed that the Heineken Cup is a step below Test rugby and surely that will hurt England's players not playing at this level?
Jack Goodyer
STUART REPLIES: Stuart Lancaster will be hugely concerned about the non participation of the English clubs this. You won't hear Mark McCafferty say so but the PRL seems ready to damage England's campaign build up in the battle for control of the gam
Comments (9)
Richard Shuttleworth says...
Hi Stu, I believe your commentary and broadcasting of your thoughts on players skills and decision making will help change coaches mindset and hopefully their philosophy toward coaching players. Unless the learning environments created are conducive to individual self-expression and creativity and players are allowed to practice making decisions collectively then will continue to have a handbrake which limits our performance. Some coaches confuse structure for getting order into the game. Southern teams are prepared to operate outside of structure and indeed break from structure as soon as it has provided them with opportunities to act. Having individual skills and heads up scanning to engage opponents is structure in its own form. Structure from chaos is a skill which great players recognise and can operate within and indeed feel comfortable to operate within - being comfortable in the uncomfortable - because it affords them many more opportunities to break the equilibrium especially if the opponents are structured and predictable like many teams are nowadays, perhaps due to professionalism, stats driven decision making, low risk default plays, fear of relegation and a copying mentality. Just some thoughts appreciate your comments on this.
Posted 17:27 20th December 2013
Mick Collyer says...
Leinster were good but it was an abject performance from the Saints, the worst since the Solomons era. From Pisi dropping the ball in the 1st minute it got steadily worse. There is no chance of the Saints winning the return but lets hope that they at least show some passion and pride in the shirt and regain a little respect.
Posted 17:32 10th December 2013
Ruairidh Norman says...
Stuart, don't you think that the amount of money and foreign players in the league is damaging the national sides? France is suffering internationally due to the influx of foreign players; do you not think this might happen to England if this big money route is continued by the English clubs? On Saturday, 1 to 15 on Leinster were Irish Internationals. Shouldn't English clubs be trying to replicate this rather than copy the French model of big wages and big foreign players. Rugby is all about the grassroots and it seems like the lack of trust in blooding English players is going to hurt England in the long run.
Posted 21:10 9th December 2013
Kevin Mitchell says...
All nations north and south have to deal with schedules so how about a L ions north v Lions south what a match.
Posted 19:48 9th December 2013
Barry Kerr says...
Stuart, Not only has it happened before, but it is the second round in a row that all four Irish provinces have won. In round 2 Leinster beat Castres, Ulster beat Montpellier, Munster beat Gloucester and Connaught beat Zebre. Although it is unlikely to happen again in round 4, if I were a betting man I would place a wager on it happening in round 5. Being a Munster fan, looking for a ticket to Kingsholme, I am quietly confident of nipping past Gloucester away. Do you think this will ruffle the hair of McCaffery even more, and we will hear him pulling out the 'resting' players because there is no qualification card again?
Posted 17:21 9th December 2013
Pat Smalley says...
Scrap the cap and see English clubs flying in a level playing field competition ! Imagine MUFC not being allowed to spend more on wages than Wigan
Posted 17:16 9th December 2013
Cathal 12 says...
Stuart, After the weekends victory, and playing convincing rugby in the Rabo, do you think Munster fans can realistically say we have a shot at winning the Heineken Cup again?? An achievement in its own, but even bigger considering its without the greatest 10 in the cups history.
Posted 12:11 9th December 2013
Paul Ennis says...
Great read,from and Irish perspective. We don't get many weekends like that. From a European perspective, out of 12 games, only 2 games failed to inspire someone in some form or another. Leicester v Montpellier for the neutral, Clermont v Scarlets for the power, Northampton v Leinster for the intensity, Exeter v Toulon for the purist, Toulouse v Connacht for dreamers & Munster v Perpignan for the ... well Munstermen. I am not interested in starting a PRL bashing exercise. I just want to ensure that we have an all inclusive, fair & equitable competition next year (& beyond) with a long term plan in place to expand it beyond the existing territory. However, it should be run by those who have the interests of the current minority at the centre of their thoughts. ie NOT Mark McCafferty OR Pierre Camou. If we fail, professional rugby union worldwide will tumble into financial meltdown.
Posted 12:09 9th December 2013
Enda Cassidy says...
Hi Stuart, what would you say are the main positives that the Irish side can take from the last month overall ahead of the 6 nations. Have we discovered anyone or have we enough to do the business. The smaller pick we have i feel we need to find a few every year.
Posted 11:19 9th December 2013