Merry Christmas to everyone, I hope the week is good to you whatever your reasons for celebrations.
Happy Holidays if you are not a Christian and all power to mid-winter festivities if you pack a Pagan punch.
I am taking a few days off watching games, chatting to coaches and trying to work out how the impossible becomes possible.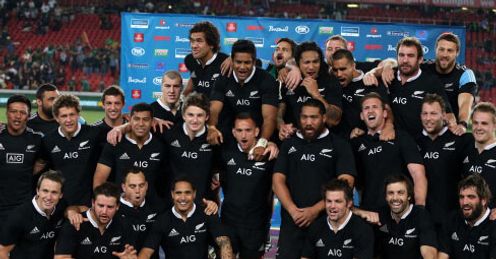 Take Saturday night's game in Oxford: was it possible that London Welsh could be so utterly dominant for the first half hour and still end up losing without a bonus point?
Well, yes it was and so it happened because London Scottish defended intelligently and London Welsh attacked with barely a shred of grey matter in evidence.
We must find a resolution to the row that threatens to tear the very fabric of the world game apart. Tournaments, clubs, unions, rich and poor stand on the brink.
Stuart Barnes
Quotes of the week
LIVE ON SKY SPORTS
Championship Rugby
Leeds v Nottingham
1.30pm, Sat, Dec 28
Sky Sports 4/Sky Sports 4 HD
And this brings me to my first Christmas wish: that coaches and conditioners remember that whilst every part of the body can be invaded by technology to tell how far a man runs, what his heart rate is doing, how much air is left in the lungs and who knows what else, sports science is not too far along the way to measure the brain.
The brain is the forgotten aspect of too much professional rugby.
Fans and coaches are in awe of a man's fitness but how often do you hear a coach eulogise the size of a brain?
There was a time when coaches used to describe players as 'having a computer for a brain.' Now the computers have taken over too large a portion of the rugby world and left the strategists an unloved minority.
Communicate
In New Zealand rugby intelligence is a primary part of the sport's education but most of the rest of the world refutes this as evidence and gets back in the gym.
More brain, less statistical and technological analysis, that's my first Christmas wish for all fans. It'll change your year for the better unless you like nothing but men trying to run into brick walls, that guess what, are not about to give anytime soon.
The word creativity' to re-establish itself in vogue; in the jargon heavy England world it is a world the introduction of which could make a massive improvement.
The jargon of managers and coaches to be mocked rather than assiduously aped; players are humans; communicate man to man, not business to assets.
Find a resolution to the row that threatens to tear the very fabric of the world game apart. Tournaments, clubs, unions, rich and poor stand on the brink. This was the row that had to happen when the game went professional and all unions bar England and France more or less took control of the highest level.
The centrally controlled unions are predicated on the needs of Test rugby, the privatised world of French and English club rugby are first and foremost interested in their own aims and ambitions.
And that is fair enough but please can we have an end to the propaganda that suggests the primary purpose of the clubs' position is for the good of the game overall. It is not, it is for the clubs and that is fair enough. If you owned a club what would your priority be?
I am not going to express a hope for peace in these troubled rugby times, look where that took us? Just a quiet 'fingers crossed.'
Intuitive
Elsewhere, I want a team to win the Heineken Cup rather than lose it; the difference is real and cost Clermont in 2013.
It would be good to see England thinking about attack as much as defence, Wales using those intuitive rugby brains as well as their muscles, France not being utterly pathetic, Ireland playing at the pace they sustained for an hour against New Zealand. If Joe Schmidt can do that it will change the face of the second tier Six Nations....
Oh, and a Test win for the Northern Hemisphere boys in the summer.
It is a long time since England beat New Zealand in Wellington in 2003. Wouldn't it be great for Europe to strike back at the undisputed top two teams, New Zealand and South Africa?
Anyway, that's enough, I have presents to wrap.
Whatever your team, country, likes or dislikes within the game, enjoy the next few days,
Stuart
Comments (2)
Neil Thomas says...
In regards to the time spent on scrums, no-one ever seems to mention how much time is wasted by kickers lining up there kicks. Does Toby Flood really need to stand looking at the ball once he has got back to the end of his run up, for about 40 seconds??
Posted 11:37 30th December 2013
Lee Ballard says...
Stuart, If i could add to your wish list it would be for a game to go without the scrum collapsing. I admit it is better this season than previous but could a simple thing as having the front rows wear the "Old Style Cotton shirts" we all used to wear years ago possibly help with this. The new material used now days doesn't offer the same grip. Surely it may be worth a go better than endless collapsed scrums?
Posted 10:10 23rd December 2013