There's nowhere to start but Paris.
There was much of interest in Cardiff and Dublin but from the neutral perspective the centre stage was France, where the home side did exactly what they needed.
They won and ended an abject run of results. They were perhaps fortunate, with both the bounce of the ball and the final result but they'll be unlucky and Lady Luck will soon ride to England's side. That is sport.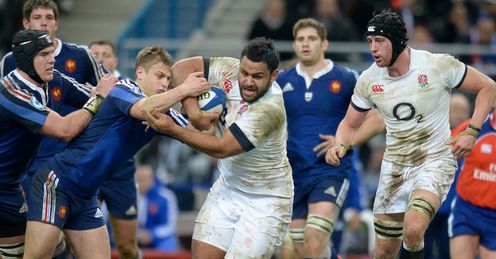 Away from fortune France can point to a more ambitious game plan, an attack that benefitted from more freedom and less structure and an outstandingly quick, muscular individual effort from Yoann Huget. Bar being stepped once by Mike Brown he was immaculate.
The other boost for France was the cool finish to the fabulous finale by young Gael Fickou. He is being given a ridiculously hard time by Guy Noves in Toulouse. Hopefully Philippe Saint-Andre will allow this immense talent to grow alongside Wesley Fofana into one of the world's best centre partnerships.
The parallels with Clive Woodward's World Cup are obvious but in the obsession with winning, memories shorten.
Stuart Barnes
Quotes of the week
The other major plus for France was the support. Impatience in recent games gave way to passion as their anthem rebounded round and around the stadium, surely surging them towards a win that looked to be slipping from their grip as the second half progressed.
Round Three in Cardiff still appears a formidable barrier to Grand Slam dreams, though.
Sharper
As for England the Grand Slam continues to elude them.
The post-match media verdict dwelled on what they got wrong. I think they got a lot more right than wrong and on reviewing the game on Sunday afternoon (before luxuriating in Arsenal returning to the top of the Premier League) I think this was a positive negative.
The attack is so much sharper than last season. Owen Farrell played on the gain line, Billy Twelvetrees did a lot right in shaping the middle, while up front, the second row partnership and Billy Vunipola were big, very big plusses, although the scrum was a bit of a worry. But that, like defence is easier to fix than an attack.
If winning the World Cup means more to an England fan than winning the Six Nations, it's better by far to have lost with an attack functioning than to have won by playing limited but safe rugby. The parallels with Clive Woodward's World Cup are obvious but in the obsession with winning, memories shorten.
The greatest European team of the professional age won the World Cup precisely because they learned what they could and couldn't do during the Six Nations. Only by testing the boundaries can a team reach its peak of excellence.
The Wembley defeat to Wales and an awfully stupid performance against Scotland in Murrayfield were as much a vital part of the preparation for 2003 as the demolition of Ireland to win a Grand Slam in World Cup year.
Whatever the short-term shouters may scream, this was a rotten result but not a bad day for England. In time this defeat might mean a great deal more than a defensively-minded defeat of Scotland or Italy.
Rusty
Wales, the Six Nations superstars but global whipping boys, got off to a winning start at home to Italy. Jamie Roberts was sharp on the gain line and Toby Faletau again impressed but this was a game where little should be read into the quality (or lack of it).
Many of the team have been short of much top-end rugby and the rustiness bled through the red shirts. So too did the confidence that they would win, no matter how mediocre their performance. And so a mediocre performance duly ensued and Wales won.
They will have to be much better in Dublin where Ireland, on the basis of their performances against New Zealand in defeat and Scotland in victory, should start favourites to repeat last season's win. That is not to say they will because improvement from Wales is almost certain.
But Ireland and Joe Schmidt should be quietly content.
The 'Paul O'Connell late injury' media panic I listened to on my way from St Pancras to my West Country home prior to kick off had listeners believing Scotland, with all their low ambition structure, could win in Dublin.
I wish the bookmakers would have overestimated the loss of the great man. Ireland dominated the line out and had Scotland in trouble at the scrum. With O' Connell back, Ireland's pack is going to test Wales, even in the absence of Sean O'Brien.
Cian Healy continues to look like the best loose head prop on the planet with his technique in the tight good but no match for his brilliance everywhere else. He is some player, but the half backs were very good as well.
This wasn't top gear, it was not up there with the All Blacks performance but Schmidt is not averse to getting his teams to peak when it matters. I'll take Ireland to win next week.
Crumble
As for Scotland, they were disappointing. The side knows how to hang onto ball but don't possess either the wit or personnel to do much with it.
If their set piece crumbles against England all the 'local derby' atmosphere in the world will not stop England beating them comfortably and England really must not think of the next match as a game to win but one in which if they perform well they will win and well.
The decision to omit Johnnie Beattie, an outstanding ball carrier for Montpellier, from a pack that has no ball carrying cannot help but make you wonder about the selection skills of Scott Johnson.
Scotland must start with him in the Calcutta Cup game on Saturday, but the one ray of comfort came from Stuart Hogg who was pure class. Every time he gets the ball there is threat. England will not wish to kick anything down his throat.
Italy, a little like England, lost the game but left with a whole bundle of positives from their away defeat. Wales were not wound up to pitch but even so this was one of Italy's most balanced performances for some time - including the odd inspired victory.
The pack was competitive as ever but Gori was very good at scrum half and the backs carried some pace and threat. Without looking like winning this was an encouraging start for Italy... and if France are renewed with swaggering confidence next week's game may be tighter than a few think.
Stuart answers your emails...
Got a question for Stuart? Email him at skysportsclub@bskyb.com or use the feedback form below...
Stuart, I hear that Sam Burgess is planning to break his contract with South Sydney and look to get into union. He' a fine RL player but what do you think a league player needs to make it in the 15 man game? On that note how do you see Benji Marshall getting on in Super Rugby?
Phil Courtis
STUART REPLIES: Phil, If a league player is new to union the precious commodity is time. The sports have similarities but even more differences. A good attitude, skill, pace, power and an ability to work out the breakdown should do it... As for Benji Marshall, I have only seen glimpses in league so I am really not in a position to comment, sorry.
Hi Stuart, I thought England have progressed a little since last season. It was disappointing that they could not hang on for a win against France and perhaps they would have if Lancaster had not made premature subs it seems to me that @approx 60 mins most coaches think they are obliged to sub - what are your thoughts? Although the subs generally did well (particularly Morgan) when Lawes and Hartley went off the line-out suffered. The modern coaches talk a lot about "momentum" but ignore the loss of momentum when substitutions are made. On the positive side Burrell and possibly Nowell are in the team to stay but personally I'm still not sure Twelvetrees is good enough. Your comments please.
Roger Hale
STUART REPLIES: Roger, they lost the game but found a sharper attacking game. On the substitutes, I think the two losses were Lawes and Hartley but Lawes was enforced. Dickson was fine despite all the brouhaha regarding Care's substitution. The new boys did all right although too early to say if they are 'here to stay' while I thought Billy 12trees actually did an awful lot very well.
Stuart, I was told that making mistakes educates and should not be overly criticized. Making the same mistakes again shows a distinct lack of learning. Stuart Lancaster has just done that. We lost against the All Blacks in the first 20 minutes and repeated that against France. In both matches we woke up and put in a colossal effort to recover and then had nothing in the tank to stop our opponents. That is down to selection and preparation. Our defence captain should have been on the pitch at the start (Barritt) and having two tyros on the wings was one risk too many - Ashton should have been there. And finally Goode has lost a yard of pace and was sorely exposed. Stuart is getting a lot right but is not showing that he is learning from his mistakes. What do you think?
Paul Newman
STUART REPLIES: Paul, How many mistakes did Clive Woodward's team make in the Six Nations before they won the World Cup? Answer? Plenty! Cruel bounces did for the first twenty, the attack - an area of massive concern, bloomed without Barritt, Ashton did not deserve to start and I agree with you about Goode - a fine professional but short of the requisite pace and power at the highest level.
Comments (11)
Paul Smith says...
A big decision now has to be made, with Launchbury and Lawes both performing like extra flankers I think we need to play another ball carrier in the back row, which means either Robshaw or Wood have to make way for Morgan, what say you Mr Barnes??
Posted 07:19 5th February 2014
Stephen Mann says...
Stuart, Sam Burgess is arguably the most powerful rugby player on the planet, and also has good hands, subtle skills and the ability to think on his feet. For the past year he has been completely dominating the apparently peerless Sonny Bill Williams, which no-one else can even dream of. Having played both codes in the centres at a decent amateur level, I have no doubt Sam would be an outstanding number 12. Jean De Villiers, Fofana and Nonu would all struggle against him. Can u imagine Burgess and Tuilagi in the centres? The gain-line would unquestionably be ours. There is no point wasting his power and talent in the forwards, a world-class back-line could be built around him! However, if he didn't cross codes, I would like to see Twelvetrees moved to 13, where he would have more time to make decisions and use his considerable array of talents. International rugby has found that a crash-ball centre is more useful at 12, against the common blitz defence and distribution and decision-making are more useful at 13. In my eyes Burrell and Tuilagi should only be considered at 12 for a more effective back line. As we have seen Tuilagi is astonishing being put through a gap, not running in the line trying to put his winger away! Which is why Leicester and England seem to waste him.
Posted 15:32 4th February 2014
Aidan Donovan says...
Stuart, I would suggest unlike most others including pundits and ex players that Englands loss to France could be put down to bad game management by Danny Care.Everyone is talking about the fact that he should not have been substituted,and I agree he was causing France problem.However his "tap and go" obsession sometime goes way too far particularly at this level.Care has never impressed in H-Cup where pace and good calls are required, and you can multiply that at test level.To "tap and go" once and get away with it was a big bonus,but it was pure silly to try it again with 3 points on offer at the end of the first half.That equates to a one point winning margin as it would not have altered game play, being the last act of the half,just the scoreboard.Youngs would never have done anything so silly !!
Posted 10:59 4th February 2014
Michael Dyer says...
I don't know why England fans are so downcast. I am Irish but felt very sorry for England as I thought they played very positive attacking rugby which, with all due respect, is not something England have done much of for a long time. They were seriously unlucky with the bounce of the ball for the first two French tries and all in all it was a positive performance. Although I do think they still lack real creativity in the centre from open play. Farrell is a great kicker and brave as you like but has limited creativity. One criticism of Lancastor was the taking off of Care, he was a real threat all day and I thought the attack went flat after his removal.
Posted 09:14 4th February 2014
Matt Graham says...
Dear stuart i'm not going to moan about premature substitutions but i am going to moan about the balance of the substitutions. i think stuart lancaster should have dropped Barritt and Goode, he should have picked Ford and Watson, watson can play wing or full back so brown could have stayed at full back rather than going to the wing, Ford could have come on for Farrell if needed or farrell could have moved to inside centre to accommodate Ford at fly half. i, like you feel that the loss against France can only be a good thing in the long run.
Posted 22:16 3rd February 2014
Sam Bates says...
Hi Stuart, you gave a couple of young players their debut against France. How did you think they played and will they get a second game in this tournament? Sam bates, age 12. Exeter Chiefs fan
Posted 20:30 3rd February 2014
John Pearce says...
Stuart, are you excited by the prospect of this England side when the likes of Tuilagi, Wade, Yarde, Corbisiero and even Parling return from injury? These players would certainly have added significantly to the England performance on Saturday. For the game on Saturday against Scotland do you think having a 'specialist' fly half on the bench would make sense?
Posted 20:02 3rd February 2014
Neil Goldsmith says...
Stuart, Like you I was pleased England tried to be a more balanced attacking team. I thought it ufortunate that Jonny May got injured. That lost England a lot of speed on the wing and forced Lancaster to bring on Goode as Full back with Brown on the wing. The full back is a vital component of the defence and Goode's lack of familairity with the England defence may have caused some of the defensive errors in the game. Certainly, the last French try may not have been scored if Brown had been full back as he has more pace than Goode. Also, Knowle went of with cramp, maybe through lack of test match fitness but possibly running more to compensate for lack of speed and organisation at the back. Putting a natural inside centre on the wing (albeit out of necessity) contributed to the last try. Who would you put in to replace May? I'd like to see Watson given a run.
Posted 16:48 3rd February 2014
Mick Collyer says...
As per the NZ game in the autumn the game was lost when Youngs replaced Hartley. Youngs may be good in the loose but the 2 main objects of a hooker are to hook the ball at the scrum and find the jumper at the lineout & Youngs can't do either. The lost 5 metre attacking lineout changed the game. England have persevered with Youngs for to long& have to find another back up hooker to Hartley sooner rather than later.
Posted 14:56 3rd February 2014
Gavin Crowther says...
Hi and good afternoon Stuart, I agree with your comments that we were unlucky to go down by 16 points to France within the first 20-25 min. But England like South Africa & New Zealand should always be coming out all guns blazing for the first 30min attacking and putting teams under pressure at Ruck situations / Line outs(competting for every one) and winning every scrum with power and skill. The opposition needs to be cleared out properly and Quickly at the rucks and Quick ball needs to be supplied to the Flankers and no8 running onto the ball at pace to break the line or out to the backs/ Not no no stupid Box kicks within your own 22 or half that just gives the ball away and allows the other team to attack at pace / because we don't get the ball back? If your going to kick - kick for touch in the opponents 22, surely ? put them under pressure, What do you think? * I don't rate Twelvetress at all he is not big/strong enough always looks scared and can't pass a ball properly to save his life! Barritt & Tualagi when fit / or Barritt & Burrell best centre partnership.? Vunipola should have started at prop and parling should have come on ? Dickson should have started instead of care and Strettle should have been given chance on the wing? what do you think? with these changes and kicking for high pressure territory and having effective rucks and mauls we should have won by 12 points easly.? Do you agree.
Posted 14:04 3rd February 2014
Adrian Kimpton says...
Stuart. What puzzles me is this big man 13 selection. I see Bastereau, I see Nonu, Roberts and I remember Jauzion and even way back Carling. Run straight, take 10 and 12 or 12 and 7 with you and with decent hands a following wind give to a 13 with gifted feet, vision and some gas. For me, with Eastman, JJ ( I personally think Foden) or as Woodward said on Saturday, May at 13, doesn't this, isn't this a more logical midfield construct? I know 13 is a key defensive channel but both Eastman and Foden are highly sound in that area and in space wouldn't an international 15 rather be confronting Burrel running at him than either of those running round him? I would value your thoughts. Adrian
Posted 12:11 3rd February 2014