Freddie Burns silenced his doubters with a superb display against New Zealand, says Stuart Barnes.
The fly-half kicked four penalties as England succumbed to an agonising last-gasp 20-15 to the All Blacks at Eden Park.
Stuart Lancaster's weakened side surpassed all expectations, however, as they ran the reigning world champions all the way to the finish, before Conrad Smith's late try took victory.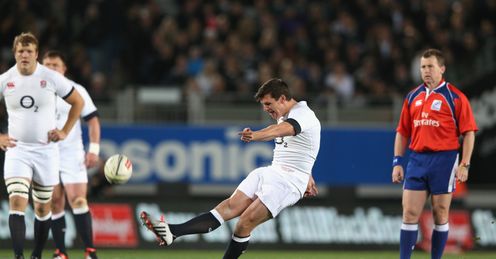 Barnes questioned the selection of Leicester-bound Burns after an indifferent season at Gloucester, but the Sky Sports pundit was full of praise for the 24-year-old's performance.
"The amazing thing about Freddie is we all know he's got the talent," he said.
"There was a game at Leicester about 18 months ago when he  really controlled the game. Since then, though, people got confused – Freddie Burns was a player who could make a break, he could run, he could kick, but he couldn't bring it all together.
"But in that first half in particular, the quality of his kicks into the corner, his up-and-unders, and the way he just brought players into the ball was really good. He looked like a fly-half who was in control.
"Outside him, what a selection Kyle Eastmond was to come on this tour. Once or twice he went a little high, but his footwork and his threat in tandem with [Manu] Tuilagi – could be a work-in-progress or something for the immediate future."
Disappointed
The tour moves to Dunedin for the second Test on June 14, when Lancaster will have a full squad at his disposal after missing several key players at Eden Park thanks to the Premiership final.
Owen Farrell, Courtney Lawes and Luther Burrell are all likely to make a comeback as England look to level the series.
Despite the heartbreak of defeat, the manner of England's performance has given Steve Hansen's men food for thought ahead of their next meeting, and Barnes believes the tourists have shown they are ready to mix it with the best in the world.
"From an objective position an Englishman would be very pleased with what England did today," he added.
"As we move on to Dunedin, then the autumn and the Six Nations, and then the big one – the World Cup – the fact England will be bitterly disappointed to have lost tells you more; even more than the fact they got close to New Zealand with half the team missing today.
"They went into this game with belief, they played with that belief. They have to eliminate certain errors but I think they showed the world today they are serious contenders. Next week in Dunedin – as we thought for a long time – is going to be splendid.
"New Zealand are going to get better, and they're going to have to because so will England."
Comments (6)
Peter Clareburt says...
Hi what will be interesting to watch this weekend is a rotation in the English team due to player availability vs the minor change in the All Blacks. A while back the All Blacks played the rotation game, even at one stage sending a second team to Argentina and what was interesting was that it was nearly impossible to suggest that a team of the top players in each position was much better than a team of the second top players - with a raft of variability in between as they were mixed up. Rotation with a mix of players who can fit in and gel is very important for the world cup where attrition of playing game after game impacts, but it also means that it is quite possible that the second string team last week will do better than the first string team this week. This does not matter when one's eye is on the world cup as the experience is all important; However for the All Blacks they have a fundamental truth they need to work to and that is they must win every game. Not just this Saturday but for the rest of the season and next year and so on - of course they will lose the odd game but to be a great team (by name not just incumbent players) you have to win nearly all the time e.g. AB's some 92% this century. So this weekend will be an amazing game being played in highly predictable conditions. Who have the most to lose - I suggest the English team because if they get trounced after bringing in their first team that will hit the confidence. AB's losing on their home ground? Well it has been known to happen before - every now and again.
Posted 21:16 11th June 2014
Arthur Brown says...
I'm not really a fan of kicking fly-halves but I have to say I thoroughly enjoyed Burns' display on Saturday night. It was my first look at him and the accuracy of his tactical kicks was remarkable. Apart from over-cooking one kick to touch he was pretty near flawless. Without fail, his return kicks were perfectly placed and gave the chasers exactly enough time to arrive so that the All Black getting under the ball always had to go up for it and was always under intense pressure. To get it right time and again with those kicks was truly exceptional. I felt Burns put in the best, most consistent display of tactical kicking at top level I've seen for a long time -- in fact since Barry John's precise boot ended McCormick's test career by having him scrambling all day in Lions-All Blacks match 3 in 1971.
Posted 01:32 10th June 2014
Sean Pawley says...
very good game indeed i thing your bang on what your saying stuart not to sure about luther burrell i would keep kyle estmond in the starting line up for sure looking to owen fez back at 10 even tho burns did have a blinder realy looking forward to the next to test
Posted 15:47 8th June 2014
Adam C says...
Great progress by England but I am worried we are over-playing the "weakened" team card. It's hard to see how much better England would have faired with their missing players and to do so brings slight insult to men on the pitch who really stepped up and gave a good game yesterday. The only real frustration with yesterday's match was the constant handling errors and inability to give NZ a score immediately after their own.
Posted 09:56 8th June 2014
Jeffrey Winch says...
That was very close ,England,but dont get carried away,the All Blacks will bite you next time,they are only warming up.
Posted 01:40 8th June 2014
Andre Jooste says...
Stuart, please get real, if you watched the game with an open mind and gave each side their credit of being in the same boat, being their first game together, you would realise the England are playing a game not to win and New Zeeland not to loose. In most of the 2nd half England moved more backward on their own position or sideways like Brown? If you have stats of meters gained or lost this would make it clear. They are trying to muscle up against a far better team and can not sustain the impact. Before they get this balance of playing a controlled game of moving forward sorted I have no hope. NZ will take no prisoners in the next game. I think the coach is not in touch with the current game?
Posted 20:37 7th June 2014