Many people would have expected Audley Harrison to hang up his gloves after his humbling first-round knockout defeat to David Price in October.
However, Harrison returns to the ring this Saturday night for Prizefighter at York Hall - and I actually think he could win it.
Harrison's problem is that he has a fear of getting hit and if you were to put him in a 12-round championship match with any decent fighter then he hasn't got it - but the three-round Prizefighter format suits him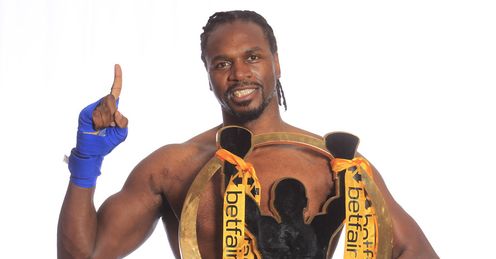 Whereas everybody else has to adapt their style to switch from the long distance, Harrison is made for three rounds - as his Olympic gold medal, won in Sydney in 2000, showed.
He's also won Prizefighter before, taking the 2009 title, and his size and southpaw stance mean he will be an awkward opponent.
He's not going to get into a toe-to-toe battle with anyone but in this tournament you just have to win two of the three rounds and he's more than capable of doing that against the other contenders.
Harrison is made for three rounds - as his Olympic gold medal, won in Sydney in 2000, showed.
Jim Watt
Quotes of the week
Prizefighter International Heavyweights III
8pm, Sat, Sky Sports 1 HD
Harrison continues to talk about a world title shot and how Prizefighter could be a springboard back into contention.
I don't know if he's delusional or just selling himself because when he got his world title shot against David Haye he didn't even go for it, but he certainly stands a good chance of lifting the trophy on Saturday night.
Surprise
Another former winner Martin Rogan will be out to stop him.
However, whereas 41-year-old Harrison isn't really affected by his age as his style was never reliant on reflexes and speed, Rogan, who's the same age, likes to work at a pace and will find it tougher to do that than when he lifted the title in 2008.
But he was in action against a Czech fighter, Ladislav Kovarik, earlier this month in Belfast and, although technically he wasn't great, he showed he could set a decent pace for four rounds.
I'm glad he'll be there this weekend and, as someone who's been Commonwealth champion, he can't be ruled out, but I'd be surprised to see him win Prizefighter again.
Polish boxer Albert Sosnowski is back after losing in the semi-finals of Prizefighter last summer.
He lost a majority decision to Kevin Johnson in that event and I actually thought he'd done enough to win their contest and reach the final; I still think Tor Hamer would have won the final but Sosnowski looked good enough to progress to the final last time and could do well again this weekend.
Prizefighter is hard to call and Travis Walker has the knockout power to stop any of the other participants, while Londoner Ian Lewison - who will have some hometown support - despite not having had many fights, could throw up a surprise or two.
The recent history of this tournament shows over three rounds anything can happen and outsiders with the bookies have a chance because if you win that opening round you're half the way there.
But personally, I think big Harrison could just do it.
Comments (8)
Dee Leslie says...
I am tired of bashing Audley and his inability to live up to his potential. At the end of the day I have to admire his determination and his never give up attitude. Good luck " A Farce"
Posted 19:36 23rd February 2013
Dane Edgar says...
audley needs to face up to the fact he was never good enough to mix it with the big boys! im 53 never boxed in my life but i'd give him a good fight win or lose..he may be a nice guy but im afraid he doesnt know when to quit, he will never go anywhere now.
Posted 16:20 23rd February 2013
Danny B says...
I wouldnt give Harrison any chance of winning. Despite his "experience" over the others you just never know what is going to happen with him. He has a tendancy to capitulate early on if he is caught once or twice, and for a boxer, thats definitely a bad sign.
Posted 06:25 23rd February 2013
Paul Bevan says...
I can't see Audley beating Chad Walker, as much as I want him to. Audley seems scared of big punchers whenever he faces them, over the 3 round format I cant see his surviving against Walker will be on top of him from the first bell. I hope im wrong.
Posted 17:10 22nd February 2013
Robert mcgrane Mcg says...
After watching audley on ringside im happy for him,nice guy,but i cant see past rogan in the semi final,but its prizefighter and you never know,this is not elite boxing but entertaining all the same,good luck to him,it would be a nice send off if he won, although it would probably go straight to his head and he would end calling out wlad k ,lol,come on audley. ps we all know audley is terrible,lets not state the obvious
Posted 15:22 22nd February 2013
Danny Davis says...
The problem is, if Audley does win this, he will then be all over the media saying how he has still got it and that this win puts him back in World title contention. Please Audley, if you win this one, call it a day afterwards, consider it one of the few highs in your poor post amateur career and go and retire in the states.
Posted 14:21 22nd February 2013
Tom Williams says...
Also forget about the Gold medal in Sydney 2000, this is almost 13 years ago! Has nothing to do with what he can do now. Brilliant what he done back then but he's not the same now. Time to retire or he will be seriously hurt.
Posted 13:17 22nd February 2013
Tom Williams says...
He does talk a good fight and he looks lean and in excellent condition but he's so scared of being hit I just dont know how he's a professional boxer. If he meets Rogan he gone as Rogan will roughen him up and just go to war on him though. Think Rogan will reach final, whether he has enough energy to go all the way I dont know. Great Tournament!
Posted 13:15 22nd February 2013