George Groves has done everything that has been asked of him and fully deserves his shot at Carl Froch's world titles.
Groves has fought his way up to become number one contender to the IBF belt, so you have to give credit to him for that and for stepping up to the plate to face Froch when he could have waited and searched for an easier opponent.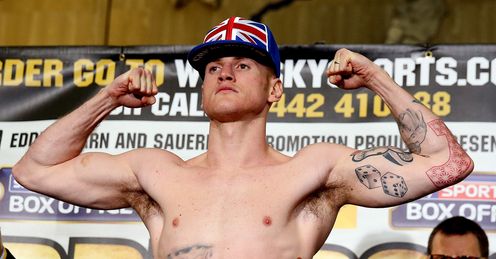 Froch will be a tough man for George to beat and I think that, in an ideal world, he would have wanted this match to come a year later, but he must be ready for the challenge otherwise Adam Booth wouldn't have sanctioned it.
Booth is a smart and sensible manager who always has his fighters' welfare at heart, and he wouldn't put Groves in a situation he didn't think he could handle, so the team must be confident he is good enough to get a result.
Booth is a sensible manager and wouldn't put Groves in a situation he didn't think he could handle.
Jim Watt
Quotes of the week
At the very least, they must believe he is good enough to put in a worthy performance and a defeat in those circumstances should do him more good than harm - just as it did for me when I fought Ken Buchanan in 1973.
The match with Buchanan was my 18th as a professional - the same number as Groves has had - and took place shortly after he had lost his world lightweight title to the great Roberto Duran in New York.
I ended up being outpointed over 15 rounds but that fight did me more good than any of my wins at that time as it proved I could mix it with the best and go the distance, and it could be a similar story for Groves against Froch.
Attractive
Froch's decision to relinquish his IBF title re-affirms that he will fight anybody and not shirk any challenge, but I actually don't think there is a better or more attractive fight out there for him than Groves at this time.
He has already dealt with Mikkel Kessler - and I don't think the Dane wants, or did enough last time to earn, another match - and Andre Ward has other plans, so this Groves match allows him to keep busy, make money and please Britain.
Froch will be a heavy favourite because of the experience he has, his performances over the last few years, and the fact that he seems to be improving - the Ward fight appears to have flicked a switch in his mind and made him realise he has to take fights round by round and not think of all 12.
However, Groves can box in a style that Froch doesn't like; Carl, as his fights with Andre Dirrell and Ward showed, doesn't like movers, and George is a very capable mover and someone who can generate angles.
Froch is also in a position where he cannot afford to lose to a domestic fighter - he prides himself on being one of the best fighters in the world so if he wasn't the best fighter in Britain that would really damage his reputation.
That means he is under more pressure than George, but you can almost scrub the word 'pressure' out of the dictionary when you're talking about Froch when you look at the situations he has been in over the last three years.
Develop
Carl will treat this fight the way he treats every other fight; he will be in terrific shape and views Groves as a huge danger, and I certainly don't think there will be any extra needle in the match because George sparred with Kessler ahead of their fight in May.
Groves didn't spar with Kessler to help him beat Froch, he did it to develop his own career by working with a man who has a wealth of experience, at that time, was world champion.
It was similar to when Froch gave advice to Kessler ahead of his match with Northern Ireland's Brian Magee; Carl didn't do it because he wanted a Brit to lose, he did it to try and ensure his match with the Dane got made.
It did, he won, and now he has moved onto Groves - but because he is facing another Brit, I think the crowd will be slightly less partisan than they were in the Kessler fight and George will get his fair share of support.
The majority of people will still be behind Carl, though, and expect him to win - and so do I.
Comments (1)
Omar Aslam says...
Froch is favourite for this fight, however I think Groves will hold his own as he is a good mover which Carl dislikes. Carl loves to fight, but i think that will only be the case in the late rounds when his fitness and power will tell as it usually does and he will end up stopping him. Otherwise it will be a points victory. I think it could also be closer then the Kessler fight as George sounded very confident about his sparring with Mikkel.
Posted 19:22 28th July 2013