I don't think anybody could have predicted the start that Leeds United have made.
All credit must go to Dennis Wise, who has galvanised the players.
They have a resolute attitude about them - everybody's against us, nobody will do us any favours, and it's all down to us.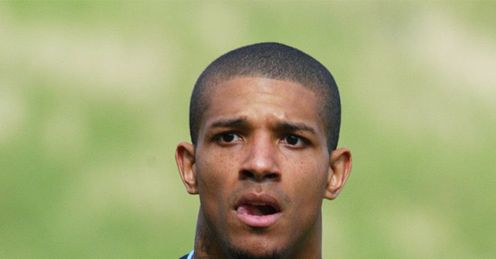 With that spirit that they've got - nobody likes us, nobody wants us anymore - the supporters rallied round them and everything has just fallen into place nicely so far.
Organisation is vital for any team to prosper and Leeds certainly have that. And when you've got players who can score you goals then you're halfway there. Jermaine Beckford and Tresor Kandol have forged a fine strike partnership, scoring 10 goals between them already.
Ken Bates might as well stay in Monaco for the rest of his life if he sells Jermaine Beckford as Leeds fans have had too many knocks for that to happen.
Beckford in particular has really caught the eye, but I'm not worried that Leeds will sell him. Ken Bates might as well stay in Monaco for the rest of his life if that happens - Leeds fans have had too many knocks as it is.
They are both playing at a level they are comfortable with, and let's not forget they might be in League One, but Leeds are still a massive club.
Beckford is the one though. Kevin Blackwell got in ahead of a lot of teams when he took Jermaine from non-league football. Blacky expected him to go straight into Leeds' first team and maybe it was a bit daunting for him at first and he struggled. Then he went on loan to Scunthorpe and he scored some spectacular goals - with both feet.
People couldn't make it out - they couldn't understand how well he played compared to what he had shown at Leeds.
But that was Leeds' problem last season. They had the quality but just didn't perform. Dennis Wise must still find it very hard to explain exactly what went on and why those players just didn't do the business.
When you look at Robbie Blake scoring goals for Burnley in the Championship, David Healy scoring in the Premiership for Fulham and Richard Cresswell playing well, it must be frustrating for Wise.
But Beckford is showing that he is certainly a Championship player and there might be more to come. Leeds skipper Alan Thompson told us on Goals on Sunday what a good, two-footed player he is. Those type of players play at the top level.
Bouncebackability
Leeds were second favourites to get promoted before they even got on level points and people know that they are a phenomenon at this level - as six straight wins will testify. If they keep going they will be like a run-away train and there will be no stopping them.
I think that their main objective at this time will be the play-offs but depending on how long this run goes on for, the prize might be even bigger than that.
Money will be tight of course, because as we know the club partly went into administration and that's the reason why they were deducted the 15 points. But Bates can't take anymore chances with the supporters that have showed him that they will follow their team through thick and thin.
The average attendance at Elland Road so far this season is around 25,000 which is great. When I played for the club and we got promoted from the second to the old First Division in 1989-90 the atmosphere was brilliant at every game and a lot of fans are saying already that the spirit around the place is similar to back then.
I know Ken Bates and I quite like him, but like all Leeds fans the jury is still out. It hasn't been explained what went on - the Football League have done everything by the book which is fair by every other club in the League.
This isn't a case of the League getting at Leeds; this is a punishment for something that the club hasn't done correctly. That tells us that somebody behind the scenes, whoever it may be, hasn't adhered to the administration rules and that is why the club have been punished.
The rules are put in place and if someone tries to avoid them then they will end up getting punished. If Ken Bates gets Leeds straight back to the Championship this season then all will be forgotten, but if they don't get promoted Bates will blame it on the 15 points.
The acid test for Leeds this season will be when the goals for the front two - Beckford and Kandol - dry up. Where will the goals come from? But there's no reason to suggest right now, that is going to happen.
Now to your email...
Hi Chris, I'm a Southend fan and even though we got relegated and sold Freddy Eastwood in the summer. Do you think the squad is strong enough for a push for promotion again? Carl Butler (Southend United fan)
KAMMY REPLIES: The first few games of the season were difficult for Steve Tilson and they didn't go that well, but he knows what he's doing. He's got good players there and he has a way of playing and he won't change those ethics. They had to sell Freddie, who was a great player for them, but £2million was too good to refuse. In his place Tilly has signed Leon Clarke on loan, who has come in and is scoring goals. I believe that Southend won't be too far away from the top of League One, that's for sure.
Hi Chris, I'm an MK Dons supporter and just wanted your opinion on how we are perceived as a football club? Do people still look at us as simply a franchise? Wimbledon fans still feel bitter, as they should, but for myself living in Milton Keynes I have adopted the Dons as my local team and really enjoy going to watch them each week. Josh, Milton Keynes.
KAMMY REPLIES: I think the Wimbledon scenario has now gone away. As you say Josh, you can understand Wimbledon fans feeling bitter because they lost their team. That must have been difficult for them and their affinity with Milton Keynes cannot continue because they're not their Dons - they're not Wimbledon anymore. To have that erased is sad when you consider how well they progressed through the leagues. You look back and think about the Crazy Gang with Lawrie Sanchez, Vinnie Jones, Dave Bassett, Sam Hammam, Bobby Gould - fantastic memories, players and characters they had at that football club. But it is a new club now, a new dawn and something that will probably never happen again. It's just unfortunate that it happened to Wimbledon. Once they left Plough Lane they were always in danger of something happening and for the club to move 50-odd miles up the road may not have been the end of the world if they had stayed as Wimbledon, but to actually change the name to Milton Keynes killed any affinity. But I like Milton Keynes - I think they under-achieved last year. I thought Martin Allen should have got them promoted and I always knew that Incey would do well this time around. He has taken a few weeks to settle in and he lost his two top goalscorers in Clive Platt and Izale McLeod, but he has brought Leon Knight in and they are off and running.
Kammy, A poor start for my team, Wolves. I know you fancied us at the start of the season but we will be lucky to finish mid-table on this showing. Can we improve? Roger, Wolverhampton.
KAMMY REPLIES: Amazing. I can't believe it! I have said it for I don't know how many years - Wolves would be in the Premier League if they could just sort out their home form. What should be a celebration to play in front of those fans with the atmosphere that they give you is a certain pressure that a lot of players just can't seem to handle. It's amazing how many times they go behind at home. They have to try and salvage games and its not changing. Mick McCarthy is having the same problem that Glenn Hoddle and Dave Jones had before him. But it's early and Mick got a run going late last season, so he has plenty of time to get that right at Molineux.
Watch Cardiff City v Preston, 12.30pm, Saturday, Sky Sports 1 & Ipswich v Coventry, 5.15pm, Saturday, Sky Sports1
Comments (4)
Charles Mitchell (Sheffield Wednesday fan) says...
I have to congratulate Leeds on their fine start to the season and hope that it continues, However I must moan about some of the Leeds Fans who were shouting for Bates Wise and Poyet heads (the chelsea crew) not so long ago how fickle some people can be.
Posted 12:28 29th October 2007
Scott Jones (Leeds United fan) says...
Leyton Orient... well yes you would be in the same position only worse if you had a 15 point deduction! Leeds are a quality side that are going to go all the way back to the top where they belong! Dennis Wise is the man for the job.. C'mon Leeds!!
Posted 20:00 2nd October 2007
Leeds Fan (Leeds United fan) says...
You wont be there for long, even with a 15 point start. Mark my words.
Posted 19:32 2nd October 2007
Peter Fullman (Leyton Orient fan) says...
Leeds , Leeds, Leeds, thats all i keep on hearing about this year. Just remind me who are top of the league. Yes little Leyton Orient, whatever Dennis Wise has achieved, Martin Ling has done the same on crowds a fifth the size of Leeds. And without having resorted to cheating. How about some deserved recognition for the League One leaders.....
Posted 15:30 1st October 2007