It's a dangerous game, making pre-season predictions. But with just days to go before the big kick-off in the Premier League, the Soccer Saturday gang have gallantly agreed to put their necks - and their credibility - on the line.
Who will lift the Premier League trophy in May? Which manager has made the shrewdest buy? Who is most likely to do a Derby?
And which member of the panel has been hogging the sun-loungers all summer?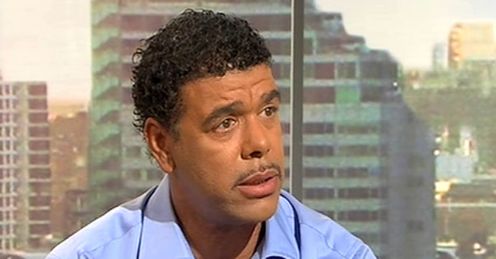 Read on as the finest pundits on the box use their encyclopaedic football knowledge to predict the new season's stars, strugglers and stragglers, as well as give each other some gentle ribbing!
Chris Kamara returns to your screens for Soccer Saturday this weekend and he gave us his top tips for the new campaign.
Champions
Under normal circumstances I'd say Manchester United no problem, but it's hard to tell because we just don't know how Luiz Felipe Scolari is going to react. We don't know what style he's going to adopt and how evident he's going to be at Chelsea, much like we didn't know what impact Jose Mourinho was going to have in his first season. Scolari says he's going to go one better than Jose, so it will be interesting to see what happens. I'd say it's between the two of them and we're just going to have to wait and see.
Champions League spots
It will be hard for anybody to break into the top four and I think we'll see the same teams in the Champions League spots. Manchester United and Chelsea will be the top two with Liverpool third, the signing of Robbie Keane will be a very good one for them. I think Arsenal's lack of buying rules them out of the title race, but I can't see Portsmouth or Spurs finishing ahead of them this season.
Fit for fifth
I think it's between Portsmouth and Spurs. I like the fact that Harry improves his team every season and that's a difficult thing for a manager to achieve. Last year they did great, but he hasn't sat back and stuck with the players who did well for him, he's added to it. Peter Crouch and Jermain Defoe didn't play well in the Community Shield, but is an improvement on what they had last year.
Surprise package
Afonso Alves will be the surprise of the Premier League this year. He's won the golden boot in Holland and was Middlesbrough's second top scorer even though he didn't play in that many games last season. Like 90 per cent of the foreign players who come into this country, he'll take a season to settle. He's only been here since January and I think he'll do well this season.
Going down
I think every team has a fantastic chance of survival when they start the season. I didn't tip relegation sides last year and I'm glad I didn't because I wouldn't have expected Birmingham to go down and Reading's relegation was a surprise. Only Derby was a bit of a foregone conclusion after a month of the season. It's too early to be writing any of the teams off and it's one market I'm not going to be sticking my neck out on.
Golden boot
Fernando Torres is a shoe-in. Cristiano Ronaldo won't score as many goals as he did last season, that's for certain, Emmanuel Adebayor won't score as many goals and Didier Drogba may have to share the goals with Nicolas Anelka at Chelsea. So I feel Torres is a certainty because he'll play much more at the start of this season. You can get about 4/1 on him at the bookies and you'll have to wait a season, but you'll collect on that one
Best buy
I'm looking forward to seeing Deco in the Premier League because he'll change Chelsea from a defensive side to an offensive side. Under Mourinho and Avram Grant they've always played with a holding midfield player, but if they play Deco alongside Frank Lampard or Michael Ballack then it will make them a much more offensive outfit which could be quite exciting.
Barking buy
The one that baffled me was Kevin Phillips leaving West Brom for the sake of a two-year deal. The thing about Phillips is that he wants to play and West Brom should have given him the deal. If by January he was struggling to score goals, they could have easily offloaded him because all the sides in the Championship know he'll score goals at that level. Saying that, it will prove to be Birmingham City's gain
Soccer Saturday summer slacker
That's easy - it's Stelling of course. He's the fattest of the lot and every time you look at him it's like you're watching in widescreen. I saw him falling off the stage on Sky Sports News earlier this week because he's so fat!
Comments (7)
Marc Kelly (Middlesbrough fan) says...
Kammo..im happy to see that you,ve took notice in the boro.. we,ve come a million miles since maclaren went. Gareth will be one of the top prem managers in years to come. Id just like to say every weekend i watch soccer saturday and the panel (thompson charlie merson & mat ) dont give enough credit to the Boro and the lower teams below the top four... it really gets my goat. And yes alves will surpise people this season he wants the golden boot and in my mind theres only torres close to competeing with him. I think boro will finish strong and push that extra mile and come up with a top eight finish...or even europe....cumon boro..
Posted 11:25 7th September 2008
Chris Anderson (Sunderland fan) says...
well so gutted we conceded in the last 7 mins thought we played well up till then ,but we need too settle like all teams it takes time ,and im sure we will be the suprise team this year.
Posted 00:38 19th August 2008
Bill Beumont (Blackburn Rovers fan) says...
Chelsea will win the league as man utd have not strengthened their team but chelsea have... deco is a class player! Arsenal will push chelsea and united close... they have lost hleb, flamini and gilberto but the likes of denilson nasri and carlos vela all look like they are going to be class players so they wont be missed! roque santa cruz for the golden boot even if he stays at blackburn... torres will be a close 2nd and ronaldo wont score as many this year and he is injured anyway!
Posted 18:29 17th August 2008
Maximilian Vespor (Bolton Wanderers fan) says...
I think everyone writing Arsenal off is ridiculous. Hleb is a quality player but they have much more available and have signed Nasri who will add quality to the first team. Losing Flamini won't effect them too much as he did well last year but wasn't as important as others and will be replaced relatively easily with Diaby, Denilson or Ramsey. Walcott is ready to perform at the top level, Van Persie is back and Rosicky is on his way. They were so close to winning the league last year and if it wasn't for some bad luck they would have so why is everyone writing them off??? Bolton will also suprise everyone this year and will finish in the top 8, we will be nowhere near the relegation scrap and with a couple more additions could be challenging for Europe. I hope Hull stay up but have a feeling they will go down along with West Brom and Stoke,
Posted 17:20 15th August 2008
Ian Pearson (Middlesbrough fan) says...
i think justin hoyte will be a good sighning for the boro if he comes. given a full season under his belt and a years exsperiance we will see just how good he is gareth southgate is assembling a good youthfull side with bags of pace and energy i agree with chris kamara alves top 3 marksman in prem digard will catch the eye i just think boro is going to have a good season never been this exsitted since robbo took over 13 years ago.i just think southgate is doing it right instead of us paying a kings ransom for over hyped over payed over weight 30 somethings with no sell on fee the futures bright the futures RED AND WHITE my pridiction for boro gut says 9 heart says 6 CoMe On BoRo
Posted 12:47 15th August 2008
Guy Bailey (Middlesbrough fan) says...
Although Chris is a boro fan, I'm glad somebody in the national media recognises that Alves is the real deal. If he played for one of the big four or a London team, everyone would know about him but because he plays for Boro, people assume he's crap. Well their in for a surprise. At the very least, he'll win a lot of fantasy leagues this season.
Posted 10:36 15th August 2008
Michael Mckay (Manchester United fan) says...
I agree with Kammo on most things except that chelsea would have been better spending money on a replacement for makelele,Deco isnt the answer. Man u again this year,chelski second,gunners third, and the sad scousers a lowly fourth. By the way Kammo,you were spot on about Stelling, he's massive!! My 42" widescreen could'nt get all his face in !!!
Posted 10:30 15th August 2008