And so we've come to the end of a fantastic Premier League season.
The battle between Manchester United and Liverpool has been a joy to watch - but when it came down to a war of words between Sir Alex Ferguson and Rafael Benitez, there was only going to be one winner, and it wasn't the Spaniard!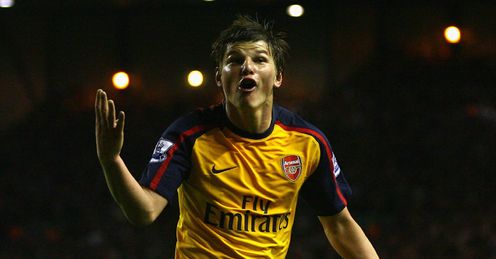 Liverpool made no mistakes early on in the season, but Rafa's famous rant showed that Fergie had got under his skin and they lost it for a few weeks. They soon got back on track and pushed United all of the way but it was the Red Devils that took the trophy.
It was another magnificent achievement for Ferguson, the best manager of my lifetime. I was around to watch Bob Paisley and Brian Clough do their stuff, but Ferguson has topped both of them.
At the other end of the table, mis-management cost Newcastle their Premier League status. Like their neighbours Middlesbrough, they did not have one of the worst three squads in the division yet they've gone down.
There have been too many changes at St James' Park and it looks as though the players have lost their desire to play for the club. By the end of the season nothing could get them going.
At Middlesbrough, Gareth Southgate showed a bit of naivety and he'll need to learn from that. He's fortunate to be working under the best chairman that ever walked the land and he'll probably be given the opportunity to try and bring them up again next year.
I was delighted for Hull, who limped over the line but did all of the hard work at the start of the season. If you flip the season upside down and they'd finished like they'd started then people wouldn't be criticising them.
I'm also delighted for Roy Hodgson who has done a fantastic job at Fulham. When you consider they were almost relegated last season, to get them into Europe without spending a lot of money is tremendous.
It goes to show that team-work, togetherness and organisation can go a long way. A bit like Stoke, Fulham have proved that you can achieve great things in this league if you make yourself hard to beat.
Kammy's Picks of the Season
TEAM - Manchester United

It has been a fine feat for Hull and Stoke to survive because they've not had great resources and have relied on a few Championship-level players to survive. They deserve a mention, but the team of the season has got to be Manchester United. They've won the World Club Championship, the Carling Cup, the Premier League and are in the final of the Champions League. The only downside is that a fixture pile-up meant they played a weakened team in the FA Cup semi-final and they paid the price. If they win the Champions League they could be remembered as one of the best teams of all time.
GAFFER - Sir Alex Ferguson

There's lots of contenders for this. David Moyes has taken Everton to fifth in the table and an FA Cup Final, despite all of the injuries he's had to his strikers. Phil Brown has done brilliantly to keep Hull up and their early-season form was magnificent. And in a market without Fergie I would give it to Tony Pulis because his work in keeping Stoke up has been massively underestimated. However, you can't ignore what Sir Alex has done. It goes without saying that he's the manager of the season for what he's achieved - and he's one of the greatest of all time.
PLAYER - Steven Gerrard

This is a difficult one to call. Ryan Giggs showed fine early-season form and I think Cristiano Ronaldo was fantastic in the second half of the campaign. Frank Lampard has had another great season and maybe doesn't get the credit he deserves, while Nicolas Anelka won the Golden Boot even though he wasn't really playing as a centre-forward for most of the season. However, Steven Gerrard is my choice. His level of performance has been consistently magnificent and on current form it would be hard to disagree with those who say he's the best player in the world. I just wonder whether he will play in his preferred position in the England team.
GAME - Liverpool 4-4 Arsenal

This was the game of the season for me. I remember Liverpool playing some absolutely outstanding football throughout the match, but Arsenal's counter-attacking play was devastating. Even top-class players like Jamie Carragher and Pepe Reina couldn't stop the sheer class of Andrey Arshavin on that night. He showed everybody in England why Arsene Wenger waited so long to get him. That was the game that finally upset Liverpool's title challenge and it was memorable for so many reasons.
GOAL - Emmanuel Adebayor v Blackburn

My goal of the season is Cristiano Ronaldo's long-range strike against Porto in the quarter-final of the Champions League, I'll never forget that goal. But from a Premier League perspective my favourite was scored by Arsenal against Blackburn at the start of the season. There were 27 passes in the build-up, but it wasn't 27 square passes, it was 27 probing passes looking for an opportunity. Denilson found it with the cross onto the head of Adebayor and it was great to watch.
GRIPE - The referees' closed shop

I've said it all season, but it's about time Keith Hackett and the referees allowed people who've played the game to sit down with them and help them improve their performances. Graham Poll told me the other day that blocking somebody in the box from a corner was "cheating" - but anybody who has played the game knows that it has gone on for years and is totally different to pulling a shirt. Referees also don't take into account the angle of the movement of the ball when deciding on fouls. It would help for them to consult people with football experience, but they don't seem to want it to happen. It's a closed shop and it's "them and us". I tell referees my opinion all of the time and some are prepared to listen, some aren't. There's nothing wrong with people with no football background becoming referees - but at the highest level why not sit back and listen to people who've played the game?
Comments (80)
Liam Hebborn (Fulham fan) says...
Manger of the Season: Roy 'The Wonder Boy' Hodgson
Posted 12:01 14th February 2010
Rilind Magashi (Liverpool fan) says...
I think that the liverpool fans have great belief in the squad and Rafa. Chelsea fans booed them off when they drew 3-3 to everton, and they're top of the table, so it shows that other teams fans are not patient. Liverpool arnt doing very well but the fans are right behind them, and I think that it will be a major factor to their top 4 finish.
Posted 18:18 17th December 2009
Danny Barrett (Chelsea fan) says...
lampard shud ave got player of the season as once agen he scored 20 goals which he has done 4 the past 4 seasons and he doesnt get the recognition he deserves. also the manager of the season shud go 2 david moyes 4 the brilliant work he has done with everton without spending the money of the top 4 clubs.
Posted 13:59 10th June 2009
Keith St aubyn (West Ham United fan) says...
I follow the "Hammers", and would like to share this please. At this moment in time, in our nation's game of Rugby League, we are experiencing a huge crisis. We have 2 referees on the field, 1 video ref to be called on at any time and still a debate rages on Monday morning about referees decisions. WHY! because we have replays, how would you all like it if, at work. all of your decisions were decided, at the end of the day, by a video replay. Let us please get back to a 1 man decision, no replays and a discussion in the pub afterwards. The medis thrive on the replays and hindsight, let us please just get back to enjoying our sport. Oh dear! I have just woken-up, what I wrote was a perfect world, we just do not have it do we? I emigrated here in 1986 and love it, but I still love my football, thank you to all the football leagues for giving me so much pleasure.
Posted 00:44 9th June 2009
Dan Burt (Arsenal fan) says...
Classic comment from Jamie Thomas. Completely oblivious to the fact that Torres goal far surpassed Bentleys fluke hack, but jealousy and mindless hatred are the central components of all good spurs fans I suppose.
Posted 16:47 8th June 2009
Jack Reynolds (Liverpool fan) says...
Gerrard's goal against West Han U, was the best goal of the season, close to Torres against Blackburn, and Ronaldo's in the Chanpions League. If torres and gerrard hadn't been injurd liverpool would have won the PL by 6 piont easy and the GD would have been massive. Giggs never deserved the Player f the year you just ahve to look at his preformance against Liverpool in the 4-1 defect, and the Rome game he was out classed in both, couldn't attack against liverpool when he had the ball, could defend. He couldn't get the at rome because they stud and watch barca play football, Gerrard should have got that award for he preformance against Man U, Che, Real, the Hammers, and to be able to play all these games after going in and out of court. Torres it the best strinker in the world and in ever game he played in he looked like scoring and since he only played 20 odd games this season and get 13 odd goals it amazing, he is the new Ian Rush
Posted 11:54 8th June 2009
Andrew Campbell (Tottenham Hotspur fan) says...
You have got manager of the season all wrong. Harry Redknapp took Spurs from 2 points in 8 games to a 8th place finish! Harry deserves manager of the season above anyone! I also think that goal of the season is wrong, I should have went to Torres v Blackburn or Bentley v Arsenal:)
Posted 10:40 8th June 2009
Steven Mcnamara (West Ham United fan) says...
player of the season: Nicolas Anelka, team of the season : Man Utd/Everton, flop of the season: Afonso Alves, Manager of the season: Ferguson/Moyes, best game : Liverpool 4-4 Arsenal
Posted 12:08 7th June 2009
Alex B (Liverpool fan) says...
It's quite clear that you don't have a clue how Rafa works do you Mr Kamara? Sky think Rafa lost it, but the LFC fans know that Fergie is the one rattled by Rafa, because he's never had someone challenge him before. He also knows Liverpool are on the rise and fears them, and the 4-1 win at Old Trafford didn't help. It wasn't even a rant. I'm sick of Sky feeding this garbage of how Rafa lost it. Study what he did in Spain, not just with Valencia, but in his earlier days, and you'll see a completely different side to the story. Sort it out Chris. Educate yourself on the parties involved instead of worshipping this so called 'Lord Ferguson'.
Posted 15:52 6th June 2009
Rob Armand (Everton fan) says...
Player of the season for me hangerland of fulham. This time last year they just managed to stay in the league. Now they got to the europa league with hardly any money. Now he is being chased by the likes of liverpool. It just shows you what a season he had. Underated player of the year Steven Ireland. What a season he had. Flop of the season has to go to Johan Elmander of Bolton. Best manager (and i aint being biast) has to go to Davey Moyes. We had a shaky start to the season at home but he turned it around completly. Without the likes of our best player like The Yak, Arteta and Jagielka. Also hes had limited resoursces. I hear now this summer he has quite a bit of money to spend, this can only mean good things. COYB
Posted 06:58 5th June 2009
Lee Johnson (Ipswich Town fan) says...
i cant understand why hardly anyone hasnt mentioned harry at spurs for manager of season he done amazing job for spurs and they were unlucky not to get into europa
Posted 23:48 4th June 2009
Tony Connelly (West Ham United fan) says...
Green - Ashley Cole - Terry - Vidic - G Johnson - Gerrard - Essien - Ronaldo - Drogba - Torres - Rooney
Posted 10:35 4th June 2009
Andy B (Arsenal fan) says...
Why is it that anyone on here can bring themselves to agree that 'people who've never played the game' can't be good enough referees/need to listen to ex-pros? Presumably no-one posting on here has played the game professionally, yet somehow, have miraculously developed an adequate understanding of what constitutes a foul, good/bad decision, blunder? If you spend more time watching football than playing it, you probably have a BETTER understanding, since you don't spend all your time experiencing the game from a singular position/without the benefit of camera replays etc. And, let's be honest, ex-pros are not (on average) going to be in the top percentage of intellectually-developed citizens of the country are they?
Posted 09:49 4th June 2009
Jon Jardine (Tottenham Hotspur fan) says...
HEY! Where is the credit, the miniscule bit of credit that should be given to Harry Redknapp for taking Spurs from rock bottom on 2 pts from 8 games, and almost getting them a European spot. Every one mentioned by Kammy deserve their plaudits, I just think Harry does too.
Posted 16:51 3rd June 2009
Andrew Hunter (Stoke City fan) says...
Manager: Roy Hodgson what he has done is amazing at the begigining of the season fulhams time had ran out in the prem according to a lot of people so all credit to Hodgson the players and the fulham fans my one query however is can they do it again? Pulis Moyes Zola Harry Rednapp O'Neil etc Team: i would say Liverpool to be honest they created a genuine threat for the title and the obvious ones stoke fulham west ham villa everton etc
Posted 22:26 2nd June 2009
Chris Johnson (Portsmouth fan) says...
Nothing portrayed the refs tyranny more than Mason's handling of the Arshavin penalty at Fratton Park and the backing he got from the select committee. Mason made a simple mistake (and it was a difficult decision) but Arshavin gave him (a) the confirmation that it was a mistake and (b) the opportunity to back out of the mistake with no harm done and his inegrity intact. Instead Mason elected to enforce what he now knew, without any doubt in his mind, was a wrong decision. He obviously felt that enforcing his will was more important than justice. And the select committee agreed apparently. Which confuses the heck out of me because I thought the ref was there to enable fair play, not to deny fairness just so he is seen to retain his "authority".
Posted 13:24 2nd June 2009
Greg Bishop (Liverpool fan) says...
The interesting thing about Rafa's rant (the most calm and collected rant ever seen in the world - ranting is all about losing control, shouting, aggression and the rest of it... damn media and their need for alliteration!), is that the effects of it might not truly be felt until next season, and the ones that followed. What better way was there to show Ferguson Rafa isn't afraid of him, then to call him up on his whinging (far more of a 'rant' actually) about the FA setting fixture lists to hurt them, and being hard on his players unfairly? Certainly, by the end of the season, Ferguson was rattled - you just have to look at the comments like 'his backroom staff researching the respective spending' (and still getting it wrong, as proven by the media in approximately quarter of an hour). Just because he won the league, doesn't mean he came out on top in the mind games. Anyway: Best team (or more accurately squad): Man Utd, quality throughout the squad, take out half a team, and you have pretty much the same standard with the replacements. Best Manager: Roy Hodgson - I don't see how there can be any argument here. What he did with Fulham was incredible, and not just that, his conduct has been impeccable. Best game: Liverpool 2 - 1 Man Utd. Because it was early in the season people forget about it, but as well as being a very even game, with good football, it arguably made the season what it was - if Liverpool had lost it would we have challenged like we did? Best goal: Has to be Fernando Torres v Blackburn for me. Sublime skill, and unstoppable, and hardly anyone else could have done it. Gripe: So called 'respect campaign'. It's going to sound like bias here, but there are two main culprits: Man Utd and Chelsea. How many times this season have their players shown lack of respect to the officials, and how many times was something done about it?
Posted 18:42 1st June 2009
Sean Burns (Liverpool fan) says...
Disagree with some of Kammy's picks. No doubt Arsenal - Liverpool was Prem game of the season, although Liverpool - Chelsea was overall the best game. Agree fully with Gerrard being the player of the season, but I feel that Daniel Agger or Fernando Torres should've got the goal of the season, with both coming against Blackburn, although I may be being biased. I also disagree with the team of the season. Man Utd won the prem not because they were great and deserved it, but because Rafa started rotating against the smaller clubs and we managed draws against the likes of Hull, Stoke twice, Wigan and West Ham. We lost just 2 all season but for me the team of the season in Stoke. I am glad they got a mention there because for what Tony Pulis managed this season was magnificent, they performed by far past their expectations, and pushed teams. They even got themselves a respectable league position with 12th and some respectable results. Manager of the season should've been Hiddink. It shown in Chelsea's last home game of the season how much he'd done and how much the players and fans appreciated it. Finally, regarding Rafa's rant I feel that it was stupid to do that at the time and that it should've waited until now, although we even had Graham Poll backing us up, saying it was true how United get the decisions every time. Refs seem to be like glory hunters and give decisions for the champions. Chelsea had them when they won the league, Arsenal did when they won it and now United have the decisions their way.
Posted 14:28 1st June 2009
Dave Seddon (Liverpool fan) says...
Agree with Adam Hall. Also Kammy, did you actually take the time to look at what Rafa said, or just play it down like the rest of the media. I think you will find that Rafa pointed out some interesting points. Liverpool lost the league due to a lack of goals (causing us to draw games that we should have won) at a crucial point. This obviously corresponded with injuries to Gerrard and Torres. People may say, well liverpool are a two man team, but how poor are united without Ronaldo... (think back to the start of the season).
Posted 20:36 31st May 2009
James Cuff (Newcastle United fan) says...
I'm very suprised that Roy Hodgson hasn't even got a mention in the manager of the year. If you look where fulham were last season, just surviving on the last day, and he's now taken them into europe. Quality manager!
Posted 13:01 31st May 2009