Every Saturday afternoon, Chris Kamara heads to stadiums up and down the country to deliver his unique match reports for Soccer Saturday.
On Sundays you can see him back in the Sky Sports studios as he brings you all of the highlights as well as in-depth analysis of all the action on Goals on Sunday.
And then on Mondays you can find Kammy right here on skysports.com as he brings you his views on the weekend.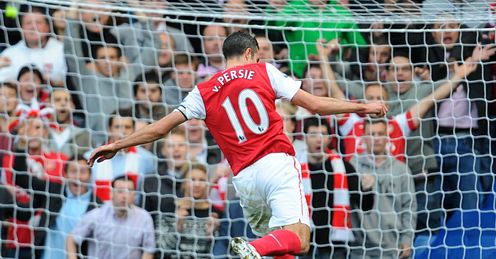 Join us every week as he runs through his highs and lows of the Premier League...
Arsenal are genuine contenders for the top four...
They ground out results while things weren't going well for them and all credit to Arsene Wenger for that because it went against his principles. Their confidence has gradually increased and on Saturday they showed they are on their way back. Some of their football was outstanding, like the Arsenal of old. Arsene didn't lose faith in his side, while all the pundits, myself included, were panicking and saying they were a million miles from where they used to be. They are a little short of previous seasons, of course, having lost Cesc Fabregas and Samir Nasri, but things are not as bad as many have said. With a bit of momentum - the victory over Chelsea was their fifth on the bounce in all competitions - Thomas Vermaelen, Bacary Sagna and Jack Wilshere to return from injury, and the opportunity to spend money in the January transfer window, the Gunners are in with a big chance of claiming a Champions League spot.
Robin van Persie will probably leave Arsenal...
We are blessed to have some top-class centre-forwards in the Premier League - Luis Suarez, Sergio Aguero, Wayne Rooney, Javier Hernandez - but on current form, Robin van Persie is right up there. He can make goals and score loads of them, as he proved with his hat-trick against Chelsea. Unfortunately for Arsenal, I think the Dutchman will leave when his current contract expires, if not before. I know he has begun negotiations to extend his deal, but the Gunners have a wage structure that they don't want to break. Robin van Persie will be looking at the silly money that other clubs pay these days and think: 'Can I earn £150,000-200,000 a week at Arsenal?' The answer is probably no; Arsenal would be breaking the bank at £100,000. But I wouldn't be too worried if I was Arsene Wenger. I'd just want van Persie to perform for as long as he remains at the Emirates and then I'd go and find another van Persie. Unless Arsenal change their wage boundaries, it looks like that will have to be the case.
It's too easy to say that Chelsea lost because of Andre Villas-Boas' approach...
It was individual mistakes that cost them. The Blues looked to be playing a ridiculously high defensive line but Chelsea's back four are old enough to adjust accordingly, and not just rely on the manager to bark instructions. They are more experienced than Villas-Boas after all! Whether their approach was wrong or not, the defence does not look as strong as in previous seasons. John Terry's game is based on reading the game, not pace, so if his fellow defenders are leaving big gaps and forcing John to run back towards his own goal, he's going to struggle.
It's great to see strikers who have played at the lower levels thriving in the top flight...
Norwich's Steve Morison must be pinching himself. Sold by Northampton in 2004, up until three seasons ago he was playing non-league football. Now he's in the Premier League scoring goals - and netted a real beauty against Blackburn on Saturday. Swansea's Danny Graham is doing the same. He had a good grounding at Middlesbrough and was scoring loads of goals for their academy, but had to drop down to League One with Carlisle to get regular first-team games. He's worked his way back up, first through Watford and now with the Swans and has notched in his last four games. That won't surprise his manager, Brendan Rodgers, who told me when we climbed Mount Kilimanjaro together that he would definitely make an impact at the top level. Players getting plucked from the lower reaches of football has slowed down over the years, but Morison and Graham have shown that the talent is there if you look hard enough. And both players deserve huge credit for recovering from setbacks to now be mixing it with the elite.
Man City's win over Wolves was just as big as their win over Man United...
If they hadn't got three points at the weekend, it would have undone much of the hard work from Old Trafford. City weren't free flowing against Wolves, but as Roberto Mancini said afterwards, they are not going to play well every week and are going to have to grind out results. I was very impressed with Sergio Aguero, not just for his ability but for his determination. He ran about as if his life depended on it and his closing down of Wolves 'keeper Wayne Hennessey was the reason they scored their first goal. That tells you what type of character they've got in him. He can do the horrible side of the game and if he hadn't City may have drawn or even lost that match. That's the difference now; City have the perfect mix of desire and quality.
The penalty given against Steven N'Zonzi was harsh - but avoidable...
I don't think Steven N'Zonzi should have had a spot-kick awarded against him but I can understand why it was given. The Blackburn midfielder was appealing for a foul and raised his hands. The ball then hit him on the arm and a penalty was given. It was purely accidental by N'Zonzi but he did have time to put his arms back down again. If I'm the assistant referee then, technically, it's a handball. We have to analyse the decisions impartially, and that doesn't just mean slagging off the referee for making a poor decision, but looking at things from the officials' perspective. You can see why a spot-kick was given, but it was very tough on Blackburn and something that, in their current plight, they really didn't need.
Two diminutive attacking midfielders also caught my eye...
Sunderland look to have found a top little player in Stephane Sessegnon. He pops up with goals and also has the ability to play defence-splitting passes to his strikers - he did both against Aston Villa on Saturday. Tottenham's Rafael van der Vaart, meanwhile has class in abundance. He is a joy to watch and played a big role for Spurs in their 3-1 win over QPR. He showed great anticipation for his goal to latch onto Ledley King's mishit shot.
The PFA were right to reduce Carlos Tevez's fine...
Carlos Tevez was pronounced guilty of refusing to play even before we had an inquiry. We've since learnt that he didn't refuse to go on the pitch, he just refused to warm-up. We were all misled so I think it's only fair that the PFA and Gordon Taylor got involved and made sure that justice was done and that Tevez's fine - reduced from four week's wages to two - was not over the top. The PFA is there to defend players, just like a lawyer is there to defend a suspect; they have to make sure they client is not being given a raw deal. Tevez hasn't come out of this in a great light, though, and I just wish he would draw a line underneath everything and pledge his support to the club until January - when I'm sure he'll leave. I don't think he will play for City again, but it shouldn't be ruled out completely. Edin Dzeko, Mario Balotelli, and Aguero could get injured tomorrow. If that happened, then why shouldn't City call on Tevez? The club is paying him an absolute fortune, after all!
Comments (8)
Ryan Daly (Manchester United fan) says...
the arsenal team is not a weak team with players like RVP, Gervinho, Arteta and Ramsey but their defense is poor and for that reason the wont make the top 4 spurs, man utd, Chelsea and man city are definitely better teams. I think it is clear that Robin Van Persie has been influenced by the departures at arsenal in the summer and it looks like he will follow suit and leave most likely for spain and real madrid i think barca would be a bit cautious due to his injury record and they wouldnt want to waste money on an injury prone player whereas real madrid are a more open to spending their cash and a swap deal with benzema or higuain going the other way would suit arsenal down to the ground. I would rule out man city due to the strong strike force they already have but if Fernando torres keeps up his very poor form and with the likely departure of Didier Drogba to france (PSG or Marseille) chelsea may well have to strengthen their front line. I agree that Chelsea's defense isn't as strong as previous years but that's down to the fact that previous managers played cautious football because they didn't want to expose a defense that lacks pace and overall quality, John Terry isn't as good as people say and ivanovic & alex just arent good enough and david luiz is more like a defensive midfield player that an out and out centre back.
Posted 18:46 2nd November 2011
Ian Horgan (Liverpool fan) says...
Yeah i agree about Van Persie i think he will leave too i thought he would in the summer but no1 knows whats going on inside his head maybe he'll stay i just cant see it though
Posted 03:37 2nd November 2011
Peter Tshiamo (Arsenal fan) says...
Kammy i also disagree with you on RVP-he's fully aware that the team has been there for him when he spent seasons on the treatment table and he wont be leaving in a hurry-unless Arsenal dont want him of course. Any player of RVP's caliber knows by stalling on his contract and demanding success he can force AW and the board's arms into making game changing additions to the squad. if he simply signed now, what would motivate them to do so?
Posted 15:45 1st November 2011
Ryan Oakley (Norwich City) (Norwich City fan) says...
I have to agree with the Steve Morrison point. He has been truely magnificent this season, but the same can be said of the entire Norwich squad. When they came up they only had about 5 Premier League appearances between them!! I really think alot of Premier League teams are missing out on alot of top players by not looking at the lower leagues for players!
Posted 11:38 1st November 2011
Ashfah Ash (Liverpool fan) says...
God work Robin Van Persie. We need more exciting players like him.
Posted 03:44 1st November 2011
Brendan Cosgrave (Aston Villa fan) says...
I see what your saying about van Persie but the fans adore him and he ain't the sort to sit on the bench for no one or for more money either. His too much like a peacock wanting to show off his feathers and who could blame him with skills his been gifted with! STAY WITH THE GUNNERS ROBIN!
Posted 17:45 31st October 2011
Jermain Jones (Arsenal) (Arsenal fan) says...
I dont agree Kammy. Van persie is not money hungry like most players these days and curtainly wont be leaving arsenal yet, though he will eventualy if arsenal still don't win anything.
Posted 14:39 31st October 2011
Jason Wiggins (Arsenal) (Arsenal fan) says...
Arsenal are on the way back to the top four and I'm one of the supporters that never doubted it. On RVP, he is easily the best striker in Europe at the moment and is repaying Wenger's faith in him by the bucket load. I really do think that RVP will sign a new contract. Arsenal and Arsene have always stood by him through injuries and most probably his darkest time in 2005. He is now Arsenal captain and can now easily be considered an Arsenal legend.
Posted 14:28 31st October 2011