In his final column of the season, Guillem Balague names his La Liga dream team from the 2007/08 campaign.
The team, set up in a 4-2-3-1 formation is as follows...
Goalkeeper - Iker Casillas (Real Madrid)
Nobody has received more shots than him, nobody has made more saves than him; that's the nature of Real Madrid. He has also become statistically the best goalkeeper in la Liga, but he's more than that. When he is asked to intervene in late stages in matches, he can be counted on. I would say he has been the player of the season.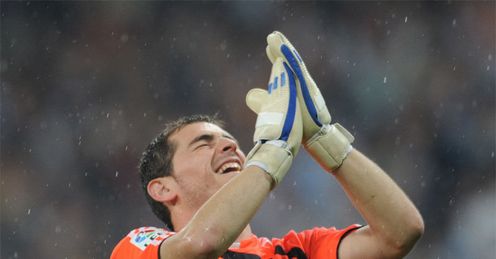 Right-back - Sergio Ramos (Real Madrid)
Sergio Ramos, who never felt he was a centre-back, has been moved to where he can tame his energy and his need and wish to go forward. He has been everywhere and still takes too many rushed decisions but he can handle that as a right-back. He will probably be one of the bright spots for Spain at the European Championship because he's not scared of anything and he brings that attitude to the team. He's been very influential, although recently he let everybody know he was a bit unhappy about the fact that some players had got a new contract when he hadn't. That's a black spot on what has been a really good season for him.
When Real Madrid were confused they looked to their captain and they found the way.
Guillem Balague
Quotes of the week
LA LIGA LIVE
Murcia v Barcelona
Saturday, 9pm, Sky Sports 1
Real Madrid v Levante
Sunday, 7pm, Sky Sports 1
Centre-backs - Gonzalo Rodriguez and Godin (Villarreal)
Statistically, the centre-backs of Real Madrid have been better, but they change the centre-backs around and I'm still not convinced that Fabio Cannavaro would be in my team. In the meantime Godin and Rodriguez are exactly what Villarreal need. They are not the tallest, but are strong in the air and they can pass the ball once they recover it. That's what Villarreal need because they build from the back.
Left-back - Mane (Almeria)
Ask any director of football or any chief scout and they'll tell you it's difficult to find left-backs; but Mane's a little jewel. He's a tall guy who can play the ball left-footed and who is very good at putting crosses in. He's very aggressive defensively, but he goes forward and has good pace and ability. I really like him and I don't think he's going to be at Almeria for long.
Central midfielder - Marcos Senna (Villarreal)
He started the season as a more defensive player just in front of the back four which is where he will probably play with Spain. But since the arrival of Eguren he has gone forward a little bit more; he is a Brazilian midfielder after all, even though he has Spanish nationality. He scored one of the goals of the season, but if he tried he would score more goals. He's very good at stopping attacks, but he's also very good at building up and creating, so he's a great acquisition for Spain from that point of view. Manchester United wanted him two summers ago but it didn't happen and he was very disappointed, but now I think he's going to stay at Villarreal until the end of his career.
Central midfielder - Iniesta (Barcelona)
He has been the bright spot of Barcelona's season. He's stopped being the number 12 player - the one who played in every single game but most of the time from the bench - and he is with Lionel Messi the only one that can produce something in attack. He also has got the energy to cover lots of space. I wish he would learn a little bit more from Deco, especially without the ball, but he's got the right attitude. When I spoke to him earlier in this season he identified what was wrong with the side and said Barcelona would recover from the fire that has started at the Camp Nou.
Right-sided attacker - Nihat (Villarreal)
He has recovered from two really serious knee injuries to become one of the top strikers in la Liga. Again, he's better closer to the box than away from the box - he's not one to track back - but he's the type of player that can create from nowhere. He's like a little rat - he's always in the right place at the right time.
Central attacker - Raul (Real Madrid)
He will hate me for doing this because he's been mostly playing as a number nine and that's why he's scored the goals he's scored and that's why he's again become the player that he was four years ago. When Real Madrid were confused they looked to their captain and they found the way - in more senses than one. Not just football-wise, but also in how the team had to work hard and accept whatever came from the manager. The key has been to stop messing around with him and playing him in different positions. He's been playing close to goal because he's never been quick and he's lost all of the pace he had, so that's where he's at his cleverest. He's a funny player because he's not an eight or nine out of 10 in anything, but he's a seven out of 10 in everything - and he's one that any manager would like to have in his side.
Left-sided attacker - Kun Aguero (Atletico Madrid)
This is not his ideal position, but he's someone who has been very special this season. He's gone from having a year when it was difficult to adapt to one where he has become the leader of the team - and he has formed one of the best offensive partnerships in the world with Diego Forlan. He had to work a little bit deeper at times to link with Forlan, but where he's really dangerous - and where reminds me of Romario - is near the box. He's got the same explosive pace and the ability as well to sew the ball to his boot. He's a great finisher and you can forget about his early antics when he scored a goal with his hand. He's been kicked around more than any other, but he doesn't protest and he's matured very quickly. It's basically down to him that Atletico finally managed to get into the Champions League for the first time in 12 years. He may soon become a player who is too big for Atletico Madrid but I think he will still be there next season.
Striker - Daniel Guiza
What a story. He's 27, but he's reached his maturity at the right time. I don't like to talk about private lives, but in this case it has helped that he's married to someone who is his agent and he has that stability because that was a little bit of a problem. What you are getting is a player who is a modern striker, he moves around, he's scored goals with his left foot, headers and the rest with his right foot. He's linked up with Juan Arango and Jonas in a very mobile strike partnership and he's somebody that should earn his place in Luis Aragones' Spain squad.
Guillem answers your questions..
Hi Guillem, I am a long standing fan of Carlos Kameni and many rumours are going around in Britain about him joining one of the British teams - mainly Tottenham and Manchester United. I was just wondering what do you think the chances of him joining a British club are? Brett, Manchester United fan.
GUILLEM REPLIES: Espanyol have bought Cristian Alvarez - a young Argentinean goalkeeper because they think and hope they're going to sell Kameni. Early interest from Spurs has not yet been followed up, but I do know that they still want him and he's on a list of two goalkeepers that they want. He only costs six million euros so I get the impression that Juande Ramos will sign him and keep the money for other players because the other goalkeeper they want is more expensive. But it's not only Juande's decision so we'll see - but Espanyol expect to sell him. I haven't heard about Manchester United and neither has he at the moment.
Hi Guillem, I'm a Pompey fan and we have been constantly linked with Jonas Gutierrez at Mallorca. Do you know if there is any truth in these rumours? Liam Ingram, Portsmouth. Derek Hooker
GUILLEM REPLIES: I do know that Portsmouth are interested in Jonas and he knows that as well, but he's got a complicated system whereby his rights are shared by Mallorca and an Argentinean club. I think Portsmouth are going to try to get him and Jonas has been playing games with Mallorca in the last few weeks by suggesting he was injured because I think he didn't want an injury to stop him going to a club where he can earn three-times more than he's earning now. I do expect to see him in the Premier League next year.
Hi Guillem. After an impressive performance once again against Barca, would you say that Iker Casillas is now rated as the best goalkeeper in the world? Obviously there are a lot of fantastic keepers throughout Europe, however Casillas has proved to be consistent and also and dominant force for Real in their revival. Cheers, Steve (from Notts)
GUILLEM REPLIES: I think he is the best goalkeeper in the world now, alongside Gianluigi Buffon who has been consistently amazing. He makes everything look so simple but it isn't - he's full of technique and mental strength. Casillas has won that in the last 18 months, but he's got to produce it over 10 years like Buffon has. So I would say Buffon first, Casillas second and then Petr Cech who has had a few physical problems which have definitely affected his performances. Let's hope he is luckier next season and can perform at the level he knows he can. Diego Lopez of Villarreal could become one of the top three goalkeepers in the world and join that list.
Thanks for all the e-mails. Have a nice summer!
Comments (8)
Mansur Miah (Chelsea fan) says...
i agree with most of the teams selection however i would have Abidal (left-back) and Coloccini (centre-back) in my team. I think Aguero has been absolutely fantastic for his first season in La Liga. i've been watching him for a while now even when he played for Independiante (Argentinian League), and i've always said he would be excellent player and now that Athletico have made it to the Champions League everyone is going to know exactly how good he is!! p.s I don't care if Messi hasn't played enough games, he has got to be in the team!!
Posted 01:52 28th May 2008
Anthony M (West Ham United fan) says...
I'm suprised Coloccini wasn't picked from Deportivo. He has been inspirational for them at the back and hasn't missed a game all season - a record for him and the club. Otherwise I agree with the team. I understand why Messi isn't in the team as he's been injured for long time this season. I think De Guzman is a player that deserves a mention actually too. He's possibly my favourite player in La Liga. I understand why he isn't in the team though as he only has the defensive side to his game. Love his afro tho!
Posted 10:28 19th May 2008
Keith Fryer (Fulham fan) says...
I am disappointed not to see Getafe players "De la Red" or "Cata Diaz" in this squad as they have both been immense so much so that "De La Red" has made the National Team for Europe. I would challenge "Iniesta's inclusion as well, "Guti" for me has had a better season and I can think of at least 2 games when he was on a different level to anyone else on the pitch.
Posted 09:46 19th May 2008
Jonny Stevens (Bristol Rovers fan) says...
How can you want to pick Heinze, not only has he not played that often he hasn't been that good really, i think Guillem's team is excellent, obviously I want Messi and Bojan in there from a personal point of view but they havn't played enough to get in there in 07/08
Posted 20:03 17th May 2008
Nick Osborne (Tottenham Hotspur fan) says...
Why do people keep putting Messi in? Yes he is one of the best players in the world, but because of injuries, his season has been hampered, therefore Guillem is right, Aguero took a season to settle and has a magnificent season along with Nihat so no room for Messi. Plus Robinho faded at the end of the season, hence Schuster started leaving him out....
Posted 00:16 17th May 2008
Liverpool Are great (Liverpool fan) says...
my dream team: casillas ramos heinze cannavaro puyol robinho deco messi robben van nistelrooy and eto'o. thats a real dream team!!
Posted 13:24 16th May 2008
Kerry Almond (Liverpool fan) says...
I agree with this team except the omission of Gabriel Heinze. Alongside Cannavaro he has been immense for Real Madrid. But perhaps it is because he has the Italian with his in defence. I rated him higher than Ferdinand at Man Utd but never thought he was an exceptional defender. He has proved me wrong this season! Lionel Messi, by his own high standards hasn't had the best of seasons so I agree with his not being there. On Samit Paul's comments I would say that, yes, Fernando Gago is a hard working player but he hasn't got the consistancy yet. That will come with age and experience. The experience he will get from playing alongside Guti, Raul etc will improve his game no end. In a few years he will become one of the best players in La Liga, if not the world. Casillas has been extraordinary this season. I don't think there's anything else to say about him. Except that at 26, he still hasn't reached his peak. Scary!
Posted 10:56 16th May 2008
Mike M (Arsenal fan) says...
I quite agree with the analysis, but what about Robinho? he has been crucial for Real Madrid, I think he deserves a lot more credit
Posted 10:01 16th May 2008