Manchester United's superb defence will be a key factor on Wednesday night in Rome.
Sir Alex Ferguson will accept his side will only have about 40% of the possession and they will be happy to sit back, keep Barcelona at bay and then take their opportunity when it eventually comes.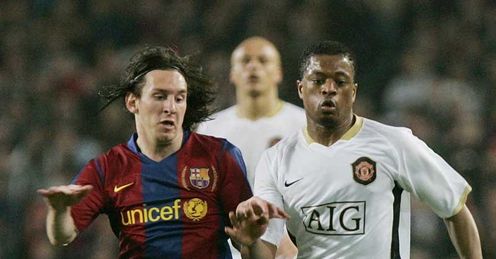 They employed a similar tactic against Arsenal in the Champions League semi-final at the Emirates and were so clinical on the break, scoring that fantastic third goal in their 3-1 win. However, you can't compare Arsenal with Barcelona. Arsenal could never win the Spanish league.
Barcelona do have the ability to hurt United. They have the best midfield and attack on the planet with Thierry Henry, Lionel Messi, Samuel Eto'o and Andres Iniesta, who was the best player in the world before his injury.
Barcelona can only play one way - they are married to their style, to their philosophy and they can't change it. I suspect United will figure out a way to stop them.
Guillem Balague
Quotes of the week
LIVE ON SKY SPORTS
CHAMPIONS LEAGUE FINALBarcelona v Man Utd
6pm, Wed, Sky Sports 1 & HD1
More from Guillem at:
www.guillembalague.com
I hope Iniesta will be fit for the final. When he plays to his usual standards he is just out of this world. As for Henry, who is recovering from a knee injury, he might not quite be ready yet. He's a bit like an old car: he needs time to get going when he comes back from injury.
Messi is key
Messi is also going to be a major factor in determining the outcome of this match. Some say he destroyed Chelsea in the first knockout round in 2006 but, to be more precise, he destroyed Asier del Horno that year.
He seems to get frustrated by English teams, as we saw in this year's semi-final at Stamford Bridge. He relies a lot on inspiration and sometimes it does not come, but he does do the most difficult things in the world: dribble and give the last pass.
Barcelona were beaten by Manchester United last year at the semi-final stage but this is a very different Barca side - that was the worst Barcelona side in history!
Barca's defensive headache
However, they do have problems at the back. The injuries to Rafael Marquez and Gabriel Milito have made Barcelona even weaker in a position they were already weak in.
Yaya Toure, if he plays centre-back, will have a tough time against Cristiano Ronaldo who will probably play up front again for United.
My other worry for Barcelona is that they can only play one way. They are married to their style, to their philosophy and they can't change it.
I suspect United will figure out a way to stop them, and Ferguson's side are so good at the back that one goal will probably be enough.
Barcelona also tend to have to play really well to win games while United can stick eight men behind the ball and still win. They are so confident in defence that they can sit back and simply wait for the best opportunity to attack.
If you press Barcelona too far up the pitch, they tire you and kill you in the last 10 minutes but United are cautious in finals.
For that reason I think United are slight favourites to win it by a single goal. But any talk of a comfortable victory over Barcelona is wide of the mark.
Guillem answers your questions...
Got a question for Guillem? Then send it in to here or use the feedback form below.
DREAM TEAM
What would be your team of 2008/09, using the best players from La Liga and the Premier League only? Thank you. Mohammed Absughe, Birmingham
GUILLEM SAYS: Hi Mohammed. My dream team from the Premier League and La Liga for this season would be:
Pepe Reina (Liverpool); Nemanja Vidic (Manchester United), Rio Ferdinand (Manchester United), Martin Skrtel (Liverpool); Frank Lampard (Chelsea), Xavi (Barcelona), Steven Gerrard (Liverpool), Andres Iniesta (Barcelona); Lionel Messi (Barcelona), David Villa (Valencia), Cristiano Ronaldo (Manchester United)
This team would certainly score lots of goals, but I think it may concede a few too!!
UNITED BOUND?
Hi Guillem. Over the duration of the season Manchester United have been linked with a number players plying their trade in La Liga such as goalkeepers Diego Lopez (Villarreal) and Sergio Asenjo (Vallodolid) aswell as Valencia's David Silva and David Villa. Also I read you saying their is strong English interest in Juan Mata (also of Valencia) and wondered whether United are one of the clubs? Do you feel there is any chance of one or more of these or any other Spanish players moving to Old Trafford over the summer? Thanks in advance. Shane Farrington, Tadworth
GUILLEM SAYS: Diego Lopez might stay another season at Villarreal although his agent has been talking about him as a potential target of Manchester United and others. He would be a great replacement for Edwin van der Sar but neither him nor Sergio Asenjo (he could go to Atletico Madrid) or Mata will be going to Old Trafford.
I don't believe David Silva, David Villa or Kun Aguero, from Atletico who has also been linked with United, will be joining Ferguson either. There was a contact for Silva last season, but just as with Marcus Senna, the first contacts didn't develop into signings.
ATLETICO AGITATION
Hola Guillem. Keep up the good work with your articles, which I have been reading consistently for the last couple of months. I just want your opinion on Atletico Madrid, and in particular Diego Forlan. Being a die hard fan of Atletico Madrid, I simply don't understand why we are such an inconsistent team. We seem to always be able to play on the big stage against teams that are in the top six such as Barcelona and Valencia, but we always struggle to beat teams in the bottom half of the table. Just one more question, as Forlan has been on fire throughout the season, what do you rate the chances of him staying for at least one more season, as I can't really see it happening, but as he is ageing a tad, I don't know if big clubs will risk paying big money for him. Gracias Guillem. Daniel Smith
GUILLEM SAYS: Cheers Daniel! Atletico have been inconsistent this season for a number of reasons. They lack proper midfielders that can sew together the attack and the defence (although Paulo Assuncao has been key for Atletico in the last month). It is a team broken in two! They have also had a very poor defence this season, which was poorly protected by the midfield.
Diego Forlan is going to wait and see whether he will move. He would cost 36m euros but nobody will pay that. However, and I'm only speculating, if David Villa goes to Real Madrid and Barcelona manage to sell Samuel Eto'o (to Chelsea for instance), they will try to go for Forlan.
Comments (14)
Mohamed muntaga Jalloh (Manchester United fan) says...
Today the rest of the world will be watching good football between the two great teams and the two best players in the world.I believe Manchester United will win the match and crown champions of Europe for the second time.The have the players in defence,attack
Posted 15:41 27th May 2009
Nicolas Kozeschnik (Arsenal fan) says...
United Supporters are as always missing the bigger picture. Yes you have a great team. Yes since your Manager took over you have won many trophies. BUT at what cost? Your Manager and Board throw money around like its monopoly money and have sent United into a debt nearing £1bn, and in a position that the club can¿t actually service the debt. In other words, you can¿t even pay off the interest payments on the debt. United are in melt down and you don¿t see it. Yes you want glory, like us all, but you have cheated your way to it by over inflating a transfer market and spending money that wasn¿t yours to start with. European football's governing body is bringing in a licensing system that will see clubs who do not balance their books banned from competition, something that will ultimately doom United. Yes this is a golden period in United¿s history but The FA and Premier League have stood by while United spiral into the abyss. Yet we all see this, but not United Supporters. And Chelsea are not far behind with a £600m debt themselves. It¿s not long till we are talking about a once famous team that had it all at a huge cost that destroyed its own foundations. As far as the United Board are concerned, United need to win for the prize fund. The Trophy is immaterial. And that¿s why there is so many more supporting Barcelona tonight rather then United.
Posted 13:21 27th May 2009
Adam Meagher (Liverpool fan) says...
Yeah Alistair, Manchester United always do a brilliant job of shutting things out dont they? Not that Liverpool went to 'fortress' old trafford and scored four this season? correct me if im wrong. Also correct me if barcelonas front three have got something like 90 goals between them? Stop thinking youre invincible man united fans, youre really not! C'MON BARCA!
Posted 13:04 27th May 2009
Kevin Leyland (Manchester United fan) says...
It's kind of hard for Iniesta to be the best player in the world when he isn't even the best player on his team, don't you think?
Posted 04:27 27th May 2009
Gari Jones (Manchester United fan) says...
An interesting article from Guillem their, I wouldn't agree with the assessment of Man United being slight favourites I'd say we have a very good chance of winning not just a 50/50. Our defence can cope with the like of Messi, Henry, Iniesta if he plays and Eto they may have 100 goals between them but if Vidic, Ferdinand, O'shea and Evra can contain these them then Barca will struggle for a scoring chance and like Guillem said Messi relies on moments of inspiration to raise his game and if he doesn¿t get it he tends to struggle a bit. Ferdinand may be the only weak link for United¿s defence if he plays, he¿s spent the last 3 weeks out with injuries and hasn¿t played any football may be match rusty. Barca have had problems at the back in recent games and can only play in one style anyway, watching them against Chelsea over two legs they looked nothing liked I expected from them and it took a late goal to seal victory only because Chelasea stood back and defended United wont do that. United will counter attack with Ronaldo leading the charge alongside Rooney and Park, they will have plenty of speed and movement that is going to create openings and stretch a very wary Barca defence to its limits if United can capitalise on it. My prediction: United defence will be the difference maker here two great attacking teams with Match Winners on each side, but United will go two nil up and looking comfortable in possession but what is sure to be a fierce Barca fight back towards the end, I can see a late goal for Barca but too little too late Final Score 2-1 Man United.
Posted 01:06 27th May 2009
Darcie C (Manchester United fan) says...
as a united supporter.. i have no idea if united can pull this one off.. im not confident, nor am i thinking we'll lose, im just overcome with nerves, i do think though barca are being underestimated too much, they will come out and suprise everyone.. united have attacking power yes, but it only takes a minute for someone to lose possession, and for a small mistake to let a goal in. i can see united being disappointed in this one, as much as i hate to say it. for my healths sake, and for uniteds sake, i hope to god im wrong
Posted 00:54 27th May 2009
Benson 09 (Manchester United fan) says...
I do agree with the majority of the points made by Guillem, although I am a United fan and therefore would be considered bias. I think United have the defence to hold Barcelona for 90 minutes but Barcelona don't have the defence to hold out United. The points I disagree with are that firstly, the side Man U beat in last years semi-finals weren't the worst in Barca history, the only difference from this years team was the coach and they were a great side. Secondly, When he says that Arsenal could never win La Liga, I strongly disagree. Arsenal would have a field day against the second rate defences of La Liga in the same way Barcelona did this year, with their pacey, free flowing, attacking football, I think they would run rings around the other 19 La Liga teams, the second best team in La Liga were completely destroyed by the second best team in England and I think if Madrid had faced any of the top four it would have been the same story. I believe that if you put Barca in the premier league, they would in fact struggle to win the title, as we have seen against United, Liverpool and Chealsea they struggle to score goals, they certainly wouldn't score 100 goals against the physical, technically sound defences in the premier league
Posted 22:36 26th May 2009
Gary Mahon (Manchester United fan) says...
What about pat the Everton fan with his comparrison of United and Greece. Is this guy a comedian or what. Would'nt it be more appropriate for him to compare his own side ( Everton ) to greece. Aflash in the pan or a rare occurance to for them to reach a final. One things for sure and certain mate, You will never have to go through the worry of wondering what its like to contest a European cup final.
Posted 22:28 26th May 2009
Leonardo Rosario (Marseille fan) says...
I believe the victory is going to be for Barcelona especially if Manchester let the possesion of the ball to Barcelona . Chelsea might have caused diffulty to Guardiola's men but it was a tottaly different situation as it was in 2 row and to be honest Chelsea has a much stronger deffensive midfielder than Man Utd no offence , therefor Vidic and Ferdinand might be the best defensive pair but if theiy are in constantly defending againts 5 amazing attacking player its going to be very difficult for them . Manchester have been a very wise team and have shown experience all throught out the season However tomorrow is going to be different they will need to show a bit more creativity if they want the Cup . Lets just hope we get an early goal which will make it a Legendary match to watch .
Posted 21:16 26th May 2009
Kirk Lightbody (Manchester United fan) says...
Pat Labaker sounds like hes just angry Everton are only in the F.A cup finals cause they barely got pass a bunch of united rookies... how can you say united wouldnt be the best team if they won playing a defencive game? since when do we get to pick our enimy's weapon at war? no doubt braca got the best offence in the world but man you got the best defence..naturally both teams are gonna play to their strenght, so tell me....isnt the last team standing the best one? and for your remark on greece... creece defeated the likes of France( defending champions) Portugal ( host country) so werent they the best team at the euro that year?
Posted 18:07 26th May 2009
Ansuman Acharya (Manchester United fan) says...
Hello Gulliem, I feel Manchester United are going to have a tough time defending the flowing attacks from Barcelong, esp if Henry and Iniesta play. The left side for Barca is they key because I belive John O'Shea is not good enough to contain Thierry Henry. I think United will sit back and if they can grab an early goal, its gameover for barca. Hope United win.
Posted 18:05 26th May 2009
Pradeep K (Barcelona fan) says...
Hi Guillem, A very good naluysis indeed. apart from the defensive frailities of barca , Iniesta and henry are also returning from injury and there are no impact players in their bench who seem to be out of from, all this suggests that Man United have the edge. What are the options that barca are looking in the transfer market next season, henry is not getting younger and the overelinace on iniesta and xavi with no quality backup not going to help next season. Will ribery come to barca?
Posted 16:23 26th May 2009
Chris Novakovic (Manchester United fan) says...
As much as i find it hard to say I can see Barca winning this one. I've been lucky enough to see United win 2 European Cups and many FA cup finals and were due a loss. I think Barca will click up front and take the lead, once teams start chasing barca they keep the ball for fun and Messi comes in to his own. I'm just praying United can expose the Barca side at set pieces, we need the likes of Vidic and Ronaldo to get on the end of a free kick/corner and turn the game on it's head. Come on United!!!
Posted 15:13 26th May 2009
Mohamed Abdulrahman (AC Milan fan) says...
Hi GUILLEM. how come diego forlan dont is so underrated and i think he is one of the most underrated players in the world what do you think? and as an Athletico Madrid fan i think Christean Vieri is the best striker they had in the last 10 years do you agree? who is better Toress or Vieri while playing for Athletico. Thanks GUILLEM
Posted 14:43 26th May 2009