We're set for another week of cracking action in La Liga, so who better to look ahead to the four live games on Sky Sports than our Spanish football expert Guillem Balague.
If you've got a question for Guillem, send it in here.

Barcelona v Athletic Bilbao
Sevilla v Tenerife
Racing v Real Madrid
Atletico Madrid v Deportivo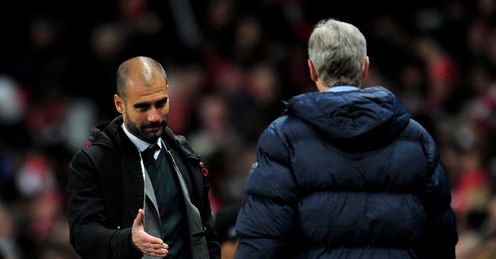 Barcelona v Athletic Bilbao
7pm, Sat, Sky Sports 4
Barcelona played unbelievably well in the first half of Wednesday's Champions League game at Arsenal. That 45 minutes was quite possibly the best half of football in the club's history! It proved that their poor performances in the first half against Mallorca, Tenerife, Osasuna were just a mental issue and highlighted the difficulty of building on the successes of the previous season. There is a feeling at the club that at times the players are dwelling on what they have achieved rather than trying to add to it; that's true to an extent because there are more distractions around. There are more advertisements, more interviews to do and the team spirit loses a bit as a result. Pepe Guardiola's challenge, therefore, is to get everybody focused on what the club is trying to achieve - namely winning everything they can. This should be a great game to watch because Athletic Bilbao are having a great season. The two players up front - Toquero (who is more than just a running, hard working striker) and Llorente (who is in magnificent form and pushing hard for a World Cup place) - will be wonderful to watch against a Barcelona side that might, just might deploy Milito and Marquez at the back in preparation for the second leg against Arsenal. I'm not saying Pep will do that but it may be a possibility if he wants to see how his side will cope without Pique and Puyol, who will miss the Champions League game.
I see Pep at Arsenal where Arsene Wenger could take a director of football role but that would only be in the mid-term future.
Guillem Balague
Quotes of the week
LIVE ON SKY SPORTS
Barcelona v Athletic Bilbao
7pm, Sat, Sky Sports 4
Sevilla v Tenerife
9pm, Sat, Sky Sports 4
Racing v Real Madrid
6pm, Sun, Sky Sports HD1 & SS1
Atletico Madrid v Deportivo
8pm, Sun, Sky Sports HD1 & SS1
Sevilla v Tenerife
9pm, Sat, Sky Sports 4
The sacking of Manolo Jimenez has been unfair because Sevilla knew things that Manolo couldn't say in public. They should have been more patient with him and not give in to the pressure from fans and media alike so quickly. As the club has had so many injuries and is in three competitions there has been little time to train properly. The emphasis instead has been on recuperation whereas in an ideal world players get their form and fitness levels back by training and playing. It's taking much longer than it should for all the players to be sharp and on form. In a way they are dying as a result of their own success, if you like. The club knew that but wouldn't let Manolo explain it. They should have allowed him to finish the season. The pressure is on new manager Antonio Álvarez because Tenerife's away form is poor to say the least. Let's see if he's managed to give the side a mental spark.
Racing v Real Madrid
6pm, Sun, Sky Sports HD1 & SS1
This game is a potential banana skin for Real Madrid because Sergio Ramos and Xabi Alonso have picked up yellow cards that rule them out of this game. The plus side is they will be able to play against Barcelona next week. All eyes will be on Sergio Canales, who has signed for Real Madrid already and will be desperate to prove what he can do against his future employers. After he signed two months ago he was mentally confused - there were too many interviews and other things going on - and his performances dipped a bit but he is back to form so it will be great to see him up against what is another make-shift Real Madrid defence.
Atletico Madrid v Deportivo
8pm, Sun, Sky Sports HD1 & SS1
Atletico are definitely on their legs - they are still in the Cup, the Europa League and with La Liga matches on top of that they are playing more games than most other sides. They appear to have given up on the league and seem intent on getting back into Europe next season via the other two routes. Deportivo could take advantage of that but they are a team that is lacking in confidence and ambition. They recognise the momentum is not with them and that gives Atletico the perfect opportunity to take advantage.
Guillem answers your questions...
Got a question for Guillem? Then send it in here or use the feedback form below, and then look out for his answer next week.
PEP'S ENGLISH AIM
Hello Guillem. Before Guardiola signed the contract extension with Barcelona recently, I remember you said that he had offers from several clubs. Could you reveal which clubs were interested in him? Do you see Guardiola as one of the candidates when Sir Alex eventually retires? Thanks, Rob, Manchester
GUILLEM REPLIES: Rob, I'm firmly of the view that Pep Guardiola will want to move to England once he leaves Barcelona. I don't see him so much as Sir Alex's replacement, although Sir Alex did want to sign him a year before he left Barcelona. Guardiola wanted to wait a year and by that time Sir Alex didn't want to follow up his earlier interest. They do admire each other, of course, and I'm sure Pep's name will be mentioned again when Sir Alex retires. The problem is that Sir Alex's shadow over the club is so huge that it will be a big job to take. I see Pep more at Arsenal where Arsene Wenger could take a director of football role but that would only be in the mid-term future. Guardiola will stay in Barcelona for another year. After that I'd put a big question mark against his future because I don't think even he knows what he is going to do.
A GLOVELY FUTURE
Hi Guillem, Atletico Madrid have arguably Spain's top two young goalkeepers in Sergio Asenjo and David De Gea and I wanted to know who you think has the best attributes and in the long run Iker Casillas replacement for the national team? Also surely one would have to move on to progress, with it looking like it would be De Gea as he was the second choice until the weekend. Recently Manchester United have been linked to him as a potential replacement for Edwin Van Der Sar and I was wondering whether first of all you thought a move could happen and then if yes, does De Gea have what it takes to succeed at the top level in England? Thanks again, Shane Farrington, Tadworth
GUILLEM REPLIES: You're spot on about the potential of both players, Shane. De Gea will stay at Atletico Madrid now. He had the opportunity to go to Wigan but decided not to at the last minute and as a result is the club's third-choice goalkeeper. Now he is first choice. I can see Sergio Asenjo signing for Barcelona soon, perhaps, as a second goalkeeper or maybe Real Madrid if Dudek goes (which I think he will, by the way). He could do that and take a couple of steps back or go to a team where he will play regularly. If Diego Lopez goes to England, there may well be an opening at Villarreal. Personally, I think De Gea could be as good as Van der Sar and I can see him challenging for Spain's No 1 shirt in three or four years. I don't see him going to Manchester United, though.
UNFAIR ON EMERY
Why will Unai Emery's contract not be renewed at Valencia? They are third with the usual two above them, what did the board expect? Didn't they learn anything from the Koeman era? If it ain't broke don't fix it. Dj Fearross
GUILLEM REPLIES: This is a question I ask myself too! I think Valencia should keep Emery but I hear that is not their intention. That opinion may change if he wins the Europa League but the impression is that he is not developing the team as much as he should. That's unfair as far as I'm concerned, but that's the feeling within the club. It stems back to the fact he wasn't the number one choice for the job and the club feels he doesn't have the authority to continue in the role. I must stress again how unfair I think it is. If given the right backing and opportunity, I'm convinced Emery could take this club forward.
Comments (25)
Lee Mcnulty (Arsenal fan) says...
Hello. i just want to write about all these supposed to be arsenal fans are critising the club all glory hunters if you ask me. arsene wenger has transformed arsenal football club remember arsenal used to be called boring boring arsenal. So i think you should just let wenger get on with hs job. i would welcome pep to arsenal another great manager
Posted 14:13 5th April 2010
Mohamed Noor (Arsenal fan) says...
Arsenal and barca bth pass the ball just as good as each other. however if u watch arsv barca f leg again u'll see just how we dominated messi and i think that was our downfall we were to concentrated on him and kind of forgot about the other players he had about 2 or 3 shots in the whole game he made some smart runs but it wasn't enough also if gallas never got injured we wouldn't have to put song there on ibra he just let him run through us. any way on the second leg if walcott,(played well) diaby denilson bednter and maybe rosicky step up to the plate we'll have chance either way it's gonna be a cracker!!!
Posted 14:01 5th April 2010
Chris Thoma (Arsenal fan) says...
Firstyly, good to hear a perspective from somebody who knows football! Guardiola would be under severe pressure following on from Wenger, just as he would be going to Man United. Wenger has transformed a club on all levels, on and off the pitch. The guy calling for his head is obviously not an Arsenal fan. Any fan of Arsenal owes a lot to Mr Wenger, imagine what a Mourinho would have cost Arsenal in order to get a few trophies. We would be under Russian owenership already.
Posted 13:25 5th April 2010
Alan Pearson (Real Madrid fan) says...
What is the case with Higuain? Why do I hear you and others suggesting that he may be sold in the summer? Surely after scoring 24 league goals, so far, this season even 'el presidente' cannot be so stupid as to consider getting rid of him. After all Benzema hasn't exactly hit the ground running. I know Higuain struggled when he first came to Madrid, and I have to admit being one of those calling for his head, but after going through that period surely the club cannot think about off-loading him. Why not sell Benzema or have another try to get David Villa with Benzema going in part-exchange?
Posted 09:20 5th April 2010
Nasir Rahman (Arsenal fan) says...
hi there i have noticed that messi is in great form in his best form but there is one thing in my mind and that is he has only scored one goal against an english club in so many games if comes to the english league would he be struggleing if he does i wont be suprised honestly i think ronaldo is the best he has shown his class in the englsih and spanish league and messi well he is not the best im affraid to say thnaks although i am messis biggest fan!!!
Posted 09:03 5th April 2010
Tom Weston (Portsmouth fan) says...
Everyone was drooling over Messi and Ibrahimovic linking up before the season but it seems they can't score together. Messi scored something like Barca's last 7/8 goals in a row but then he gave Ibra the penalty at Zaragoza, and since then he scored 5 in a row and it was only after Ibra missed the Athletic game that Messi scored again. Is this merely a coincidence or a recurring theme throughout the season?
Posted 00:45 5th April 2010
Grant Barker (Manchester United fan) says...
I would love it if when Sir Alex decides to retire United bring in Pep Guardiola to be our manager! And im optomistic about the timing of Guardiola's contract, and how long Sir Alex could possibly go on for, 2 years maybe? So it could fall nicely for Guardiola to take over at that time! Im obviously not looking forward to the day Sir Alex Ferguson does retire, it will be horrible! But the legacy/empire he will finally leave will surely be an attractive prospect for a young manager like Pep Guardiola! He has the abillity to keep United at the top after Sir Alex leaves! There is only Guardiola and Jose Mourinho who in my opinion could follow Ferguson, but it would be Guardiola for me! Manchester United have to play attacking,exciting football, Mourinho does not bring that!! Guardiola has Barcelona playing the best fooball i have ever seen,and he could do it at Old Trafford! I just pray he doesnt go to Arsenal like you say he could do Guillem,because were ever he goes, he will win, and win with style, like Fergie has done!
Posted 20:43 4th April 2010
David Ramsay (Hearts fan) says...
I must say that I can't wait for the mouth watering clash next weekend with Real and Barca. Do you think that Messi is being played out of position just now, as I feel he is a better player when used more nearer to the wings. I have to say that Raul is such fantastic player in the same mould as Rooney. I am thinking of having a holiday in Madrid this Autumn and would hope to catch a Real home game but the price that are quoted on the internet are very expensive roughly £150 is this what people pay in Spain. Does the ordinary punter pay this amount? Keep up the good work.
Posted 18:27 4th April 2010
Andy Thompson (Liverpool fan) says...
yeah barca and arsenal play attractive football the only difference is Barca dont have half there best players out for months like fabregas gallas Robin van Persie Aaron ramesy if both teams had full strength sides would have been a really cracker at Arsenal but i think barca should win the return dont fancy them to win it though Bayern or Inter 2 win the champions league
Posted 13:13 4th April 2010
Luke Aspden (Arsenal fan) says...
Dear Guillem, isnt wayne rooney getting too much praise too soon, dont get me wrong he is englands best player for years and an amazing talent but messi and ronaldo are the only ones in the world who could play wide or as a main striker and still get 40+ goals a season ...wereas rooney for me is in the same category as torres higuan drogba eto'o and ibrahimovic ... world class strikers and goalscorers but not all around attackers like messi or ronaldo. plus rooneys strike rate isnt better than ronaldos or higuans ...and higuan was benched alot at the start with benzema gettin the games, torres has missed about 3 months and is in a very poor team attacking wise. how many would he have in a fully fit season for a man utd or barcelona?? drogba missed 6 champions legue games were he may have added a few and also missed a month against 5 poor teams due to african nations. rooney for me is awesome but not in smae category as messi and ronaldo the only two who can do it all ...poach, head, long rangers, pass, dribble past countless defenders. free kicks and more important big game goals. plus wht are your veiws on aquillani i am a huge fan and c him like a young potential pirlo replacement for italy with his composure on the ball but he is already being sentenced by english fans?? and any news on were david silva and villa may end up?? Your the best pundit sky sports has thanks for reading my comments. luke aspden
Posted 17:34 3rd April 2010
Dan Jones (Everton fan) says...
Hi Guillem I just wanted to know your opinion on Mikel Arteta and if you think he could make Spains world cup squad? I accept the amount of world class midfielders Spain currently have who are ahead of him in the pecking order but i think its a travesty that he hasnt even won a cap and players like albert riera have. With Fabregas being injured I think Arteta could be the perfect replacement
Posted 13:45 3rd April 2010
Anon Ymous (Arsenal fan) says...
Now why would Pep want to leave a successful club to move to a club with no ambition, that wins nothing every season and always blames others for their shortcomings?
Posted 10:43 3rd April 2010
Hong Tran (Manchester United fan) says...
Hi Guillem! I see Man Utd need a creative midfielder,and i think Silva will be a great signing for Man U,do u think David Silva can join Man U this summer?
Posted 05:48 3rd April 2010
Hong Tran (Manchester United fan) says...
Hi Guillem! I see Man Utd need a creative midfielder,and i think Silva will be a great signing for Man U,do u think David Silva can join Man U this summer?
Posted 05:44 3rd April 2010
Paul Collins (Arsenal fan) says...
hey guillem great article as usual and i would love as an arsenal fan for mr guariola to eventually succeed wenger. i watch barca alot n never have i seen them play like that before like they did in that first 15 mins. however what cost them was the fact that when they got 2 up they seemed to shut down and that gave us the momentum to come back. my question is. are the media in spain writing arsenal off already as the english media seem to be? i know we are away but walcott showed what can be done when you consistently get at their left back and dani alves is by far from a sound defensive player. personally as an arsenal fan if we do go out i hope its more down to a piece of usual magic from xavi, messi or iniesta rather than our own errors but i do still also believe we have a chance of still progressing and make barca pay for their misses. they should have had at least 5 against us
Posted 03:06 3rd April 2010
Mohi Uddin (Arsenal fan) says...
hey guillem, i was just curious that the last galaticos era cost perez £147.7(zidane,figo,ronaldo,beckham and owen) only won 2 league titles and a champions league in 7 years in his reign. failing to deliver perez was appointed president again and has spent 228 million euros. my point is that what is the spanish press to do if it all flops again but i also understand perez has close companions at marca?? i say higuain and pellegrini scapegoats simply because higuain and ronaldo are playing within themselves(evidently shown against lyon) although its having a positive impact in the league, perez just wants everything to be perfect. kaka proving that he plays best when put in a below par team (AC Milan), benzema personally i thought he would be a hit and last but not least xabi alonso - as a arsenal fan i wish wenger is kicking himself for not buying him when liverpool were in the hunt for barry and alonso wanted to join arsenal. thank you.
Posted 01:57 3rd April 2010
Sid Sewell (Barcelona fan) says...
As an avid Barcelona fan and one who travles out there reugulary to watch them I am concerned that the season will end ultimately in disppointment. Of course as i write this they are still in the Champions league and in contention to retain their la liga champion status yet several things concern me that need to be addressed. Firstly is the clubs inability to recruit either Silva or Villa ( or both ) when both were available and would have strengthened Barcelona significantly. We have seen how Ibrahimovic has been unable to adapt to Barcelona's style of play - I made this point in the summer so it is not hindsight and was obvious to me they had made a massive error. Also their persistance with Henry when he has been poor throughout his time in Catalunya. Ignore games to goal ratios of both players I have cited - its their general play and inability to fit in with the team structure that is a weakness of Barca. How the manager and staff contiue to defend them both is astonishing when it is blindingly obvious both are not contributing. I can only summise that Guadiolas continued defence of the Swede is due to internal politics of the club in not wanting to look red faced and embaressed at the massive outlay for the player. When Ibra sighned in the summer many thought it would be a positive move, stating that Barcas style needed to evolve and change as their opponents would be wise to them. This is an incorrect and naive philosophy to adopt as there was nothing wrong with the style of play, do they not think Barcas opponents were not watching their games last season in an attempt to stop them ? of course they were. The signing of Villa would have been perfect allied with Silva, both players familiar with each others movement and there would be no transitional time as both have played in la liga for years. I hope the board moves to recitfy the mistakes of last summers recruitment.
Posted 23:51 2nd April 2010
Samee Hussain (Arsenal fan) says...
arsene wenger should have had the sack he hasnt won a trophy in 5 years know jose mourinho should come take over in the summer n arsene should take the madrid job every one would be happy that way
Posted 22:02 2nd April 2010
Alex Parkin (Manchester City fan) says...
Hi Guillem, you mentioned the possibility of Arsene Wenger working as a director of football with Pep Guardiola as manager. Do you think this would work if it happened, and improve Arsenals fortunes? Also, how good a player is Cesar Azpilicueta, and are the rumours that Manchester City are interested in him true at all? Thanks.
Posted 21:53 2nd April 2010
Adam O'callaghan (Arsenal fan) says...
Hey Guillem, We all know that Real Madrid's directors aren't exactly ''great fans'' of Higuain, do you think he is a player Chelsea should be paying real attention to? He seems to be a mix of Tevez, with his bulldog style and hard working techniques, whilst also having the precision and strength of Didier Drogba. Your thoughts?
Posted 18:14 2nd April 2010