Sky Sports' Spanish football expert Guillem Balague looks at this week's Sky Live La Liga games.
If you've got a question for Guillem, send it to skysportsclub@bskyb.com.

Hercules v Real Madrid
Barcelona v Sevilla
Atletico Madrid v Almeria
Athletic Bilbao v Getafe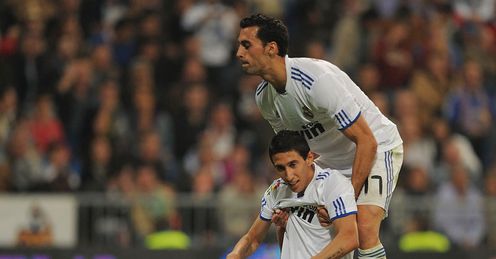 Hercules v Real Madrid
7pm, Sat, Sky Sports HD4
I like what Hercules are doing. It's surprising that they managed to get enough money together to attract players such as David Trezeguet and Nelson Valdez. This is a side that is capable of finishing mid-table if they find some rhythm and consistency and it will be interesting to see if they can keep growing over the next couple of years. For their part, Real Madrid are looking very solid - everybody works for everyone else, none more so than Angel di Maria who in one game played as a right-winger, a left-winger and a full-back! He had to come off in the last few minutes of the 6-1 win over Racing with cramp and Jose Mourinho rightly asked for an ovation for the player. The funny thing is he came off even though they had made three substitutions but Mourinho didn't mind at that point - resting one of his hard-workers was much more important. Di Maria is so quick but I think it's his hard work that has impressed Mourinho most; the same goes for Marcelo, who defends much better partly because he doesn't have to go on the attack so often.
LIVE ON SKY SPORTS
Hercules v Real Madrid
7pm, Sat, Sky Sports HD4
Barcelona v Sevilla
9pm, Sat, Sky Sports HD4
Atletico Madrid v Almeria
6pm, Sun, Sky Sports HD1
Athletic Bilbao v Getafe
8pm, Sun, Sky Sports HD1
Barcelona v Sevilla
9pm, Sat, Sky Sports HD4
Gregorio Manzano is currently trying to resuscitate Luis Fabiano, who is a strange character because he wants to play constantly but needs the love of everyone to do well. He started the season very poorly because of the World Cup. He didn't start training at the same time as the rest of the squad and got injured too; he lost form and it was a 'Catch-22' as he lost interest. He remains Manzano's biggest challenge. As far as Barcelona are concerned, we now know that Xavi Hernandez's physical condition means that he can only play one game a week, no more. It's a shame because he is such a fantastic player. Solutions have to be found for that from within their squad because the club is not going to buy any more players, which means tactically the team has to surprise its opponents; they cannot play the usual 4-3-3 formation. Against teams that defend really high, the absence of Xavi means that they need to find different tactical and personnel solutions.
Atletico Madrid v Almeria
6pm, Sun, Sky Sports HD1
Juan Manuel Lillo, the Almeria manager, is on the verge of being sacked; his future will depend greatly on what happens in the Cup and this match. He basically admitted that he was a 'dead man walking' and now it appears the chairman has lost faith in him and is looking for a way to get rid of him.
Athletic Bilbao v Getafe
8pm, Sun, Sky Sports HD1
Everyone keeps talking about Fernando Llorente (see the questions below for more) who needs to move on now, he needs a bigger challenge. About three years ago he could have gone to Fulham for about four million euros but decided against it - another example of a player of quality who was offered the chance to go to an English club but decided they weren't good enough. Now he appears on the brink of joining either Barcelona or Real Madrid. That's how times change.
Guillem answers your questions...
Got a question for Guillem? Then send it in here or use the feedback form below, and then look out for his answer next week.
NO MONEY TO FERN
Hi Guillem, always a pleasure to read your articles, is there any truth in Fernando Llorente joining Liverpool in January? Can you also tell me why Daniel Pacheco gets used on the wing and not as a centre forward, so frustrating seeing such a talent being wasted. Declan Ivory-Hankin
GUILLEM SAYS: Who keeps coming out with these stories linking Llorente to Liverpool, or Villa and Silva for that matter, when I thought everyone was aware of the club's financial difficulties? Fernando Llorente costs 36m euros - money I don't think Liverpool have at the moment. Llorente is thinking about moving on but I would favour Barcelona over Real Madrid, who will also want him. There will be a fight between those two clubs for his services in the summer. Pacheco is not a centre-forward, but he's not a winger either to be fair to him. He is much better in the hole but unfortunately in times of crisis young players don't get used; he renewed his contract in the summer and decided to stay because I think he was told by the staff that he was going to play but he hasn't, so now the staff have promised him that he can go on loan to a club in Spain or further afield, which is what I expect him to do next.
THERE FOUR THE TAKING
Hi Guillem, now we're almost a quarter of the way through another La Liga season I was wondering what your opinions are on Atletico Madrid, who after showing much early season promise seem to be portraying signs of their previous Jekyl and Hyde form. The fixture list has been a little unkind on them - having already played Barcelona, Valencia, Sevilla and Villareal - but do you think they can re-find the form that saw them defeat Athletic Bilbao away and can kick on and challenge for a top four finish? Shane Farrington
GUILLEM SAYS: I think they can finish in the top four, Shane. The team relies a lot on Sergio Aguero, who was missing for a month and a half, but if you look at the table they are not that far away in the sense that two or three victories would put them up there again. Generally, this is a much better side that works as a team although at the weekend there were a lot of refereeing decisions that went against them and they lost their head a little bit. Quique Sánchez Flores was sent to the stands, completely unfairly, after the 2-0 defeat to Villareal; the referee claimed that he had said a series of things to him at half-time but it was all false apparently. Anyway, I see Quique has been linked to the Liverpool job. He is not the new Mourinho but he is charming, tactically aware, works really hard and I hope one of the big teams give him a chance in the Premier League because he has enough quality and can speak good English. I think he would like the opportunity.
MATA OF CONSISTENCY
Hey Guillem, great blog as usual. But after just watching the Valencia v Rangers I can't help but question your recent praise for Juan Manual Mata, who was truly awful tonight. I thought before tuning in he was going to be the man who would open up the Rangers defence, however was I left disappointed with him and the whole Valencia side as, despite playing ultra defensive and allowing Valencia the vast majority of possession, it was Rangers who had the far greater chances and should really consider themselves unlucky not to win the game. Are Valencia just an inconsistent side? Or really do they lack they top class talent to unlock a defence who just sits against them? Aaron Mcpherson
GUILLEM SAYS: Mata is a World Cup champion and he wouldn't be in Spain's squad if he wasn't good enough but like Valencia he has been a little bit inconsistent. His problem this season is that in the absence of Silva he's been used more in the centre of the line of three behind the strikers; although I think that's where he prefers to play, I think he's a better player on the left wing. We'll have to see how he fares because, like everybody, he's been affected by the inconsistency of Valencia. I like Unai Emery - he's a winning manager who rotates his side but if there is one criticism it is that maybe he sometimes rotates his squad too much and the side can lack intensity. That affected them in their 2-1 defeat to Mallorca at the weekend and in the Champions League against Rangers too. I think he will forget about the 4-3-3 formation that he used in the last game and go back to 4-4-2 or 4-2-3-1 and use a more regular XI with less rotation and that should benefit the entire team, including Mata.
BECCHIO BIDDING
I know you're an expert with Spanish football and most top leagues around Europe. However my question is about Leeds United. I have heard is there interest from Spain in Luciano Becchio. I have heard Atletico and Hercules are interested? Craig Cook
GUILLEM SAYS: I'm sure Hercules know about him but they already have got Trezeguet and Valdez up front. His agent is offering Becchio around in different markets; I've got the impression that the likes of Leicester are interested, but there are other teams in Mexico, Greece and Germany who are interested and he could end up at any of them.
Comments (10)
Eoghan O' sullivan (Barcelona fan) says...
Hi Guillem. Keep up the good work on the Spanish League analysis. Quick question for you. Whats the crest in the middle of the Barcelona Jersey which I've seen on their jerseys this year.?. Also, if what you say about Xavi is true, (He's only capable of playing once a week), do you think Fabregas will be back in Barclona this summer.?.
Posted 22:33 31st October 2010
Fitz Maurice (Manchester United fan) says...
hi guillem, what do you make of the recent transfer rumours about david de gea's prospective move to man utd? newspaper reports indicate that man utd have opened negotiations with athletico madrid for a fee in the region of £18m to be paid in 2 equal instalments. athletico are also said to want about £4.5m in any future transfer of de gea.
Posted 20:04 31st October 2010
Chris Benwell (Dundee United fan) says...
Hi Guillem, Do you think it likely that Xavi can continue playing to his usual standard with his tendinitis problems, even if he can only play once a week? Also, will Xavi's injury problems make the Fabregas transfer more likely? Do Barca have any other signings lined up if they cannot get Fabregas?
Posted 15:53 31st October 2010
John Sharp (Liverpool fan) says...
Hola Guilliem, great reading your column, people are always talking and saying that Fernando Torres will leave Liverpool even though he signed a new contract in August and in the summer he said his commitment and loyalty to the club and to the fans is the same as it was on the first day he signed. Is it just media speculation or could he leave if the club dont improve?
Posted 14:30 28th October 2010
Dhiraj Sharma (Atletico Madrid fan) says...
Hi Guillem, great work as always.Many reports in the media have said in the past few weeks that Forlan wants to leave Atletico and could move to Spurs or Liverpool as they are interested in him. Does he want to leave Atletico and if so will he go to Liverpool or Spurs?
Posted 14:18 28th October 2010
Mike Robles (Real Madrid fan) says...
Hi Guillem always a fan of your page. I would like to ask what is the current situation of Karim Benzema of Real Madrid. He turns to be out of form most of the time and he is always out of favor in Mourinho''''s line up. What''''s happening to him? im a huge fan of him. Is he going out of the Bernabeu or will he able to prove himself to rEAL mADRID? Do you think it is time for him to go? will he ever find his form?
Posted 01:42 28th October 2010
Taiyub Shafieq (Arsenal fan) says...
Guillem, I have to say, that you are by far the most reliable and knowledgable journalist out there. Your knowledge of the game, not just of la liga, but other league''''s aswell is second to none and i thoroughly enjoy reading your articles. Best luck for the future mate.
Posted 00:19 28th October 2010
Sev Wichert (Manchester City fan) says...
Guillem, love your articles and your insight into transfer dealings! What with Rooney hoodwinking everyone, Torres'''' fall from grace, and Roque Santa Cruz trying to convince everyone that Tevez will follow him out the door in January, is the football world preparing for a paradigm shift in January with stars moving left and right? Have we heard the last of the Rooney saga? Will Torres join him at United? Will City pull some change out of the Sheikh''''s pocket for either of them? ...Or will this just be a typical January transfer window to forget?
Posted 21:15 27th October 2010
Oliver Karamouzis (Arsenal fan) says...
Hi Gulliherme, My question is about the one and only Cesc Fabregas. I notice you alot on sky sports mentioning that the deal to Barcelona is going to happen without a shadow of a doubt.. But it seems to me that Arsene Wenger is certain the player is commited and staying with Arsenal and tha Barcelona board have come out and even said they may not need him next summer. What makes you so positive that he will be a Barcelona player? And do you honestly think it is th right move for him baring in mind their current midfield of Xavi, Iniesta, Busquets, Mascherano.?
Posted 12:45 27th October 2010
David Fullam (Liverpool fan) says...
Hi guillem how well do you rate del bosque has a manager. I think he is a great manager and i wonder why no big football clubs make a move for him. Do you think he would ever manage in england I would like him at liverpool.
Posted 10:04 27th October 2010