There is a theory, defended by Cristiano Ronaldo's friends, that we have all heard during the years and that today the editor of my Spanish paper, the maestro, Alfredo Relaño, mentions in his editorial.
It goes like this: if Cristiano Ronaldo was surrounded by a world cup and European championship-winning team, you would see improved stats. Perhaps even better ones than Messi. And, in fact, if Lionel Messi wasn't surrounded by those players, he would be only a very good player; the Messi of Argentina basically.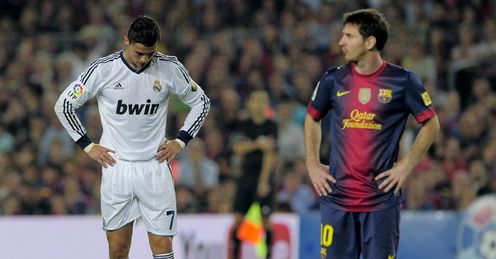 But I don't believe in this at all.
Having studied Pep Guardiola's work with Messi closely and by analysing Messi himself from an early age for my next book, I see an extraordinary talent. As Pique says, Ronaldo is the best of the humans - Messi is the best of all the planets.
I put it a different way: Ronaldo is an extraordinary work of art in a body, capable of jumping, running and making decisions at a faster pace than most (helped, without any doubt, by nature too). But Messi is just a one-off, a freak of nature, who sees and does things nobody else sees or does.
However, interestingly, looking at the stats ahead of the Clasico it is hard to separate them.
Ronaldo has scored seven goals in the last six Real Madrid-Barcelona fixtures, while Messi has scored 17 in total; Ronaldo has scored ten goals in January, Messi nine; Ronaldo scored a hat-trick at the weekend, Messi (yes, you guessed it) scored four goals just hours later.
Selection
For once this Clasico is also about the goalkeepers.
Will Jose Mourinho play Antonio Adan (everybody's favourite to play as Mourinho promised him he will play the cup) or new acquisition Diego López?
How is Victor Valdés handling the pressure after having said he was leaving? It seems like he's handling it well: the Camp Nou gave him an ovation in his first appearance after the announcement and club president Sandro Rosell is asking him to reconsider.
Elsewhere on the pitch Real Madrid will have key players missing: Pepe and Sergio Ramos (not a huge problem it seems, as the team has conceded one goal in the last six games where they were not the partnership at the back), Angel Di María, Fabio Coentrao and Iker Casillas are all out.
Barcelona, on the other hand, will have a very in-form Pedro available, as well as a confident trio of Cesc, Iniesta, Xavi in a team adapted to a variation of the Barcelona style we saw under Pep. This team may have conceded more than they have done for a decade, but they've also scored more than ever.
To be less predictable, Tito Vilanova decided to stretch the team, to make it more direct (although they still like to keep the ball a lot) and lose a bit of the control in favour of more box-to-box football. That normally benefits both Barcelona and Messi, who finds himself with more space - but that has a risk, shown by the amount they've conceded.
And Madrid? In an interesting turn of events Florentino Pérez decided to come out publicly to say a cover of a newspaper was a lie, that the story about players wanting to leave if Mourinho didn't in the summer wasn't true.
It was a strange decision as he hadn't come out in front of the press for ages, but he was forced by players who were unhappy with a leak that made them look like black sheep - and the prospect of Mourinho putting more petrol on the fire.
One conspiracy says that Mourinho's people might have passed on the leak so his ideas about players working against him were confirmed. That's an interesting idea.
In any case, it seems that the events have reinforced one route: the one where all staff and players work together, forgetting what separates them, to win the cup and the Champions League. And then, in the summer, accept it is time to part company.
Watch Real Madrid tackle Barcelona in the first leg of the Copa del Rey semi-final from 7.55pm, Wednesday, Sky Sports 3 HD.
Comments (15)
Alex Saun (Arsenal fan) says...
Hello Guilem, Just need to ask you a question, as you have been all around Spanish stadiums, which stadium has the most intimidating atmosphere ? For example on sunday night, Mestalla was booming against Barcelona, it so such an amazing scene, even though it has like 50000 capacity, but has an atmosphere like Camp Nou or Bernabeu. What do you think about it ?
Posted 06:00 5th February 2013
David Fullam (Real Madrid fan) says...
Hi Guillem What are your thoughts of bernd schuster as a football manager? Can you see him ever manage in spain again or will he go to italy or england? Thanks David Fullam
Posted 00:48 2nd February 2013
John Davies (Arsenal fan) says...
Hi there Mr Balague, I have been hearing good things from my friends over in Spain about three youngsters; Saul Niguez, Oliver Torres who are both at Ath. Madrid and Alex Grimaldo at Barca. How well do you rate these young players and are they players that Ath. Madrid and Barcelona want to keep hold of tightly?
Posted 19:05 1st February 2013
Lewis Cooper (Nottingham Forest fan) says...
Ronaldo is still surrounded by top class players? and world cup winning players; Real madrid have a better squad by far. Casillas is 10x the goalkeeper valdes is and they have many options that barcelona don't have I agree, ronaldo will never be as good as messi
Posted 13:59 1st February 2013
Luis Brand (Real Madrid fan) says...
Liked the article and I guess its an argument that will never end but it does have a good theory. When the rest of the Real Madrid players don't play well with Ronaldo the team doesn't play well at all. But when Barcelona plays with or without Messi Barcelona plays well so with that being said Ronaldo is the winning key for Real Madrid. Is Ronaldo better than Messi? well by stats no cause he's done less than Messi. But lets turn the tables, would Messi be as good as he is if he played for another team?,would Ronaldo be better if he played at Barcelona? Lets trade players for one year and we can resolve this once and for all.
Posted 03:20 1st February 2013
Dale Anders (Barcelona fan) says...
Hi Guillem, my question is regarding the overload of wingers on the Barcelona books at the moment. With Iniesta being shifted to LW and the possible signing of Neymar next summer, there could be up to 7 or 8 wingers playing for Barcelona come August, which ones do you think will be offloaded and which do you think have a long term future at the club.
Posted 20:14 31st January 2013
Bassey Esuabana (Barcelona fan) says...
Agree or not, Messi is FOOTBALL made SIMPLE (complete football). And Ronaldo is more of ARTIFICIAL OR ROBOTIC Football .
Posted 17:25 31st January 2013
Steve Spike (Arsenal fan) says...
Great Post as always. Many like me believe that CR7 would even fit more and better in a barca style team than Messi. Ronaldo is not far from Messi in unsettling defenders in one o one situations, he does it just in a different way. Ronaldo is obviously an intelligent player and would certainly adapt to the style of play of barca, while adding to it a great deal of pace, and outruns behind the opposition defenders. Dani Alves crosses will have a more lethal reception as Ronaldo is more effective in the air than messy. Last year a great deal of Ronaldo goal came from assists coming Ozil and Benzema, just imagine Iniesta, Xavi or Fabregas providing them. Lets not forget, we are not talking about nicer plays, solo plays, or who is more unsettling, or even who is the best, the question is would we see improved stats? The answer is Yes. If Pedro style can suit Barca, then CR7 can definitively offer very more.
Posted 09:06 31st January 2013
Haydn Riley (Manchester United fan) says...
I don't know how people can say this; That Messi would only be avergae if he were at a different team. I really don't understand how you can say aswell that Ronaldo doesn't have a world class team around him... Benzema plays for france, Sergio Ramos, Xabi Alonso, Iker Casillas, Arbeloa and Raul Abiol; All spanish team contenders. Then you have Ozil and Khedira, both played in the Germany who most definitely prove in the International competitions. Ronalso and Messi are surrounded by the same environment so should be compared equally.
Posted 15:41 30th January 2013
John Carter (Barcelona fan) says...
i think that if ronaldo was at barcelona he would have been even better than messi and even though i am a barca fan i believe that ronaldo is a better overall player.
Posted 13:43 30th January 2013
Kav Catterson (Cardiff City fan) says...
messi and ronaldo both amazing football players but we will never know who truly is the better players as messi has got a unique team around him and messi has been with them players as a kid and grown up with them learnt how they play and is very settle no one is a big ego at barca ! ronaldo on the other hand proved himself in the premiership which messi has not yet done also has moved to a few teams so far and no where as near as settled as messi and real madrid are full of big egos and money how would messi faior at man city and in the prem sure he would do amazing but would he do as amazing thats the question ?
Posted 12:05 30th January 2013
Craig Seaward (Manchester United fan) says...
Couldn't agree more!. Ronaldo is world class and personally my favourite player!. But messi is on a different planet!
Posted 08:45 30th January 2013
Eric Paul (Atletico Madrid fan) says...
Saying that Messi is only better than Ronaldo because of teammates is a slap in the face of wonderful players like Özil, Xabi Alonso and di Maria, who assisted Ronaldo goal after goal after goal after goal in the last years. Please stop comparing Ronaldo with Messi. It's unfair to any footballer to be compared with Messi, unless it's Maradona or Pele.
Posted 21:08 29th January 2013
Stuart Luff (Barcelona fan) says...
I put it this way: Ronaldo is a great player through undeniably hard work on the training field and in the gym. As much as I loathe him for his attitude, he is a great player. He has worked hard to become as good as he is. Messi on the other hand is naturally brilliant. You can see that when and how he touches the ball. How he see's a pass no one else can see. How he simply ghosts pasts players with just a jink and how he seemingly just goes 'through' players its amazing at times. Sometimes I rewind just to see how he got through a group of players and where any other player would take two or three touches, Messi has four, five and six (he uses his shins/knees in addition to his feet) in such a short space of time you don't see them first time round. Ronaldo powers past players with his pace and power. Attributes he has gained through training. Messi floats past players with a mere feint and a touch so natural its almost unnatural and his pace always surprises. Ronaldo is a true athlete born out of hard work. Messi however is a step above, having similar attributes but also his amazing natural ability to control a ball and read a game. Messi is technically but not physically better than Ronaldo. His football brain however is far ahead of Ronaldo's. The sum total brings Messi out on top and the gap is quite clear on the field.
Posted 21:08 29th January 2013
Russell Reynolds (Manchester United fan) says...
After the rampant success of Michu in the Premier League, are there any prospective targets that you think a Premier League team could sign for a similar price that might have as big of an impact? Or even someone cheap that would just be a great signing for the price?
Posted 17:20 29th January 2013