You only have to look at the last time Great Britain won a match in the main Davis Cup draw - 1986 - to see how big a result the victory over America is.
British tennis was as low as it could possibly go a few years back so it has been a great team effort from captain Leon Smith and his squad to get us into the quarter-finals.
Everyone will be buzzing for April's last-eight clash but Italy will be very difficult to overcome as they will be at home, most likely on clay, and have two very good players.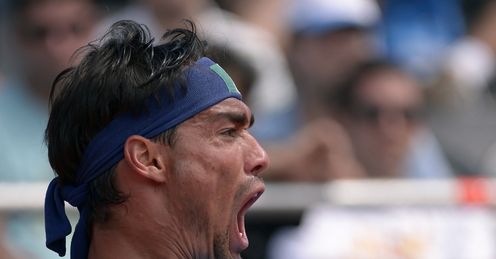 The rankings would suggest that Andy Murray will beat Fabio Fognini and Andreas Seppi but I don't think it's a foregone conclusion that he will defeat the former as Fognini has won titles on clay and Murray, as good as I think he can be on the surface, hasn't.
Fognini can be a bit of a hothead but he is very talented and can rise to the occasion, particularly if he's got 15,000 mad Italians behind him, plus we don't know what shape Andy will be in coming off the back of Miami and Indian Wells.
Fognini is very talented and can rise to the occasion, particularly if he's got 15,000 mad Italians behind him.
Barry Cowan
Quotes of the week
I expect Murray to have a great next few months, so he could have a lot of hard-court tennis under his belt come the spring and perhaps not in the perfect condition to play Fognini on clay in a game he must win if Britain are to have a sniff of victory.
Loyalty
Dan Evans' omission from the side may have shocked a few people but, for me, he was never in contention to play on clay, which left it as a battle between Kyle Edmund and James Ward for the second singles spot.
I think, on recent results, Kyle was sticking his hand up but Leon, either in practice or because he felt he had had a sense of loyalty to James after he had stepped up in the past, went for Ward - and what a decision it turned out to be!
James had a pretty horrendous opening set against Sam Querrey on Friday but still believed he could turn it around and showed a lot more nerve than his opponent, who, despite being the higher-ranked player, looked petrified at the end.
Ward's five-set win has given him a window of opportunity and he must grasp it, something he failed to do when he reached the semi-finals at Queen's in 2011, beating Querrery and Stanislas Wawrinka along the way.
But the men's game is such a tough world and it becomes harder to make an imprint the older you get, so at the moment I don't see James as a potential top-100 player.
Cope
Getting to that level is more than hitting a tennis ball as you need to win matches and tournaments when you are not playing well, turn things around when they are going wrong, and cope with just two men and a dog watching your matches.
So James needs to find momentum, add more quality to his game in order to push on and get a double-figure ranking, but I'm not going to say it isn't achievable because you should never write a player off.
Murray, meanwhile, is getting better and better.
I have seen some very encouraging signs from Andy in the early part of this year in Doha and Australia and he was extremely professional in winning both his singles matches, against Querrey and Donald Young, in San Diego.
He is fresh after taking time off to recover from his back surgery and feels like he has something to prove, too, so that will motivate to win more titles and more Grand Slams this year, something he has a great chance of doing.