Poole are finding life pretty difficult this season - and things won't get any easier on Wednesday when they travel to Birmingham.
The Brummies are unbeaten in four at home and even though the Pirates have won three in three at Perry Barr, I'm not sure that tells the whole story.
Birmingham are in good form and will be at full strength; they're a solid team and have been on a roll of late.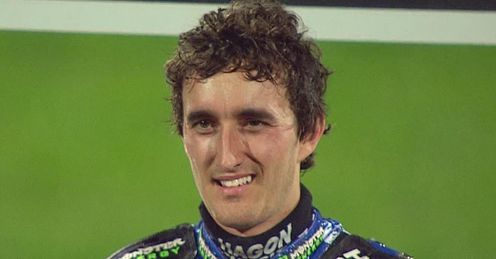 In contrast, Poole have had their problems with injuries and certain riders have underperformed, so away from home the Pirates are vulnerable.
Problems
After drawing 46-46 with Birmingham at Wimborne Road the Pirates will go into the return fixture with a team that's as strong as they can muster at the moment.
Thursday's result didn't surprise me - in fact Poole would probably have been disappointed to have dropped points at home - but given their problems this season I'm sure they'll take any points that are going.
Poole have had their problems with injuries and certain riders have underperformed, so away from home the Pirates are vulnerable.
Kelvin Tatum
Quotes of the week
Live on Sky Sports
Elite League Speedway
Birmingham v Poole
7.30pm, Wed, Sky Sports 2 HD
They built their team around two superstars in the world champion Chris Holder and Darcy Ward, but Ward's injury at the beginning of May was a real setback.
When you have a team that's a bit top heavy, it's very difficult to replace a rider of that quality and Poole have had to make some pretty tough selection decisions as a result.
Ward has begun practicing again this week and I'm sure the Poole management can't get him back quickly enough.
Comeback
I imagine Ward is chomping at the bit to get going again too, but it was a nasty injury - shoulder blades always take time to heal, and so it has proved.
He won't be involved in those domestic fixtures until possibly next week; I think he's looking at the Grand Prix in Copenhagen to make his comeback; there's no doubt that Poole have really missed him.
Meanwhile Birmingham - who are unchanged - will be eyeing top spot in the table. Martin Smolinski is now riding in the main body of the team after scoring a hatful of points at reserve and it will be interesting to see how he goes again.
The Brummies have four matches in hand on Wolverhampton and know that the top of the table is within reach.
Prediction
I see a home-win. Birmingham are in such good form and are so confident right now that they are racing as a team and are getting points from everywhere. With that in mind, I think the patched-up Pirates will find it tough to get a result even though they will go there with plenty of enthusiasm.
I've no doubt the Pirates will be embarrassed about where they are in the table and will be keen to do very well, so we should see some entertaining stuff, but looking at the two teams, Birmingham are a stronger side right now.
Comments (2)
Chris Young says...
Good article Kelv but no mention of Belle Vue's heroic last heat victory over Swindon on Monday. 10 points down after heat 7. No tactical ride and two 5-1's in the last 2 heats to secure a 2 point win. Should have shown that meeting.
Posted 08:46 19th June 2013
Paul Harrison says...
I hope the Brummies win.There is no better sight in British speedway than watching Poole getting beat.
Posted 17:02 18th June 2013