England's win over New Zealand was phenomenal, it was probably the greatest win Twickenham has ever seen.
England would have believed they could win but not in their wildest dreams could they have imagined winning by 17 points. They will savour that moment because it does not come along very often. I played against the All Blacks four times and was lucky enough to win once.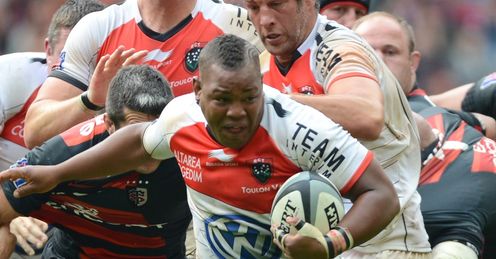 However Saturday's match has gone, and while the memory will stay long in the mind, England cannot afford to dwell on it. Let's move on and look at how England can make themselves better. Brave coaches make changes to winning sides and that is what I would like to see from Stuart Lancaster for the Six Nations and in 2013.
I have been a big fan of the way Lancaster has pushed his youngsters forward and taken the flak for not picking the Easters or looking for more experience in the second row, but that performance showed that he was right.
It was one performance though and to use a cliché one swallow does not make a summer but it is a definite step in the right direction and we may look back on this game as a turning point when we get to the World Cup in 2015.
Dewi Morris
Quotes of the week
It was one performance though and to use a cliché 'one swallow does not make a summer' but it is a definite step in the right direction and we may look back on this game as a turning point when we get to the World Cup in 2015.
Now the hard work starts. Mike Catt has to get England's skills up and make sure that they are all about playing with ball in hand - if the players do not have the skills, well now is the time to find players who do!
Lancaster must look at some new players too - see what works and what does not. Yes, England may lose a few games but if there is a genuine movement to progress and develop then England will certainly not get any flak from me. With a bit of tinkering I truly believe that this could be a really formidable side come 2015
I still would like to see Freddie Burns given the chance to show what he can do in the Six Nations and I think Steffon Armitage must be welcomed into the fold. I think Armitage will only strengthen England. He brings something different to a team and with Tom Croft coming back, Lancaster will be in a good place for 2015 - apart from the Pool draw and the two losses that put England out of the top tier. But that is life and if you are going to go and win a World Cup, well, you may as well go and play the best teams.
Next up for England is the Six Nations and they really need to push on from the Autumn internationals. England have to strive to be the best team in the world and have to strive for the same standards they set against New Zealand.
They cannot slip back into their old pedestrian ways. Against New Zealand they played what was in front of them and took their chances - they kept the ball in hand but more importantly they used it!
Tries win games and they need to look at how to convert their power, strength and pace into points. They need to work on developing their performance so they score more tries than their opposition - that eight minutes when they scored three tries is what did the All Blacks in. Usually it is New Zealand who find those killer blows, but this time England turned the tables on them and they have to keep that up.
For once England went out and scored some tries so they need to work out how to really put sides away. This old way of thinking that if we just keep hold of the ball them we will win is redundant - they need to use the ball. England can't go and be happy to beat Scotland by three points, France by two points etc - we have got to put sides away and the way to do that is to score tries.
Best in Europe?
It was typical to see Australia coming back against Wales which was devastating for the Welsh. I think they have stagnated a little bit though, I think they have become a little bit predictable. I think the coaching staff need to really look at freshen things up - I know they had a rack of injuries but I am expecting them to move on for the Six Nations.
France under Philippe Saint-Andréare playing a much more expansive game, with Frédéric Michalak at ten you are bound to and he has two No.7's on the field too.
Out of all the northern hemisphere sides I think you would say France are the team who have been thinking about it the most. They are really competitive at the breakdown; create quick ball and then attack with good strong running and support.
Add to that a good off-load game and no side can live with that. Like France, England showed that they can play like that too but need to make it a habit and not a one off!
Comments (2)
Kevin Mitchell says...
Will England continue to win is the question after all surely the 6 Nations shoulod be a grand slam and future summer and autumn games should be easily won. But usually what happens is complancy takes over especially against the top teams and all of a sudden its another decade before England beat the All Blacks again because they certainly won't stand still.
Posted 09:44 9th December 2012
Mark Guthrie says...
What was most telling for me was that performance happened in the last Autumn match - England improve as a team the longer they spend with Lancaster and his coaches. Compare that to the win against Australia in 2010 which happened in the first match of the Autumn internationals - England got noticeably worse the longer they spent with Johnson, Wells, Ford and Smith. Lancaster has come in for a lot of criticism from the media, largely because he isn't considered 'one of them'. Well I've got news for you, Lancaster is there on merit which is exactly as it should be and I hope he will pick all of his teams using a similar methodology so England can at last put an end to the infuriating cronyism and sticking with players based on a reputation long since passed - Woodward, Robson, Johnson (especially) and even Ashton were all guilty of this. Exhibit A - Mike Tindall 75 (SEVENTY FIVE) Caps!!! 75 of them!!! Good grief.
Posted 14:28 7th December 2012