An All-Star Game (in everything other than the NFL), gives us time to reflect on the second half of the year, and what might happen.
In the NBA, it's no different. Can the Knicks keep up their battle for the No.1 spot with the Heat? Can LeBron James keep on scoring 30 points a game? Can the San Antonio Spurs simply keep on being the Spurs (ie continually winning?). And of course, can the LA Lakers sort out their drama and have a movie plan just before the Oscars?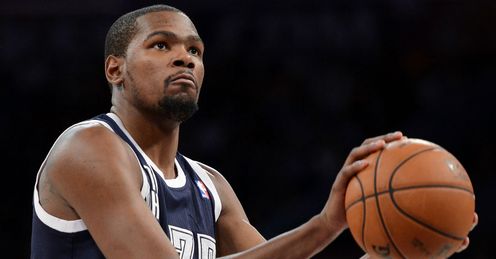 skysports.com blogger Alex Ferguson selects his top players, moments and disappointments from the 2012-3 season so far.
And yes, the LA Lakers might be mentioned...
THE BEST PLAYERS
1) LeBron James (Miami Heat) - There's no doubt about it. James has been the leader of the Heat, taking over the mantle from the excellent Dwayne Wade and proving that he really is boss on South Beach. At the moment, James has put together a stretch of five games scoring over 30 points and shooting 60 per cent. No-one has ever done it in the history of NBA. Oh, and he's averaging a tidy 27.1 points, eight rebounds and seven assists per game. Expect that average to get better.
2) Kevin Durant (Oklahoma City Thunder) - It was between Durant and Carmelo Anthony for second place, but Durant edges it because he's played 52 games - and averaged 29 points per game - to Anthony's 42. He's been a better field goal, free throw, and three-point shooter than 'Melo, too. The way this kid's playing, he's going to win the Thunder - or another, richer team - the title.
3) Carmelo Anthony (New York Knicks) - If it wasn't for Anthony, the New York Knicks would probably be struggling. He may be pretty selfish (he's reputed to look for the shot instead of the pass most of the time), but when he's on, he's on. And with the Knicks one of the best teams in the East, he's on.
4) Stephen Curry (Golden State Warriors) - Curry has been a revelation for the Warriors since he started playing in San Francisco, and there was a huge amount of fuss kicked up from writers in the US when he wasn't selected for the All-Star Game. Curry has been a leader for the Warriors, who find themselves competing for a play-off spot for the first time in recent memory. A wizard from three-point range and deadly from free-throw, he also averages 21 points per game. If Golden State doesn't get in the play-offs, it won't be because he's had a bad season.
5) Tony Parker (San Antonio Spurs) - The Spurs have the best record in all of basketball, despite only having one of the league's top scorers. That's because they work so well as a team, playing great defense and scoring 104 points-per-game - the fourth best in the NBA. But to score points you've got to have people producing passes - and Parker does that in buckets, having produced nearly eight assists per game (383 in total). He also hits nearly 21 points-per-game, too. Is he ever going to retire?
THE BEST TEAMS
1) New York Knicks - While we weren't surprised when the Knicks clicked after spending tens of millions on talent in the last couple of years, the key has really been not only the scoring of Carmelo Anthony, but the rebounding of Tyson Chandler and the leadership of Jason Kidd. That's more than helped cover for an injury-ravaged season by Amar'e Stoudemire, who's managed just 19 games.
2) San Antonio Spurs - This. Team. Just. Wins.
3) Miami Heat - There is so much talent on this team with James, Wade, Chris Bosh, and Ray Allen (the latter will get more playing time as the season heats up), as well as Mario Chalmers and the 'Bird Man' Chris Anderson, who was signed to a mid-season contract by the Heat and will provide some defensive excellence as the season goes on. And sadly for the rest of the league, it feels as though they are just hitting third gear.
4) Oklahoma City - After James Harden went for a big-time payday with Houston, we thought that the Thunder might struggle a bit. They haven't. Kevin Durant, Russell Westbrook and Serge Ibaka have all been superb for the Thunder, who will be a definite title contender during postseason time.
5) LA Clippers - Sorry, the Lakers are WHO, again? With the way the Clippers are playing, at least LA has one good basketball team. Chris Bosh is the leader there, but Blake Griffin is a definite highlight reel.
THE BIGGEST DISAPPOINTMENTS
1) The 'Lakeshow' - Hollywood is known for its great dramas, but its basketball team is taking things up a whole other level. Not only is the team a below-par 25-28, but they are three games out of the eighth play-off spot. They've already fired their head coach and replaced him with Mike D'Antoni. Dwight Howard's attitude all the way through the season has made Lakers fans believe that bringing him from Orlando was a massive mistake. Oh, and then there's the clips of Hollywood stars leave their courtside seats in a rage at the team's dreadfulness.
2) Rajon Rondo's injury - This isn't a disappointment but it's definitely sad. Rondo, who provided excellence all over the court for the Celtics and will be profoundly missed down the stretch, injured his knee in a game against Miami that stunned the basketball world. The Celtics may have had a defiant run of victories since Rondo's injury, but can it really last all the way to the postseason? Logic would say not!
3) Stephen Curry should have been an All-Star - We're still scratching our heads how NBA voters could have ignored a player who's brought a middling-to-awful franchise within sight of the play-off promised land. We really are. We demand a recount!