The NBA had its annual trip to London this year, with the Brooklyn Nets playing the Atlanta Hawks at the O2 Arena in London.
By the way, Brooklyn won 127-110 , and the game wasn't close for most of the second half.
Sky Sports' resident US Sports expert Alex Ferguson was there, and asks: Should there be a NBA franchise in London?I talk on Twitter with passionate NBA fan Jim Duggen, who thinks that there should be a NBA team in London. His rationale is simple: "My British friends over here are much bigger NBA fans than the other sports. And there are Brits in the NBA" (I'm sure there's more, but we haven't got that far).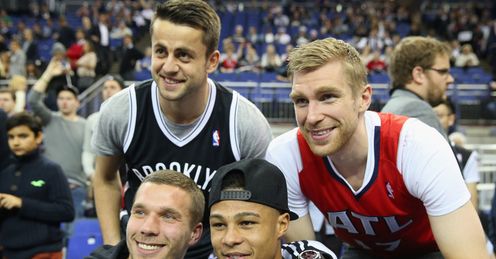 David Stern, outgoing NBA Commissioner, agreed with Jim to an extent in a press conference before Thursday's NBA game between Brooklyn and Atlanta, but the Grand Plan For The Future was something bigger: "It's something that we've talked about for years, and that is bringing NBA franchises not just to London but to other major European cities, as well. I think most likely if were to come to Europe, it would be with a division rather than a single team for ease of logistics, and it's something we continue to look at". In other words, I think he means: "It's not happening right now."
And although Brooklyn Nets players insinuated that it might be a good idea to have a London team, there are a few factors as to why it would not.
1 - The Schedule and TV
The good news? London would be a wonderful away game once a season. But three or four times per season? Not so much. It wouldn't work for players, it wouldn't work for fans (apart from the obscenely wealthy ones!), and it wouldn't work for TV over here. Thanks to the fact that the US is 5-8 hours behind us, the Brooklyn-Atlanta game was being shown at 3pm. That meant that to see this game the American audience had to be either: A) Taking an early lunch, B) skipping the afternoon's work, C) not working, or D) a student or at school!
Not only that, but we're not sure that this game would have got the world's biggest rating either, bearing in mind that the bulk of the viewing audiences on a weekday like their sport in the evening when they are not, you know, working. And although it would be great 'franchise expansion' for the NBA and its much-needed corporate partners, I'm not so sure that its core audience would welcome a team in London. Because with 41-game home schedule, a lot of the games on offer (around 75%, we estimate) to the general public are going to have to be played outside the viewing time. And this can only get worse come play-off time. You know, if the London Blazers ever made the play-offs.
2 - The Schedule and Players' bodies
Nets forward Andrei Kirilenko said before the game to journalists: "The problem is the length of the season. In Europe, you play two games a week. In the NBA, you might play five games a week. This is the huge difference. From the physical standpoint, it's going to be very difficult to sustain that season."
And with injuries stealing the headlines for the NBA at the moment (especially where Kobe Bryant and Derrick Rose are concerned), travelling to include more jet lag, tiredness, and travel in general can only increase the stress on these multi-million dollar bodies, which could turn into a billiondollar problem for NBA fans. And without the players, the fans wouldn't go and see their team. You don't think so? We'd love to see what attendances do in Miami if LeBron James AND Dwayne Wade got injured. And if Kobe was in any other town than LA, we can be certain that fans' attendance would take a hit there, too.
3 - NBA: Really London's Team?
Stern seemed chuffed to bits that the game in London sold out in four hours. Of course, we would have loved to ask some questions (but we felt sure we wouldn't get an answer) about that: 1) How many of the seats were distributed to 'Friends of the NBA' or Corporate partners? 2) Or in other words, how many 'prime' seats could be bought by normal fans? 3) Did fans go to watch the basketball or go to see the 101 Premier League players who turned up, from Jack Wilshere to Eden Hazard to David Luiz to former Arsenal legend Robert Pires? 4) Would fans come back for 41 games?
I don't think we can guarantee for a 41-game season, that you would see the massive interest from the football fraternity! Why? Because once a season the game's a 'thing' to be seen at. The managers can forgive a night out just the once. But once or twice a week? Think again. The waning interest from that fraternity would make newspaper headlines that the London Blazers were not as popular, and then non-hardcore fans would stop going.
Not only that, but London's got plenty of teams, thank you, including a host of professional sports for every football, cricket and rugby fan out there (unless you're really picky). Would basketball get a look-in on a serious basis? Not only that, but basketball participation is hardly through the roof, either. Statistics from Basketball England out last July show that despite it growing by 16% on an 'I play it once-a-week-over-12-months' basis and nearly 10% on a "I play monthly" basis (ie fairly healthily), there aren't big attendances at British Basketball League games. In fact, sell-outs are a rarity. How do we know this? Because it's extremely hard to find out how many people attend BBL games on average. This compares to other European cities where basketball is passionately followed (see Greece, Spain and Italy for example). Sure, football is still No.1, but basketball is also heavily followed.
Even Stern admitted as much: "I think it's fair to say that of all the countries we've visited, the profile historically of basketball has been the lowest in the UK," but added "It seems that there's, together with the post-Olympic grant that is coming for the development of the sport, there's going to be significant uptick in basketball interest in the UK." Note the word "hopefully".
We would have hoped to see more evidence of BBL branding at the O2 for the Nets-Hawks game, but sadly, there wasn't.
4 - NBA and Merchandising
We're a keen observer of NBA fashion here in the UK and just because Air Jordans sell well over here, doesn't mean that people either a) Love Michael Jordan or B) Will go and see a NBA team in London over and over again (and the key would be repeat visitors). And although the Nets have launched the Adidas Originals Brooklyn Nets shoe, you don't see a huge amount of Nets hoodies or caps. You do, however, see a lot of Chicago Bulls caps, a nod to the Jordan era when Chicago Bullswear was the coolest thing in the world. What hurt the Nets, actually, was the decision by Jay-Z that he wanted to be a sports agent instead of being a basketball team owner. Had Jay-Z been guaranteed to come to the O2 to watch his Nets play, you can guarantee the game would been THE hottest ticket in town. And that Jay-Z - like his Nets players - wouldn't have known who on earth the Premier League players watching on in awe were. And unless the London Blazers have a cool logo or are incredibly successful, it'll be a hard sell, too.
5 - Success, The Draft System
Would British fans be able to deal with the NBA's Draft Lottery system, where the London Blazers would be given a couple of good college kids, and then some NBA cast-offs? Would they be able to deal with a decade in the doldrums, where the team would probably be the whipping boy of the rest of the NBA? Would they be able to deal with watching a crappy team twice a week in, week out? Probably not.
So in other words: There shouldn't be a NBA team in London. Not now, not ever. Unless there is a sea change in basketball fandom and we flood basketball arenas for the next decade onwards.