Relentless, united, diverse, resilient, fearless: these are the trademarks that England Netball and its teams live by, and that they did during the recent Test Series in London.
A home series is always interesting, if someone had said to me a few weeks ago that I would coach an England A team that would beat the World No.8, go on to beat the World No.4 and compete for at least two out of four quarters against the World No.2 and No.3 I would have taken that!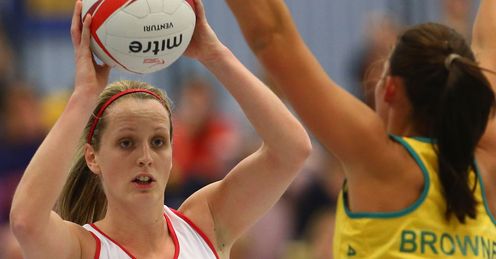 Being asked to lead the England A Team was a real honour and I thoroughly enjoyed the 10-day challenge. It's never easy taking a team where the athlete's selection journey into it is so different. From the England Vice Captain Sara Bayman, disappointed not to make the England Team for this series, to 17-year-old Summer Artman with no Superleague experience, let alone senior international exposure, you could say we ticked the box when it came to being diverse from the very start.For the first time in a long time England Netball had committed to showcasing not only the top 12 but the top 24 athletes across the country and test them against the World No.8 Wales, No. 4 Jamaica, No.3 England and No.2 New Zealand.
This test series being no different as you look to a NZ bench when playing England and see the 'small' talent of Irene Van Dyk and Maria Tutaia waiting in the wings - not a bad bench to choose from.
Jess Thirlby
Quotes of the week
With recent strategic changes introducing the new Intensive Netball Training Centres (INTC's) in Manchester, Brunel and Bath the hope is that over time we will start to increase our talent pool and that the depth of quality and quantity of world class athletes will start to mimic and better that of our toughest counterparts Australia and New Zealand, who seem to have had the picking of far more athletes in the past. This test series has been no different as you look to a NZ bench when playing England and see the 'small' talent of Irene Van Dyk and Maria Tutaia waiting in the wings. Not a bad bench to choose from.
Test
The objectives for England A were made clear form the start: this was about performance. We were not here to fill the gap, have a jolly, we were here to be taken seriously and to test ourselves against some of the best individuals and teams in the World. How good are we?
Long gone were the days of sharing, caring and developing and welcome to an England A where players were asked to fight for their places, where starting line ups were based solely on performance in training and matches, not reputation and when you weren't performing be prepared to be pulled from the court. We had to be relentless in this objective or run the risk of falling foul to perception that we just couldn't compete, a 'nice to have opportunity' rather than a 'need to prove' mentality.
Compete to win was what we asked of all of us, players and staff, and I have no doubt that we stuck to that. Don't get me wrong we weren't always happy - take our quarter scores against England where we went from competing in Q1: 10-12 and Q3: 11-12 to losing 6-16 and 9-18 in the remaining quarters.
Consistency was an issue but then we were playing a team with a lot riding on their matches and from the bigger picture view we should expect this of our counterparts ahead of playing Jamaica and NZ.
In fact, it worked for us, it was mentally challenging in particular for those podium athletes that had fallen short of selection into the England Team and they had to be resilient in the face of their biggest challenge and that they were.
Determined
We went into our next match versus Wales more determined than ever and wanted that pressure to not just perform but to win. We needed to expect of ourselves where others may have made excuses on our behalf, 'lack of time together', 'young inexperienced players' and we got a very good result.
I will never forget our Captain Sara Bayman saying to me at the end of the Wales win "We better beat Jamaica". It was this type of leadership that had set the tone in our camp. She meant every word and transcended belief amongst her teammates. When she spoke, we all listened and she inspires those around her more than she realises.
We approached Monday's match versus Jamaica in exactly the same way, we had key targets and objectives, and despite all of the well documented logistical issues we felt that of any team we were least effected so we still had a job to do. Our statement of intent was made clear, winning the first quarter 13-7, but what was equally as impressive if not more so was closing out the game in Q4 after Jamaica had closed the gap to just 3 going into the final few minutes.
Anyone who knows Jamaica knows that a slim margin is dangerous and you render yourself very vulnerable but we did it and came out winners against the World No.4 45-40. Memorable to me was the lack of celebration or self indulgence at such an achievement from our team.
In fact, watching it back in my post match video analysis it was almost completely absent and whilst I know there was nothing formal riding on it people could have been mistaken for assuming we would have been more exuberant in our post match celebrations, instead a very happy team came together, united in their common purpose, appreciating their efforts and quietly going about their work. With one game left, and the biggest yet against NZ, there was a sense that we still wanted more.
Despite another strong start we were disappointed to have come off down by 4 goals 12-16 after the opening quarter against NZ. It's incredible to think we were genuinely disappointed as were it not for 3 missed shots off of our possession we really should and could have been winning. Another insight into the culture that had been fast established in our group that this would be the case.
After a lesson in how to step up on the International scene we found a game of this level running away from us slightly but took pride in performance from youngsters Helen Housby and Summer Artman who appeared unphased at rubbing shoulders with the Worlds best and the latter fearless in her approach to playing what has to be one of the best Netballers to ever have played the game in the guise of Irene Van Dyk. Little did Summer know, or dare I say care about reputation and just wanted to win ball on behalf of her team. Unlikely to ever play against Van Dyk again should she go onto a successful England career I am honored to have been witness to this match up, reminiscent of a 16yr old Geva mentor doing exactly the same as well as all of the individuals efforts throughout all of the games. So many critical and emotional moments that I will treasure forever.