Undoubtedly Anna Mayes will have been disappointed at the external factors that prevented her from exposing all of her squad in the Tri-Series.
Rosie Allison did not take to the court and others, namely Laura Malcolm and Ama Agbeze, had minimal court time but for those that did there are some positives to take.
I felt that Serena Guthrie had a solid Tri-Series. Enough to secure a place in Glasgow? Well, in England teams of old you could most probably say yes but with the strength and depth in our midcourt at the moment you would be forgiven to not commit just yet.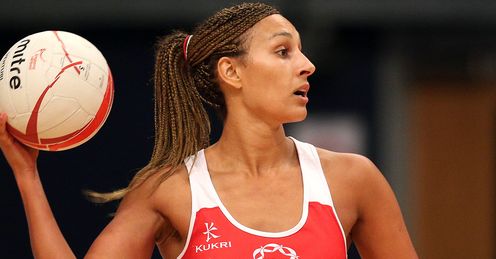 Notably this type of competition for places amongst Bayman, Corbin, Clarke, Ritchie, Malcolm and Guthrie - and you could even argue Francis and Cookey who both featured in the midcourt this series - is exactly the headache Anna Mayes wants in the coming years across all units. Performing at the top should always feel uncomfortable for players and coaches, which I'm sure it does currently.
Guthrie's performances were solid in that she contributed in both her defensive and attacking roles, not least the vision she showed in feeding through the NZ off marking style of play, something I know Serena has an eye for. But it was her defensive efforts against Jamaica that also impressed me.
She was not alone in this though and Jade Clarke for me gets an unsung hero award for her efforts in containing a Jamaica attack. WD's are often overlooked when it comes to Jade's style of defence - silent but deadly - and sat courtside I could appreciate first hand the damage she was causing to the through put to the formidable Fowler.
Midcourt
Talking of WD's, Anna Mayes must also feel confident in her use of impact player Stacey Francis in this position too. An abundance of choice on the WD position for Mayes and of varying style, which bodes well ahead of Glasgow. Francis, known more for her defensive circle roles offer the team and coach utility but without having to necessarily select fewer midcourt into what will be her final 12.
Onlookers desperately wanting to get in the 12 and into the midcourt have right to be concerned with this though as Anna's main dilemma is not in needing defensive midcourt but more C/WA specialists.
This for me is still a vital area for Anna to iron out over the next few months. Sasha Corbin is an undoubted talent, but maybe not firing on all cylinders just yet. When she is she's dangerous but we still need options.
Laura Malcom was selected this time around to test her abilities around the WA position, which she got against NZ. To debut internationally at WA against an off marking style of defence is no easy task and I admire both Laura's persistence and 'never give up' display as well as Maye's bravery and commitment to the objective of ensuring she tried this out.
Was it the answer? Too early to tell and with so little time now ahead of a major competition it would need exposing under the Manchester Thunder coach Tracey Neville at Superleague for Anna to truly be confident that this is her next best option in attack.
Shooters
Turning our attention to the shooters and I think it's fair to say that all of them will want to continue to pursue more consistency around reproducing a 90% conversion at goal. Although a lot was mentioned of this against Jamaica, for me, all of our shooters are more than capable of this and have achieved it in the past but they must now focus on doing it repeatedly at international level.
Jo and Pam offer Anna a very familiar and well rehersed, experienced partnership. This can however be both a strength and a weakness as with any long established partnership, opposition will do their homework and so constant ways to keep reinvigorating this will be on the menu ahead of July.
Both are very talented and Harten's innovation is a recipe for success, but at times their intent of rotation both inside and outside the circle can be worked out by the best defenders and remembering what they can each bring individually and keeping it simple can and will be enough under pressure.
What was pleasing was Kadeen Corbin's entry into the game against Jamaica. Calm, accurate at goal and unphased she contributed to an England surge at a key time in the game. Her game understanding needs to continue to improve as it is, so that she can both lead change and initiate as well as follow and react in a partnership. Let's remember how quickly Kadeen has had to grow in her netball and most of this in the spotlight of international stage, so it's a positive step for her. In spite of Rosie Allison not taking to the court she offers a different style again and is fearless in her shooting mentality.
Defence
For me Geva Mentor has proven again her world-class ability, in particular against tall, holding shooters. Anyone who as a result of a whole unit defensive effort can get Jamaica to substitute Janelle Fowler and even on her return to court in quarter four make her look mediocre, is worth their weight in gold. A different challenge for Mayes is how to continue to get the best out of Geva against all styles of play and who would step into these shoes given an off day?
One answer is Eboni Beckford Chambers. Her time at ANZ has definitely assisted in her having even more of a presence on court and at GD for four quarters. This is a big step forward for Eboni and she is now a genuine option that can have a lasting impact. Not as effective possibly when moved back to GK against New Zealand but this could be due to the absence of Mentor and therefore a less cohesive partnership with Agbeze. Some food for thought for Mayes who can still confidently call upon Francis to slot into GD.
Opposition
Finally my thoughts on what we have learnt from the opposition. One warning would be our need to deal to Cat Latu, she really impressed me. She was New Zealand's playmaker when England took an early lead and has impressive movement and ball handling. She is a weapon that I think could partner any of their GA's. It's good then that Eboni, Geva and Ama will all get to face her in ANZ in the lead up to the Commonwealth Games.
New Zealand appear to have some unanswered questions of their own in the WA position so some research on who is in form during ANZ will no doubt be in Anna's plan. Lets also not forget that Casey Kopua was not able to take to the court during this Tri-Series and so she will add strength to their defense on return from injury.
Jamaica for me are lacking their normal cohesion throughout the court. Notably their through court defence was lacking this time around and England were quick to capitalise on this weakness.
The challenge we always face in preparing to play Jamaica ahead of major championships is you rarely hit them at strength beforehand and so again Anna's analytical mind and research that will have to be relied upon here in preparing her squad for the best Jamaican team that might turn up in Scotland.
Huge confidence can be taken though that England proved that they could stifle the flow of ball to Fowler and slow down the Jamaican attack and that had to be the priority this time around.
So in summary, not all of the outcomes that Mayes will have wanted but some clarity of thought for her and her team moving forward into Superleague.
What did you make of England's perfomance in the ZEO International Netball Tri-Series, who impressed you? Leave your comments below.
Comments (1)
Mel Asner says...
This is such a great read. Thanks Jess
Posted 19:04 24th January 2014