The gaps are closing...
Having been with TeamBath for 14 years as both a player and coach, I have spanned a time where there were calls for 'tighter' matches, better 'competition' and, in the early days, even an allocation of national players to teams, in the hope that some of these requests would be satisfied. Have we finally arrived at that time in our Superleague?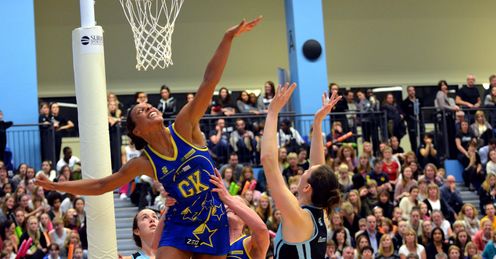 Well, from a TeamBath perspective we certainly feel that we've contributed to that (with a few grey hairs later) with two draws against Surrey Storm and Celtic Dragons and a one goal win over Mavericks. It has been tighter than ever and the margins between winning and losing are so small that any umpire would deem it a 'short pass'.
Not only have the outcomes of games been closer but importantly, there have been longer periods of matches that have been more competitive within five or less goals and so say 'underdogs' are managing to stay with their counterparts until the class or experience of the top teams takes over. This is what I feel is a far more accurate reflection; our league is becoming more competitive.
With tighter games and more games than ever ending in a draw, is there now a need to call for games to be played to a result? Something I know England Coach Anna Mayes is keen to see and quite rightly so in preparing our national squad for the same demands of the international competition. Only this morning has an ANZ match between Adelaide Thunderbirds and Northern Mystics ended 71-68 after extra time!
Response
Here at TeamBath we've experienced everything....a solid win first up against a new look Northumbria, a poor start against Thunder where they ultimately punished us - delivering us our first loss - this then led to a great response in our very next match on Surrey's patch, whereby we came back from our biggest deficit in history of 11 goals to get a draw with two seconds left on the clock.
Onwards to Mavericks where both teams denied the other from ever moving out to more than a three goal lead for 60 minutes, which is impressive in itself, and some great play from individuals under pressure notably for us was our 90% from both shooters Rosie Allison and Pamela Cookey. With a mixed start it was from there that we knew we had to build in order to fight it out at the top; our away win to Jets was our most consistent to date and we took the score out to over 28 goals until a surge from Jets towards the end of the game.
So just when we thought we had some momentum we faced a very determined Celtic Dragons at home off the back of their Northern Cup Tournament win, a local derby that is now hotly anticipated not least after the 2013 Superleague Grand Final. Having not been able to shake the Dragons off throughout the four quarters it was left to the dying minutes and seconds once again and when we scored off of a Celtic centre pass to go one up with 20 secs on the clock you would hope with our own CP we had done enough to clinch it, but we gave the ball back to them and they delivered the ball safely to Timmy Cato who secured the equalizer and a sharing of the points on offer.
We then won away at Northumbria and then lost out to Surrey. It's been a real mixed bag for us but some fantastic learning and opportunities along the way.
Luxury
This year there appears to be no room for teams to be weakened by injury. Teams that aren't consistent are allowing the opposition to build winning margins at the start of games, or conversely, teams that build scores are relying on it being enough only to find themselves faltering at the end of games - Surrey v Teambath, Surrey v Mavericks to name but a few - we have learnt this the hard way.
We have had the luxury of 90% shooting in many games now but that alone is not enough; it's the contribution from everyone that steps onto court, athletes that understand a game plan, implement it and can sense when they need to flex from this.
It's no accident that Surrey and Thunder - who have had most of their players available for selection for most games, with relatively unchanged line ups, competition for places and a cohesion and consistency built over the past few seasons are sat pretty at the top - all are ingredients for success which we have been fortunate to also experience. But sport is also about those that respond when faced with adversity, under pressure and have a 'never give up' attitude. Those that can walk the walk...and at the right time. Mavericks are known for this and always appear to build in the latter stages of the season and their recent impressive win over Loughborough is evidence of this.
TeamBath talent
In my squad, Mia Ritchie and Serena Guthrie continue to build a very solid partnership in our midcourt and in the more unfamiliar position of WD, Ritchie has stepped up to the task, most notably her three key turnovers against Celtic Dragons. Guthrie has always possessed the ability to turn a game at key times and in her first year as captain she continues to carry this threat to opposition teams.
With a Commonwealth Games just around the corner the need for all shooters to regularly hit their 90% target is paramount and Captain Cookey has done this now in the last five matches and Allison's ability to 'get in the zone' and attack the goal from anywhere inside that white line is admirable - what's great is they have had to execute this under more pressure than any other season with more consequences at stake.
More generally what I've been pleased with is seeing the defensive contribution from attacking players. For so long I feel as coaches we have been at fault for not insisting on defending players attacking when we have the ball and attacking players getting turnover when on defence - this has no doubt correlated with many of our comebacks this season and is beginning to become more of an expectation as opposed to a surprise.
Impressive opposition
It's all too easy to focus on the better known players in the league and our national players, but it's in those around them that I find some of the most notable performances; players that can make those around them perform to their best whilst maintaining their own performance.
A lot has been spoken lately of Sophie Hankin the young Mavericks shooter who has found herself increasingly partnering the talented Kadeen Corbin in the circle. Retuning from injury and still not at her best, she has been able to impress with her fearless attitude and what appears to be a very natural feel for working the circle.
Similarly Manchester Thunder's Helen Housby has stood up to the demands of Superleague with a similar approach, appears unphased and thrives off of the pressure, like it's her equivalent to oxygen. I had the pleasure of working with her in January with England A and she has the temperament to go all the way and Tracey Neville must feel spoilt for choice in her shooting circle with an abundance of young talent.
Having observed Layla Guscoth nullify the strength of Cato in their recent game at Dragons she is still someone to watch and a very intelligent defender.