The recent events in our game really have me concerned about where we are heading.
I fear that what happened in Australia in the 1970s could happen here; the media were so negative about rugby league that they re-named it 'thugby league' and because of that, the junior sign-up to the sport started to nose dive.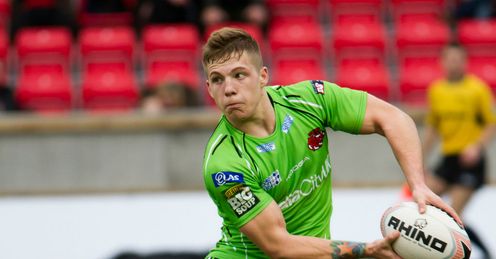 It was a bad time for the sport in Australia and it fell on a legal eagle called Jim Comans, who was drafted in and created the disciplinary committee, to make it quite clear that anyone found guilty of foul play would be severely dealt with.
This certainly cleared up the game and the Aussies have always been quick to protect their game and make it safer to play, and, let's face it, you have to be pretty hard and tough to play league without having to deal with any form of thuggery.
Rugby league is a tough sport and does not need big men to turn themselves into a missile to prove how hard and tough it is.
Stevo
Quotes of the week
40-odd years later we had a weekend in Super League where we had three bad incidents - two created by shoulder charges -and it is time we ban this practice.
Australia have recognised the danger of this and have put a stop to it but, for some unknown reason, we have decided not to follow suit.
I really don't mind if we follow what rugby union have done - if you make no attempt to get your arms around a player then you are penalised, as over the weekend Theo Fages was knocked out for eight minutes!
To me that is verging on a very serious brain injury and I am glad to hear that the 18-year-old is okay; a few people have said that it could have been a career threatening tackle - but it could have been a lot worse than that.
Compulsory
Some people say that it is great to watch, that a shoulder charge gets the biggest cheer, but no-one will be cheering if someone gets seriously hurt. Do we really want to wait until someone is really badly injured before we ban this?
I have experienced a man dying in my arms during a game because he had not had the proper medical check-ups before the season started.
John Davies did not know that he had a heart problem when he was playing for Dewsbury and it took his death before they brought in compulsory check-ups at the start of the season.
I don't want something similar to happen before the powers that be decide to ban the shoulder charge. Rugby league is a tough sport. It does not need these big men to turn themselves into a missile to prove how hard and tough it is.
I also believe that it sends out a negative message to our youth - how are we going to attract players to the sport when they see players knocked out cold? There is enough claret that flows on the pitch without the shoulder charge.
Some ex-players may well say that the game is getting soft - but they are not playing anymor, they were lucky enough to get through it unscathed. Would they be saying that if they got seriously hurt?
I really hope the RFL takes a close look at this sooner or later - but later may be too late.
Sad day
The last two days have been sad for me as I have had to put my rugby league museum into storage after the George Hotel closed down.
The George Hotel in Huddersfield is where, on the August 29, 1895, 21 clubs met and 20 of them decided to break away from rugby union and formulated the Northern Rugby Union - which we changed in 1922 to Rugby League.
I have spent many years building up the museum and it is a fantastic collection; in 1988 I took the museum to Australia where I stripped out five carriages of a train and turned it into a travelling rugby league express.
I spent 23 weeks travelling all around New South Wales and the following year I did it again and went up to Brisbane, too - but I always had a dream that I wanted to bring it back to England, back to where the game was born.
I managed to do that nine years ago when I opened the Rugby League Heritage Centre that housed a fantastic collection of memorabilia, and I felt that it had found its true home in the place that played such an important part in our game.
It was a huge shock when the hotel closed down and went into receivership and I now have to find a new home for the museum. This has never been about money for me, in fact I do not make any out of it and it has cost me a pretty penny to keep it going.
To me it is vital that our youngsters know where our game came from and I do hope I am able to open it up somewhere else where young and old can experience the passion and pride of our wonderful game.
Comments (8)
Gary Hall says...
Stevo, was there on the day John Davies died, very sad.
Posted 11:36 21st April 2013
Callum Baker says...
The shoulder charge is a great part of rugby league. Players know what can happen when they play the sport! Although I don't want to see any player injured, if you ban the shoulder charge Rugby League just wouldn't be as exciting as it is now, don't change the sport we all love!
Posted 23:33 2nd March 2013
Frank Law says...
I have to agree with Stevo on the baning of the shoulder charge, it is only a matter of time before a player is badly injured if this is allowed to continue and no one wants to see this happen, this will also offer protection to the player kicking the ball on the last tackle who just like a fullback receiving the ball now has been given protection against dangerous play, it is by far the best sport in the world to see and enjoy and a great sport to par take of but dangerous play should be stopped.
Posted 18:05 18th February 2013
Gordon Clayton says...
Having watched the Wolves/Catalan game on Sky did you see that when Myler was nudged by thigh of the scrum half. He went down like a sack of spuds. Bit 'theatrical' to say the least. But it happened again later in the game with Cooper going down like he'd been 'poleaxed' near to the Catalan line. Sorry, but this should be dealt with before we end up with divers like they have in 'football'. I love the game and watch it on Sky most weeks as an 'ex pat' Wiganer living in Devon. Keep up the good work all of you and hope you find a new home for the museum soon!
Posted 16:18 17th February 2013
Eric Fielding says...
AGREE TOTALLY WITH STEVO, THE SHOULDER CHARGE HAS TO BE BANNED BEFORE SOMEONE IS SERIOUSLY HURT OR EVEN KILLED.
Posted 06:43 17th February 2013
Peter Dennis says...
Hi Stevo, i agree with you regarding the shoulder charge, But feel it is going to take a more serious injury than last week for the ban to be Implimented. Regarding the Rugby League museum could you not try and get the Clubs to help out with funding and have it on a roadshow for example travelling the length and bredth of Great Britain to showcase to all fans.I am a Rhinos and rugby league in general fan currently Living in Scotland and i really do think this would be educational for other people to sample the great game of rugby league. In turn when people for example North of the Border, Midlands and also down South see how great this game is this could promote interest/participation and then surely all the teams would benefit for the extra revenue and interest which could provide the next super league great.
Posted 22:09 16th February 2013
Paul Ross says...
Yes its sad to see when something like that happens but do you not think things like that can happen in all sports ,laegue was always a rough game when i played in the 70s and80s and that was one of the reasons i enjoyed it so much ,if you start taking things like that out of the game we might as well revert to touch rugby and become as soft as footballers ,i was going to say use the refs to protect our players but having seen the standard of refereeing in the game this season i dont think thats possible
Posted 19:19 16th February 2013
Rob Giles says...
Warrington v Catalan 66mins last ditch tackle from Ryan Atkins praised by all commentators - shoulder charge.
Posted 21:37 15th February 2013