Stevo salutes Magic Weekend's 'rugby league bonanza' and hopes the event can return to the Etihad Stadium.
There were record crowds over the two days in Manchester with all 14 Super League clubs in action across the two days.
The event, which has been previously staged in Cardiff and Edinburgh, is still unconfirmed to return to the home of the 2014 Premier League champions with the Etihad set to undergo extensive building work next summer.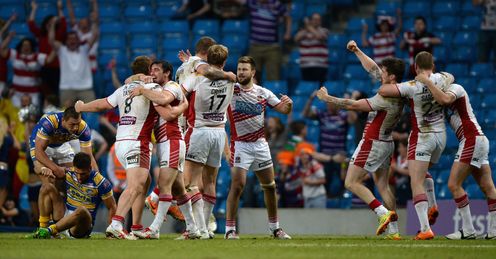 Sky Sports expert Mike Stephenson says he'd love to see rugby league's 'great party' back in Manchester in 2015.
"We often say it's not a sport, we turn it into an event and that is exactly what we've done," said Stevo.
"People who have perhaps not seen rugby league come along for the first time, and let's face it, they've got to get hooked on this game.
"I keep saying it's the greatest game of all and I've loved every single minute.
"It's been a wonderful bonanza and a great party and everyone seems to be enjoying it. That just shows that they are growing and let's hope, I know they have building works planned for this stadium, but it's a magnificent place to be, we've all enjoyed and let's hope we can come back."
Growth
Leeds Rhinos and England star Jamie Peacock added: "The event has grown. It has taken time to catch hold for everybody. It has caught on with the players now, as well as the fans.
"I think it is important we have another showpiece event in rugby league. I believe this kind of event attracts fans from outside the sport. I know where I live people come to the Magic Weekend that don't normally watch Super League.
"There is a feeling in some of the clubs that the sport needs to grow as a whole for those clubs to grow. They have reached their potential within rugby league at the moment. These kinds of events grow rugby league, a little bit like the World Cup (last year)."
Click here to watch highlights and reaction from Magic Weekend!
Comments (4)
Shaun Mortimer says...
The Magic Weekend for next year should be played in France. Having the event in Toulouse or Marseille, a big city in the south of France would be great for the game.
Posted 12:33 22nd May 2014
Andy Bibby says...
A fantastic weekend of rugby league. Special mention to the fans who made it such an occasion. The Widnes, Castleford and most of all the Warrington fans who between them created the best atmosphere in the stadium. Those three sets of fans have raised the bar and lets hope other fans except the challenge to compete with next year.
Posted 00:37 21st May 2014
Tom Miller says...
Manchester Magic was just that - great entertainment and excellent attendance. Why do some people insist on taking the game where it is not wanted? It simply does not work outside of the heartland. Let's concentrate on building on what we have achieved already and with first class coverage from Sky Sports and super-charged atmosphere as at Manchester, that will spread the game. The only downside for me was that part of the Warrington support who insisted on aping the worst behaviour of their Premiership counterparts.
Posted 13:35 20th May 2014
Robert michael Rowlands says...
It was nice to sea good crowds and good rugby played with real commitment from all the players. I think the "Magic Weekend" should be played at different venues around the Country that everyone gets the chance to go and see it.
Posted 13:55 19th May 2014