Friday night gave us a first chance to take a look at Michael Maguire's Wigan team when they took on Hull KR.
It was the first opportunity to see if things had changed at the DW Stadium and a chance to see if the Wigan fans will be flooding to Old Trafford on October 2nd.
A six-try-to-one victory was convincing enough for some of the Cherry and White supporters to book their Grand Final tickets by Saturday morning. The rest of them might need another win against Warrington this Saturday before they splash their cash.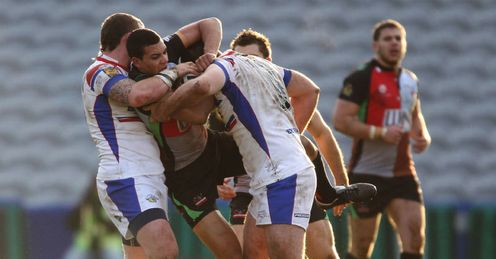 One of the noticeable features of the team's performance was the aggression that they played with. Coaches provide the tactics but the players are the ones who need to get themselves into a mental state whereby they are ready and willing to accept and inflict pain.
It was interesting to look at the number of defenders that Wigan committed to the tackle.
I have a theory that a number of Hull KR fumbles at the play-the-ball were a result of the heavy contact that they received.
Phil Clarke
Quotes of the week
LIVE ON SKY SPORTS
Bradford v Castleford
7.30pm, Fri, Sky Sports HD1 & SS1
Watch online with
Sky Player
How to
remote record
I decided to go through the two televised games from the weekend and count the number of times that a team committed either three or four men to the tackle.
On most occasions in a match, teams rely on two defenders to stop the man with the ball, but adding more men into the collision can help the defending team by slowing down the speed of the play-the-ball.
| | | |
| --- | --- | --- |
| Team | Three-man tackles | Four-man tackles |
| | | |
| Wigan | 66 | 10 |
| Hull KR | 56 | 4 |
| Castleford | 39 | 0 |
| Warrington | 43 | 1 |
Wigan's control of the ruck area was key to their success in this match, and I have a theory that a number of Hull KR fumbles at the play-the-ball were a result of the heavy contact that they received when so many bodies crashed into them.
I imagine that some players would be slightly disorientated when they eventually got up to their feet and lost the ball as a result.
There is of course a risk/reward balance in adopting this style of defence. It means that the Wigan players will need to do more running than their opponents and that their defensive line up may have some gaps in it.
With a man stood at full-back and say four men in the tackle, it only leaves eight men to cover 68m of the pitch.
This means that the spaces between defenders are wider than normal and put some players (perhaps the bigger, slower ones who aren't as nimble on their feet) under pressure if a player like Eastmond or Burrow sprints towards them.
Turn on and tune in on Saturday night to see if it works for Wigan again this week, or if Tony Smith's men can start 2010 with a three and zero (won three, lost none!)
Phil answers your emails...
Got a question for Phil?Click here to email your question or use the feedback form below...
Stormy times ahead
Hi Phil, As a proud Melbourne Storm fan I'm desperate for my team to get revenge against the Leeds Rhinos in the WCC. Leeds' win against us in 2008 came when we were without two of our most crucial players, Cameron Smith and Greg Inglis. Already Cooper Cronk is out for us this year but i'am still confident we'll have enough. My question to you is do you think the Rhinos could stop the Storm if Smith, Inglis and Slater are fit and raring to go? After all they are three of the best Rugby League players of all time. Also don't you think it would be better and ultimately fairer for the game to take place a couple of weeks after the Grand Final? Matt King couldn't play for us in 2008 and now Steve Turner isn't with us anymore to play in 2010. It isn't the same teams that won the Grand Finals which defeats the point of the competition. Daniel Kellard
PHIL REPLIES: Well David, the Rhinos can't stop the Tigers or the Wildcats at the moment, never mind the Melbourne Storm. If Craig Bellamy could bring his strongest team and they were given the games to prepare, I think that the Storm would win.
It is perhaps a unique occasion in the sport for both competitions to have a team going through such a successful period. They are clearly the most dominant teams over the last three years and deserve to go head to head in an event which should showcase our sport at its best. (I just hope that the weather doesn't spoil the spectacle).
The timing of the match isn't perfect because there isn't a perfect time to play it. I'm a believer in International sport and think that the end of the season should be used for Four Nations/World Cup.
Both team have had long enough to prepare for the game and can have no excuses for not being ready.
Experienced Warriors
Phil, I've put my money where my mouth is and backed Wigan for glory this season. A new coach and boot room brings with it a winning mentality, the squad seem to be leaner and meaner, the kids have matured and there is a backbone of experience. I feel the heady days of the 80s returning, and if I pinch myself hard, I am sure the old Central Park days are about to return. You're going to agree with this statement aren't you? Aaron Barber
PHIL REPLIES: Wigan have a great squad and there does seem to be a feeling in the game that they are going to improve this year. They've been to and lost in effectively five semi-finals in the last four years (including the Challenge Cup and the play-offs) and in theory should be stronger for the experience. I think that Sam Tomkins is a great player and would like to see more local talent joining him in the backline. Five of the seven backs that started against Hull KR were from overseas. Some of you might remember seeing another local player called Shaun Ainscough last season. He scored 13 tries in 11 games in Super League. I hope that we get to see him again this season.
Income and have a go
I noticed the Six Nations kicked off this weekend with massive national coverage, something international rugby league tournaments always seem to lack. The Guinness Premiership also successfully carried on as normal despite a large number of players not being available for their club teams. Do you think an international rugby league tournament could now run mid-season without stopping Super League fixtures? With the England squad now distributed among so many clubs I don't see why this couldn't happen. This would also increase the international; calendar without increasing the number of games the top players play. What are your thoughts on this? Mark Fox
PHIL REPLIES: We would love to see the game of rugby league as big as football, but it's not going to happen. We need to set some short-term and medium-term, realistic goals. We must bear in mind that the sport is only able to spend what it earns and you don't need Martin Lewis or any other money saving expert to realise that we can't host matches which lose money.
I have a huge degree of sympathy for Club owners/Chairmen who keep their clubs, and in fact the sport, going with the kind donation of their own money. It's a bit hard to say that they should release their players for more games that won't bring any income into their club.
Comments (10)
Luiz jesus Ramirez says...
Can't wait for Sunday's WCC. Do people agree that this game doesn't maximize it's potential? It should be the ultimate club prize played 2 weeks after the respective Grand Finals. I'll still enjoy it though. Good luck Leeds.
Posted 14:18 24th February 2010
Nathan Barraclough says...
With the news that the rugby league disciplinary panel have only handed out fines and warnings what kind of a message do you believes this gives to the younger generation of players? Carvell and Ferriol receiving fines for use of the forearm and punching respectively or in the case of Morley nothing for the late tackle on Sherwin is this not rewarding thuggish behaviour. All fans like to see the athleticism and explosive strength of the players and that is one of the reasons they go to watch, but I feel with the weakness of the disciplinary board the skill and flair maybe replaced with brutish strength and this would rob the game of in my opinion its greatest feature.
Posted 13:55 19th February 2010
Bob Garner says...
What were the disciplinary committee watching when they let Morley off. Shocking decision and Carvells appeal as well Not good for the image of the game
Posted 12:41 19th February 2010
Graham Cox says...
Hi Phil, In my opinion I feel that it is unfair to ask the likes of Castleford, Wakefield, Salford and St.Helens to build new stadiums if they are to win a place in SL after the next round of franchises. With the exception of Warrington in SL along with Widnes and Leigh in the Championship no other team in any of the leagues have built new stadiums whatsoever. With the exceptions of Bradford and Hull KR (who are in the process of redeveloping their current stadiums) all other SL teams have either hitched a ride on the back's of their more successfull football neighbours or their wealthy Union countrparts. Let's be honest even Leeds have only been able to develop Headingley through Sky money that has been paid to their groundsharing neighbours the Leeds Tykes. Surley the current situation merely rewards teams that have been fortunate to have stadiums, that have been built for other sports, within their geographical area. Do you think that this is fair? Lets be honest would the likes of Hull, Wigan, Huddersfield, Crusaders, Catalans or Harlequins have been able to build their own stadiums from scratch (like we are expecting Castleford, Wakefield, Salford and Saints to do) I very much doubt it.
Posted 12:30 19th February 2010
Collins Mark says...
What is happening to the administration of the game? We saw this week Carvell getting off with just a fine after The Wire gained a significant material advantage from dangerous play. We saw Morley straight arm a player off the ball (can anyone name a year when he has not straight armed a player? there are rumours he straight armed the midwife at his birth), gets off scot free. Newton gets to play for 3 games despite (alleged) knowledge of drug abuse prior to season start. Everyone wants to see the best players in your team play but the rules are the rules and they seem to be ignored by the very body that is supposed to uphold those rules. What would the insurance industry say if a player that should have been suspended was allowed to play and then injured a player or got injured in the next game such that he had to retire. Say Morley straight armed or even took part in a tackle on Sam Tomkins that resulted in Tomkins to retire from the game immediately. The payout would be millions. Don't you think it would be contested. Thus are people playing uninsured if they should have been suspended under the rules.
Posted 23:12 18th February 2010
Michael Aherne says...
Just heard paul cullens comments on drugs in rugby league. I played amateur rugby league for ten years, i have noticed the change in body type. I was a real gym monkey and really strong my arms and chest did not pump up they became more cut. If people are using supplements to boost there size at amateur level i cannot imagine what is happening at professional level. Towards the end of my career i noticed recreational drugs been used a lot more, over 50% of my team took drugs and where taking a speed like substance before matches to boost them up. This will make the smaller players like myself leave the sport do you know if there is any testing in amateur rugby league and if not do you know why there isnt.
Posted 17:15 18th February 2010
Gareth Harrison says...
You make a comments and statsabout the four man tackle. I was at the match and what wigan did in that first 20 minutes took Hull KR big pack out of the game, i have never seen dobson so quiet and cooke never got a look in. I feel that tho you risk a over lap the defensive message from wigan is out they did it against celtic and KR , if come at us be prephare to be hurt. I have What Hull Kr down at wigan a few times and vella has always held his own but friday they hurt him and you could see that as KR players were walking wounded after 20 minutes , great to wigan show some fire.
Posted 12:44 18th February 2010
David Lea says...
Personally i think the possible signing of Gareth Thomas will only be for a marketing boost to get more Welsh peolple interested in the crusaders as it is mainly Union in Wales. It can be a good thing if more people turn up to watch because of this but i doubt he would make much impact on the pitch. If we can bring more people to watch our fantastic game then good on them.
Posted 11:00 18th February 2010
Emma Scurrah says...
After enjoying the Wigan/Hull KR game last weekend one thing stood out for me more than any other. Micheal McGuire's arrival seems to have benefited Stuart Fielden as much as anyone. He looked confident again in collisions and at last resembled something like the player that destroyed Wests Tigers in the 2005 WCC. He looked in superb physical condition but above all it was his technique which was the most obvious 'upgrade'. When carrying the ball he was starting from at least 3 metres deeper than usual before crashing onto the ball. He was hitting the defensive line at such a speed that he was literally putting his opponents on the back foot before twisting and turning at will for either extra yardage or a quality offload. His defense was excellent too, using footwork and agility to wrestle the ball carrier to the ground, almost always in a dominant fashion. He looked like an accomplished top level forward. With Jamie Peacock and Adrian Morley coming to the end of their Test careers could the door be re-opened to Stuart Fielden's England future?
Posted 08:32 18th February 2010
Lewis Key says...
How do you feel about the potential signing of Gareth Thomas by Crusaders in terms of on the field impact? Personally, I feel people can talk about the off the field impact all day long but with young Kear already breaking through, the fact Thomas is 36 and current WRU fullback Lee Byrne not even standing out in amatuer RL I feel that it would have a negative impact on the squad. The only way I can see that it would be positive is if he would be cheap which I can't believe he would be. If Crusaders are looking for a marketing boost, they should try and sign someone who has a shot of actually having an impact on the field like Henson
Posted 15:16 17th February 2010