Overseas players. It's a topic that's been written about that often in the last 25 years that I'm not sure anybody is interested in it anymore.
From the time when Halifax won the league with almost a full team of Australian players, under their Australian player/coach Chris Anderson in the mid 80's, through to today it has been a subject of lessening interest in rugby league circles. As I write this article, I'm worried that it has become a subject that people no longer wish to debate or read about.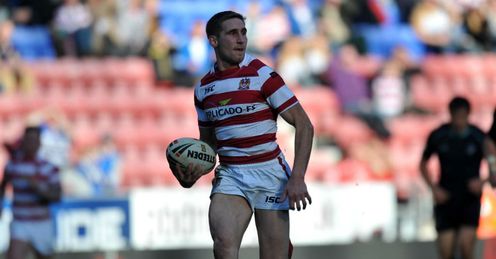 I suppose that it's become even more complicated in the last few years after players like Rangi Chase and Chris Heighington were selected for England. Who knows who the 'overseas players' are anymore?
Last Friday night in Wigan, Hull KR fielded a side with what I would call 10 overseas players. They hadn't learned to play the game in this country, nor were they born here. Wigan had four of their seven backs from Australia or NZ and two of these four played at scrum-half and stand-off, key positions in the modern day team.
In my opinion Anthony Gelling was outstanding for Wigan against Hull KR and I can see why he was selected ahead of Matthew Russell, but I want to ask if this is the right way for the sport in this country?
Phil Clarke
Quotes of the week
Last Saturday I watched a Hull team beat Leeds with only two of their 17 players actually trained and developed by the club. I looked back at the Hull side that played in the 2006 Grand Final and noticed that on that day there were eight players that the club could honestly say they had produced.
I understand that most of the time the head coach is only really bothered about winning the next match and will select the players that give him the best chance to do this.
In my opinion Anthony Gelling was outstanding for Wigan against Hull KR and I can see why he was selected ahead of Matthew Russell, but I want to ask if this is the right way for the sport in this country?
Sam Tomkins is one of the most exciting players in the Super League and yet may never have had a chance to shine had it not been for an injury to an Australian player. How many other young players are denied an opportunity like Sam?
Not good enough?
I have heard some people say that they are not good enough or just not ready, but unlike the NRL, our clubs rarely give a player from a lower division an opportunity at Super League level when they get past 22. Even if we did have a brilliant system to help our more talented players during their development phase of say 18-22, would they ever get picked ahead of an older player from Down Under?
It's not just in rugby league that the goal posts have shifted so far that we have lost sight of the pitch!
Last weekend rugby union Premiership side Sale were criticised for selecting an all-English team to play in their last game of the season! Surely if we care about sport in this country we should be applauding Steve Diamond at Sale?
There are some rugby league clubs in this country who have changed their philosophy and reliance on overseas players. Warrington have invested time, effort and money to start to produce their own players in a better way than ever before. Huddersfield are also trying, and have bought and recruited British players from other clubs. I am told that Hull have now addressed the issue and are looking to get back to helping their young players maximise their potential. However they have all done this voluntary and I wonder if the game need to make it compulsory.
Overcoming hurdles
Whilst talking to a few Hull supporters before their game against Leeds, I raised the subject of overseas players and was slightly shocked when one of them told me that he would have a full team of Australians if it meant that they might win from now on. Therein lies one of the problems.
The next hurdle put forward by some is that if you reduce the number of overseas players you'll reduce the standard of the competition. Is that true?
I have heard Brian Noble and Steve McNamara both say this, but I want to know the alternative. Do we just continue on the path that we are on waiting until Anthony Gelling qualifies to play for us?
Warrington signed a player in his mid-20's from the Co-operative Championship last year. His name is Chris Hill and he's doing quite well for them. Can you honestly say that he is the only player in that division capable of playing in the Stobart Super League?
I believe that we could fill the spaces of some overseas players with lads from clubs like Halifax, Batley, Dewsbury, Leigh, Keighley and Featherstone. This would provide an opportunity for the late developers. Many of the overseas players that we get in the UK didn't make their NRL debut until their mid-20's anyway!
And why do I say all this? Well, partly because I was born here and want to see others given a similar chance and secondly because I want to see more competition for places in the England team. I also think that we spend a great deal of money on player development which never gets off the production line. It can't get a space on the shelf to shine.
Could the game, and I mean both the clubs and the RFL, be better off if it came up with an agreed plan to buy British?
Does anybody care?
Comments (12)
Steve Johnson says...
I agree that British players brought throught the system is thew way forward but I think its unfair that you have singled Wigan out in this instance. Wigan I would guess have produced more home grown players in Super league than any other team. Rather than write about Gelling maybe you should have opened your ears when Shaun Wane explained his reasons for selecting Gelling and sending russell out on loan! Russell was given oportunities in the first team and didn't take them, gelling did! what message does that send to the overseas player at a club if just because his postcode of birth is ok, he gets a shirt even though his performance didn't justify it? Shaun Wane has given nine debuts to wigan youngsters this year and has backed players like darrell goulding and micky mcclorum and shown what a great coach/man manager he is.The hull oportunity is a great one for all concerned. I think you should have aimed your criticism at teams like hull kr and catalans who are full of overseas players. Are you willing to congratulate shaun on fielding a full pack of wigan homegrown players in the CC QF. No... this is the problem with our sport. we spend so much time looking for faults instead of accepting that things can be improved and make advances to do so. but what we need is a totally positive approach as we have a great sport and it the negativity that stops it progressing.. in many way RL gets what it deserves... I never hear rugby union bagging itself all the time... even when it is such a poor product!! In these days of a increased AUS salary cap and exchange rate, it is paramount that all superleague clubs have the same dedication to youth that Wigan/St helens and Leeds have otherwise those teams that don't invest in youth will be left behind and I use Bradford as a typical example.
Posted 21:18 15th May 2012
Ray Kenny says...
are we doing enough to get young talent into super league ? NO because of the influx of over seas players, far far too many in the top clubs stopping kids coming thru,instead of spending mega bucks on over seas use it to promote the local kids not on players coming over for a paid holiday, help lower league clubs to improve the standard required for top football and bring thru talented kids to make the lower clubs better and to attract better support keep the where it should be a northern game it is alright having welsh,french and london teams but what following do they take to away games almost zero look at the cup game at huddersfield 13/05/12 just over 2000 then look at the game at leigh 11/05/12 5200 now tell all that spreading the game all over the place is good for the game I dont think so
Posted 09:05 15th May 2012
Paul Leah says...
Agree totally with everything you've said Phil, from the state of the game's development of British players to the fans not caring. I think the massive influx of foreign players has created great club sides but at the expense of the national side. The national side is not even on the same page as the Kiwis and the Kangaroos. More British players may drop the standard at first but that would improve and the lower division teams would have an outlet for their stars whilst providing valuable income for continued survival and development. And surely that's the ultimate goal, too many teams outside of Super League are Semi-Professional at best.
Posted 12:39 14th May 2012
Simon Robinson says...
You do not have to build a team on overseas players. They should be used as "quick fixes" and/or "stop gaps" for positions you cannot fill. It takes years to get the youth coming through at Super League level and only happens when you are successful. Leeds have managed this for the past 8 years or so but only because no body has been coming in and stealing their players unlike clubs out of the top 4. It is just starting to come round at Huddersfield now and look how well they are doing. Also look at the Leeds Centres and Wing combinations. Arguably also the England Centre and wing combos. Hall, Hardaker, Watkins and Jones-Bishop. All English and all young. They will also add to this when Webb leaves (which is rumored) by bringing young Briscoe onto the wing and moving BJB to full back. Then look at Sinfield, Burrow, Mcguire, Jones-Buchannon, Clarkeson, Bailey, McShane, Hood - All home grown. Then players who have moved on Chev Walker, Matt Diskin - all came through the ranks. Is it any wonder they have won 4 out of the last 5 SL titles. It can be done by clubs if they want to but teams like Wigan would rather buy in players.
Posted 11:36 14th May 2012
Lee Smith says...
Phil I have admired you as a player and a pundit for many a year but do think your comments regarding my Club (Hull FC) were a little harsh in our televised game against Leeds last week, you delighted in telling all how we capitulated against Wigan but not that we were missing 9 players! you were aghast that we borrowed a full back from Wigan when ours had walked out and our 2nd FB Richard Horne was injured and made comments about our youth structure, then Ben Crooks made you look very foolish! we have been under prepared when it comes to youth under the last horrendous regime and coach, but this year Liam Kent, Josh Bowden, Chris Green, Ben Crooks have all pushed through for debuts from our youth and Danny Nicklas has come back from a bad injury to make as many SL starts in 12 games then he did with a full season under our last coach, we are not Leeds or Wigan yet but give us 2 years! by the way, if Saints sign Jordan Turner from us does that mean they should be ashamed of themselves that they cannot produce centres??? very very odd comments from you Mr Clarke!!
Posted 18:26 12th May 2012
Graeme Petty says...
There is also another point missed here. Yes Leeds in particular but also St helens ahve had many young players come throught the ranks over th last 8 or so years and thye have reaped the benefit. How many of those players then decided to move on elsewhere though. As a Leeds fan i can think of a number including Mathers ( total lack of loyalty), Chev Walker, Calderwoodas well as a few others. Some want to go try their luck in NRL ( and usually fail) Others are not prepared to fight for their place when they hit a dip in form and seem to think they should be immune from getting dropped. I think SL clubs though should be limited to 3 overseas players.
Posted 08:35 11th May 2012
Malcolm Simpson says...
As an expat Englishman living in Australia, nothing gives more pleasure than seeing the Aussies go down to England in an RL Test. The trouble is, I know its been a while, but I can't remember the last time that happened! Phil made a good point about drawing talent from the Co-operative Championship. however, most of the Challenge Cup results have been very lop sided. Why not bring the Challenge Cup into the 21st Century, and make selection for the Challenge Cup more rigorous amongst the lower grades? I say, look more to your own strengths. You have a far larger population base for starters. Strengthen the Co-operative Championship more and you can widen your local talent even further.
Posted 01:11 11th May 2012
Ian Wright says...
Well said Phil, there are loads of good british players who are allowed to drift out of the top flight clubs as youngsters because they dont get the oppartunites. there should be a maximum of 5 overseas players in any team of 17. that would make sure at least 12 players were british in each team. Dont get me wrong i like what these aussies bring to our game but there is nothing better than seeing a young kid run out for your local club and hes the lad from down your street or you went to school with him etc.
Posted 16:41 10th May 2012
Chris Smith says...
I dont always agree with Phil but here he has a real valid point, the young Russell played well for Hull and it must be disappointing to be shipped out on loan , he will improve for playing in the higher grade but its a shame that cant be at Wigan, Phils point about Chris Hill is also a good one there must be more players capable of stepping up to SL from the championship, late developers who missed the cut when younger, the problem lies with coaches who play safe and clubs who demand short term success, it would be a real sea change if any SL club bit the bullet and developed a side of young british players, Leeds look to be working toward this lets hope more clubs go this route.
Posted 11:30 10th May 2012
Kevin Little says...
I have to agree Phil, the imports add to the game, but only if kept in proportion, and quality, seeing a team full of "imports" is depressing, short-sighted, and showing complete lack of imagination, find more Sam Tomkins!!!!!
Posted 10:08 10th May 2012
Andrew Bryce says...
Phil Regarding the argument about playing more British players. British players will come through if they are good enough, I honestly don't believe coaches go out and sign Australian or NZ/Pacific Island players just for the sake of it. There is a genuine lack of home talent coming through so the coaches have no choice. Playing British or buying British just because of the home nationality would be wrong and would hurt the standards of the competition. What needs to be looked at is why are we not producing enough players of the quality needed for Super league and beyond? Also I thought your comments on last weeks broadcast were wrong and out of place when you had a moan about a british player losing out because of Anthony Gelling was in the team. Gelling had a great game and is in the team on merit.
Posted 09:22 10th May 2012
Ben M says...
I completely agree that it is highly important to develop British players and that as the European Super League, it should be European players (therefore mostly British) who fill the teams. However I do think you seem to have forgotten two of the most successful teams of the last ten years. St Helens and Leeds have produced a constant stream of young players and I think in terms of success on the pitch they have clearly reaped the benefits. I'm not sure if it is already, but perhaps youth development could become a much larger part of the licence applications in order to get all teams producing this quality of players?
Posted 23:12 9th May 2012