Much has been said about the pathway for potential in Rugby League recently i.e) the journey that a young player takes to reach the top of his game.
Most people will be aware that 'the game' (or should I say the majority of Super League clubs) has decided to replace a meaningful second team competition for Super League clubs with a system that's called Dual-Registration.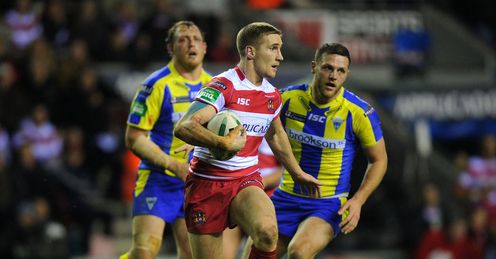 We haven't had a truly competitive Second Team competition for some time, but this is a giant step backwards.
Clubs now have a first team and an under-19 side and are allowed or encouraged to send some of their over-19 players to play for clubs in the Championship, either through an affiliation with a Championship club or via a month-long loan.
There are suggestions that because Super League standard players will be playing it will increase the quality of the Championship, but it will take a massive shift for 'the game' to accept this and I can't see it happening.
Phil Clarke
Quotes of the week
I thought it was a bad idea when I first heard about it, but never imagined it would go this wrong so quickly. At a time when we need more players to choose from, not less, we are in danger of turning people away from the game before they've made a start.
The strength of the Australia dollar in comparison to the English pound, plus the lure and attraction of the NRL, added to the wealth and opportunities of rugby union, means that we're going to struggle for players more than we ever have done in the last 100 years.
It's akin to development suicide, in my opinion, but my opinion isn't what I'm basing my argument on here. I've just finished reading a book called The Gold Mine Effect by Rasmus Ankersen and it's a tragedy that the people who voted to change the way that the best young players in this country develop as rugby league players didn't read it before their momentous decision.
Let me share with you some of the lessons that Rasmus uncovered as he travelled the world in search of the secrets of high performance (the trendy way of saying world-class training).
His journey began when he tried to predict who might be the best footballers in his Danish academy five years into the future. He and the other coaches, who were all well qualified and experienced people in football, tried to make an educated guess as to which of their players would progress to be professional ones.
They got it all wrong and tipped all of the players who didn't go on to play at the top level. The player that they thought had no chance of succeeding, Simon Kjaer, was the only one out of the group to 'make it' as we like to say in sport. It set Rasmus off on a mission to learn more about how sportsmen and women develop.
Ever-competitive
This brings us to the big question. What is talent and how do we identify it, and how can we grow it more effectively? (And with a better return on investment from a club's point of view?).
It's an issue that's discussed both in the boardrooms of Blue Chip companies and in rugby clubs across the world, and it's one that we need to do dramatically better if Super League clubs want to survive in an ever-competitive market place.
Please allow me to remind you of some sporting success that almost went unnoticed. For example, basketball player Michael Jordan at 16 years of age wasn't good enough to make his school team.
Asafa Powell, who set the 100m World Record of 9.77seconds in 2005 aged 22, had nowhere to train and no one to train with when he was 19 and could only run the distance in just less than 11 seconds.
Closer to home how many people are aware that Sam Tomkins was released by Wigan when he was 16. It is an amazing twist of fate that kept him there.
Are we guilty in rugby league of closing the trap door too early? How many players like Tomkins do we 'lose' because we tell them that they are not good enough when they are too young for us to really know?
Everyone in the sport is excited with the prospect of a World Club Challenge next weekend and the chance of seeing the Melbourne Storm in action. Arguably they have the best current coach in our sport, and yet he seems to be one of the few coaches who is prepared to give players a chance later in their careers.
He hasn't slipped into this mistaken mindset which says that if he hasn't 'made it' by the time he's 19 or 20 he never will. He recruits so-called rejects in their late 20s!
As someone who grew up playing in a highly competitive Wigan second team, which had some good young players, running alongside some older men who helped by acting as sparring partners, I am a firm believer that the best option for our sport was to have an under 23s competition as proposed by Jon Roberts at the RFL.
What's the point in having a Performance Director if you're not going to listen to his advice? Can you imagine us paying David Brailsford for his advice and then dismissing it!
I applaud the clubs in the Championship who have criticized the current plan. It fundamentally undermines the integrity of their competition and I'd be amazed if it exists in its current format next year.
What function or power do the RFL have if their recommendation is ignored? Are they a toothless tiger? I guess that's another question.
Chance to develop
The age structure of competitions isn't the biggest issue for me, as with the exception of a few clubs, we seem to think that the trap door for a place in Super League is 20 or below.
Some clubs might be able to justify this by saying that they don't get many players from their own academies after this age, but that's not evidence. They aren't even given a chance in a competition that allows them to develop.
We compare a 25-year-old NRL fringe member with a 20-year-old local youngster and fail to see the potential of the local player if he is given the best coaching and the time to develop.
Learning to play sport at the highest level is a bit like learning to walk; you'll manage a few steps before falling. Then you'll try again and probably knock the coffee table over and embarrass a few people before you eventually get the hang of it and hit full pace.
We have to remember the damage this current system could do to the game. Championship players work all week, train three or four times a week in the evening then miss out on a spot in the team because a Super League club wants one of their players to stay match fit. It's just not right.
How many players will drop out of the game, if they get released by a SL club at 19/20? Do they want to drop down into the Championship to then, potentially not get selected because of a Super League player dropping down, and therefore drop out of the game completely? It seems crazy to me.
We, or the clubs, spend time, money intellectual effort into their players from the ages of 15 to 20, then release them just as they are starting to reach the critical phase. At what age do the NFL recruit their players? Or worse still discard the ones that had a chance? Not before they've reached their physical maturity in their early 20s.
There are suggestions that because Super League standard players will be playing with and in the Championship it will increase the quality of the Championship, but it will take a massive shift for 'the game' to accept this and I can't see it happening.
Somebody needs to break up the pieces of this jigsaw puzzle, crunch the numbers, and put it back together again. It doesn't look right to me and could do irreparable damage to rugby league in the UK if we don't get this right.
Comments (14)
Chris Harper says...
The problem is no one goes to watch the lower league stuff now do they? Those clubs are not sustainable because people are able to see better quality RL on the box from the NRL and SL. What we need is regional affinity of amateur , semi pro and professional clubs , probably even starting at schools , whereby a youngster who plays league and has an ambition to play professionally and has a path mapped out. The problem we have is that we select the "stars" too early and judge them too early. Youngsters on a structured regional ladder and where there is an ultimate desire to play for "their" professional team - where their "heroes" play - right from the start would allow them to develop and mature at their own pace. The problem is stopping the wealthy team "pinching" those early developers or taking lots only to throw some away later and a change of mindset to stop championship clubs looking to emulate their neighbours. There would have to be a complete rewrite of the rules and a huge amount of work and investment by the elite clubs into their regional feeder structure as well as lots of patience and discipline from naturally impatient and perhaps greedy entrepreneurs. I don't think it's as black and white as you Phil essentially because what we had isn't a sustainable option and the money and numbers wouldn't support the football and NFL solutions you refer to.
Posted 10:43 10th March 2013
Niall Odonnell says...
Agree with Phil. Who wants to watch a championship team who get chopped and changed to fit in lads from Super league -devalues the championship. Know that finances to run A teams are tight but think SL teams need to develop and improve in their own right.
Posted 18:18 28th February 2013
Ken Brown says...
for once have to totally agree, to big a step from u20 to super league, should have been an u23's league as you stated. players develop at different rates, some try the sport at later age, it just seems the RFL are closing doors on young players before their careers get going, we are going to be very short of players in a couple of years as a lot of the discarded players leave the sport altogether, lose interest, don't even go back to their amateur clubs, LOST TO OUR SPORT.
Posted 19:28 27th February 2013
Lee Kelly says...
How does rugby league expect to keep hold of the likes of Tompkins when compared to union the international stage is virgin on pathetic. Playing for your country on a competative level competing for meaningful trophies is what people thrive for in sport rugby league doesn't offer that and will not for many years. This has got to be a fair reason for the likes of Tompkins to want to switch codes. And let's be honest it's more of a chore for the Aussies to play England. Are they really that interested in playing us.
Posted 17:46 27th February 2013
Bill Hornsby says...
Well said Mr Clarke.
Posted 17:03 24th February 2013
Peter Farrell says...
Great article Bang on and very well put together.
Posted 22:58 23rd February 2013
Matthew Moorcroft says...
Totally correct Phil. The current system is one born out of financial, intellectual and developmental ignorance and poverty. I'd also say you are commenting better this year, with less mentions of Wigan and more of your general experience.
Posted 21:01 23rd February 2013
Tim Benstead says...
An interesting and insightful article. It might also be worth reading the book by Matthew Syed of the Times called Bounce, about the creation of those who appear to be super talented.
Posted 14:32 23rd February 2013
Mick Ainsworth says...
My Grandson has just been released from Widnes academy (just before his 18th birthday) along with a glut of other promising young players. Many observers think it was a mistake as he has superlative skills, he's strong, fearless, tackles way above his weight and was probably one of the best in the team last season even though he was played out of his normal position (at centre) and a year younger than most of the other players. He was told that what they (the coaches) had seen of him was excellent but he was not in the game enough. He doesn't have an agent so it's hard for him to find another club even though his dad has tried to contact Leigh & Salford without a reply from either club. His next step is rugby union and he has been asked to trial at Sale to see if it's the game for him (he has already been down there and was impressed with their set up). A shame really as he is rugby league through and through but he is now considering this as a viable (probably his only) option as he persues a career in professional rugby. I too believe mistakes were made in the re-vamping of the levels below first team rugby. Reserve grade or at least u-23's should be brought back as soon as possible before we lose more and more players from our game.
Posted 03:05 21st February 2013
Jim Watson says...
Couldn't agree more with Phil. Scrapping a reserve team is a recipe for disaster for any pro team in any sport. How can developing players fit into the way the team plays and the club ethos if there isn't the reserve team there to assist development and allow game time playing the same system for players returning from injury. There is also the negative effect on championship players losing their place to players dropping in to the Championship clubs on a random basis. It can't be good for the players who are on dual reg either as they are having to cope with different systems which must have a detrimental effect on the Championship team's own development.
Posted 13:11 20th February 2013
Philip Booth says...
I am glad that Phil Clarke, someone highly respected as a player and commentator within our sport, has had the courage to speak out in criticism of the current RL policy on Dual Registration which is wreaking havoc on youth rugby,and making our game a laughing stock in the sporting world. RL fans are entitled to demand a clear statement from the RL Board of Directors as to what their policy is on the development of young players within the sport.
Posted 23:44 19th February 2013
Janet Pendlebury says...
Great article by Phil Clarke and I totally agree with him. We need to be creating more chances and opportunities for players to develop not removing them !! I would be interested in the answer to the comment about the RFL and how much power they have as the NGB regarding decisions over our players and development.Or is Red Hall a puppet show ??? Lets hope that someone reads the article who can make some drastic changes so our own game in GB can develop and grow,please lets look at the bottom up approach and look at where our players start,, and invest in amateur clubs and schools rugby,,,, this way the game could wash its own face ,, otherwise I am fearful that the game will be lost , which will be the saddest thing to happen.
Posted 18:25 19th February 2013
Lisa Southern says...
Well Phil, you hit the button and lit the bulb there. The sport we love has had its heart ripped out in recent years and this is the cherry on the cake. We need two SL divisions of 10 in a full time culture to expand the player pool and create a pathway for ambitious clubs to invest in their young people for the future. We need intensity every week at the top and a platform to expand our full time player pool below it, foresaking the overseas journeyman in the process.A 14 team sport cannot generate the player pool needed for RL in the UK to ever reach its potential, the non performing Turkeys certainly controlled the vote to cancel Christmas in this shambles.
Posted 17:36 19th February 2013
Dave Wardle says...
Phil, you are spot on the integrity of the championship is now being severely undermined , as a supporter of rugby league for over 40 years this seems to be the 1st stage in the RLF goal of using the lower league as a feeder club for the super league. If this happens I for one will give up watching what I consider to be the best spectator sport in the world, I refuse to pay £200 a year to watch my team play what is becoming a super League A Team.
Posted 16:23 19th February 2013