This weekend represents the official turning point in the Super Rugby regular season, and while we're still to see if the protracted competition has staying power in later months, it is certainly firing for now.
The best teams are starting to make their move and a spread of just ten competition points across the top ten teams suggests the playoff race will run long.
The conference system is injecting interest as well. Weaker Australian representation would previously have resulted in an absence at knock-out time, but a guaranteed top three spot for each conference leader has breathed life into the Wallaby scrap.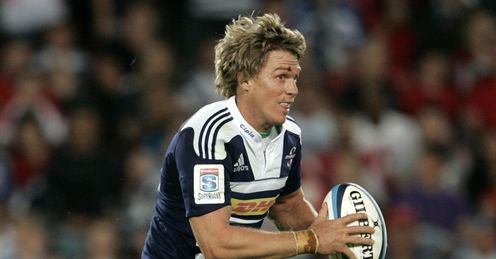 The Brumbies currently hold third, but in real terms would sit seventh, while the Reds and Waratahs, for now ninth and 10th, are just one good weekend away from leading the conference and jumping into that bronze position.
Intense
While some outside Australia look on with dismay, it pays to note that the wildcard playoff positions - those that finish fourth, fifth and sixth overall - are likely to come from only New Zealand and South Africa. There's a greater opportunity for finals rugby in these conferences, and as a result, fiercer competition.
It might have been the Stormers' first loss of the season but momentum is key in a long season, and suddenly the road trip feels like long one.
James Gemmell
Quotes of the week
LIVE ON SKY SPORTS
Hurricanes v Crusaders
8.30am, Sat, Sky Sports 4 HD
Waratahs v Rebels
10.30pm, Sun, Sky Sports 4 HD
Sharks v Chiefs
4pm, Sun, Sky Sports 4 HD
Bulls v Brumbies
6.10pm, Sun, Sky Sports 4 HD
Also showing on Sky 3D
Watch on the move with
Sky Go
How to
remote record
If you then throw in the challenges of travel, injuries and contrasting playing styles, it's easy to see why Super Rugby is so hard to pick.
Cast your eyes across this weekend's fixtures, for example, and ask yourself, how many can you confidently call?
OK, Highlanders - Blues first up should go the way of the home side, given the atrocious run of form the Aucklanders bring, and maybe on Saturday the Waratahs deserve to be strong favourites against the Rebels in Sydney. But that's where the straightforward stuff ends.
In Brisbane, the Stormers visit the defending champion Reds as favourites, despite falling to the Crusaders a week ago. It might have been the Stormers' first loss of the season but momentum is key in a long season, and suddenly the road trip feels like long one.
They've lost Jean de Villiers in the backline and Andries Bekker in the second row, two men around whom the Cape side's defence and set-piece has been built.
Contenders
The Reds are still a shadow of their champion selves on paper, but pulled their season back from the brink against the Brumbies two weeks ago, and last week's bye will have been greatly received.
The Sharks have been installed as favourites in Durban, making the possibility of a Chiefs win even more enticing.
This fixture will ask more of the visitors in the tight exchanges, but the men from Waikato seem to have tidied up their loose ends from seasons past, and are combining genuine graft with the type of starpower they've always possessed out wide.
Coaches Dave Rennie and Wayne Smith have instilled greater discipline and fitness, and they travel with more confidence than any other at the halfway stage. This is another very tough to call.
In Wellington, the Hurricanes welcome the Crusaders and on this I'm agreed with the experts. The red and black machine stepped up a gear against the Stormers, and although they didn't wow with their attacking style, it was the clinical nature of the win that would worry others.
The Hurricanes don't possess the same class throughout, but do possess an x-factor that can topple better teams if the mood is right. 'Canes coach Mark Hammett is a former Crusader, and will have a specific plan to take them on. This could be an excellent watch.
And finally, an interesting long-shot. The Brumbies have impressed many with their tenacity against expectation this season, and are the best of a pretty average Australian bunch at the moment.
The Bulls at Loftus Versfeld present their sternest challenge yet, and if they're up for it, this could be an interesting way to finish the weekend. Understandably few back them for what would be an historic win, but in Jake White they have a South African coach who will prepare them for the onslaught.
A fast start is key here, as is a fast game generally. If they can move the big Bulls around, they've a chance. I think power will prevail for the home side, but perhaps not as easily as some might think.
It is a fascinating weekend in store, and a glimpse at just how competitive Super Rugby is becoming. Stay tuned.